One of the complaints we hear a lot are around two foods that majority of us have grown up on as staple foods – bread and potatoes.
As a diabetic, these foods are high in carbohydrates and won't help you manage blood sugar and A1C. Being that we encourage a low carb diet (because it works), we don't recommend the inclusion of bread or potatoes – at least the regular options anyway.
If you need motivational reasons (other than regulating your blood sugar and A1C), listen up – this news will surprise and shock you.
Both bread and potatoes contain a cancer-causing chemical at highly toxic levels!
When researchers tested 100 random food samples, they found that one in every five packets of crisps contained 500 times the safety levels recommended by the World Health Organization. And McDonald's and Burger King French fries contained 100 times the levels!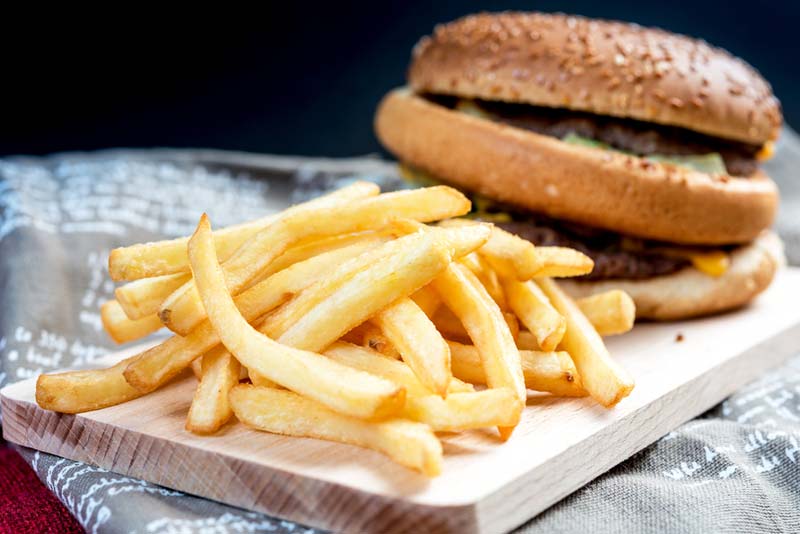 What is this cancer-causing chemical?
The chemical is called acrymalide.
It's an industrial chemical used in plastics, grout, cosmetics and as a water-cleaning agent.
It's also produced naturally in foods. Namely, potatoes/ potato products (including sweet potato), grain products (bread, cookies, crackers, breakfast cereals, etc); and oddly, coffee.
Potatoes contain an amino acid called asparagine. During high-heat cooking (baking, frying, deep frying) a chemical reaction occurs where the sugars in potatoes (glucose and fructose) react with asparagine, reducing the sugars and producing acrymalide as a byproduct – the cancer-causing chemical.
Grain-based products are a little different.
For example, wheat contains high levels of asparagine (the amino acid). So rather than the sugars reducing, its the actual fact that grain-based foods contain high levels of asparagine, that lead to the formation of acrylamide.
Rye has the highest free asparagine content, followed by wheat, corn, oats, and then rice.
And don't think you're safe eating whole grain products either. They contain higher asparagine concentrations than refined grains, and therefore produce more acrylamide.
Acrylamide Causes Cancer
Research in lab animals has consistently proven that acrylamide is a multi-organ cancer-causing agent, believed to directly cause gene mutations.
The cancer council have classified acrylamide as a "Group 2" carcinogen – meaning, it is "probable" that it causes cancer in humans. The FDA knows about this cancer risk in humans. So do food manufacturers. Yet, nothing has been done.
Like many things, they suggest that human exposure is not high enough to warrant any harm. However, there has been very little research done on food samples. And clearly with this new research discovery, we are at risk – several items being found to have 100-500 times the safety levels of acrylamide recommended.
It's unfortunate because we live in a world where food companies billion dollar revenue goals are more important than human health. It's sad, but it's simply a reality.
Imagine trying to remove grains and high-temp fried/ baked potato items from the market. That's billions of dollars in lost revenue. Yes, this is what goes on in the "processed food" world.
No one but YOU can take care of YOU.
You can't rely on organizations to protect your safety because there is an ulterior motive underlying it all – money!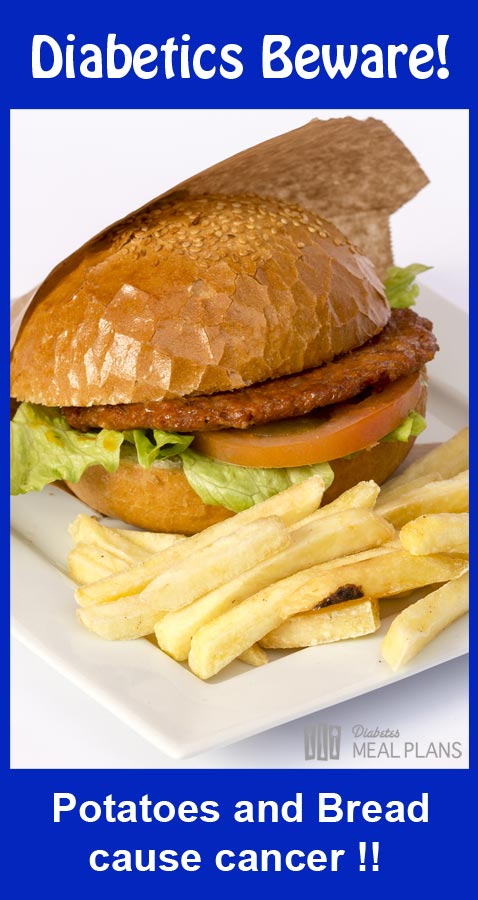 Offenders: Potatoes, Bread, Breakfast Cereals, Crackers, Cookies
We don't recommend potatoes, bread, breakfast cereals, crackers and cookies for diabetics (at least not the regular kind).
Simply because they are too high in carbs. So the fact that they may "probably" be cancer-causing agents, and diabetics are at higher risk for cancer, this is another great motivator to avoid them.
to be clear, fried, oven-baked and deep-fried potato are the big offenders. As the chemical reaction occurs above 248 °F (120°C), particularly in low moisture environments. Steamed and boiled carbohydrates do not create this same reaction.
Overly dry or crusty based foods are big offenders – we're talking baked goods with bread being a MAJOR offender – think well cooked toast, a favorite of many. You could be consuming higher levels of acrymalide.. Breakfast cereals, cookies, and crackers are also on the high risk list.
In processed foods, these items are often made worse with the inclusion of ammonium bicarbonate (a leavening agent), along with sugars: glucose, fruit purees, invert sugar, corn syrup, fructose, molasses and honey. All of these additional ingredients promote an increased chemical reaction in the products, which subsequently increases the acrylamide formation.
In terms of coffee, researchers still aren't sure on the connection here and say that home brewed coffee may be safe. But, they suggest choosing Arabica beans and a dark roast over a light roast.
Conclusion
Avoid bread, potatoes, breakfast cereals, crackers, cookies and other grain-based foods.
These foods are high in carbohydrates anyway, and overall we don't recommend them because they won't help you manage blood sugar and A1C.
The fact that they are probable cancer-causing agents, should provide some additional motivation to avoid them!
If you need alternative recipes and ideas, join us as a VIP member. We've got breads, pastries, cereals, cookies and loads of other low carb options.
You don't have to be deprived. You just have to swap out the crappy foods for better options that will support your health.
Please pin, tweet or share this shocking info with others.
Sources:
DailyMail.co.uk. (2017). Mail Online. Retrieved 6 April, 2017, from http://www.dailymail.co.uk/health/article-111396/Toxic-levels-cancer-agent-crisps.html
FDA.gov. (2017). Retrieved 5 April, 2017, from https://www.fda.gov/downloads/Food/GuidanceRegulation/GuidanceDocumentsRegulatoryInformation/ChemicalContaminantsMetalsNaturalToxinsPesticides/UCM374534.pdf
USDA.gov. (2017). Retrieved 6 April, 2017, from https://ndb.nal.usda.gov/ndb/foods/show/49530?manu=
Pelucchi C, et al. Dietary acrylamide and cancer risk: an updated meta-analysis. Int J Cancer. 2015;136(12):2912-22.
Cancer.org.au. (2017). IARC classifications. Retrieved 6 April, 2017, from http://wiki.cancer.org.au/policy/IARC_classifications
Virk-Baker MK, et al. Dietary Acrylamide and Human Cancer: A Systematic Review of Literature. Nutr Cancer. 2014;6(5):774–790.