Have you ever been told to stay away from "starches?" When you hear the words "starch and diabetes" mentioned what do you think of? Potatoes? Rice? Bread?
Starch is one of those things that some people feel confident to can identify, but in general they have trouble defining or describing what they are.
For us it's even difficult to define and describe them, because they encompass a wide variety of foods.
That's exactly why I intend to provide examples. We'll look at what starch is, where it is found in foods, and how it impacts your blood sugar levels and health.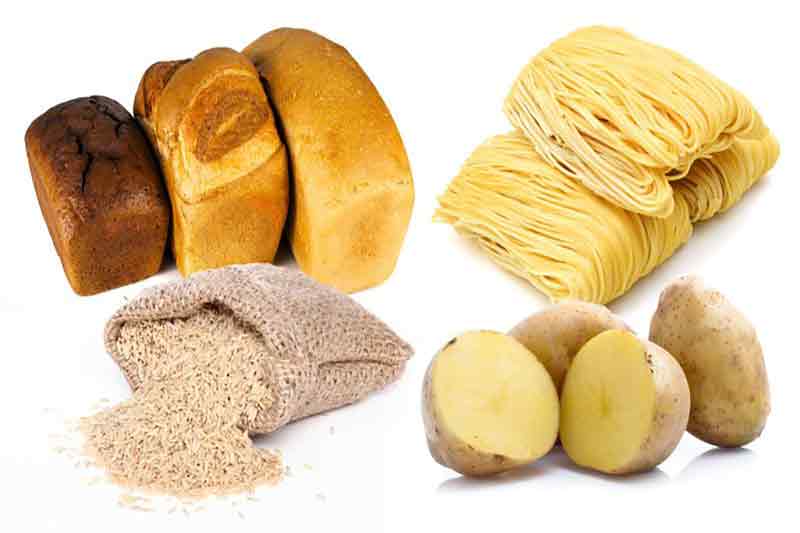 What is Starch?
Starch is a type of carbohydrate formed by long strings of glucose units bonded together–also known as a "polysaccharide (poly=many; saccharide=sugars)."
By contrast, simple sugars (or simple carbs) are individual sugars (monosaccharides such as fructose) or 2 sugar units held together by a single bond (such as lactose, which is glucose and galactose, also known as disaccharides).
There are 2 types of molecules that make up starch:
Amylose – long straight strands that tend to break down very quickly.
Amylopectin – strands that contain many branches, which break down more gradually.
Starch is produced by plants through photosynthesis and stored as granules as a source of nutrition for the plant to grow and stay healthy. It might be in the seed (as in the case of corn) or tuber (in the case of a potato).
When we eat foods with starch, we are consuming this nutrition in the form of carbohydrates. Carbohydrates consist of sugars, starches and fiber.
When you look at a nutrition label, sugars and fiber are listed. The remaining carbohydrates are various forms of starch.
Unlike sugars that tastes very sweet, starches are long complex molecules and do not generally taste sweet.
Unlike fiber, which passes through digestion to promote healthy bowel function, starches are broken down, digested and absorbed into the bloodstream and do not promote healthy digestive function (but see below for resistant starch as a partial exception).
What Foods Contain Starch?
Starch is the most common form of carbohydrate consumed in modern diets. To us, we all know these foods as 'staples.'
It's found in large amounts in rice, potatoes, wheat (including 'white' versions of wheat such as bread, pancakes, biscuits, pasta, tortillas), corn (including chips) and tapioca.
There are also moderately starchy foods, which include: bananas, oats, rye, taro, beans and peas.
Here is a table of foods high starch foods compared with low starch alternatives:
| | | | |
| --- | --- | --- | --- |
| Food | Starch Content | Alternative | Starch Content* |
| White Rice | 47 grams (1 c cooked) | Cauliflower (riced) | ~2 gram (1 cup cooked) |
| Fat Free Potato Chips | 42 grams (1 oz) | Carrot Slices | 1.5 grams (3.5 oz) |
| Baked Potato | 40 grams (1 small) | Kohlrabi | <1 gram (1 cup cooked) |
| Corn Flakes | 38 grams (1 cup) | | ~4 gram (1 serving) |
| Bagel | 34 grams (3" diameter) | Eggs | 0 grams (2 eggs) |
| Pasta | 34 grams (2 oz dry) | Spaghetti Squash | ~2.5 grams (1 cup cooked) |
| Crackers | 32 grams (1 cup) | | <1 gram (1 serving) |
| White Bread | 24 grams (2 slice) | | ~2 gram (1 slice) |
| Popcorn | 30 grams (1 oz) | Almonds | ~1 gram (1 oz) |
*Note: Starch contents listed above are estimates, as USDA's official database does not list starch specifically but can be estimated based on calculations by elimination of sugar and fibers.
Starch has historically been a significant part of our diets as it provides a large amount of calories and is relatively inexpensive to produce.
On top of this, many starchy foods taste great and tend to be very shelf stable compared with their non-starchy counterparts.
Starch provides a thickened texture giving certain foods a viscosity that is difficult to replicate without it. And starches are often used in pudding, salad dressings, sauces, and pie fillings, as thickeners and stabilizers.
When we eat cooked starch (the body is unable to digest raw starch well), therefore the long straight or branched compounds are broken down into individual glucose molecules.
These glucose molecules are then absorbed through the small intestine into the bloodstream where they can be utilized to fuel cells. Or if the body has enough glucose stores, the excess will be stored as fat – if there is sufficient insulin to process them and the cells are responsive to insulin. If not, as in the case of diabetes, the glucose stays in the bloodstream.
Please pin, tweet or share this; then keep on reading. 🙂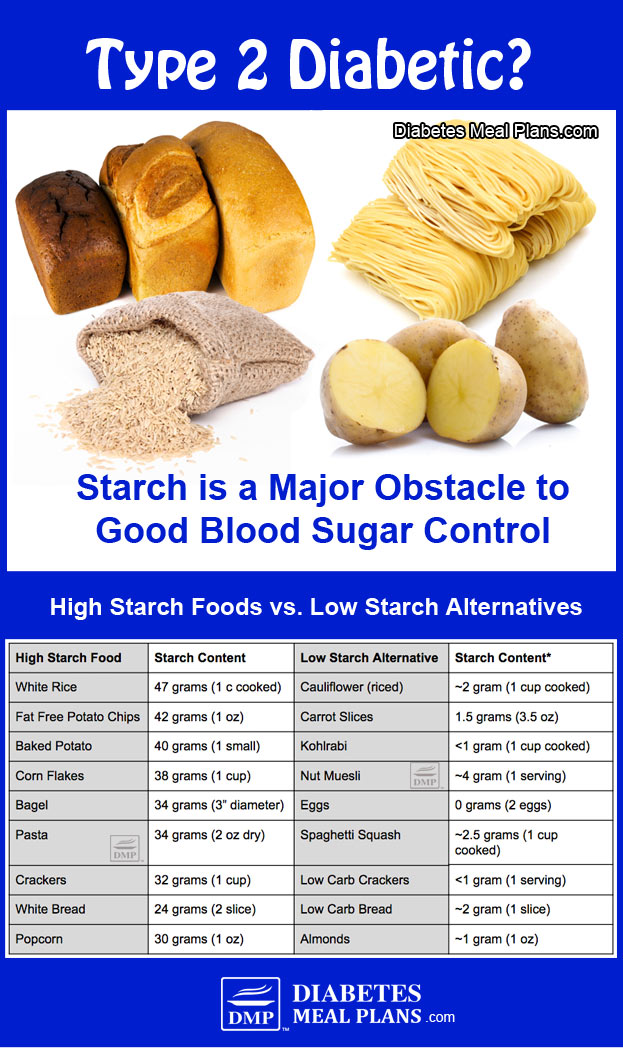 What is Resistant Starch?
Resistant starch is digested differently to other starches. It passes through the small intestine undigested – similar to soluble fiber.
It makes its way to the colon where it is then fermented by microbes that produce byproducts called short chain fatty acids – butyrate, acetate and propionate. These unique fatty acids feed healthy gut bacteria, along with playing important roles in lipid, glucose, and cholesterol metabolism.
Very little energy is extracted from resistant starch, which results in minimal impact on blood glucose levels.
Resistant starch has been shown to improve insulin sensitivity, increase satiety/fullness, increase calories burned and improve colon health by reducing inflammation in the colon, thereby helping reduce/prevent cancer.
Resistant starches are often destroyed in cooking, so most foods need to be eaten in their raw form or cooked, then cooled.
Resistant Starch Food Sources
Foods high in resistant starch include:
Green bananas
Raw potato starch
Oats
Beans and legumes
Cooked, then cooled potatoes
Keep in mind that all of these foods are still high in carbohydrates, and generally these are not the types of carbs we recommend you eat. The exception being beans and legumes, in small portions only.
The point is, resistant starches are better for you than non-resistant starches, but certainly not as healthy as non-starchy high fiber foods like our low carb vegetables.
Even though resistant starch is considered "healthy" for the general population, it is likely they will still have an impact on blood glucose, to varying degrees depending on the person.
What Does This Mean for You?
Ultimately, this may mean different things for different people.
Regardless of whether you have diabetes, pre-diabetes, or no health problems, white processed starches (white bread, white pasta, white crackers etc) are virtually devoid of micronutrients and fiber and they are going to spike your blood sugar. In fact, they will spike your blood sugar in a very similar way to consuming actual sugar.
Refined starches also contribute to weight gain.
Just to recap what white/ refined starches are: white bread, pasta, biscuits, pancakes, pizza crust, chips, etc.
All the types of foods you want to avoid if you want better blood sugar and A1C control.
While it may not be practical to avoid these entirely, all of the time, the goal is to try because they are not going to help you achieve your diabetes health goals.
Grey Area Starches
There are some 'grey area' starches.
These are what some people refer to as "healthy carbs," which include: whole grains, oats, sweet potatoes, beans, lentils etc – foods with complex carbohydrates that are also high in fiber.
Some diabetics can include these in small controlled amounts, whereas others aren't able to eat any of them due to their impact on blood sugar.
Look, generally we don't recommend any of the grey area foods, with the exception of beans and lentils – in maximum half cup amounts. Simply because they are too high in carbs and do influence most people negatively.
There are only a limited few that may get away with it, and even then, do you want to risk the impact they have on blood sugar and insulin.
Perform your own experimental test
Here's an interesting test you can try so you understand how foods impact your blood glucose levels.
Day 1
Eat a low carb breakfast, for instance, a mixed veggie egg scramble or some egg muffins.
Measuring the change in your blood glucose over 2 hours and record the number.
Day 2
Eat a breakfast of complex higher-form carbs – say oatmeal.
Measuring the change in your blood glucose over 2 hours and record the number.
Then, compare the two numbers.
If they have similar effects on your blood sugar, it's no problem to include them in your rotation. But for many, those carbs will spike blood sugars and you want to avoid this.
Therefore, those carbs are not really a healthy part of your diet as they are not going to help you regulate your glucose or A1C levels.
Finally, and most importantly, the big focus of your diet should be balancing out large amounts of non starchy vegetables with moderate sources of healthy protein and fat. Meaning, load up your plate with non-starchy vegetables and include your proteins and fat – that makes up the basis of a healthy diabetes meal template!
It's just unfortunate that the western diet so heavily centers around starches (think-pasta, sandwiches, pizza, cereal, chips, fries, or rolls), which means it can be very challenging to make healthy choices, especially when eating out.
But, it is possible. And, you will thank yourself when you do avoid these foods.
Please pin, tweet or share this info to help others. Thanks!