Is there any fruit more distinctive-looking than the pineapple?
Interestingly, it was named for its resemblance to a pine cone. And though it's spiky, crazy-looking exterior can be harmful if not handled carefully, that spiky outer layer protects a sweet succulent yellow pulp inside.
For many of us, pineapple conjures up images of dreamy tropical vacations or fancy drinks enjoyed by the pool. And with their holiday vibe and sweet enticing taste, it's not surprising that pineapples are the third most commonly consumed canned fruit, after apples and peaches.
While pineapple is undoubtedly a fun and delicious fruit, pineapple is unfortunately very high in carbohydrates and sugar, and very low in fiber.
As a result, it really doesn't make a perfect match for people with type 2 diabetes or prediabetes.
Let's take a closer look at why this is.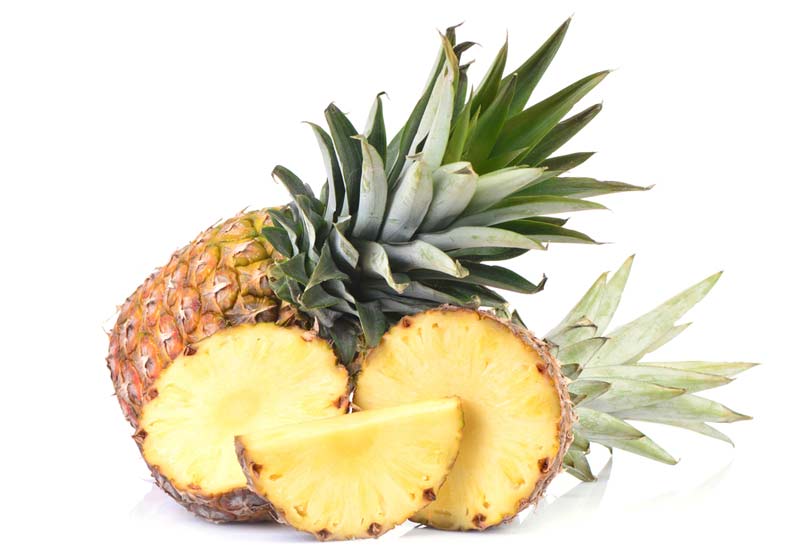 JUMP TO: Pineapple nutrition facts | Health benefits of pineapple | Research on pineapple | Conclusion
Pineapple Nutrition Facts
To put it plainly, pineapple is a pretty high carbohydrate, high sugar food.
Just half a cup of pineapple contains a carbohydrate content of 10.8 grams and 8.1 grams sugar. Granted, that is natural sugar, which is found in all fruits. But it's still sugar none the less.
This carb content is similar whether it's fresh pineapple or canned pineapple. 
As for pineapple juice, you're looking at around 29 grams per 8-ounce can (240 mL), with around 26 grams of that being sugar!
While pineapple is not as high in carbs as some fruits, for instance, one medium banana at 26.9 grams. It is also not the lowest carb fruit either – strawberries are – one cup of halves is just 5.8 grams of carbs. 
And for that reason, pineapple is not a fruit that we generally recommend you eat.
Why?
Because carbohydrates are the number one food that influences your blood sugar levels, along with your A1c.
And if you indulge in pineapple, you can pretty much be assured that your numbers will be higher as the result of sugar spikes, compared to the impact of eating other lower carb fruits.
Especially since it contains very little fiber to slow that sugar load… that same half cup of pineapple contains a measly 1 gram of dietary fiber. That means pineapple is not a low glycemic index food. Pineapple has a medium-to-high glycemic index of 66.
And while pineapple is a great source of vitamin C and manganese, and a good source of copper and vitamins B1 and B6. These nutrients can be found in plenty of other lower carb foods.
Health Benefits of Pineapple
For the general population, pineapple may provide:
Vitamin C: This antioxidant plays an essential role in immune system support, and may help lower blood sugar and lipids in diabetics.
Manganese: Helps produce enzymes that are important for energy and antioxidant production.
Vitamin B1: Works with manganese to help produce important enzymes; helps with food metabolism.
Bromelain: This mixture of substances that can be extracted from pineapples' cores and stems may have anti-inflammatory and digestive benefits.
But, as we already pointed out, the high carb and sugar content may mitigate any potential benefits for those with type 2 diabetes and prediabetes.
Please pin, tweet or share; then keep reading.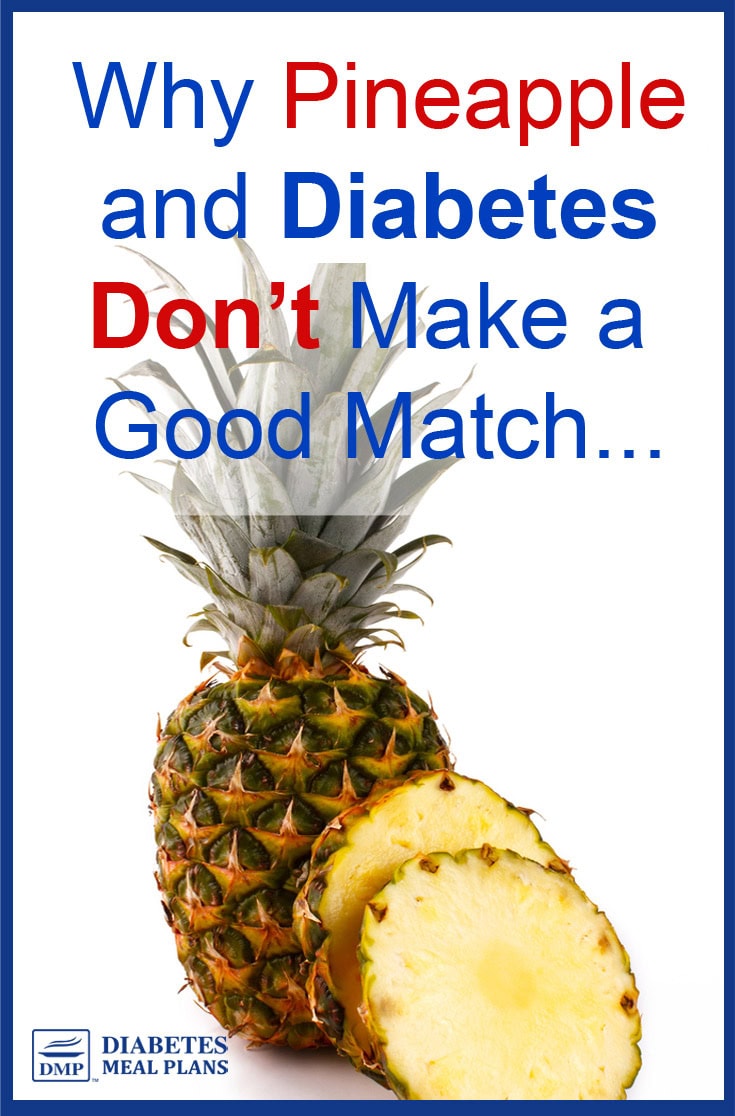 Research on Pineapple
According to research, pineapple does have some pretty cool benefits. But again, this research is not specific to people with diabetes and prediabetes. And just note: there is a big difference between prevention of a condition and treatment of a condition.
But if you're curious to know some of the research…
Animal studies have found that consuming the phenolic compounds found in pineapple can significantly reduce abdominal fat as well as fat accumulation in the liver.
Studies suggest that pineapple consumption may provide some anti-inflammatory properties, mostly due to its content of the bromelain enzyme. Bromelain may be helpful in the treatment of cancer, cardiovascular disease, osteoarthritis and diarrhea.
However, since bromelain is principally found in the core and stem of a pineapple, it's hard to consume much of it at home.
One interesting study found that school children who consumed one or two cans of pineapple each day developed fewer infections, and the infections that they did develop had a shorter duration. Though, it would really never be recommended to feed your kids that much sugar each day – so it's not very useful research!
And in terms of diabetes and prediabetes, well, there is no research to show benefits. Likely because in many cases it will be a fruit that spikes blood sugar, rather than help to lower it.
Pineapple and Diabetes Conclusion
While pineapple does have some great benefits, if it's one of your favorite fruits, it may be time for a fruity switch because the fruit's downsides (tons of carbohydrates and sugar) strongly outweigh the benefits.
Quite frankly, eating pineapple as a diabetic or prediabetic, is not the greatest match in terms of caring for your blood glucose levels.
But don't despair! That doesn't mean that you can't eat fruit at all – far from it!
The best fruits to eat are berries – strawberries, raspberries, blueberries and blackberries. These are the lowest in carbs overall, and thankfully they are delicious fruits to eat as well!