When it comes to managing your blood sugar and A1c, being aware of the very low carb foods available, can help you choose foods on the run that you know won't impact your numbers all too much.
So below we've put together a list of foods that will fit perfectly into your low carb diet. For each item, we've given you some foodie inspiration, but feel free to get creative in the kitchen and try whatever sounds delicious!
MEMBERS: You can find the printable list of these foods when you Login to the Members Site.
Zero Carb Heroes
Yup, you read that right. There are a range of foods and drinks that have absolutely zero carb content, which means they're the perfect addition to your everyday low carb meal plan.
Meats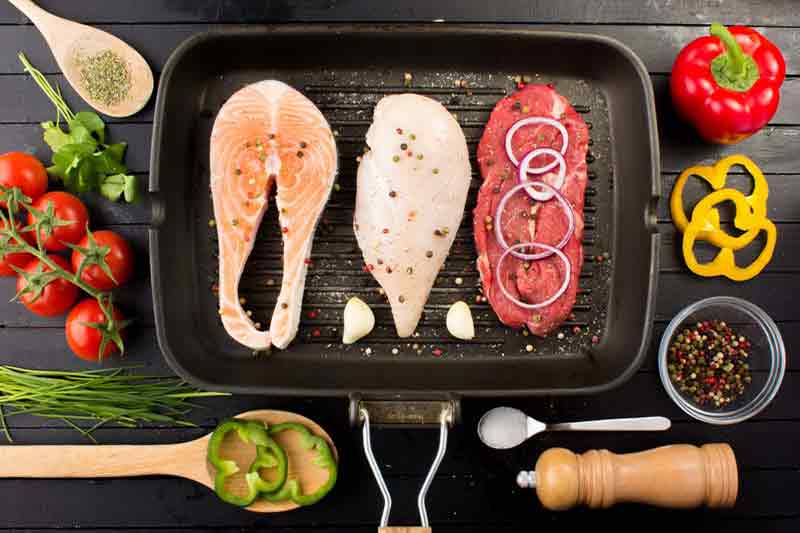 1. Beef
Beef has zero carbs and can be added to any dish for a healthy source of protein. Add some Spicy Beef Fajitas to your menu.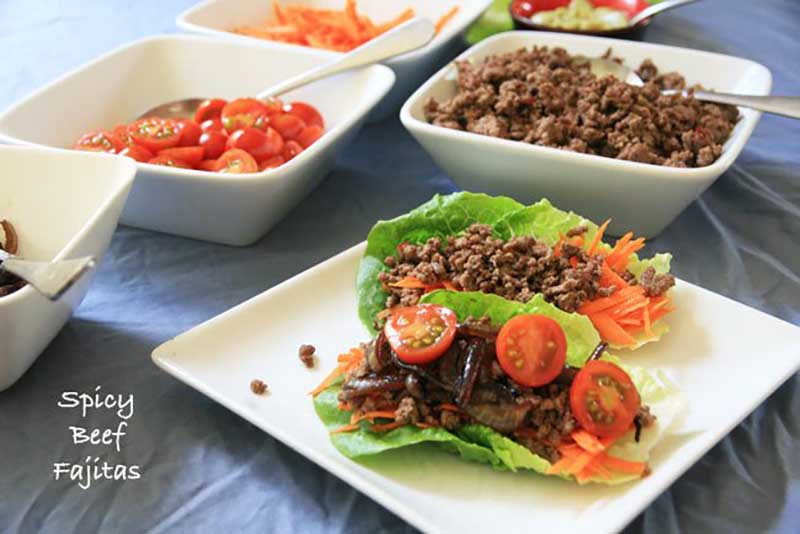 2. Lamb
Why not try some juicy lamb sliders? Lettuce wraps can pull the whole meal together, and goats cheese on top adds a nice pop of flavor.
3. Turkey
Serve up your family or friends these Turkey Patties with Beet Relish – it will make you look (and feel) like a gourmet chef!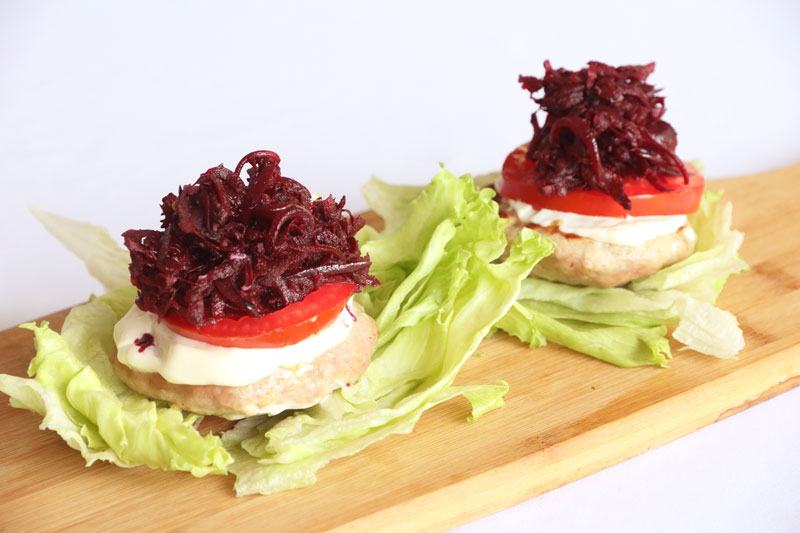 4. Bison
Bison meatballs are a great choice for a hearty winter night's meal or a summer barbecue with friends.
5. Pork
Pork chops crusted with almonds are a fancy low carb dinner option that will please meat lovers everywhere!
6. Veal
Veal piccata (that's veal cooked in butter and broth) is an absolutely delectable, high-class yet easy to cook dinner.
7. Chicken
For a satisfying and low carb chicken dish, this Chicken Veggie Stew fits the bill!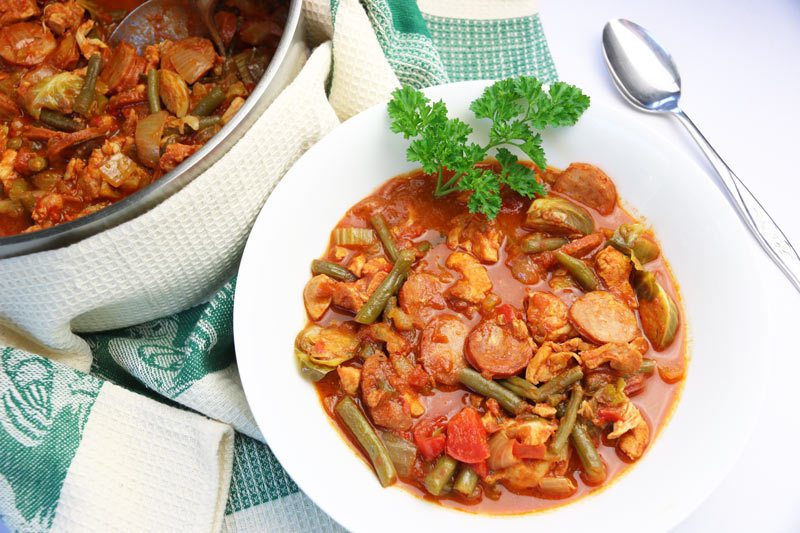 8. Organ meats
I know, this one might sounds scary – but bear with me for a sec!
Organ meats are super high in nutrients, making them extremely good for your body. Beef heart is a good one to start with – it tastes just like a roast!
TIP: Choosing whole food sources of meat over processed meats like bacon and ham is recommended. Quite simply for the fact that they are healthier options.
Seafood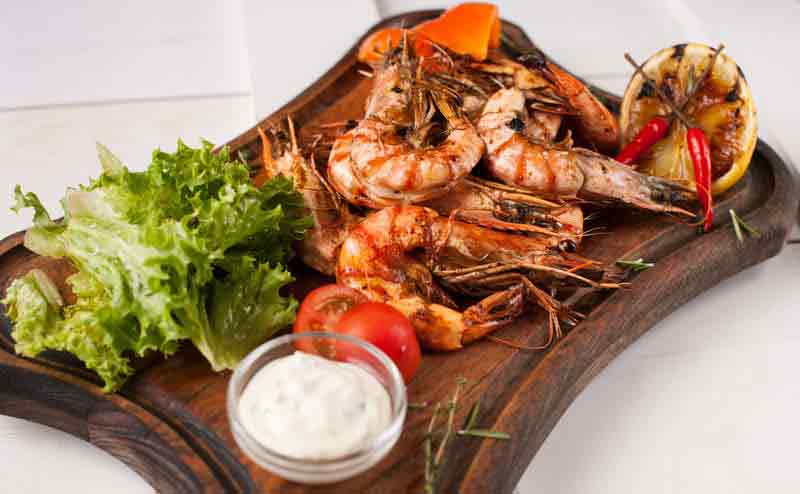 9. Shrimp

Shrimp is one of those foods that's just so darn good on its own, it doesn't need much dressing up to taste amazing.
Try sautéeing yours in garlic and butter (add some spice if you want to) and serve with a side of mayonnaise and chopped veggies for a satisfying low carb meal.
10. Tuna

Tuna makes a fabulous topper for any salad, or for low carb crackers. If you're looking for a satisfying crunch, adding chopped-up pickles, cucumbers, or celery to your tuna will make it into a fantastic lunch.
11. Salmon

Salmon is jam packed with omega-3 health benefits so for an easy weeknight dinner, slather a salmon fillet with Dijon mustard on one side and bake it mustard side down.
Your salmon will be so flavorful, you won't believe it!
12. Sardines

These fishy little flavor pockets taste amazing mixed into zoodles with some cherry tomatoes and capers. Add pesto, garlic and olive oil, or any flavoring that tantalizes your taste buds.

13. Trout

Trout tastes absolutely divine cooked in garlic butter. Serve alongside a fresh green salad for the classiest of dinners.
14. Halibut

Halibut is a classic fish-and-chips ingredient, so why not try making some low carb fish-and-chips yourself?
Pair baked halibut with eggplant chips for a nostalgic delight!
Miscellaneous
15. Herbs & Spices

The list of things you can do with spices like rosemary, basil, paprika, oregano, Italian blends, cinnamon, ginger, cumin, garlic, and so many more is absolutely endless.
For example, you could whip up some crispy kale chips seasoned with chili powder and garlic salt, or make low carb olive herb chicken spaghetti.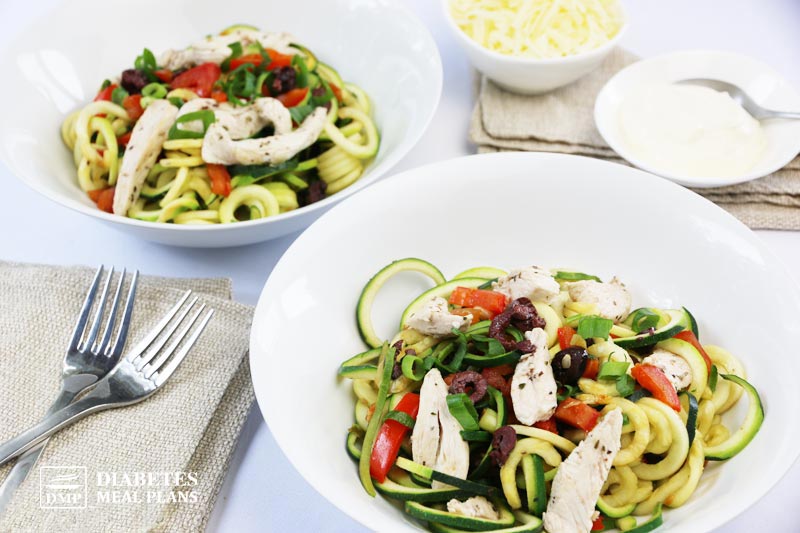 16. Vinegar

Try making our onion chili green beans and seasoning with the vinegar of your choice – apple cider, white, and wine vinegar are all great choices.
17. Yellow mustard

Everyone's favorite yellow condiment has absolutely no carbs!
Try making a sweet mustard dressing or marinade to top any salad or meat dish.
Fats & Oils
18. Coconut oil

Coconut oil can be substituted for butter in just about any baking dish. You can also try adding it to your morning smoothie or coffee for an awesomely satiating dose of healthy fats.
19. Olive oil

Sauté any vegetable in olive oil to add some healthy fat to your diet!
You can also use the oil to make roasted vegetables – roasted brussels sprouts are a great one to start with.
20. Avocado oil

Not too many people know about this one, but avocado oil is another fabulous healthy fat that's a good choice – it's carb-free, filling addition to your diet. Try mixing it with mustard and vinegar to make a tangy vinaigrette.
21. Grass-fed butter

Some people also like to add grass-fed butter to their coffee. Other uses for butter include frying or sautéing vegetables, meat, or seafood.
22. Full fat mayonnaise

Try making a tuna salad with mayonnaise and serving it on lettuce cups or a lettuce sandwich so you get a healthy meal without all those empty carbs from bread!
Beverages
23. Still, sparkling, club soda, or seltzer water

We all know water's good for us, but we also know that it can sometimes get boring to drink still water all the time. Try making a zesty lime spritzer using sparkling water instead.
24. Coffee

Some of us can't live without coffee, and the good news is that as a diabetic, you don't have to!
Drink it hot or try making an iced choco-holic – yes, it really is as good as it sounds.
25. Black or green tea

Just like coffee, drink these on their own or try your hand at making an iced black or green tea – these taste delicious flavored with a twist of lemon.

Please pin, tweet or share, then keep on reading…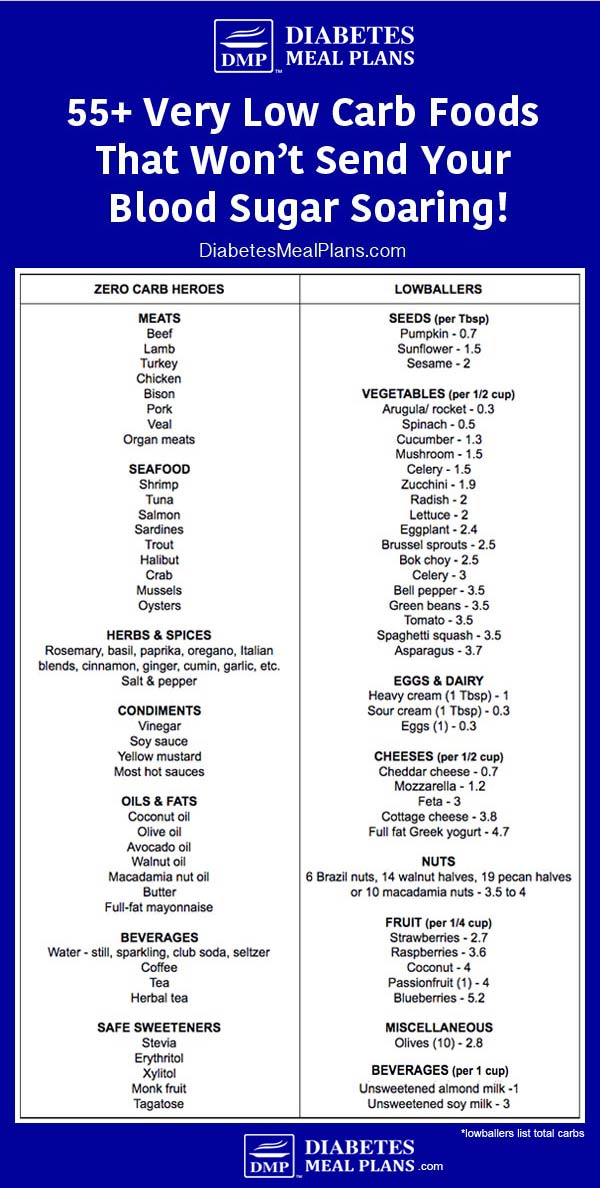 Now For The Lowballers…
The following foods are not zero carb but they are *very* low in carbohydrates.

Seeds
Munching down some pumpkin, sunflower or sesame seeds won't set you back a great deal in terms of carb count.
26. Pumpkin seeds
These clock in at 0.7 grams total carbs and 0.5 grams fiber, making them just 0.2 grams net carbs per one tablespoon serve.
27. Sunflower seeds
These follow close behind with 1.5 grams total carbs and 0.7 grams fiber, making them 0.8 grams net carbs per one tablespoon serve.
28. Sesame seeds
Sesame comes in at 2 grams total carbs and 1 gram fiber, making them 1 grams net carbs per one tablespoon serve.
Vegetables
29. Arugula/ rocket
(0.38 grams total carbs; 0.2 grams fiber per ½ cup)
Arugula, otherwise known as rocket, can be used to add a punch of peppery flavor and nutrition to just about any dish (think low carb pizza, pasta, etc.) – but it also really shines on its own.
Use it to make a simple bowl of greens that will give you an unparalleled boost of veggie-fuelled energy to last you the whole day through.
30. Spinach

(0.57 grams total carbs, 0.3 grams fiber per ½ cup)
Spinach is pretty much the king of nutrients. Try making our spinach pie with low carb pie crust for a hearty meal that won't send your blood sugar to crazytown.
31. Cucumber
(1.33 grams total carbs, 0.4 grams fiber per ½ cup)
Cucumber rolls make an adorable appetizer that's easy to make. And for the perfect low carb snack, ditch the carb-heavy crackers for some fresh and light cucumber crackers.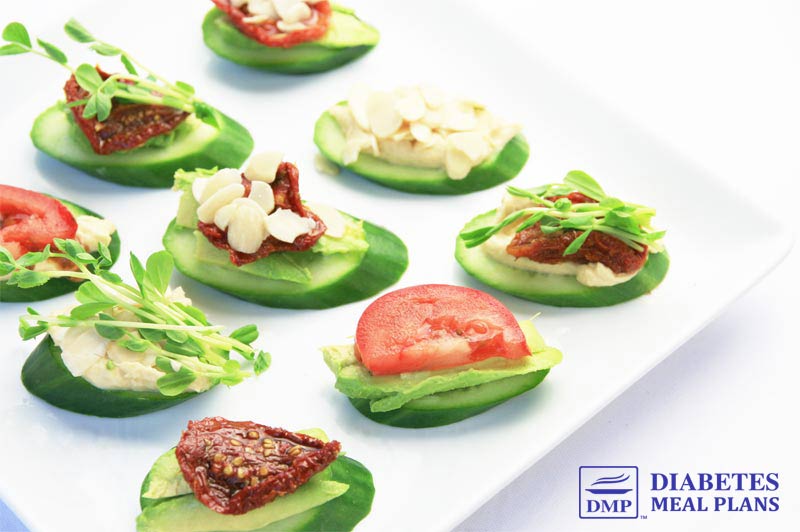 32. Mushroom
(1.5 grams total carbs, 0.5 grams fiber per ½ cup)
These edible fungi can be eaten raw or halved and sliced to be added to a stir fry. They also make the perfect addition to your breakfast fritatta or omelet.
33. Radish
(2 grams total carbs, 0.9 grams fiber per ½ cup)
Radishes pep up any salad – their flavor truly is unique! They also taste great dipped in any low carb dip you like.
34. Lettuce
(2 grams total carbs, 0.9 grams fiber per ½ cup)
Switch out your carb-heavy rice and pasta for a base of fresh lettuce instead. And eat it as a side salad at every single meal.
35. Brussels Sprouts
(2.5 g grams total carbs, 1.4 g fiber per 1/2 cup)
There's only one perfect way to eat Brussels and that is roasted – they are divine!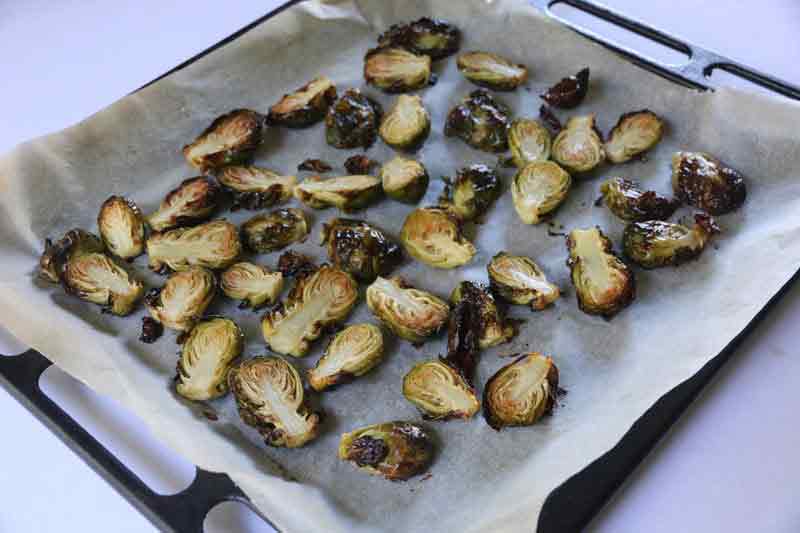 36. Bok choy
(2.5 grams total carbs, 0.5 grams fiber per ½ cup)
Bok choy is such an underrated green. This Asian veggie adds nutrition to soups and stews – for example, you could stir it into chicken noodle soup to shake things up a little.
37. Parsley
(2.9 grams total carbs, 1 gram fiber per ½ cup)
Want a fancy low carb appetizer for your next dinner party? Make our zucchini spritzers and top with parsley. You won't regret it, because your guests will adore them.

38. Celery
(3 grams total carbs, 1.2 grams fiber per ½ cup)
Dip this low carb superstar in hummus or yogurt ranch dip for a filling, low calorie snack any time of day.
39. Green Beans
(3.4 g total carbs, 1.4 grams fiber per ½ cup)
A side of pan fried onion chili green beans is the perfect match for any of those zero carb proteins above.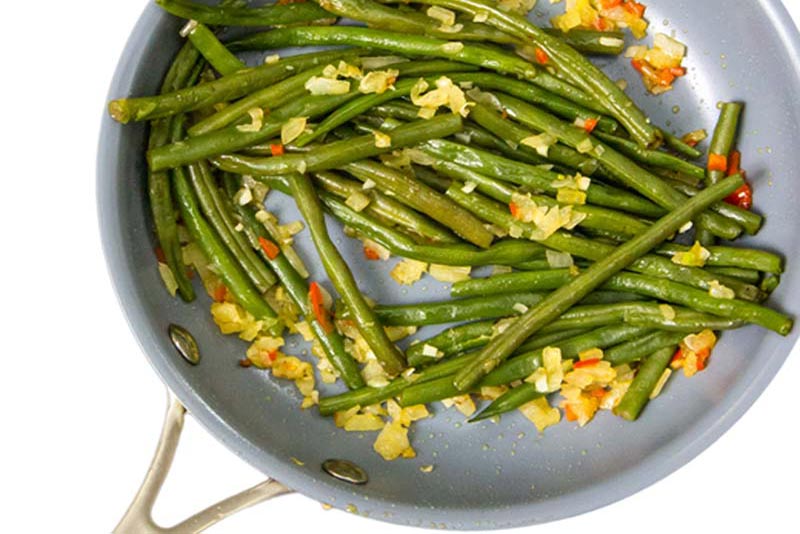 40. Spaghetti squash
(3.5 grams total carbs, 0.8 grams fiber per ½ cup)
Top spaghetti squash with your favorite spaghetti sauce and serve to your family – they may not even be able to tell that it's not 'real' noodles!
41. Asparagus
(3.7 grams total carbs, 1.8 grams fiber per ½ cup)
Filled with a unique soluble fiber to feed your beneficial gut bacteria, asparagus are amazing to eat in solo. Or for something incredibly moreish, try our Pesto Asparagus Salad.
Eggs & Dairy
42. Heavy cream
(1 gram total carbs per tablespoon)
A small amount of berries topped with a bit of whipped cream is one of the best treats to eat slowly and savor. Or the addition of a bit of cream to a sauce makes a dish instantly decadent.
43. Eggs
(0.3 grams total carbs per medium egg)
Eggs are another high protein, low carb nutritional superstar!
Try out our healthy egg muffins with kale and tomato – make a batch at the beginning of the week and grab-and-go for breakfast every day!
44. Cheddar cheese

(0.7 grams total carbs per ½ cup)
One of our most popular recipes is this Cheesy Vegetable Bake – give it a try as you'll no doubt love it as much as everyone else.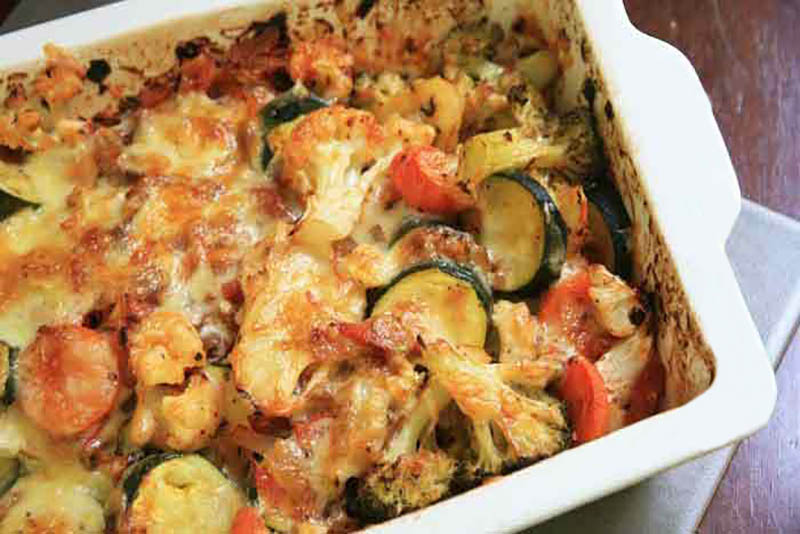 45. Mozarella
(1.2 grams total carbs per ½ cup shredded)
Well you know what mozarella cheese is perfect for? Low carb pizza.
46. Cottage Cheese
(3.8 grams total carbs per ½ cup)
Top a spaghetti dish with cottage cheese, or serve it in a dish topped with berries and slivered almond pieces.
47. Full fat Greek yogurt
(4.75 grams total carbs, 0.7 grams fiber per ½ cup)
Our diabetic vanilla sponge cake can be topped with a Greek yogurt-based frosting that will blow your mind without blowing your blood sugar out of the water.
48. Nuts
If you choose to eat 6 Brazil nuts, 14 walnut halves, 19 pecan halves or 10 macadamia nuts, you'll only clock in 3.5 to 4 grams of carbs.
Most other nuts are low carb too with the highest being cashews at 9 grams total carbs for 16-18 nuts.
Fruit
There are only a few fruit options in the very low carb category.
49. Raspberries
(3.6 grams total carbs, 2 grams fiber per ¼ cup)
Enjoy raspberries in moderation atop of cottage cheese, or on top of your salad for a summery twist. Just be conscious to stop at your 1/4 cup portion.

50. Strawberries
(2.7 grams total carbs, 1.2 grams fiber per ½ cup)
There's no need to do anything but wash strawberries and enjoy. Although, pairing any fruit with a protein such as nuts or cheese is always a good idea.
51. Blueberries
(5.2 grams total carbs, 0.9 grams fiber per ¼ cup)
Another diabetic fruit favorite, blueberries also taste great atop breakfast foods or as a side to a roasted nut muesli. They also make a strange (and strangely satisfying) combination when paired with cheese!
52. Avocado
(10.88 grams total carbs, 4.6 grams fiber per ½ avocado)
Yes, avocado is a fruit!
And there's no more classic avocado recipe than guacamole? Try our take on it with veggie sticks or low carb chips or crackers. Olé!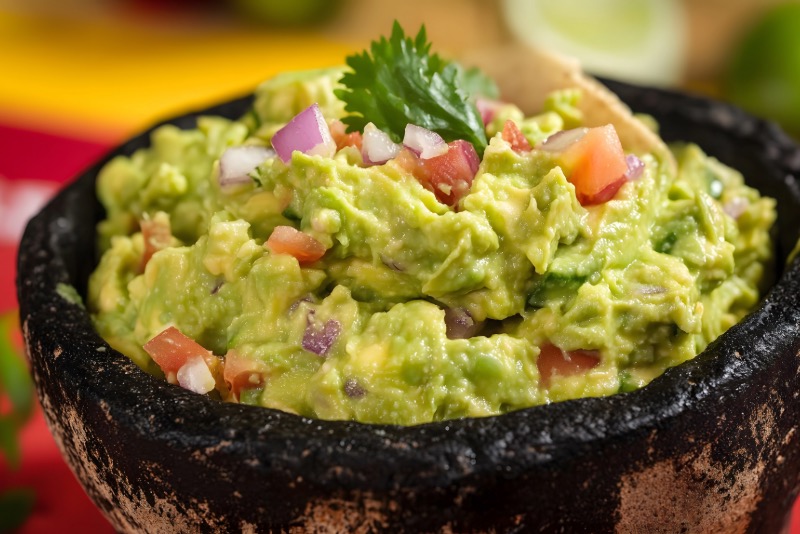 53. Olives
(2.8 grams total carbs per 10 olives)
Olives are a great source of antioxidants (vitamin E), flavonoids, and polyphenolic compounds that all help to reduce oxidative stress and inflammation.
Beverages
54. Unsweetened almond milk
(1 grams total carbs, 1 gram fiber per cup)
Almond milk is a great milk alternative for diabetics, as it contains much, much less carbs and sugar than cow's milk. Use almond milk wherever you would traditionally use cow's milk – in baking, on low carb cereal, etc.
55. Unsweetened soy milk
(3 grams total carbs, 1 gram fiber per cup)
Just like almond milk, soy milk is an awesome alternative to cow's milk – and it's also high in protein! Just be sure to always choose unsweetened varieties for both almond and soy beverages.
Well, there you have it – 55 very low carb foods you can rely on as your go-to foods.
Please share, pin or tweet so others can enjoy all this delicious foodie inspiration, too. 😉