Although bitter melon may be new to you, it's been used as a diabetes treatment for high glucose levels for centuries in places like India, China, parts of Africa and South America.
Bitter melon is part of the cucurbitaceae family, a vine that bears a variety of different shaped fruits that are commonly used in cooking stirs fries and soups, and as an herbal tea. The young leaves can also be eaten fresh as greens.
JUMP TO: What is bitter melon | How does bitter melon work | Bitter melon for blood sugar & A1c | Bitter melon for insulin resistance | Bitter melon for cardiovascular disease | Bitter melon for weight | Benefits & conclusion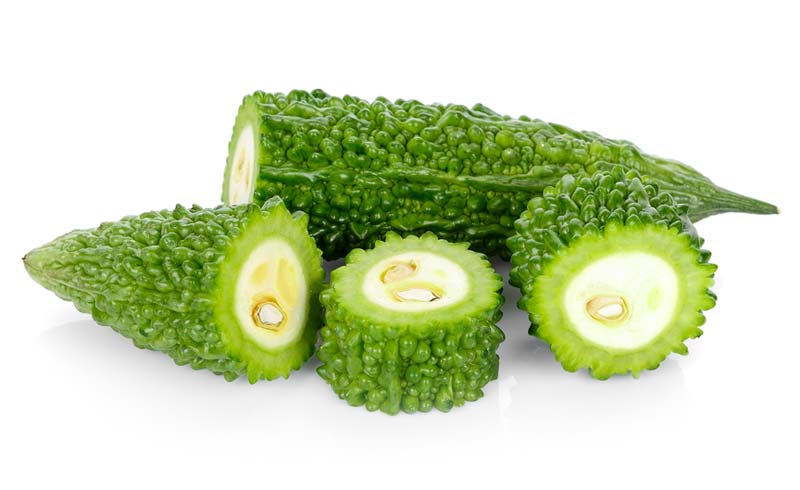 DISCLAIMER
Please note that this information is not an endorsement for bitter melon. We are simply sharing the research surrounding it. You should always discuss supplementation with your doctor.
What is bitter melon?
Bitter melon is a plant native to the tropical regions of Asia, South America, and the Caribbean. It also goes by several other names like "bitter squash," "bitter gourd," or "bitter apple," as well as its scientific name, "momordica charantia."
Judging by its many descriptive labels, you can probably guess how it tastes… bitter!
Still, while it may be one of the more sour fruits out there, you'll soon discover that its health benefits are pretty darn sweet.
How does bitter melon work?
Armed with 32 active phytochemicals, bitter melon is a disease-fighting machine. It has many anti-viral, anti-bacterial and hypoglycemic properties. But the main selling point of bitter melon is its ability to improve chronic metabolic diseases.
Alongside its powerful phytochemicals, bitter melon contains vitamins, minerals, antioxidants, and anti-inflammatory agents.
And combined, these properties have the potential to stabilize blood sugar, reduce body fat, support optimal metabolism, balance out hormones, regulate appetite, and reduce inflammation—all important factors in the treatment of type 2 diabetes and its complications. And of course, these are perfect benefits for those with prediabetes, too!
Bitter Melon May Lower Blood Sugar & A1c
It is suspected that there are two specific compounds responsible for the blood sugar-lowering effects of bitter melon: charantin and polypeptide-p (an insulin-like plant chemical).
Together these compounds have hypoglycemic effects and may help lower fasting blood glucose levels and A1c, making bitter melon a potential treatment tool for people with type 2 diabetes.
In one study, diabetic participants given bitter melon (either 2g/day or 4g/day) for 10 weeks saw improvements in their fasting blood glucose and A1c levels. The participants taking 2g/day saw their A1c levels drop by an average 0.85% and their fasting levels drop by an average 15.3 mg/dl (0.9 mmol/l), and the participants on a dose of 4g/day saw their A1c levels drop by an average 1.15% and their fasting levels drop by an average 14.8 mg/dl (0.8 mmol/l).
Animal studies have shown that bitter melon has a greater influence on blood glucose than the popular diabetes medication metformin, so it may be beneficial to people who struggle with the digestive side effects of the commonly used drug.
Though, one study in newly diagnosed diabetics found metformin was far more effective than bitter melon, reducing fasting glucose by 14.7 mg/dl (0.8 mmol/l) over 4 weeks, compared to 2.3 mg/dl (0.1 mmol/l) in people taking bitter melon 2g/d.
Bitter Melon May Decrease Your Level of Insulin Resistance
Insulin resistance is a key contributor to high blood sugar levels. Because when your cells are resistant to insulin, insulin can't unlock the cells so that glucose can be moved from the bloodstream into the cells.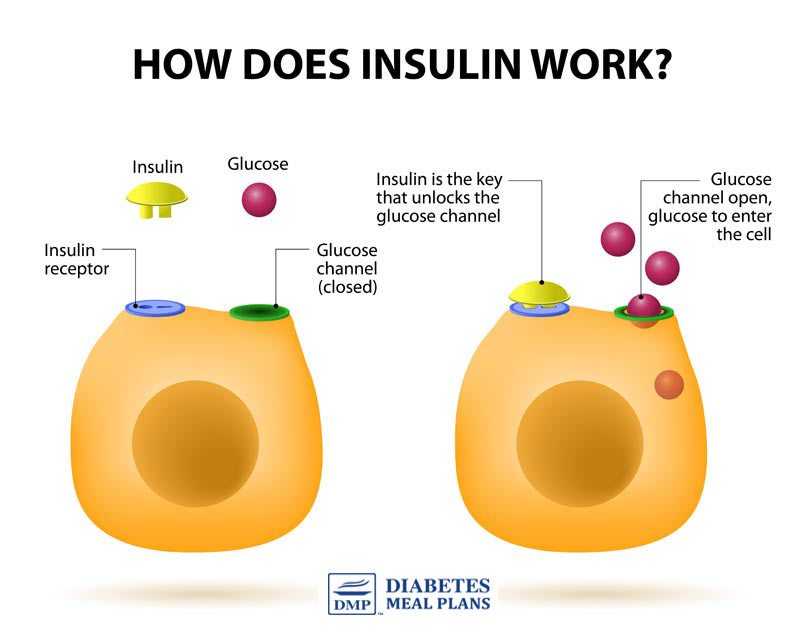 Studies suggest compounds and proteins in bitter melon help to stimulate glucose uptake in insulin resistant cells. It sensitizes the cells so they become more responsive and acts almost like an insulin-substitute to help clear more glucose out of the bloodstream.
And on top of that, it may help enhance the function of pancreatic cells to assist with more balanced insulin production.
Bitter Melon May Improve Cardiovascular Health
It is unfortunate that living with type 2 diabetes increases your risk for cardiovascular disease, especially if your blood sugar levels aren't kept within a healthy range.
Though fortunately, bitter melon appears to offer some great cardio-protective benefits.
In terms of improving cardiovascular health and circulation, the goal is generally to lower total cholesterol, LDL cholesterol, and triglycerides, while increasing HDL cholesterol. So with these goals in mind, it looks like bitter melon may help do the trick.
Type 2 diabetic participants taking bitter melon saw a drop in total cholesterol of 3.75 mg/dl and 4.10 mg/dl on 2g/day and 4g/day doses, respectively. They also saw reductions in LDL cholesterol 3.20 mg/dl and 5.10 mg/dl, triglycerides 3.40 mg/dl and 13.80 mg/dl, and an improvement in HDL +1.85 mg/dl and +3.60 mg/dl.
Reviews have confirmed that bitter melon has several influences on enzymes and liver function that help improve lipid profile and cholesterol levels in people with type 2 diabetes and prediabetes.
Please pin, share or tweet; then keep reading!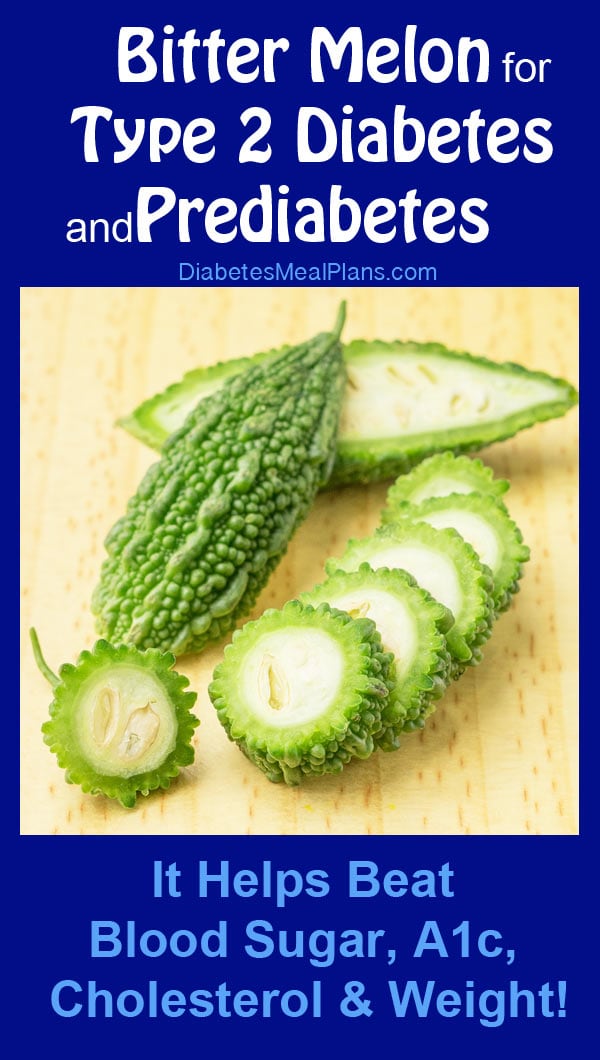 Bitter Melon May Help You Beat the Bulge
Type 2 diabetes is associated with a disruption in the body's metabolic system, and because of this, many people struggle with weight and even obesity.
Fortunately, bitter melon may also have a positive effect on body weight because of its anti-inflammatory and anti-oxidant properties, as well as its ability to influence gene expression in the liver.
Over 10 weeks of supplementation with bitter melon, participants lost an average 4.07 lbs (1.85 kg) and 6.83 lbs (3.10 kg), on 2g/day and 4g/day doses, respectively.
Bitter melon has also been shown to have a strong effect on fat storage and metabolism in several animal studies.
For example, one review found that bitter melon supplementation prevents the increase in size of fat cells (adipocyte hypertrophy) and this helps to reduce central fat mass and body weight gain.
In fact, researchers suggest that bitter melon is especially effective at fighting abdominal fat, which tends to be a more dangerous type of 'inflammatory' fat and is often a precursor to obesity. And animal studies have shown that bitter melon can help fight this obesity-induced chronic inflammation in fat tissue.
Benefits of Bitter Melon
Overall, there are several potential benefits of bitter melon for people with type 2 diabetes and prediabetes:
Lower fasting blood glucose
Lower A1c levels
Weight loss
Improved cholesterol levels
Potential Side Effects
Side effects from bitter melon supplementation are not common. However, the most frequently reported side effects are mild gastrointestinal distress like diarrhea and mild gut pains.
Pregnant women should not take bitter melon without consulting with a doctor. And in fact, you should not supplement unless you talk to your doctor first, just to ensure there are no contraindications.
Remember, bitter melon is a glucose-lowering agent so if you already take medications like metformin, you can put yourself at risk of hypoglycemia.
Dosage and best forms
Bitter melon can be taken in supplement form.
According to research, the recommended dosage for bitter melon supplements ranges from 1-3 grams per day.
Taking smaller doses several times throughout the day may reduce your likelihood of any unwanted side effects.
Bitter melon fruit can also be eaten fresh or cooked, and is often available at dedicated Asian grocery store or some farmers markets.
And just remember, while supplements can provide assistance, the foundation of your treatment should be based on a healthy low carb diet and an active lifestyle!
Please pin share or tweet this info to inform others – thanks!