Metformin is one of the most commonly prescribed medications for type 2 diabetes and prediabetes. That means it's also one of the topics we frequently receive questions about.
Here we've gather up 20 questions about metformin for diabetes and provided the answers.
For more information on how metformin works and it's side effects, read this information.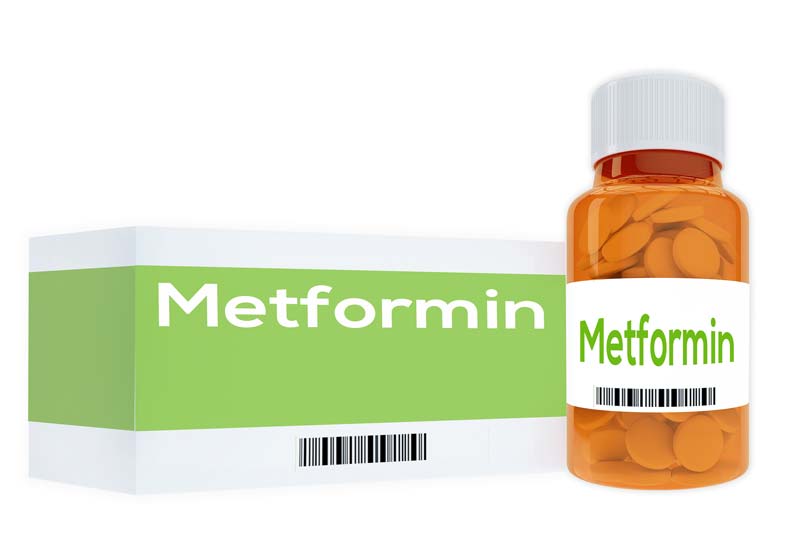 My doctor wants me to take metformin but I'm concerned about side effects. What are the most common side effects?
The most common side effect of metformin is gastrointestinal: diarrhea, bloating, gas, and abdominal discomfort. This occurs in a small percentage of patients and it generally goes away within 2 weeks as the body adjusts to the medication.
Other side effects include: risk of vitamin B12 deficiency and lactic acidosis (rare).
Why does metformin cause diarrhea?
Metformin does not cause diarrhea in everyone, and in fact most people do not experience any problems with it. As with all medications, different bodies react differently – some experience side effects while others do not.
While the exact mechanism is not clear, in most cases it is simply the gastrointestinal tract getting used to a new substance. The diarrhea usually goes away in time and doesn't have lasting, long-term impact in most people. However, if you find it too discomforting or if diarrhea persists, you should consider other options.
For instance,berberine is a natural agent that's been proven to be as effective as metformin. And remember, diet and lifestyle changes can often reduce or eliminate the need for metformin. 
Can metformin stop your period?
No. Metformin does not have an action that affects female hormone production or utilization.
How do I stop taking metformin? Do I have to reduce slowly or can I just stop?
If your doctor recommends you stop taking it you can simply stop taking it – unless he/she very specifically instructs you to wean from it. Metformin doesn't have any sort of addictive physiological effect that would cause withdrawal symptoms.
However, if you are simply trying to gradually go off medication and are at the maximum dose, it may be wise to discuss with your doctor a method of decreasing slowly, to see if a smaller dose is able to better control your sugars.
Why is metformin used for weight loss?
Metformin has a weight loss effect, but it is not currently approved for use as a weight loss medication. It's prescribed use is for blood sugar control, but one possible side effect of taking metformin is weight loss.
Metformin does not increase metabolism but tends to affect appetite slightly causing a decrease in food intake.
Are there foods I need to avoid while taking metformin?
Nope!
Although, if you are taking metformin it is probably for blood sugar control, so you will want to limit your total carbohydrates, especially white refined carbs and sugars, which is recommended regardless of whether you're taking meds or not.
Should I expect immediate results from metformin?
Results vary from person to person, but will probably take a minimum of a few days to a week to see changes. Most often people will need to gradually increase the dosage over time before they start seeing numbers come down. If you don't see any difference in a month it probably isn't having much of an effect.
Can metformin cause yeast infections?
No, this is a side effect of some other diabetes medications (such as the SLGT-2s like Invokana, Jardiance etc), but not metformin.
How much does metformin lower A1c?
Again, this will vary from person to person, but averages from clinical trials conducted show an A1c lowering potential of 1%. That is pretty impressive considering it has minimal side effects and weight loss benefits.
Please pin, tweet or share; then keep reading – thanks!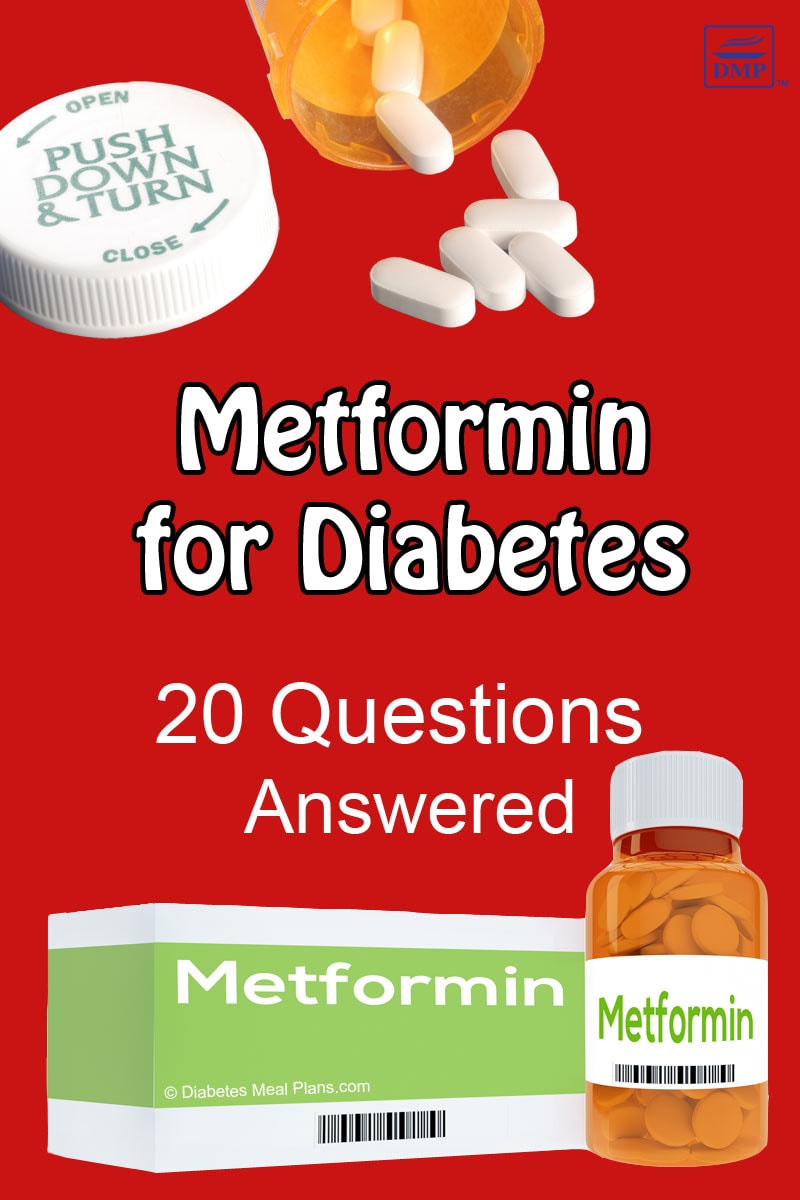 Is it safe to take herbal supplements while taking metformin?
It depends on what the supplement is. Dietary supplements are not regulated, at least in the United States, and so they are not certified and approved by any agency for safety or efficacy. 
In saying that, there are clinical trials that indicate some herbal supplements can provide better outcomes when combined with metformin, such as berberine.
In any case, please do your research, make sure you buy from a reputable source and check with your doctor or pharmacist before taking an herbal supplement. 
Can metformin cause foot pain?
No, this is not a side effect of metformin. Your foot pain could be due to neuropathy, a diabetes complication not caused by the medication.
Is metformin safe to take with other medications?
Generally yes, but because there are so many, it is always wise to check with your doctor or pharmacist before taking any new medications, just to be sure.
One thing to note is that if you are having a procedure that requires contrast dye (such as an MRI or CT scan), metformin should be stopped several days prior to the test.
I heard metformin can lead to vitamin B12 deficiency, is this true?
Yes. Metformin can cause vitamin B12 deficiency over time.
If you've been taking Metformin for several years, it is advisable to get a B12 blood test.  This deficiency can easily be corrected through supplementation or periodic B12 injections.
Metformin says: "Take with a meal." Should I take the tablet at the beginning of the meal, half-way through the meal, or after the meal?
It doesn't make a difference, as long as there is food in your belly at the same time as the medication, you're good to go.
In fact, the metformin does not need food to work; it's just that food helps reduce any stomach upset that may occur from taking it.
My weight has gone up by 10 lbs (4.5kg) since starting the Metformin medication, is this normal?
That is not normal. Have you eaten more during this time period due to increased hunger or appetite?
Has anything else changed during this time – your activity level, other medications, illnesses etc?
Or is the metformin the only variable you think is different? What is the time period?
It's unlikely that metformin would be the cause, but it's recommended you eliminate all other possibilities and discuss these details with your healthcare team.
If my A1C drops from 7.4 by a couple points, do you think I should have to continue taking metformin?
Changing medications is always a joint decision between you and the doctor who prescribed it. You should consider your goals, your risks and the benefits/drawbacks of the medication.
In saying that, if your A1c levels dropped to 5.4, you wouldn't even be within pre-diabetes range, in which case medication probably won't be needed. Many of our members are reducing, then eliminating medications – it is possible.
However, if you do reduce A1c by a couple of points, it may be the case that your A1c lowers because of or with the help of metformin, in which case going off it may lift you back above your goal. Again, you will need to discuss this with your doctor, and monitor your individual changes. In any case, improving your A1c is a good sign of progress and indicates you are doing many things right! 
And you can of course eliminate medications if you continue to implement diet and lifestyle changes and gain/maintain good blood sugar control.
I am on metformin 2 x day, if I'm careful can I prevent going on insulin?
Yes, possibly. But overall, it depends on how much is still within your control. Many people who are diligent with their diet, activity, weight and medication are able to reverse their numbers and don't currently need insulin, and they likely never will.
However, if your numbers are out of control and you're doing nothing but take medications, your condition will likely progress. Relying on medications alone, is not enough, you have to be proactive with your diet and lifestyle.
There are also some cases where people put forth due diligence, yet even so, over time they still end up needing to take medications or insulin due to a decline in pancreatic function. Some of this may be a result of things you can't control like genetics and age. Hopefully, you end up in the former category, but remember if not, don't feel bad about it, insulin is what the body needs if it cannot make it!
I am a newly diagnosed diabetic and on metformin and would like to know, if I am able to get my blood sugars down in the near future, can I stop taking medications?
Yes. Many people within the DMP community have managed to reduce or eliminate their medications. But again, that is a discussion between you and your doctor and will depend on you gaining and maintaining good blood sugar and A1c control. 
Reducing or eliminating medications is a great goal to aim for. And remember, making lifestyle changes will always reduce the medicine load you would otherwise need, which means, even if you don't end up being able to go off medication completely, you will be able to reduce the amount you need to take.
How do I time my 2 x 1,000 mg daily doses of Metformin?
Take one pill in the morning with breakfast and one in the evening with dinner.
How does Metformin work with food? Should I be consistent with carbs throughout the day? Will my numbers drop low if I don't eat enough carbs?
No, your numbers will not drop low as a result of carbs and metformin. Metformin does not work better or worse with or without food. It's simply the case that food in the stomach helps reduce side effects of the medication, such as bloating, stomach ache or diarrhea.
With that said, it is important to aim for a relative consistency with carbohydrates. Here at DMP, we encourage people to consume a low carb diet because research shows it's one of the most beneficial diets for producing outcomes – lower blood sugar, A1c, cholesterol etc. So be aware that if you're cutting back on carbs, your numbers are obviously going to be lower, that's a great consequence of eating lower carb – people gain much better control of their numbers! But in most cases, those numbers shouldn't go so low as to cause hypoglycemia.
However, if you're taking insulin, you do need to be more cautious and aware when reducing carbs because you may need to adjust your dosage to prevent hypoglycemia. 
For more information on how metformin works, read this information.