Pie, pie, pie – who doesn't love a delicious piece of pie!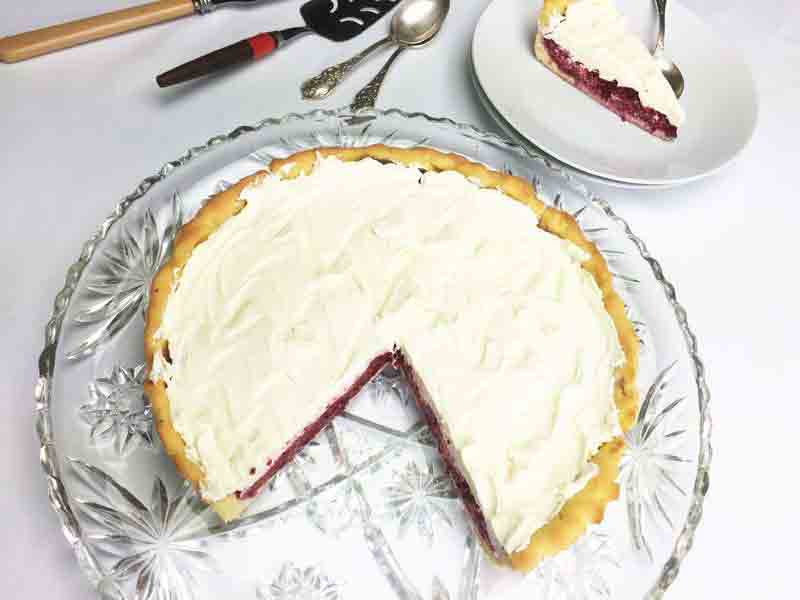 Thankfully, even though you have type 2 diabetes or prediabetes, you can still enjoy all types of pie from pecan, pumpkin, blueberry, lemon cream, key lime, coconut cream pie, to cream chocolate pie – Mmmm, is your mouth watering? Mine too. 🙂
Of course, to make sure you keep your blood sugar and A1c levels in check, you do need low carb diabetic pie recipes. And just a few days ago, we shared our low carb diabetic pie crust recipe.
Plus we share the video cooking class as well. Be sure to subscribe to our YouTube channel for future diabetes friendly cooking classes.
Today, we're adding one delicious pie filling for you to try – Raspberry Cream Pie filling.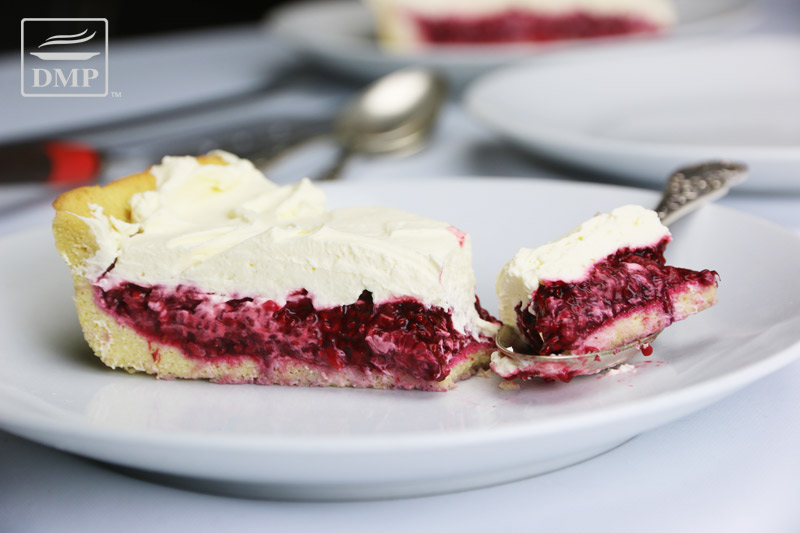 With a whipped topping of sweet cream and a blissful berry filling, this pie is definitely moreish. Raspberries do have a slightly tangy flavor, so if that's not your style, you can use the exact same process to make it a blueberry pie or a strawberry pie topped with fresh strawberries and cream – YUM!
We use frozen raspberries but you could easily use fresh raspberries as well. Or any other frozen or fresh berry for that matter (berries being the best low carb fruit), which means you have a variety of pie fillings to create, all using a similar recipe that we're about to share.
Our preferred sugar substitute is liquid stevia extract. Other suitable sugar-free sweetener options include monk fruit, tagatose, erythritol, xylitol or a brand that combines a blend of those.
Some people find stevia bitter. But the key to using it effectively is: less is more.
With the sugar substitutes (many of them being 100s of times sweeter than sugar), it can be easy to tip the scale and add too much, which can create a bitter result, rather than sweet.
And something to keep in mind is that while your taste buds may be used to very sweet sugary foods, they do adapt and you'll find that in time, as your low carb diet gets healthier and healthier, the naturally sweet flavors of foods will become more prominent.
Raspberry Cream Pie Cooking Masterclass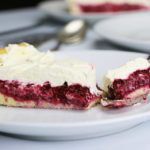 Pin Recipe
Low Carb Raspberry Cream Diabetic Pie (or make it Blueberry or Strawberry Pie)
An incredibly delicious sweet pie suited to any occasion.
Ingredients
Sweet Pie Crust
3.5

oz

almond flour

- equiv. 1 cup

2.7

oz

coconut flour

- equiv. 1/2 cup

4

eggs

1/4

cup

olive oil

- equiv. 4 Tbsp

1/4

teaspoon

salt

10-15

drops

liquid stevia extract

Parchment (baking) paper
Raspberry Cream Filling
17.6

oz

frozen raspberries

- defrosted

1/4

cup

Water

15-25

drops

liquid stevia extract

1.5

oz

chia seeds

- equiv. 1/4 cup, can use black or white chia seeds

10

fl.oz

cream

- double or thickened will both work, whipped
Instructions
Preheat oven to 350°F/ 175°C.

Place all the ingredients into a food processor (using a mixer element) and blend for 1-2 minutes to combine. When it first starts to blend it will look like quite a runny mixture. But as the flours absorb the liquid, they will swell and the dough will slowly begin to thicken. If the mixture sticks to the sides of the processor, remove the lid and use a spatula to scrape down the edges. Once it's well combined, you should have a thick, sticky dough.

Line a 10-inch (26 cm) pie dish with parchment paper (it also works in a 9-inch dish).

Remove the sticky dough from the food processor and place into the pie dish.

Moisten your fingers with water so they don't stick to the dough; then use the palm of your hand and flat of your fingers to flatten it out evenly across the bottom of the dish and up the edges. It is a bit of a fiddly process so just take your time and work the dough mixture evenly across the dish. When you're satisfied the base is fairly even, use a fork to intermittently poke the bottom of the crust.

Place the pie crust in the oven on the middle shelf for 25 minutes, until the edges turn golden brown.

Remove from the oven and allow to cool before removing the parchment paper.

Your crust is now ready to add your pie filling.

Pour the defrosted raspberries into a pan over medium heat.

Add the water and the liquid stevia extract and stir gently to combine.

Allow the mixture to heat until it reaches a simmer. You will see it starts to gently bubble around the edges of the pan.

Remove from the heat and add the chia seeds, using a spoon to gently stir them through the raspberry mixture.

Pour the raspberry mixture into the pie crust, using a spoon to spread it out evenly across the pie crust.

Place in the fridge for at least 3 hours to set the raspberry filling. It can also be left overnight if preferred.

Whip the cream in a food processor or mixture; then carefully add to the top of the pie, spreading evenly across the pie and right to the edges; then use your spatula to create a wavy pattern in the top of the cream.

Your pie is now ready for eating - enjoy!
Notes
STORAGE
Fridge: Can be stored for up to 5 days.
Freezer: Can be frozen for up to 3 months, though it is best frozen without the whipped cream. You can still store it completely made, but once the cream is defrosted, the texture does change slightly. Still delicious though!
OTHER BERRY FILLINGS
Since berries are the lowest carb fruit available, you can also make this a blueberry or strawberry pie, or even a mixed berry pie. Many types of berries are available frozen.
Share by Email
Share on Facebook
Share on Twitter
Pin Recipe
Please pin, tweet or share this delicious recipe – thanks!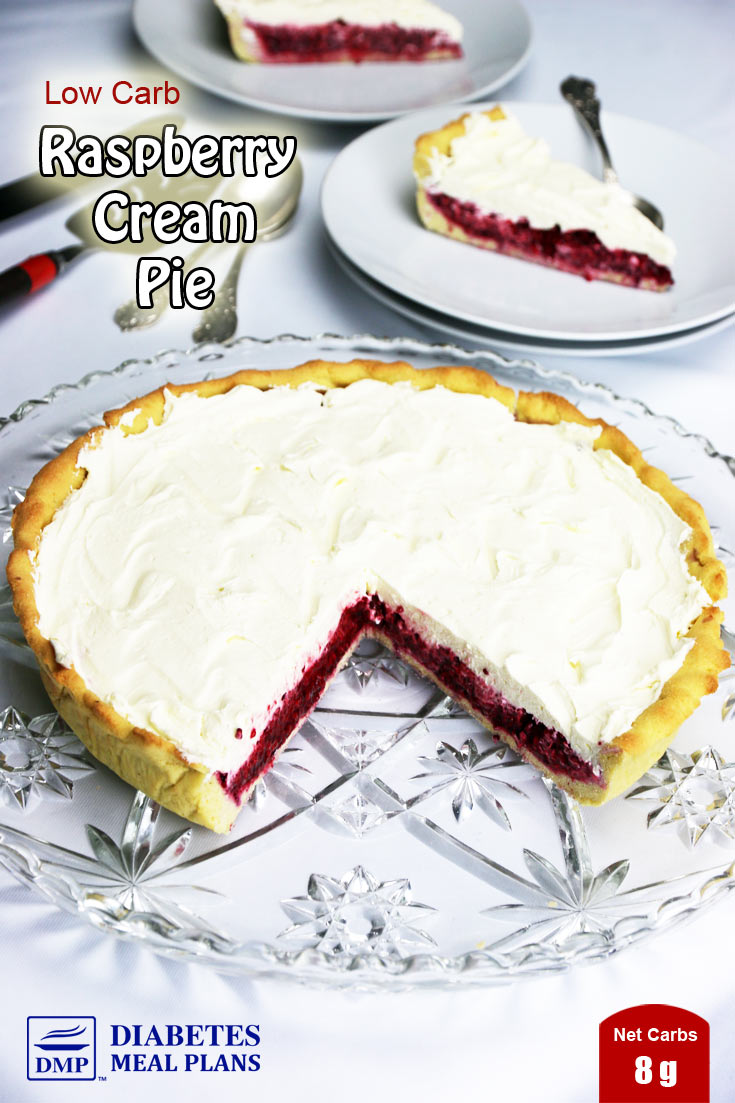 Essential Cooking Equipment
Enjoy!
Subscribe for Weekly Nutrition Tips & Recipes