Skipping the animal products to eat a plant-based diet, is of course, your personal choice.
But when it comes to a vegetarian diabetes diet, there are some important things you need to know to ensure you keep your blood sugar levels in a healthy range.
For instance, the various carbs that are good or bad, ensuring you get adequate vegetarian protein, possible nutrient deficiencies and so forth.
Let's explore these things together now, along with food samples and recipes.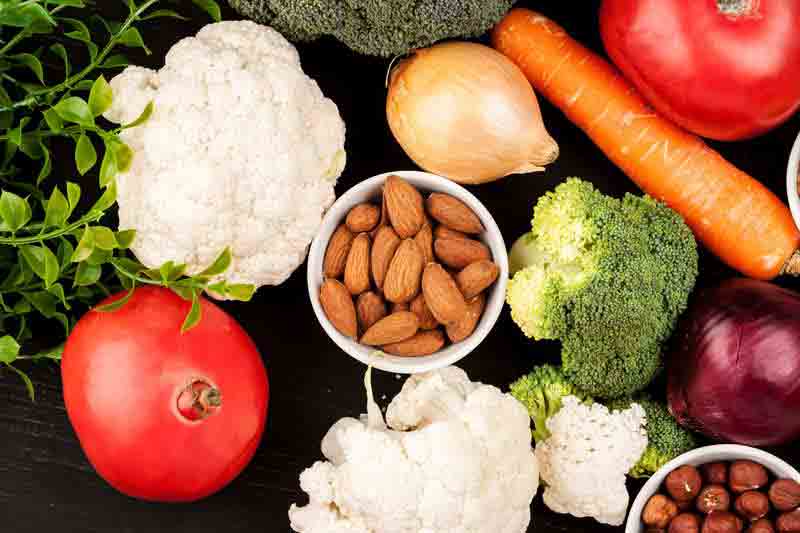 Vegetarian Classifications
Lacto-ovo vegetarian (most common type) – eat both dairy products and eggs.
Lacto-vegetarian – eat dairy products but avoid eggs.
Ovo-vegetarian – eat eggs but not dairy products.
Vegan diet – don't eat dairy products, eggs, or any other animal-derived products.
Pescetarian (or pesco-vegetarian) – a person who is a vegetarian most of the time but occasionally eats fish.
Flexitarian – a person who is a vegetarian most of the time but occasionally eats meat.
Vegetarian for Type 2 Diabetes and Prediabetes
A diet rich in plant-based foods is a healthy diet!
Here at DMP we encourage everyone to include an abundance of vegetables (even meat eaters) because they offer valuable, high quality nutrients that the body needs to:
Reduce risk factors for conditions like heart disease
Manage blood glucose levels
Reduce HbA1c
Lower body weight
Keep blood pressure regular
And ward off chronic diseases
Yes. Nutrients are the key to keeping the body functioning. All our cells need nutrients, and vegetables and other whole foods provide the perfect ingredients for a healthy body!
But, not all plant foods are great to eat when you have diabetes or prediabetes. There are a few aspects you need to understand to sustain and maintain good diabetes management, so let's go over those now.
Stick to Non-Starchy Vegetables
One of the most important things you can do as a vegetarian is eat more vegetables!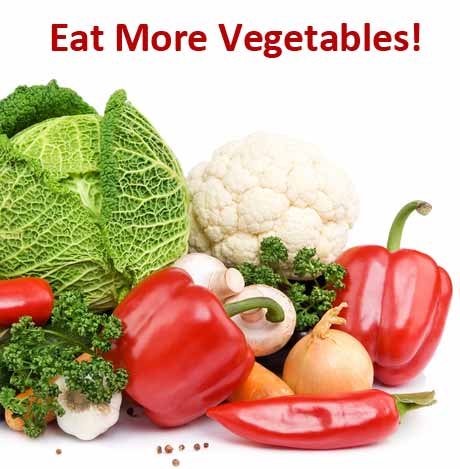 That might sound like a funny (and obvious) thing to say, but trust me, I've met plenty of vegetarians who live on processed garbage and rarely eat vegetables!
If that's you, you're first step to gaining better blood glucose control is to eat more veg, particularly non starchy vegetables.
Non starchy vegetables are rich in dietary fiber, generally have a low glycemic index, and are the type of veg that won't send your blood sugar soaring.
What are we talking about here exactly?
Choose these vegetables in abundance:
Alfalfa, artichoke, arugula (rocket) asparagus, avocado, bean sprouts, beet greens, bell peppers (capsicum), bok choy, broccoli, Brussels sprouts, cabbage, cauliflower, celery, chicory, chives, choy sum, collard greens, cucumber, dandelion greens, daikon, eggplant (aubergine), endive, fennel, green beans, green onions, mushrooms, mustard greens, kale, kohlrabi, leeks, lettuce, okra, pak choi, radish, radicchio, rhubarb, scallions, seaweeds, silverbeet, shallot, spinach, sugar snap peas (snow peas), Swiss chard, tomatoes, turnip greens, watercress, yellow summer squash, zucchini (courgette).
Vegetable Proteins
There are plenty of great protein sources to eat as a vegetarian:
Eggs, cheese (cheddar, ricotta, feta, cottage etc), nuts and nut butters (peanut butter, almonds, walnuts, hazelnuts etc), seeds (pumpkin seeds, sesame, sunflower, chia etc), whey protein, bee pollen, soy products like tempeh, tofu, natto, textured vegetable protein (TVP), and edamame (young soybeans – 1/2 cup); and finally, sprouted beans and legumes.
NOTE: You need to be cautious of beans and legumes. These do contain protein but they are also a high carb food. Sprouting them drastically reduces the amount of carbs they contain.
Carbohydrates are the nutrient that influences blood sugar and A1c the most, so eating high carb foods can be problematic and make it difficult to regulate your blood sugar levels.
Research shows that low carb diets are a great way to lower blood sugar, A1c, cholesterol, lose weight, and even reduce medications. So if you do choose to include beans and legumes (without sprouting them), you'll need to monitor your portion sizes to around 1/4 cup maximum per serve.
Eat Healthy Fats
The body needs a range of fatty acids for optimal health, especially the brain, which is made up of around 60% fat!
And, compared to carbohydrates, and to a lesser extent proteins, fats hardly impact blood sugar at all.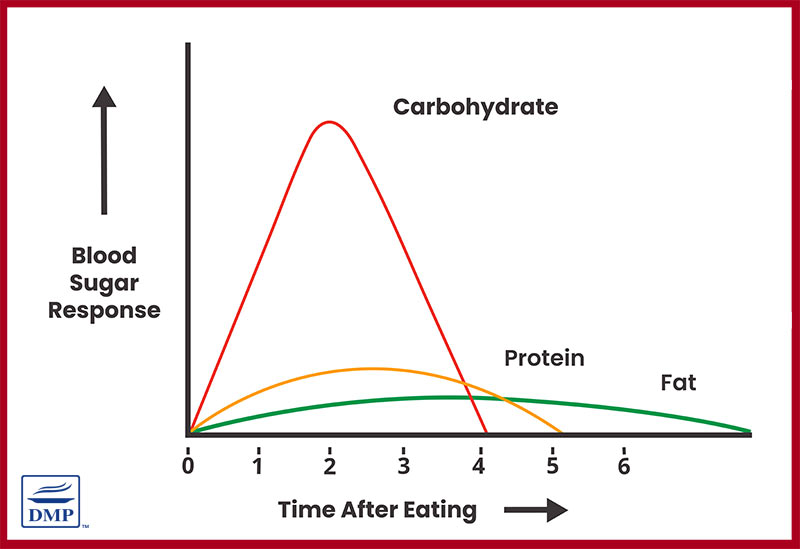 Healthy fat sources include:
Healthy vegetable oils (olive oil, hazelnut, avocado, sesame, macadamia, high oleic sunflower, coconut, and almond oils), avocado, olives (green, black, or kalamata), nuts and seeds (macadamia nuts, almonds, hazelnuts, pecans, coconut, Brazil nuts, cashews, pumpkin seeds, sunflower seeds, sesame seeds, chia seeds, flax seeds, or nut butters: peanut or almond butter, tahini etc).
If you want to learn more about how different fats influence health and diabetes, click here to read our comprehensive guide to fats.
Skip the High Carb Foods
Eating too many high carb foods is where vegetarians can get into trouble.
You really need to cut out, or find alternatives for, the high carb offenders.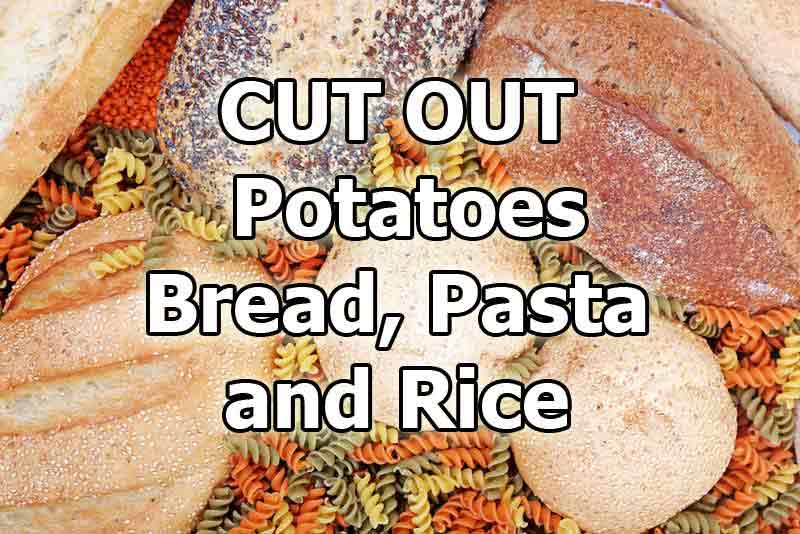 High carb offenders include:
Potatoes (including sweet potatoes) – both are starchy vegetables full of carbs!
Pasta
Rice (yes, brown rice, too)
Noodles
Cereals
All your "white" items are definitely the worst offenders – white pasta, white flour products and so forth.
However, even whole grain products can be problematic when you're trying to control blood sugar levels.
Even the American Diabetes Association (ADA) acknowledge in their 2017 Standards of Medical Care report, that "whole grain consumption was not associated with improvements in glycemic control in type 2 diabetes" – or in other words, eating whole grains doesn't help you manage blood sugar and A1c levels!
And, despite commonly held assumptions, you do not need to consume whole grains for fiber. Vegetables, nuts and seeds will provide ample dietary fiber!
Compare brown rice to a few vegetables:
1 cup brown rice = 3.5 g fiber

Half an avocado = 6.7 g fiber

1 tablespoon chia seeds = 4 g fiber

1/4 cup raspberries = 2.9 g fiber

1 cup beet greens = 2.8 g fiber
As you can see, vegetables and seeds provide ample dietary fiber!
There are many high-fiber foods that won't send your blood sugar soaring, so focus on eating those instead of grains that will likely be problematic.
What About Packaged Vegetarian "Products"
If you take a browse through the store, you'll find a variety of vegetarian substitutes for every "meat" dish you can think of.
For instance:
Veggie burger patties
Fake turkey and chicken (such as Tofurky)
Fake meat (such as Quorn)
etc
Just remember that these food sources are often more highly processed than whole food sources. And therefore, not all of them are great. Some are okay, while others are nothing more than processed junk.
When it comes to packaged foods, you really have to evaluate the quality of each food.
Look at the ingredients list. Does it have a short ingredient list? And do you know everything it contains? If the answer is yes, it's probably a pretty good option.
On the other hand, if it has a looong ingredients list of things you can't pronounce. Well… let's just say it may be better off left on the shelf. And you would be better off heading to the fresh food section of the store.
Regardless of the nutrient content of a food, quality is still important, too.
Vitamin B12 deficiency
For people who are vegan, vitamin B12 deficiency is a very real concern. But for all people with diabetes, B12 deficiency can be common anyway.
We've covered this topic before so find more info on B12 for diabetes over here.
Please pin, tweet or share, then keep reading…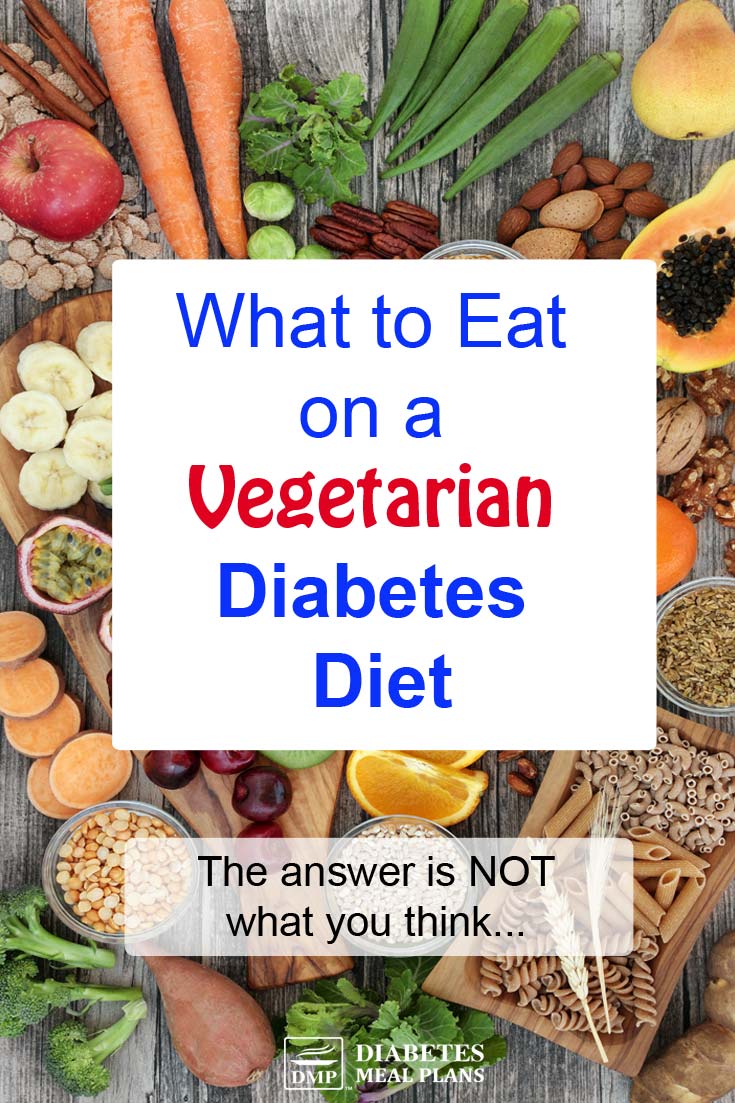 Example Vegetarian Dishes & Vegetarian Recipes
Eating a diabetic friendly vegetarian diet isn't difficult to do – when you know how.
Let's look at what a sample daily menu might look like.
Day 1
Breakfast
Start your day with a Delicious Egg Muffin or Veggie Egg Scramble. Or a Low Carb Bircher Muesli.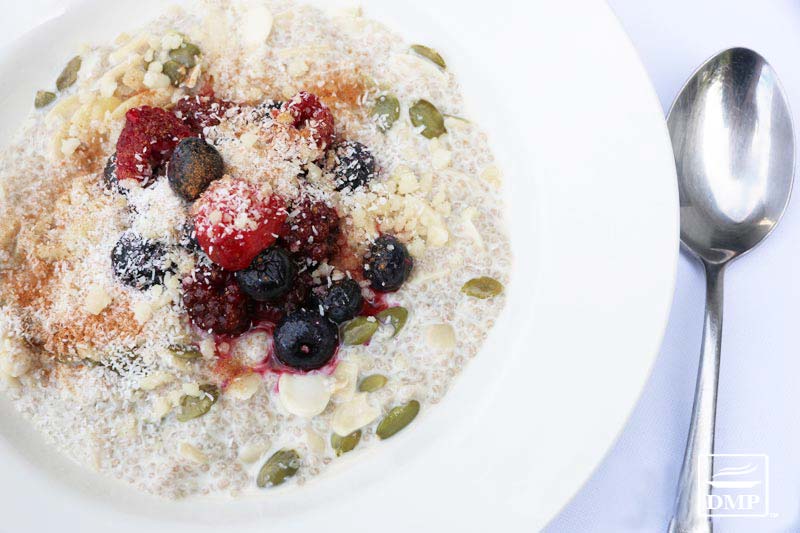 Lunch
There are any number of salad combinations that can highlight the middle of your day.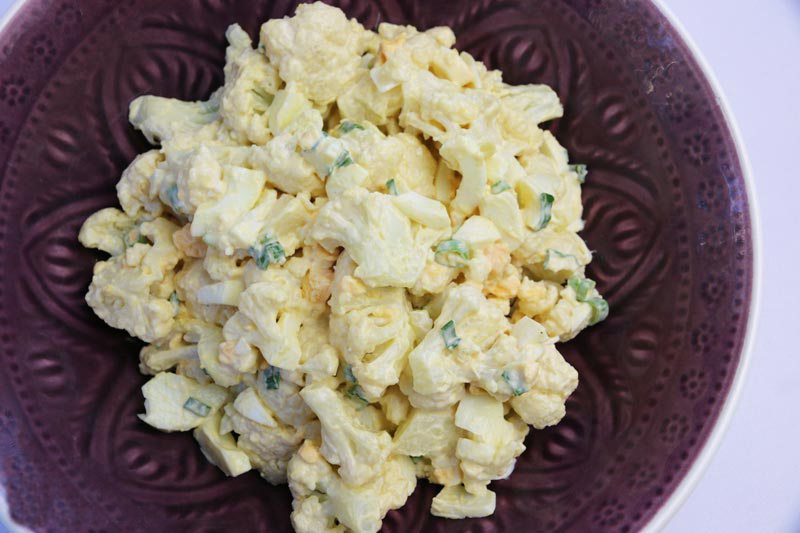 Dinner
Try some Zucchini Pizza Boats with your choice of filling. Or a Cheesy Vegetable Bake will satisfy every time!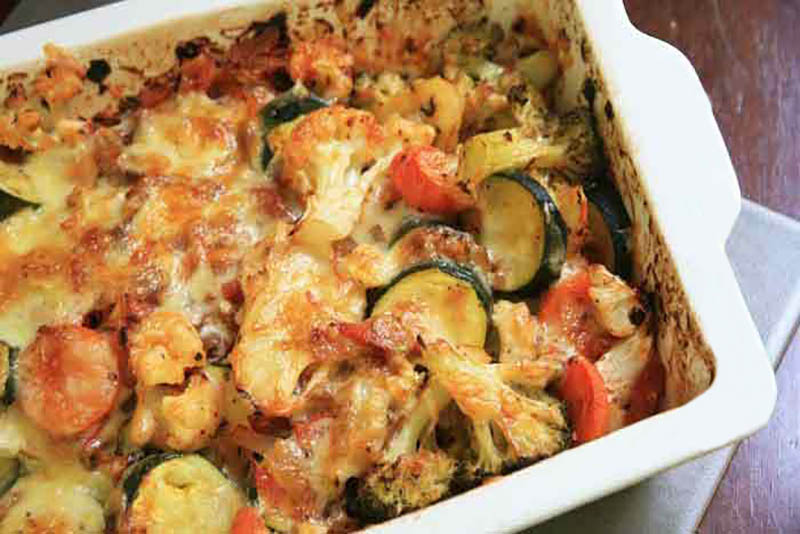 Snacks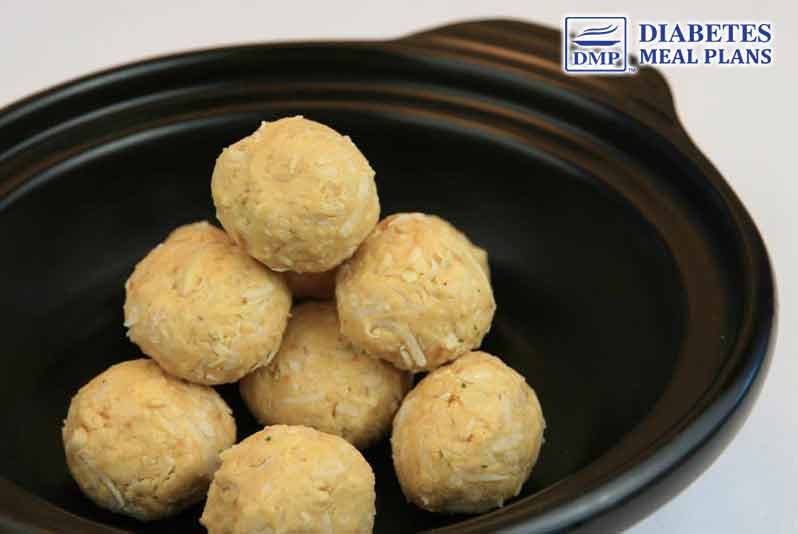 Desserts
Check out our awesome Raspberry Cream Pie.