We want to wish you a very Merry Christmas!! ?
It's been an awesome year here at DMP and we thank you for being a part of it. And hey, it's not over, we've got lots in store for 2018. 😉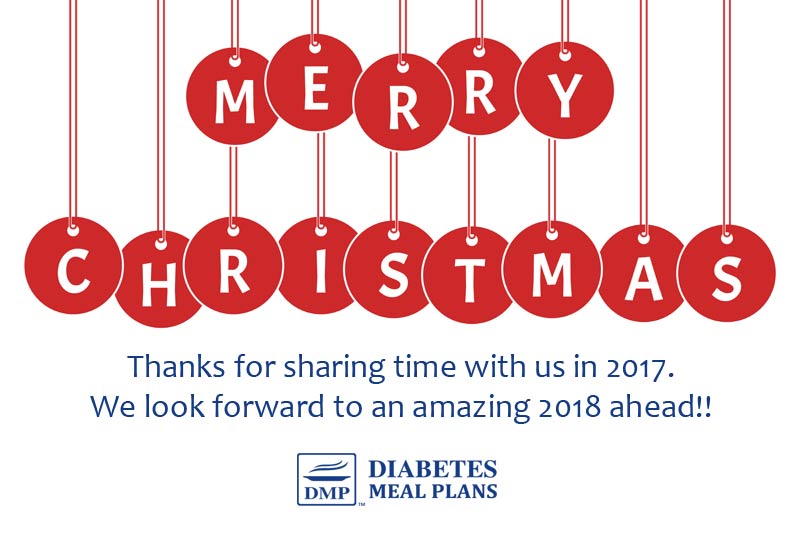 We truly are grateful to be part of your life and help make a real difference. Because we do what we do for you – our readers, subscribers and loyal members!
We're very excited right now because we are launching our weekly meal plans just before New Year, so if you're interested in transforming your life in 2018, like many of our members have this year, take a look at everything our memberships have to offer.
Again, have a Merry Christmas and we'll see you in a few days. ? ?
Now for our Top 10 popular articles of 2017…
1. Blood Sugar Levels Chart
Let's face it, everyone with type 2 diabetes is curious to understand blood sugar levels, so it's not surprising that our info on blood sugar levels is one of the most frequently visited pages on the DMP site.
2. What Kind of Bread is Best to Eat?
You've probably wondered this question yourself. And so have 12,000 other people each month!
We delve into all the details over here.
3. Best Flour to Use if You're Diabetic
Seems like another secret hobby of many of our readers is baking – coming in 3rd position, the best type of flours is very popular indeed.
4. Metformin 101
If you've ever had questions about metformin, you'll find all the answers over here.
5. Why is Blood Sugar High in the Morning
Wondering about this yourself? Read this to learn why this occurs in people with diabetes.
6. Supplements for Balancing Blood Sugar
Seems like everyone is looking for that added advantage to help control blood sugar. And thankfully there are some great supplements that can help you in this pursuit.
Find out more here. We also covered herbal remedies over here recently.
7. How to Lower Morning Blood Sugar
If you're curious about why morning levels are high, you may be equally curious about what can lower them.
There are some tips that might work for you over here.
8. How Many Carbs Per Day for A Diabetic
You likely know that carbohydrates are the nutrient that influences blood sugar and A1c the most. And since it is a common interest, learning how many carbs to eat is definitely of major benefit to you.
9. Low Carb Pantry Stocking Guide
Of course you want to keep a great resevoir of readily available foods. And this pantry list will help you do it.
10. Magnesium & Diabetes
Magnesium is a very interesting mineral that's important to get sufficient levels of. Find out more about magnesium and diabetes here.
Enjoy your celebrations and family time. Stay safe and happy and see you in a few days!