Orange juice is one of those beverages that most people assume is healthy.
And while it may be fine in small doses for the general population, for people with type 2 diabetes and prediabetes, there is more to the story.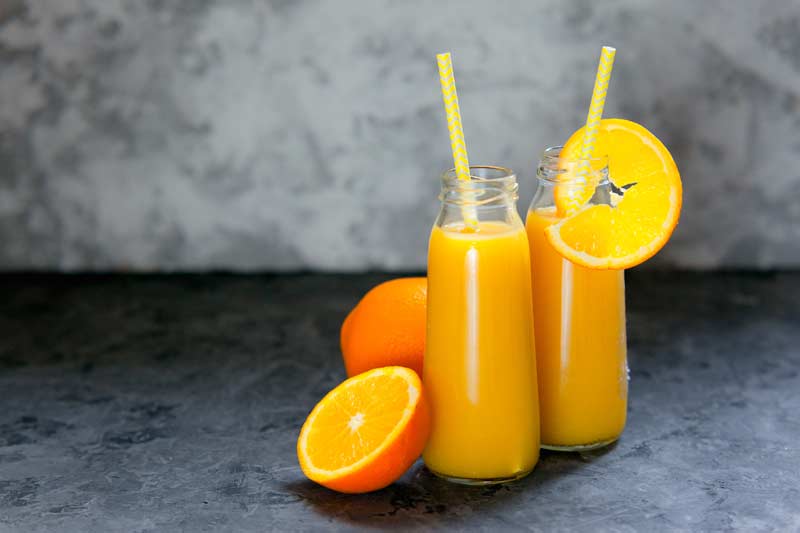 JUMP TO: What is orange juice | Orange juice nutrition facts | Processed OJ vs fresh OJ | Juice comparisons | OJ myths & truths | Research on orange juice | Conclusion
What is Orange Juice?
A pretty obvious question, but we'll cover it briefly anyway…
Orange juice, probably more commonly known as OJ, is made by squeezing oranges and harvesting their sweet juice.
A variety of processing modifications can occur after that initial juice is harvested.
For instance, when its produced in large amounts, and needs to be stored for a long time, the water and oxygen are removed prior to storage, and then reintroduced later.
Of course, other things can happen during  processing – like straining the juice to remove pulp, or adding calcium and vitamin D to help boost the nutrition appeal.
While there are many different ways to drink a glass of orange juice, all varieties share the similarity of being a very high carbohydrate, high sugar drink!
And for you, that means OJ isn't an ideal drink to include in your diabetic diet.
Orange Juice Nutrition Facts
A serving of orange juice is 8-ounces (236 ml) and contains 115 calories.
Orange juice offers virtually no protein, dietary fiber, or fat – all the nutritional components that help control blood sugar spikes.
Instead, you'll be chugging down a drink loaded with carbohydrates and sugar.
You can expect most glasses of orange juice to contain around 26 grams of carbohydrates and 23 grams of sugar. The naturally occurring sugar found is orange juice is called fructose. And even though it is "natural" sugar, it is still sugar, period.
If you're a regular reader of the DMP blog, you'll know that carbs and sugar are the nutrient that influences blood sugar and A1c the most, which means OJ is not going to be your best friend.
As far as other nutrients, orange juice does offers:
63% of the Recommended Daily Value (RDA) of

vitamin C

Over 60% of the RDA for many B-vitamins including:

thiamine, riboflavin, niacin

, and vitamin B6
As mentioned above, processing OJ removes a majority of the fiber. On the other hand, consuming a whole medium orange, would provide 3 to 4 grams of fiber, along with less carbs and sugar. One medium orange contains: 60 calories, 16 grams carbohydrate, and 12 grams sugar.
Fiber in the whole fruit will increase satiety (your feeling of fullness), help slow down blood sugar spikes and aid slower absorption, and aide in bowel health. Unfortunately, none of these benefits are reaped with the juice.
However, while a whole orange might be a better decision than orange juice, we still don't encourage oranges to be your fruit of choice – they are still pretty high in carbs. Instead, we encourage lower carb fruits like cherries, strawberries, and plums.
Processed vs. Fresh Orange Juice
There are a few different types of orange juice varieties (1 cup):
orange juice "from concentrate" – ~28 grams carbs

orange juice "not-from-concentrate"- ~20 grams

orange juice "frozen concentrate, undiluted" – ~108 grams carbs

fresh squeezed orange juice  – ~26 grams carbs
When comparing the varieties, the answer is still the same: OJ is not a very nutritious choice for people with type 2 diabetes and prediabetes!
OJ "from concentrate" means that water and oxygen are removed during processing, resulting in a more efficient shipping process. Water is then reintroduced into the concentrate prior to consuming.  
Both "from" and "not from concentrate" get enhanced with a chemical fragrance called "flavor packs" – this is how your Tropicana orange juice always tastes the same, no matter what time of the year or where it the world you drink it.
Fresh squeezed OJ may contain a few less chemical additives if it's not being stored as long, but will still contains similar quantities of carbohydrate.
The bottom line is: these processing differences do not affect the carbohydrate content – OJ is a high carb, high sugar drink.
Juices Compared
You might also be wondering how orange juice compares to other types of juices. Well, here's how they stack up: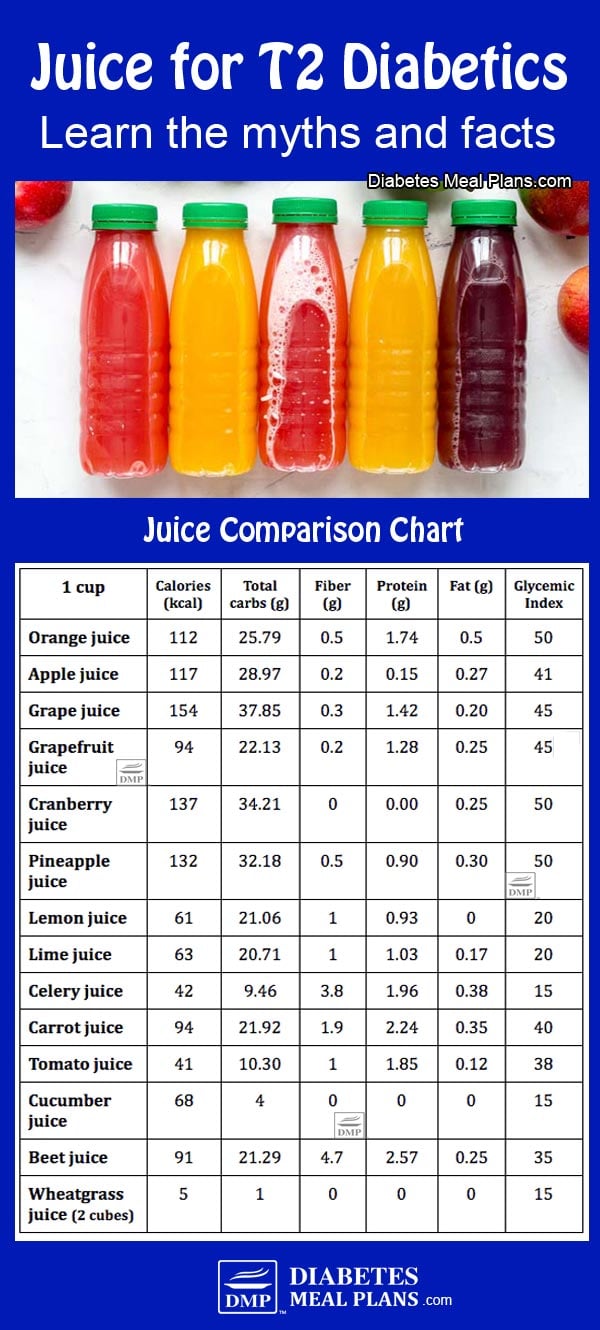 Since all fruit juice is essentially high in carbs, we don't encourage you to include it in your diet.
Instead, you might like to try some of these cold drink options.
Orange Juice Myths and Truths
Myth: Orange juice is a healthy choice because of the generous dose of immune-boosting vitamin C it contains.
Truth: Vitamin C is very prevalent in many of our fruits and vegetables, not to mention most people are already consuming adequate amounts of vitamin C, without the need for a glass of high-carb OJ!
In fact, fresh vegetables that are blood sugar friendly offer up just as much vitamin C, without causing blood sugar issues.
Vitamin C content:
1 medium orange – 82.7 mg 
1 medium red bell pepper – 152 mg
1 cup mustard spinach – 195 mg
1 cup broccoli – 29 mg
1 cup kale – 87 mg
1/2 cup strawberries – 44.7 mg
Please pin, tweet or share; then keep on reading. 🙂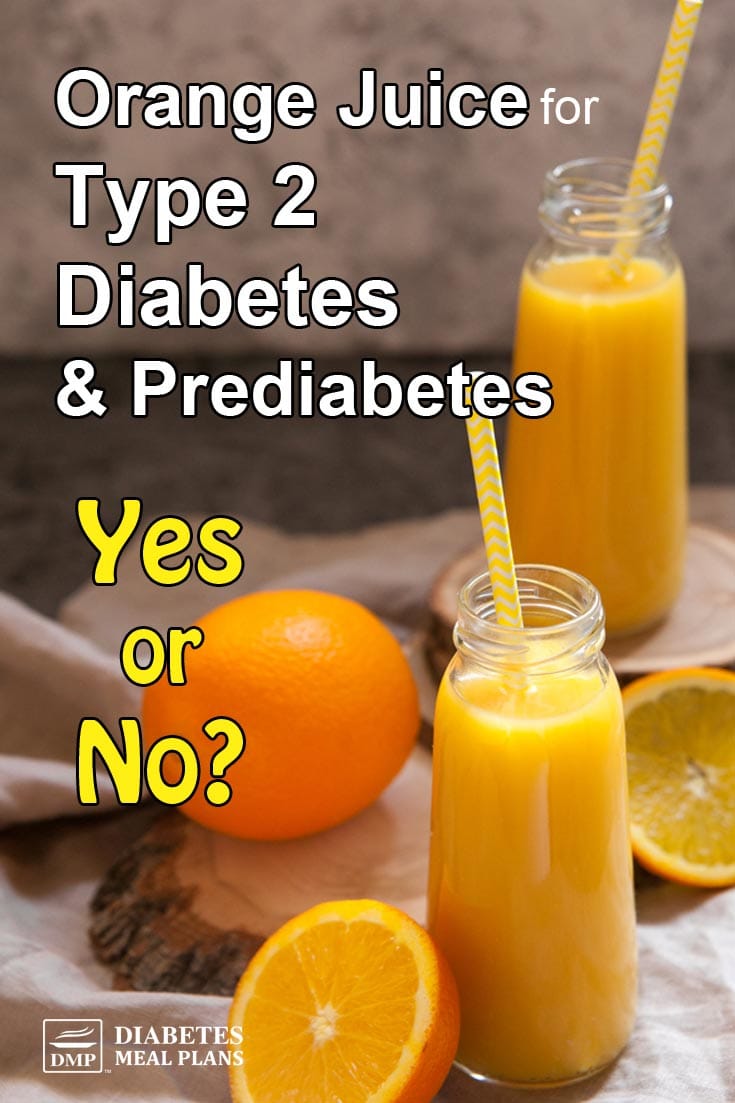 Orange Juice Research
As you might imagine there is little research on orange juice and the treatment of type 2 diabetes and prediabetes.
There is however published research suggesting that juice consumption significantly increases one's risk of developing diabetes in their lifetime.
Science also tells us that orange juice is very easy to over-consume. One reason is that the form of sugar found in orange juice, fructose, does not trigger the same satiety (fullness) sensors in our brain as other forms of sugar.
This mechanism of decreased satiety is further exacerbated in fiber-deprived foods. This means that you're more likely to over-consume a fructose-containing, fiber-void drink because your brain and body can't recognize you are full.
Additionally, consuming (orange) juice also results in a greater insulin response when compared to consuming the whole, fiber-rich fruit. 
What we do know is that research demonstrates a low carbohydrate diet is very practical approach to treating prediabetes and type 2 diabetes.
Therefore, it would be very counterproductive to eat low carbohydrate foods, but continue to consume drinks high in carbohydrates!
Conclusion
As you can see your best bet in regard to orange juice is to avoid it!
If you are looking for something to drink at Sunday brunch, the best choice would be water, coffee, tea, or some of these delicious cold drinks.
If you are looking for something fruity, try eating the whole fruit and choose from lower carb fruit options.
Remember, fiber will help increase satiety hormones to help you feel full, along with providing several health benefits such as improved bowel health.
And if you do eat fruit, make sure to pair your fruit with some fat or protein such as nuts, peanut butter, or cheese – it will help slow down the uptake of any carbs you eat.
Please pin, tweet or share this info to help others – thanks!