Garlic is a common spice we're all familiar with. And it just so happens that garlic and diabetes should be common friends because it provides multiple health benefits and can assist with your diabetes and prediabetes management.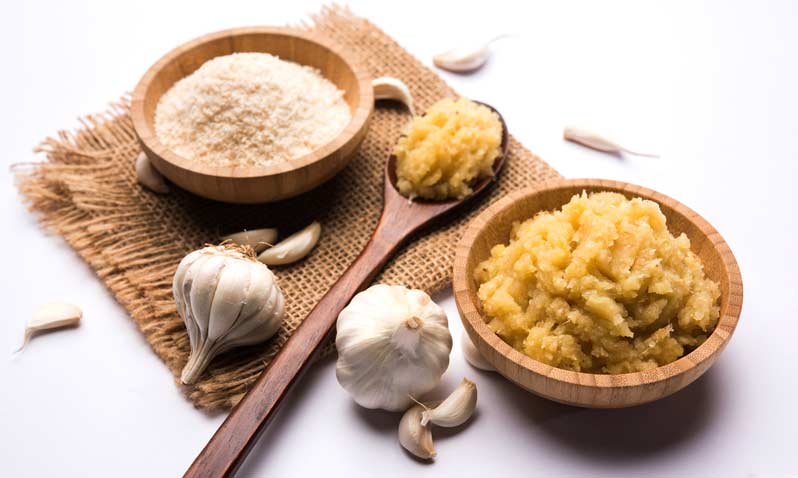 JUMP TO: What is garlic | Nutrition facts | Lower blood sugar | Boost heart health | Improve metabolic syndrome | Decrease inflammation | Increase antioxidant | Overall benefits | Garlic side effects | Garlic dosage | Conclusion
What is Garlic?
As with many herbs, garlic, also known as Allium Aativum, has been used for thousands of years for both food flavoring and as a traditional medicine in many parts of the world.
Garlic is closely related to onions, shallots, leeks and chives and is best known for its pungent, spicy flavor that sweetens when cooked.
The most common part of the plant consumed is the bulb, which is made up of several cloves. These cloves can be consumed raw or cooked. Garlic is available raw, purchased in bulbs or cloves, as a powder, in minced form and as oil. Supplement forms of garlic are sold as tablets or capsules.    
Garlic Nutrition Facts
In the small serving sizes of garlic you consume, it doesn't contribute any significant nutrients or calories. But garlic does offer many beneficial properties.
Garlic has long been recognized for the following health benefits: 
antimicrobial

antioxidant

anticarcinogenic

antimutagenic

antiasthmatic

immunomodulatory

prebiotic effects
Most researchers agree that the beneficial effects of garlic are due to its active components known as sulfur compounds, particularly one known as allicin.   
And in terms of assisting with type 2 diabetes and prediabetes treatment, studies indicate several promising benefits.
Lower Blood Glucose
Supplementing with garlic may be a great natural way to decrease your fasting blood sugar and A1c levels.
A meta-analysis evaluating 9 randomized control trials (the highest level of evidence), concluded that when people with type 2 diabetes were given garlic in doses ranging from 0.05 grams to 1.5 grams, they experienced a significant reduction in fasting blood sugar levels.
And interestingly, the effects were seen as early as 1-2 weeks after starting garlic supplementation. And the longer people kept taking the supplements, the more their fasting blood sugar decreased. Garlic also significantly reduced A1C levels.
When researchers compared glucose levels and A1c levels in type 2 diabetics receiving either metformin alone or metformin with garlic (250 mg twice a day), they found that the group taking both metformin and garlic experienced the best results.
A decrease in fasting blood sugar of 36 mg/dL (2.0 mmol/l) – this was 11 mg/dL (0.6 mmol/l) more than the group taking metformin alone.

Lower post-meal glucose levels of 48 mg/dL (2.7 mmol/l) reduction compared to a 42 mg/dL (2.3 mmol/l) with metformin alone.

A reduction in A1c levels of 0.35% compared to 0.22% in the group taking metformin alone.
Boost Heart Health
Improving your cholesterol profile can boost heart health, and it seems turning to garlic may help.
After 3-4 weeks of garlic supplementation ranging from 0.05 grams to 1.5 grams, people with type 2 diabetes saw improvements in their total cholesterol, and HDL cholesterol levels, while LDL cholesterol improved after 12 weeks.
In the study that compared metformin alone to metformin with garlic, a larger reduction in total cholesterol, triglycerides and LDL "bad" cholesterol was seen in the group that received metformin plus garlic.
Total cholesterol was reduced by 2% with metformin alone but increased to a 6% reduction with the inclusion of garlic. Triglycerides were reduced by 3% with metformin alone and increased to a 6% reduction with garlic. Additionally LDL levels decreased by 2% with metformin and 5% with metformin and garlic.  
The HDL "good" cholesterol levels also improved more dramatically with the combination of metformin and garlic with an average 10% increase versus a 2% increase in metformin alone.
Please pin, tweet or share; then keep reading.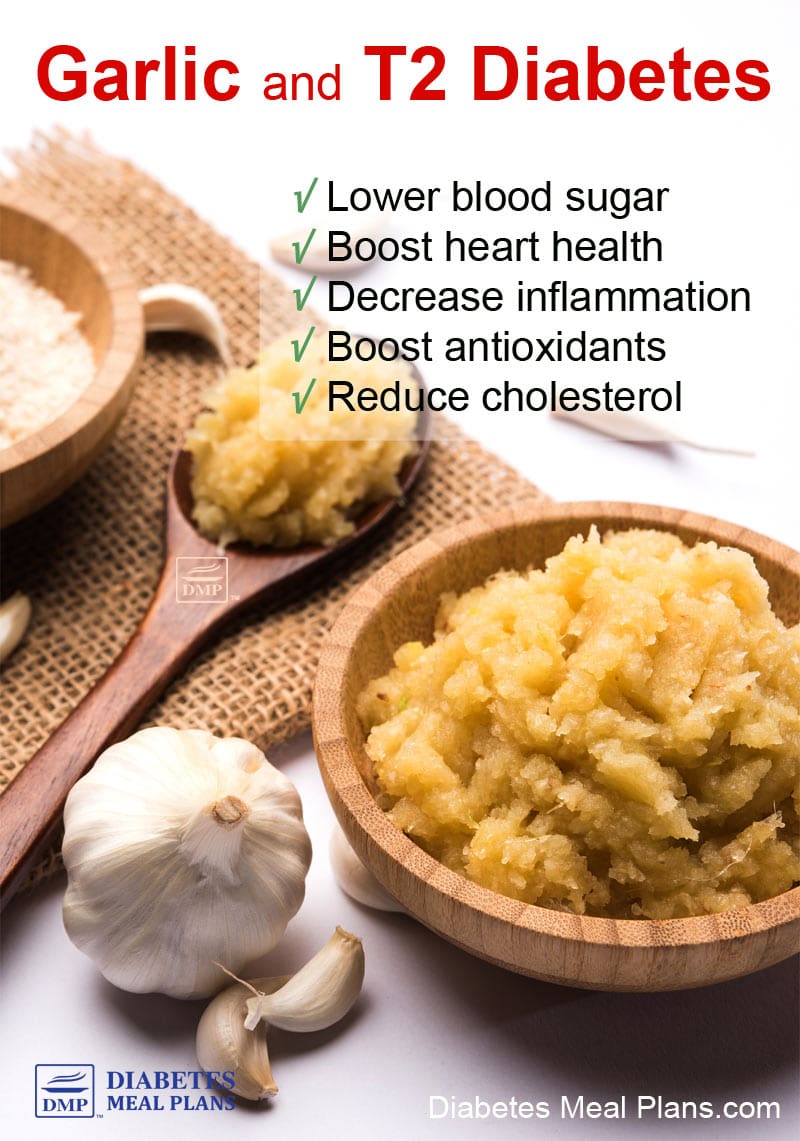 Improve Symptoms of Metabolic Syndrome
Metabolic syndrome refers to a group of symptoms including abdominal obesity, elevated blood pressure, lipid levels and blood sugar. And clearly, these metabolic alterations are commonly seen in people with diabetes.  
Thankfully, the addition of garlic to your daily routine may improve several of these characteristics.
For instance, when people with metabolic syndrome were instructed to include raw garlic in their standard diet for 4 weeks, at a dose of 100 mg garlic per kilogram of body weight, their waist circumferences reduced by an average of 1.36 inches (3.46 cm).
They also had reductions in systolic blood pressure decrease by 10 mmHg, diastolic blood pressure reduced by 9.3 mmHg, and triglyceride levels were reduced by 24 mg/dL (0.27 mmol/l).
And yet again garlic proved it's worth in lowering fasting glucose levels by 45 mg/dL (2.5 mmol/l)!
Decrease Systemic Inflammation
Chronic inflammation in the body is common. We're not talking about something like arthritis or back ache, but inflammation at the cellular level. This is caused by a variety of environmental, physical and emotional factors. Some of these factors we can control; while others are beyond our control.
Inflammation is the leading cause of heart disease as it leads to fat buildup in the linings of blood vessels that result in heart attack and stroke. Chronic inflammation in the body also contributes to the development of type 2 diabetes and the risk of diabetic complications, so overall, trying to reduce inflammation is a key goal of your treatment.  
Studies have shown garlic supplement may help reduce levels of C-reactive protein, a key inflammatory molecule.
Increase Your Body's Antioxidant Protection
It is perfectly normal to have free radicals (unstable cells) in your body, we all do to some extent. Problems only arise when there are too many free radicals because they begin to wreak havoc on your cells and lead to oxidative stress and increased inflammation.
Antioxidants stabilize free radicals by generously donating an electron that stabilizes the molecule, so cells return to normal and can get back to doing their job. In animal studies, garlic has been shown to increase total antioxidant levels in the body.
Overall Benefits of Garlic for Diabetes
Overall studies indicate the benefits of garlic include:
Reduced blood pressure

Reduced triglycerides

Reduced oxidative stress

Reduced total cholesterol and LDL cholesterol

Improved HDL cholesterol

Reduced inflammation

Reduced blood glucose and A1C

Reduced waist circumference
Garlic Side Effects
Overall garlic supplements are well tolerated and side effects are rare.
The only reported adverse effect is mild gastrointestinal discomfort, including the possibility of increased acid reflux. This side effect has only been reported at high doses.
Always check with your physician before taking any supplements as garlic supplement may interfere with prescription medications and increases risk of bleeding at high doses.  
Garlic Dosage
Studies have used a wide variety of garlic amounts, which does make it difficult to determine the ideal amount needed for therapeutic benefit. And unfortunately there doesn't seem to be a consensus on the best form or dose of garlic.  
Somewhere in the range of 0.05 grams to 1.5 grams daily of dried powder produces results. Putting this into everyday perspective, this is the equivalent of 2 to 5 g raw garlic (equivalent to 40 to 1200 mg dried power).
Of course, you can also include garlic in your cooking. Keep in mind that one raw clove is approximately equivalent to 3 grams.   
The other significant variable in most studies has been the form of garlic used. Supplements are available in powder, oil and in the form of aged garlic, all seem to display positive effects. You can purchase capsules or enter-coated pills that also come in "odor free" options.  
Conclusion
Since garlic is a culinary 'spice' with proven benefits, it makes sense to include it in your diet, whether that be through supplementation or by adding it to your meals on a regular basis.
Try adding some crushed garlic to a stir fry, soup or slow cooker meal, it definitely adds lots of flavor.
Or if you're really brave, you could munch down a whole clove a day – you just might not want to lean too close to anyone. 😉