We want to wish you a very Merry Christmas!!
It's been an awesome year here at DMP and we thank you for being a part of our community. And hey, it's not over, we've got lots in store for 2020. 😉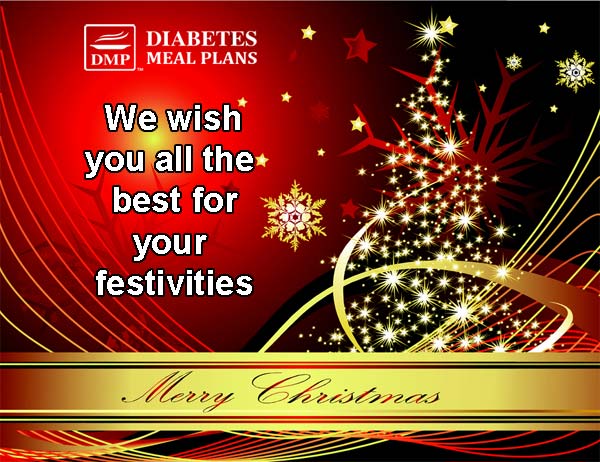 We truly are grateful to be part of your life and help make a real difference – we do what we do for you – our readers, subscribers and loyal members!
Accomplishments for DMP this year:
Successfully delivered another 52 weeks of delicious diabetes-friendly meal plans 
Hundreds of people have sent in their words of praise about how we've helped them – we're truly grateful about that 😄
Regular informational blogs provided for free to our community around the globe

Ran a Carb Course for members

Added 12 new Food Guides for members – DMP diet guidelines, Food List, Diet 'Side Effects', Vegetable Guide, Fruit Guide, Protein Guide, Fat Guide, Beans & Legumes Guide, High-Fiber Foods, and more

Added CKD resources for members – CKD food guidelines, CKD food list, foods to avoid, CKD meals

Provided a Summer Grilling, Thanksgiving and Xmas Menus for members

4 weeks of Celebrity Chef meal plans 

Jedha, our founder, submits the first paper in her PhD studies titled: Web-based interventions for dietary behavior in adults with type 2 diabetes: a systematic review of randomized controlled trials
In 2020 we're planning:
Interactive 4 week weight loss plan & meal plans – starting 6th January

Update the 30 Day Turnaround Program – with new resources, research, and recipes (we update it every couple of years to ensure it stays current)

Cakes Masterclass – a delicious assortment of cakes for all occasions, including cooking classes to demonstrate exactly how to make them

Blood sugar levels video course – to clarify best blood sugar levels and how to use your monitor and diet to make lifestyle alterations

Food Labels Masterclass – a detailed class to help decode those pesky food labels.

Run the 21 Day Lower Blood Sugar Challenge again – participants found the interactive challenge highly valuable and achieved amazing results in just 21 days.

We'll continue with our delicious weekly meal plans and improving our member resources.

And of course, we'll also continue to provide free educational information to our community, too!
We're proud to say we're making a real difference in people's lives. And we will continue to do so well into the future.
Take time to reflect on how far you've come and where you want to go next year.
Enjoy wonderful times with your family and loves ones.
Have a Merry Christmas and we'll see you in a few days. 🎄🎉🎁
Remember, the food is good but the company is better – choose wisely and take care of YOU.