When it comes to non-dairy milk alternatives, almond milk is a low carb superstar for diabetes!
It's just as creamy and satisfying as other plant-based milks, but few others are as low in carbs as almond milk is. 
Want to learn about the other benefits that almond milk has to offer? Just keep reading…

What is Almond Milk?
Almond milk is a drink made from ground almonds and water. The almonds are typically soaked, blended, and strained to make a liquid. Depending on the brand, various sweeteners, gums, and thickeners may also be added during processing. 
Almond milk can be used as a substitute for cow's milk, for those that have a milk allergy, dairy sensitivity, or are lactose intolerant. Vegans can also enjoy almond milk.  
Almond Milk Nutrition Facts
One

cup of plain, unsweetened almond milk

contains only 39 calories

Almond milk is low in carbohydrates (only 3.4 grams of carbohydrates per cup!)

Most store-bought almond milk is fortified with calcium, vitamin D, Vitamin A, and Vitamin E

There is about 2.5 grams of fat in one cup of almond milk, most of that coming from heart-healthy monounsaturated fat

Almond milk contains about 1 gram of protein per cup
Overall, almond milk is a great choice for people with type 2 diabetes due to its low carbohydrate content. 
The biggest concern with almond milk is when you purchase brands that are flavored and sweetened. Many plant-based milks, not just almond milk, can be flavored and sweetened.
Therefore, it's important to always check the nutrition label and ingredients list for added sugars. 
For example, one cup of chocolate almond milk contains about 21 grams of added sugar, which is equivalent to about 5 teaspoons of sugar! 
Milk Comparisons 
Many types of non-dairy milks are available for those that want an alternative to cow's milk. Below you'll see some comparisons. Please note that these nutrition facts are based on unsweetened varieties.
Sweetened milks will almost always contain more carbs than you want to mess with.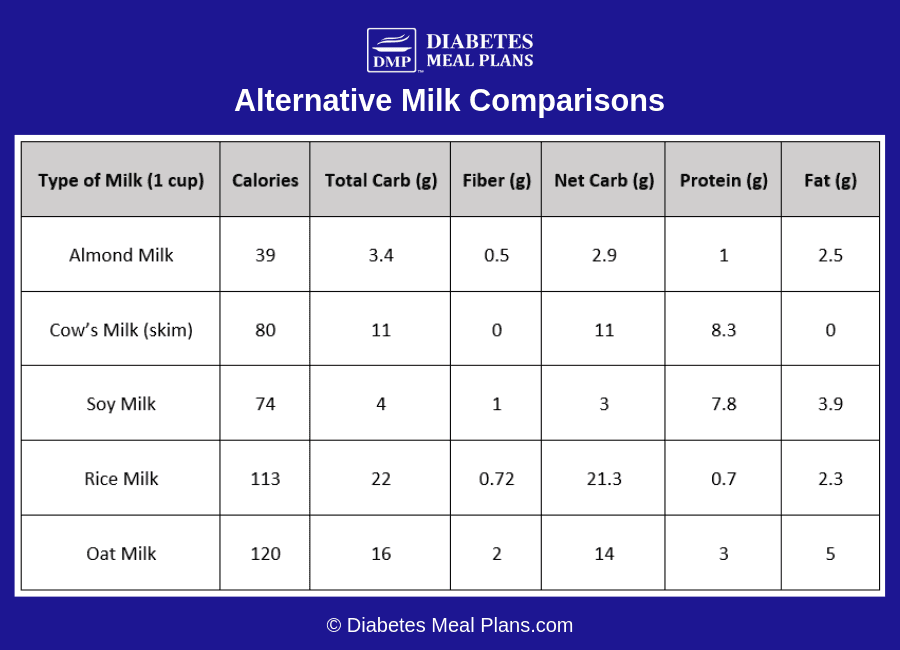 As far as carbohydrates go, almond milk is the clear winner. However, you can also see that the protein content is lower. 
Although protein does not lower blood glucose levels directly, when paired with carbohydrates, protein can slow the digestion of carbohydrates, offsetting any glucose spikes you may see when eating carbohydrates alone. 
Protein also provides satiety (a greater feeling of fullness), which may help depending on what you're eating along with milk. Both soy and cow's milk have the highest amount of protein.
Oat milk is gaining popularity as a dairy alternative but for those with diabetes it isn't the best choice due to the higher carbohydrate content.
Rice milk also has a high amount of carbohydrates and would not be recommended for someone with diabetes.
Research on Almond Milk and Diabetes
Most of the research showing the benefits of almonds on heart health and diabetes examines them in their whole form, not as almond milk. 
Although almond milk obviously contains almonds, the nutrition profile is different; with almond milk containing less protein, fat, fiber, and vitamins such as Vitamin E.
Despite this, even small amounts can be beneficial, especially at meal time. 
A study looking at a single serving of almonds (28g) and its impact on postprandial (after meal) glucose showed that modest consumption (1 serving 5days/week for 12 weeks) lowered hemoglobin A(1c) and postprandial glucose in individuals with type 2 diabetes. 
Overall, consuming almonds in any form can be beneficial for those with type 2 diabetes and prediabetes.
A recent review (2019) that looked at nut and seed consumption in adults with prediabetes found that an intake of 60 grams a day of almonds (which is about half a cup) for 4 months improved fasting glucose and fasting insulin levels. 
Almonds have also been shown to reduce inflammation and oxidation. One study found that consuming 56g of almonds per day resulted in 10-15% reduction in inflammatory markers. Wow!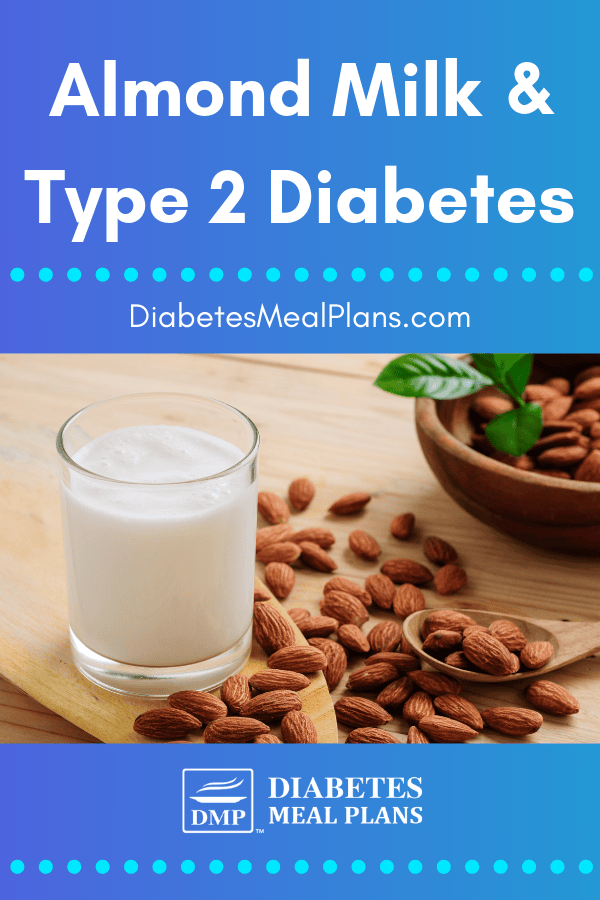 Almond milk contains some of the same benefits as whole almonds but for the most part almond milk's nutrient levels are vastly lower than actual whole almonds. Almond milk is mostly made up of water and it is unclear exactly how many almonds go into a quart of almond milk, as it depends on the brand. 
Processed almond milk may also contain types of gums and emulsifiers such as lecithin and carrageenan. These emulsifiers have been linked with altering gut bacteria, though, substantial evidence is still preliminary. 
Store-bought vs. Homemade Almond Milk 
Most local grocery stores offer a variety of dairy alternatives including almond milk.
When choosing a product, be sure to look for an unsweetened variety. You can also look for milk without added gums or emulsifiers if these ingredients are a concern to you.
Finally, if you follow a restricted diet such as veganism or vegetarianism, and are concerned about your nutrient intake, you can purchase almond milk that is fortified with nutrients such as protein, calcium, and vitamin D.
It's also very easy to make your own almond milk! You can follow this simple recipe to make unsweetened vanilla almond milk at home. 
Ingredients
1 cup raw almonds (soaked overnight)

4 cups filtered water 

1 pinch sea salt

1 tsp vanilla extract (optional) 
Instructions
Add your soaked almonds, water, salt, and vanilla to a high-speed blender and blend until creamy and smooth. 
Directions 
Pour the mixture into a mesh strainer that is placed over a bowl and lined with a nut milk bag or cheesecloth. Then squeeze until all of the liquid is extracted. Place in a container and store for about 4-5 days.
And voilà! Just like that, you've got yourself a fresh batch of almond milk to drink and cook with.
Conclusion
Overall, almond milk is a great choice for a low carbohydrate diet. Unsweetened varieties of almond milk contain little calories and carbohydrates, making them ideal for blood sugar stabilization. 
Research on almonds does link their consumption with better blood glucose control, cardiovascular markers, and improved body composition, so it's hard to go wrong with any almond product as long as it's not packed with added sugar.
You can use unsweetened almond milk in a variety of ways – pour it on cereal, add a splash to your coffee, blend it into a low-carb smoothie, or just enjoy a cold glass on it's own!