Becoming a member of Diabetes Meal Plans can help you lower blood sugar and A1c. Plus, it makes it super easy to do – you can enjoy life more while regulating blood sugar and A1c at the same time!
Here's what a few of our members have to say:
"Since being a member my blood sugar level has dropped considerably. I love not having to worry about what to eat and having access to all your recipes. I believe you are doing a great job at telling me all about how to manage my type two diabetes." ~Lorraine W.

 

"I love all the delicious recipes that are easy to understand and prepare. I love the versatility of the members site. I'm able to add, delete and personalize my meal plan so that it fits my schedule and taste. My husband is a picky eater, but he's enjoying the dishes too!" ~Kat.

 

"Being a member keeps me organized. I don't have to think about what I eat! I love all the recipes. I really really like the cooking videos! Most helpful indeed! Keep up the great work!" ~ Patty.
What do you get with a meal planning membership?
Every single week we deliver delicious blood sugar friendly inspiration to our members' inbox on Thursdays 7PM US Eastern Time, or your timezone equivalent.
Each weekly meal plan contains 4 lunches and 4 dinners, plus you have access to a breakfast and snacks selection that you can add to your meal plans.
How easy are the meals to make?
Super easy!
We design every meal in our low carb menus and take every step to ensure that our recipes are easy to follow and super tasty, of course!
If you're new to cooking, we also include a featured video cooking class most weeks. And you can look through the archives to access cooking classes from previous weeks.
In no time at all, you'll see how easy blood sugar friendly home cooking is and you'll be whipping up delicious meals you absolutely love!
Join Us for Weekly Meal Plans Here >>
Low Carb Diabetes Meal Plan: Week of 11/18/19
This weeks theme is: Delicious Bakes – featuring Egg Muffins, Baked Salmon or Tofu, Sheet Pan Chicken, Savory Baked Pancake and more – enjoy!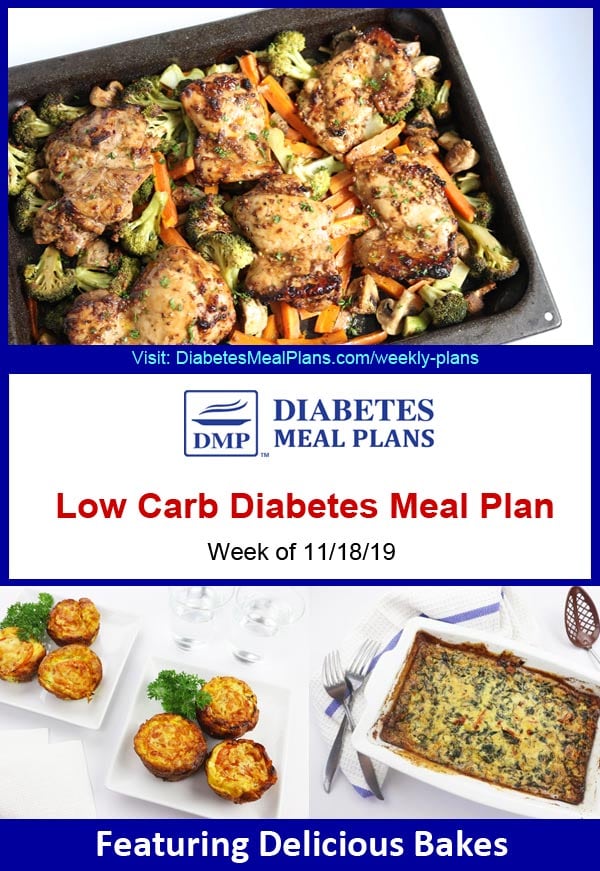 Each week you can select from 4 lunches, 4 dinners, plus access a breakfast and snacks menu selection.
And get plenty of help and support from our professional team too!
Learn more about all the diabetes meal planning features.
We help you enjoy life more while regulating blood sugar & A1c at the same time!