For better blood sugar and A1c control, the best foods to eat are whole foods low in carbohydrates such as non starchy vegetables, protein sources, healthy fats, fresh and dried herbs and spices, lower carb condiments, sugar substitutes, and lower carb fruits.
Foods to avoid include high carb vegetables, most fruit, flour-based foods, carb-heavy meal bases, sugar-filled foods and many beverages.
What can I eat and what can't I eat with type 2 diabetes? 
A basic overview of foods you can eat:
Non starchy vegetables (broccoli, tomato, cucumber, cauliflower, green beans, zucchini etc)
Protein sources (eggs, cheese, beef, chicken, turkey, pork, lamb, tofu)
Healthy fats (avocado, olive oil, olives, nuts and seeds)
Fresh and dried herbs and spices
Lower carb condiments (mayonnaise, soy sauce, p

esto, guacamole, tomato paste, canned tomatoes, salsa, etc)

Sugar substitutes (stevia, erythritol, tagatose, xylitol, monk fruit, vanilla extract, carob, coconut)

Lower carb fruits (berries, peach, apricot, mandarin, lemon, lime)
A basic overview of foods you can't eat (best to avoid or eliminate):
High carb vegetables (potatoes, sweet potatoes, yams, corn)
Most fruit (

banana, apple, orange, watermelon, pear, pineapple etc)

Flour-based foods (bread, pasta, crackers, noodles, snack foods etc)
Carb-heavy meal bases (rice, pasta, bread, couscous, noodles, oats/oatmeal, quinoa)
Sugar-filled foods (

ice cream, cakes, cookies, candy, jams, jellies etc)

High carb beverages (soda/soft drinks, fruit juice, energy drinks)
📌 Click here to download our recommended food list for the full food groups and listed foods.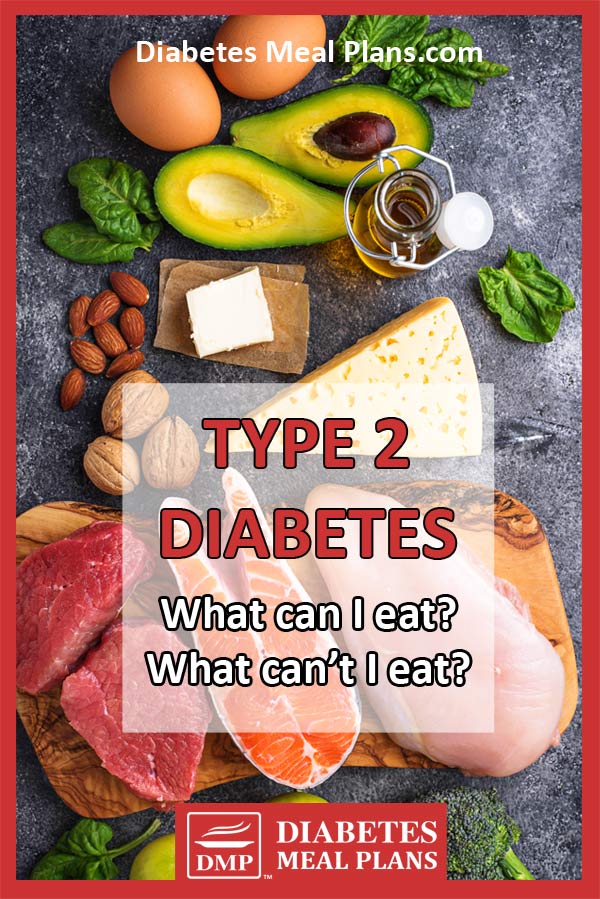 Healthy foods aren't always healthy for type 2 diabetes treatment
There are some foods are considered "healthy" that many people with type 2 diabetes can't eat, such as sweet potato, oats, fruit juice, whole wheat and whole grains, canned fruit, apples and other fruits.
While these foods might be considered healthy for people without a health condition, they are not healthy foods for type 2 diabetes treatment. This is because these foods are high in carbohydrates, which raises blood sugar, or makes it more difficult to lower blood sugar and A1c levels.
Carbohydrates are the nutrient that influences blood sugar and A1c levels the most, so lowering carbs is an easy way to get better blood sugar results.
If you can stick to whole foods as much as possible this will help to improve your metabolism and lower blood sugar and A1c levels.
Finding foods at the grocery store
When shopping at the grocery store, there are some easy rules to follow.
Stick to the fresh food section. Next time you enter the store, notice all the fresh food is often set up on the outside edges of the store. And all the aisles filled with packaged food are all lined up in the middle – to catch you in the maze!
Limit processed and packaged foods as much as possible. When buying packaged foods, choose lower carb options with few ingredients in the ingredient lists (these are considered 'cleaner' options).
📌 Click Here to view our diabetes pantry stocking guide