Before sharing the diabetes blood sugar levels chart, we want to OVER EMPHASIZE the importance of you gaining the best control of your blood sugar levels as you possibly can. Just taking medication and doing nothing else is really not enough.
You see, people are often not fully informed about why it is so crucial to do, because if you already have a diabetes diagnosis, then you are already at high risk for heart disease and other vascular problems.
Maybe you've been better informed by your doctor but many people we come across haven't. So if that's you, it's important to know that during your pre-diabetic period, there is a lot of damage that is already done to the vascular system. This occurs due to the higher-than-normal blood sugar, that's what causes the damage.
So now that you have type 2 diabetes, you want to prevent any of the nasty complications by gaining good control over your levels.
Truly, ask anyone having to live with diabetes complications and they'll tell you it's the pits!
You DO NOT want it to happen to you if you can avoid it.
While medications may be needed, just taking medication alone and doing nothing is really not enough!
Why is it not enough even if your blood sugars seem reasonably under control?
Well, one common research observation in people with diabetes, is there is a slow and declining progression of blood sugar control and symptoms. Meaning, over time your ability to regulate sugars and keep healthy gets harder. If you take medication you will likely have to take more and more.
BUT, if you empower yourself with the right nutrition and lifestyle and put scientifically proven strategies into practice, then you can eliminate or minimize medications, and prevent this gradual decline. In many cases, people are even putting their diabetes into full remission – meaning their body is functioning as normal – it is possible, in many.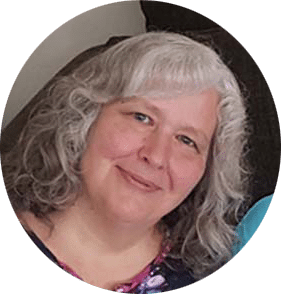 Leisa lowered blood sugar from 300s to normal in just 30 days!
"Not only are my readings now within normal range, I'm also down over 20 pounds and feeling so much better. Thank you."
Now that you understand just how important this is, let's get down to blood sugar numbers and target ranges. And at the bottom of this page, you can download printable blood sugar levels charts and daily logs.
Blood Sugar/Blood Glucose = Same/Same
You might see some charts or read some articles that say 'blood sugar chart' and others that say 'blood glucose levels chart.'
Just in case you are confused, these both mean the same thing. The words 'sugar' and 'glucose' are often used interchangeably.
Let's Crunch Some Numbers
Below we give these numbers in a written, chart, and visual format because it will make sense to you depending how you read it.
Depending where you live in the world, numbers can vary slightly. And your numbers will either be mg/dl or mmol/l. You'll find the numbers for both of these readings below.
Normal Blood Sugar Levels
Fasting glucose – 70-99 mg/dl or 4-6 mmol/l (Note: there is some debate about the normal range in mmol/l, ranging from 5.5 to 6 mmol/l)
2 hours post meal glucose – Less than 140 mg/dl or less than 7.8 mmol/l
Pre-diabetes diagnostic ranges – also called impaired fasting glucose or impaired glucose tolerance
Fasting glucose – 100-125 mg/dl or 6.1-6.9 mmol/l
2 hours post meal glucose level – 140-199 mg/ dl or 7.8-11 mmol/l
Type 2 Diabetes diagnostic ranges
Fasting glucose – More than 126 mg/dl or more than 7.0 mmol/l
2 hours glucose level – More than 200 mg/dl or more than 11.1 mmol/l
Blood Sugar Levels Chart
The above chart and the one below are exactly the same, in different formats.
Category
Fasting value
Post prandial / aka post meal

Minimum
Maximum
2 hours after meal

Normal

70 mg/dl

99 mg/dl

Less than 140 mg/dl

4 mmol/l

6 mmol/l

Less than 7.8 mmol/l

Pre-diabetes

100 mg/dl

125 mg/dl

140-199 mg/dl

6.1 mmol/l

6.9 mmol/l

7.8-11 mmol/l

Diabetes

More than 126 mg/dl

More than 200

More than 7 mmol/l

More than 11.1 mmol/l
These are the diagnostic ranges. As you can see, the "normal" range for fasting glucose is under 100 mg/dl or 6 mmol/l. Though just to note, there is some debate about the normal range in mmol/l, ranging from 5.5 to 6 mmol/l. So depending what chart you look at, you may see either of those numbers.
After a meal, the maximum reading you ideally want to see is 140 mg/dl or 7.8 mmol/l.
If you're getting readings above this, you would be diagnosed with prediabetes or type 2 diabetes, as shown in the charts above.
Diabetes Blood Sugar Level Goals
Upon waking before breakfast (Fasting)
70-130 (Ideal under 110) mg/dl
4-7.2 (Ideal under under 6.1) mmol/l
Two hours after meals
Under 180 (Ideal is under 140) mg/dl
Under 10 (Ideal is under 7.8) mmol/l
Bedtime
90-150 mg/dl
5-8.3 mmol/l
The above levels, for people diagnosed with type 2 diabetes, are the general goals set by the American Diabetes Association and the American Association of Clinical Endocrinologists.
As suggested earlier, there is some variation in the blood sugar levels goals set by different organizations. And additionally, your physician or healthcare team may set your goals at a more stringent level.
For instance, fasting levels:
Between 70-100 mg/dL or 4-5.6 mmol/l (optimal)
70-110 mg/dL or 4-6 mmol/l (still good control)
70-130 mg/dL or 4-7.2 mmol/l (more liberal, but realistic for many)
Once you have a type 2 diabetes diagnosis, the overall goals you should aim for is to get your blood sugar levels as close to "normal" "optimal" levels as you possibly can.
BUT, as suggested above, often goals are set with higher targets initially. For instance, if you have a high reading of 250 or 300 (13 or 17), your physician or health practitioner may recommend 200 (11.1) be an initial goal, then 180 (10), before gradually working toward 140 (7.8) and lower.
The reason this is often recommended is you can experience symptoms of hypoglycemia (low blood sugar) if you bring your levels down very quickly. So working toward tighter and tighter control does take some time.
You should work with your healthcare team on this. But overall the most optimal targets to work toward are a fasting glucose under 100 mg/dl or 6 mmol/l. And an after-meal reading below 140 or 7.8.
The Visual Version
Please pin, tweet or share this chart to help others – thanks!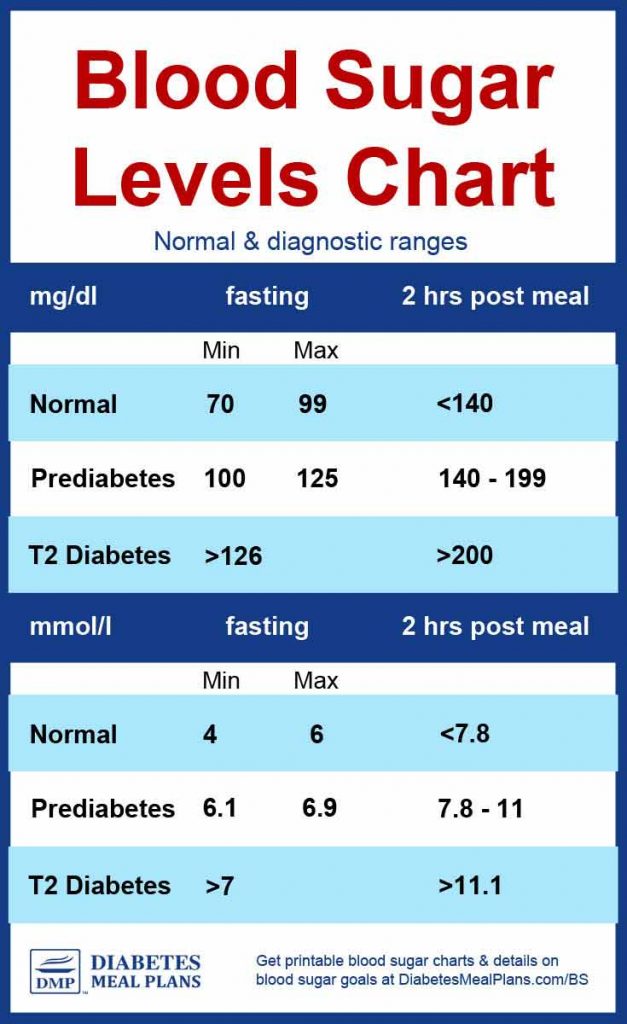 Commonly Asked Questions About Blood Sugar Levels
What is the difference between blood sugar and A1c?
Blood sugar is a daily reading while A1c is a blood test that measures your average blood sugar from the previous 3 month period.
You can read more about the difference between the two over here.
Will weight loss help with my diabetes management?
Yes, by default weight loss helps because it reduces inflammation in your body and improves overall metabolic function.
I've been prescribed Metformin, will that help with my blood glucose levels?
Yes, Metformin is one of the most commonly prescribed diabetes medications worldwide. It belongs to a class of medications known as "Biguanides," which lower blood glucose by decreasing the amount of sugar put out by the liver. And it is one of the medications that does not increase weight gain.
We have detailed information about Metformin here.
Why does high blood sugar cause complications like neuropathy?
The body is designed to have a blood sugar level within a certain range, with a maximum of 140 (7.8) after meals. Levels above normal for extended periods promote inflammation in the blood vessels throughout the body, along with damage to cells – simply because the body isn't designed to operate with levels above normal.
Diabetic neuropathy is damage to the nerve vessels resulting from chronically high blood sugar – meaning long-term, not a few high readings now and then. Other types of diabetes complications (nephropathy, retinopathy, etc) are also caused by the same factors.
What type of diet helps to lower blood sugar levels?
Scientific research indicates that a low carb diet is a one of the most effective ways to improve blood sugar, A1c, weight, cholesterol and other factors.
Carbohydrates are the main nutrient that influences your blood sugar levels. The type is important, but the amount has the greatest impact on both daily blood glucose and A1c measurements.
Read this info on starting your diet plan. You'll also find these 15 carbohydrate questions and answers useful.
Is there a different blood sugar levels chart by age?
No. The human body was designed to have blood sugar levels within a 'normal' range, regardless of your age.
However, different blood sugar level goals are set for each individual person, particularly children and the elderly.
The diabetes organization in my country lists different levels, why are these different?
It can make it confusing when different organizations list different values. And unfortunately, there is no one recognized value at this point, although there should be.
Here are the organization listings for some parts of the globe:
List the normal range between 70-99 mg/dl (3.9-5.6 mmol/l).
They suggest blood glucose goals for people with type 2 diabetes are:
80-130 mg/dl before meals (4.4-7.2 mg/dl)
Less than 180 mg/dl after meals (10 mmol/l)
List the normal range between 4.0-7.8 mmol/l.
They suggest blood glucose goals for people with type 2 diabetes are:
6-8 mmol/l before meals (108-144 mg/dl)

6-10 mmol after meals / 108-180 mg/dl
List the normal range between 4-6 mmol/l (72-108 mg/dl) when fasting. And up to 7.8 mmol/l (140 mg/dl) 2 hours after eating.
They suggest blood glucose goals for people with type 2 diabetes are:
4-7 mmol/l before meals (72-126 mg/dl)

Under 8.5 mmol/l after meals (153 mg/dl)
Like Diabetes UK, they suggest blood glucose goals for people with type 2 diabetes are 4-7 mmol/l before meals (72-126 mg/dl).
5-10 mmol/l after meals (90-180 mg/dl), or if A1c goals are not being met, it should be reduced to 5-8 mmol/l (90-144 mg/dl).
Hopefully we will see organizations worldwide list the same glucose readings in future so there is not such a confusion.
Can these charts be used as a pre diabetes blood sugar levels chart?
Yes. The charts contain the numbers for prediabetes as well. And you can use the charts to track your food intake and daily numbers, along with exercise or other notes you want to include.
Is daily blood glucose monitoring recommended?
If you have type 2 diabetes or prediabetes, daily self-monitoring using a blood glucose meter (which involves a simple finger-prick test), can be a great way to understand what is happening in your body so you can bring your levels under control.
How often should I take a blood sugar sample?
There is wide variability on how often to monitor, depending on the state of your diabetes and treatment. But, most people monitor 1-2 times daily – fasting (first thing in the morning) and 2 hours after the biggest meal. For your after-meal (postprandial) blood sample, time from your first bite of food.
If you're newly diagnosed or trying to gain better control, it can be helpful to monitor more frequently so you can assess your progress and work on changing diet and lifestyle habits to support your goals.
One thing that is helpful with mealtimes is "monitoring in pairs." To monitor in pairs you check your levels before, then 2 hours after a meal. It's a great way to get an indication of the effect of foods and the amount of carbs you're consuming. If you log your numbers and your daily food intake and lifestyle habits, you will soon see patterns emerging and then you can make the necessary adjustments to your dietary routine.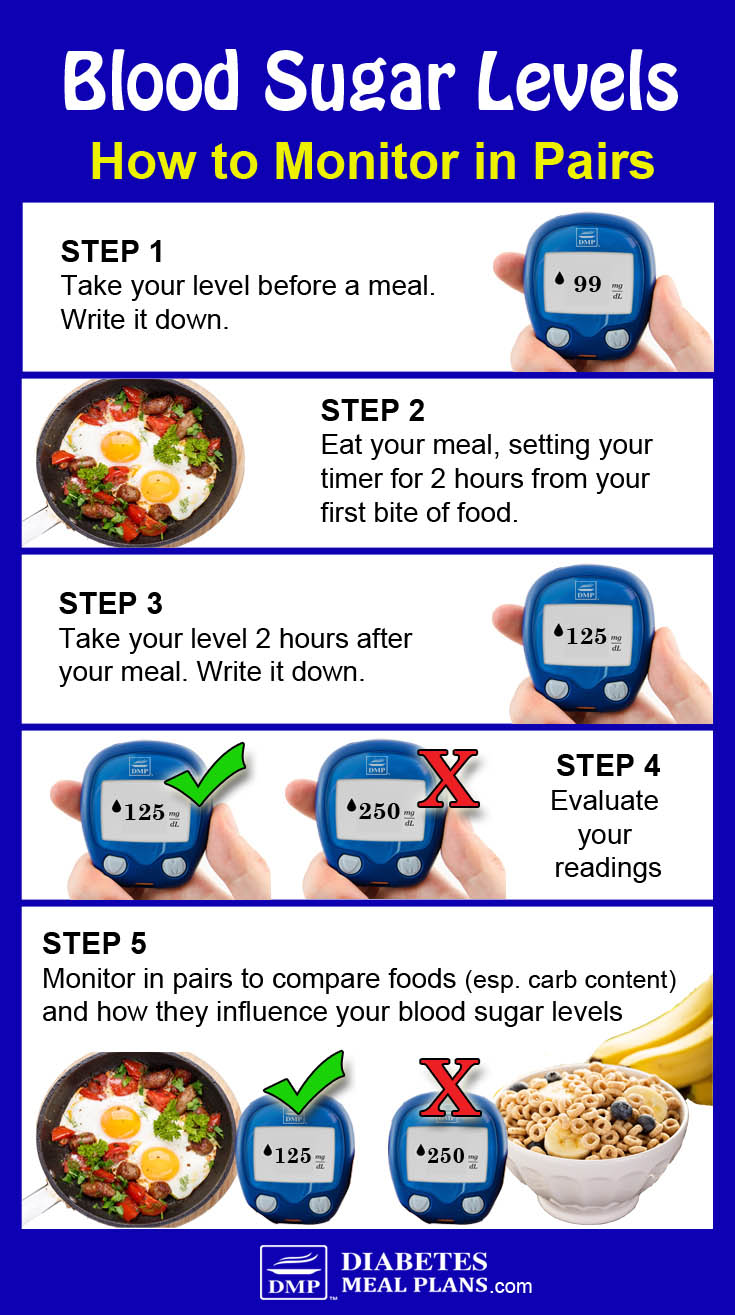 Well there you have it. Hope you find this information helpful and if you do please pin it and share it around to help others. Thanks!
While you're here, grab a printable copy of the blood sugar charts – just enter your email below and we'll send it to your inbox.