It is very important to keep a rein on blood sugar as best as you can.
But one of the things that people often get into a panic about is their morning blood sugar.
Shouldn't it be lower in the morning? Not higher?
If you're confused you're not alone and if you missed our info about why blood sugar is high in the morning, you might want to read that over here.
Here we are going to explore 10 practical ways to help lower your morning high blood sugar.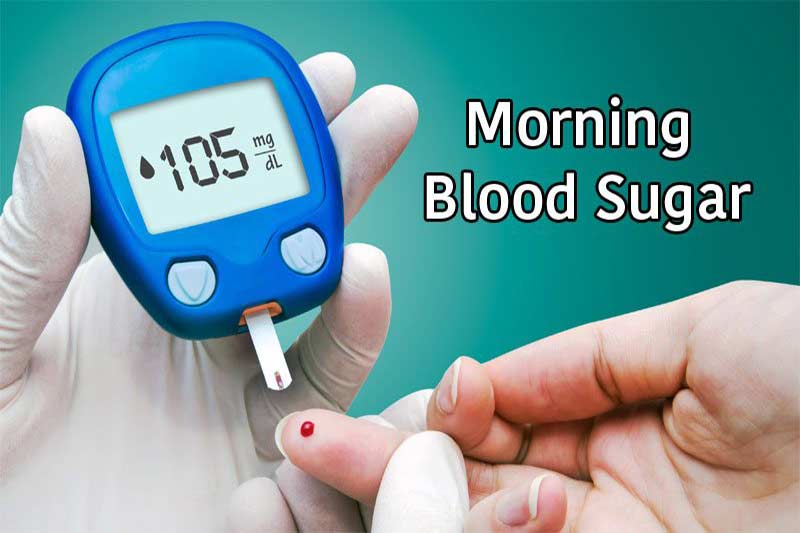 10 Tips To Lower Morning Blood Sugar
1. Fancy Some Apple Cider Vinegar & Cheese Before Bed?
One small study found that having 2 tablespoons of apple cider vinegar with 1 oz (28 g) cheese (which is just 1 slice cheese) before bed reduced morning glucose by 4% compared to 2% when the participants only had cheese and water. The best apple cider vinegar to use is this one by Braggs.
People that had a typical fasting glucose above 130 mg/dl or 7.2 mmol/l had an even better result of 6% decrease in morning blood sugar levels. It's not fully understood why vinegar has such a beneficial effect but it seems that the acetic acid in the vinegar does have a positive influence so taking apple cider vinegar might just be the most effective thing.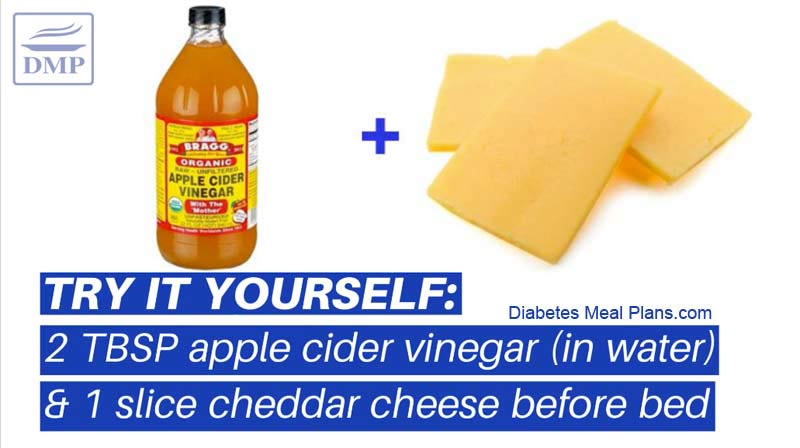 2. Have A Specially Designed Snack
Many people find that a bedtime snack can help. This is most likely because it shortens the 'fasting' time and may slow down the livers own glucose production. If you're not using the apple cider vinegar method above, try having a mix of protein and fat combined before going to bed.
Here are a few ideas:
A tablespoon of natural peanut butter
A small piece of chicken with avocado
A small handful of macadamia nuts
A couple of slices of cheese
These are all simple snacks that contain both protein and fat.
3. Enjoy A Good Dinner
Make sure you eat something substantial for dinner, a meal high in fiber and low in carbs is best. It's never a good idea to skip meals because this can raise blood glucose levels. The liver will still produce glucose even if you don't eat.
4. Sleep Soundly
Make sure you get a good restful sleep every day because lack of sleep can increase cortisol production (our key stress hormone) and this pushes glucose levels higher.
5. Avoid Alcohol
Although drinking alcohol might seem relaxing it is best to steer clear of it because it's actually a stimulant and prevents deep REM sleep. We just pointed out that lack of sleep can increase the production of our stress hormone cortisol, which also increases blood glucose.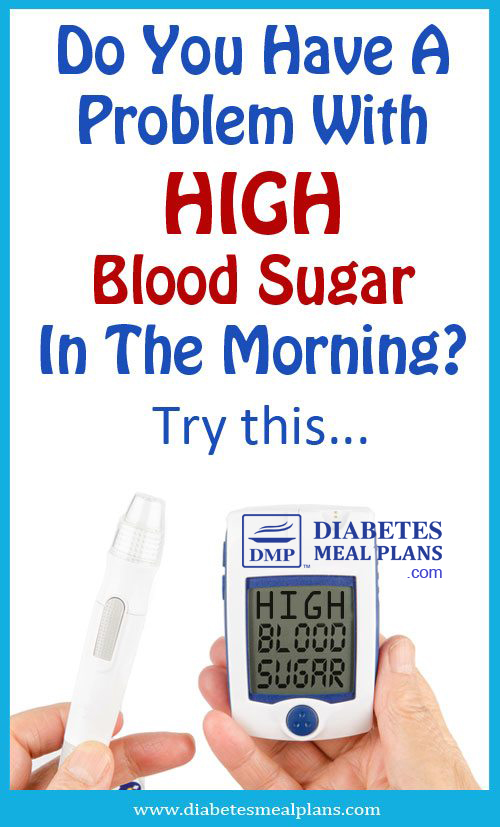 6. Try A Protein Powered Morning Start
To help bring blood sugar levels down eat something when you get up but make sure it's a protein – eating carbs when your blood glucose is already high will only push it up further.
You only need a snack and then you can follow that with a little bit of exercise.
7. Adopt A Morning Ritual
Developing a morning ritual is a great habit for a healthy mind and body and it will also help lower your morning blood sugar as well. Try doing some yoga, stretching or go for a walk first thing in the morning – it's often best to have that protein powered snack first before you do exercise.
8. Speak To Your Physician
If you think your morning levels are way too high or no matter what you do you can't get them down, talk to your physician or health practitioner to see if you might need to alter your medication.
9. Control Your Diabetes
Manage your diabetes and hormones by eating a healthy diet, eating the right type of carbs, exercising regularly, and stressing less. The more controlled you can keep your blood sugars overall, the better your morning sugars will be as well.
10. Lose Some Weight
Even a small amount of weight loss can promote better blood glucose levels, balance hormones, reduce inflammation and generally make you feel a whole lot better.
Different things work for different people but keep these things in mind and give a few of them a try to see what works best for you.
If you've found something else has worked for you, be sure to share by leaving your comments below.