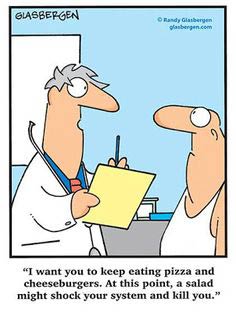 I apologize up front that this info is long winded – but I am very passionate about this subject. 😉
For decades dietary guidelines and health organizations have been recommending we eat a low fat diet. And the common dietary prescription given to people with type 2 diabetes and prediabetes is to eat less fat and protein and more carbohydrate.
Personally this advice never made sense to me.
Given the way the body works and the influence of carbohydrates on blood glucose, A1C, weight gain, and cholesterol, recommending more carbohydrates just never made any sense. In my mind I always felt like it was a fairly simple concept to understand and I became curious to understand why the nutrition recommendations for people with diabetes seemed so 'off' the mark.
So off I went to evaluate research paper after research paper, looking at the dietary comparisons and foods that made the biggest difference for people with type 2 diabetes and prediabetes.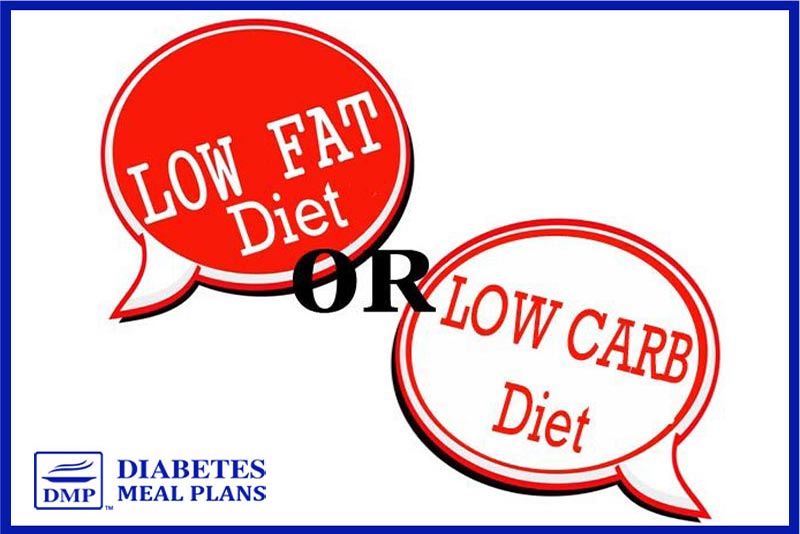 Low Carb Diet Facts
I soon came to realize that there were some great studies comparing low fat to low carb diabetic diets (this was back a number of years ago now). What surprised me more was that in every case the outcomes for people with diabetes following a low carb diet always seemed better:
increased insulin sensitivity

lower cholesterol and LDL (the bad stuff)

higher HDL (the good stuff)

increased weight loss
So my question was: why was this evidence not being passed on to people with diabetes and being reflected by a change to dietary guidelines?
Well, it could all be a big food/ pharma conspiracy – sometimes I do think that. After all, there is a lot of money invested in junk food and keeping people sick. And it's sad to say that many health organizations are 'sponsored' by big food and big pharma.
Then there was another common debate from health organizations: that there wasn't enough long term studies to prove that low carb diets were of any benefit to people with diabetes, and that the diet may 'cause harm.'
Ha… like the current low fat diet recommendations haven't caused harm… Umm…hello health organizations, have you looked around at our rising health problems recently (obesity, diabetes, heart disease, cancer)? Are the current recommendations working? It's obviously questionable.
While I was thinking all this, I saw this funny (but not so funny) update posted on twitter by Dr Kevin Lee endocrinologist: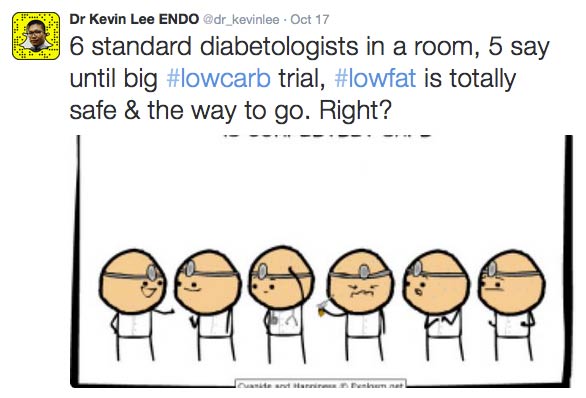 In terms of health, we certainly have a BIG, BIG problem facing the world. It was estimated that we'd have 300 million people with diabetes by 2030. In 2011 we surpassed that number and now the estimate is 600 million – surely we need to start thinking differently!
With all these questions in my mind, I started exploring new ways to eat to treat diabetes. And 4-5 years ago, there wasn't much research around low carb diets, but there was enough to piece the puzzle together.
For instance, back in 2014 there was an 8.1 year follow up of a 4 year trial. Here's a snapshot of the results.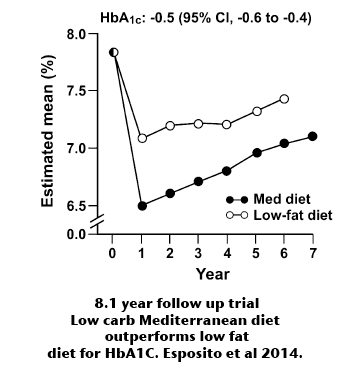 As you can see in the above image from Esposito's 8.1 year follow up study, the low carb Mediterranean diet outperformed the low fat diet for A1C.
The original 2010 study also showed a significant reduction in medication use.
Low Carb – 44% required medications

Low Fat – 70% required medication
That's a 26% difference between a low carb and a low fat diet in the need for diabetic medication – worth more exploration? I think so.
This study also showed more people managed to reach diabetes remission:
Low carb – 14.7% were in remission at year 1, 9.7% sustained at year 3, 5% sustained at year 6.

Low fat – 4.1% were in remission at year 1, 4% sustained at year 3, 0% sustained at year 6.
Overall the low carb diet proved best for achieving a complete remission, with 9.7% experiencing at least a 3 year remission. In the low fat group it was only 2%.
And for those experiencing a remission beyond 3 years, low carb wins again:
Low carb 5.7% remission for 4 years vs low fat 0%.

Low carb 2.9% remission for 5 years vs low fat 0%.
I guess it's pretty clear which diet wins out here.
The interesting thing about these results is that the carb intake wasn't even that low carb (200 grams). But compared to the other group consuming 266 grams per day, the results were astounding. Overall it indicates that any reduction in carbs you can make will bring about better results long term.
So, even several years back I was convinced that a lower carb plan was the best option to eat to treat diabetes. And since then, we've never looked back.
We've been investigating research on diets and foods that can treat diabetes, and sharing it here with our readers and members. And the results continue to speak for themselves – not only through new research, but through the personal experiences of our members.
Here's just a few of their comments:
Sheryl D, says: "After getting my all my test results within a normal range following DMP's advice, my A1C levels continue to be 6.0 and below. I've maintained 1 year on lower dosages of medication! I am now 2+ years with NORMAL BMI… something I once thought was forever out of range for me! I recently had a colonoscopy and for the first time EVER, I won't have to return for another for 10 years! I am grateful for your researched information, and innovations to guide toward success!"
Maria G says: "The results of being a member have been amazing! When I joined my A1c was 6.5. A few months ago my A1c was 5.6. Right now it's 5.3. I take no drugs, no insulin. Just DMP!"
Gloria G says: "3 months ago my A1C was 8.7 and my recent blood work showed it at 7.4. My endocrinologist was very impressed and thinks I will be at the target level by my next testing in 3 months. Thank you for your dedication to diabetes research and food plans."
Please pin, share or tweet – then keep on reading.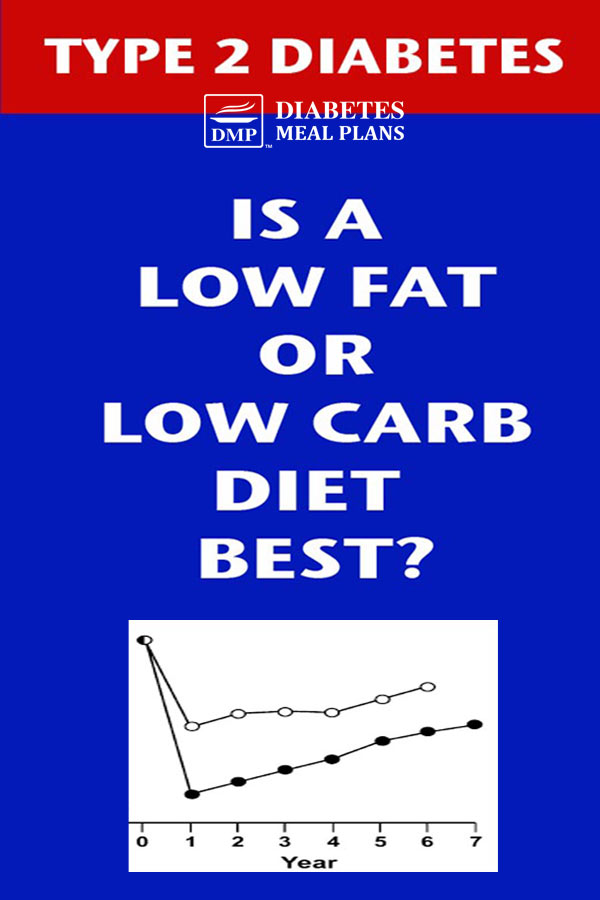 'Not Enough' Evidence?
When we started sharing research about lower carb diets, we were pioneers (and rebels of a sort) because health organizations and diabetes associations worldwide frowned upon a low carb diet. Surprisingly, there were even dietitian's that were deregistered because they were treating patients with a low carb diet – true story!
One of the common debates from health organizations over the years, was that there aren't enough long term studies to prove that low carb diets are of any benefit and don't cause harm to people with type 2 diabetes or prediabetes.
So, I wanted to explain research methods briefly, just to help put this debate in perspective.
Randomized trials are the strongest type of evidence we have in nutrition science. It's where we take 2 or more groups, allocate them to a 'treatment,' otherwise known as an 'intervention,' and compare the results to a 'control' group. For instance, two groups of people with type 2 diabetes, one group on a low fat diet and the other group on a low carb diet. At the end of the study the results are compared.
Randomized trials are also the most expensive to conduct because they involve much more labor, more testing, and to get good 'proof' they are best conducted over long periods of time, with large groups if possible. That's why we lack a lot of long term studies, simply because the funding is not there.
As a result of the lack of randomized trials available, we take a lot of our research and recommendations from large epidemiological studies, or observational studies. These are when we look at thousands or hundreds of thousands of people at a population level and try to determine an 'association' to things. For example, if I take 200,000 people's food diaries and compare them, can I make an association between sugar intake and risk of diabetes?
Having the larger amount of people does give us some suggestion about associations. But, 'association' does not mean 'causation,' which is why we need randomized trials to help us determine 'causation' – we need to definitively test a hypothesis to determine a true outcome/cause.
In human research, we also face another conundrum: the fact that many randomized trials can never be conducted because it's simply unethical. We can't use humans to do whatever experiments we want, which is unfortunately why we need to use animal studies. But then, the results we achieve from testing animals are not necessarily transferable to humans.
The truth is we don't have enough long term studies for many things we recommend, including the low fat diet recommendations that have become so popular and deeply ingrained in society. In fact, Dr Robert Lustig suggests, only about 10% of 'fact' is proven, the rest is merely inference – "a conclusion reached on the basis of evidence and reasoning."
It has always been so. It is up to the evidence and reasoning of whom is interpreting and translating that research into communications that get relayed to the public. And on a masse scale, one has to wonder, who's reasoning, interpretation and translation was it that led us to this place? The current dietary recommendations?
Anyway, I just wanted you to know some of this 'science-y' stuff because it helps put the whole debate and the whole idea of research and recommendations into perspective.
Point being: there is still A LOT we need to learn. But, there is also a lot we know that works, based on good evidence, interpretation, reasoning and translation – that's what we strive to share here at DMP.
Low Fat and Low Carb Diets Compared
The great news is, there is more and more research being explored that compares the difference between low carb and low fat diets. And the results continue to surprise us – the outcomes on a lower carb diet are always better.
Now, the evidence cannot be ignored and even health organizations and diabetes associations are trying to play their part. Slow progress is better than no progress!
Here's an example of some of those studies:
A 3 month 2018 study found that a low carb diet group consuming an average 39% carb calories achieved an A1c reduction of 0.63%. Compared to the low fat group consuming 56% carb calories who had a reduction of 0.31%.
A 1 year 2017 randomized trial found that the low carb group had an average reduction in A1c of 0.5%, lost 17.4 pounds (7.9 kg), and 6/10 people stopped taking medications. Compared to the low fat group with reductions in A1c of just 0.2%, weight loss of 3.7 pounds (1.7 kg), with zero people stopping meds.
Another 2017 6 month randomized study found people consuming 45% carbs (average 149 grams carbs) achieved an A1c reduction of 0.65% and an 18% reduction in insulin use. Compared to people consuming 50% carbs (average 198 grams carbs) who achieved 0% A1c reduction and 3% reduction in insulin use. This demonstrates that even seemingly small reductions in carbohydrate intake can have a large impact on results.
Yet another 2017 32 week online study found people consuming an average 40 grams of carbs achieved a 0.8% reduction in A1c and 55% of people reached their goal of an A1c under 6.5%, and weight loss of 27.9 pounds (12.7 kg). Compared to a low fat diet with carb intake of 127 grams who achieved a 0.3% reduction in A1c but 0% of people achieved a goal of 6.5%, and weight loss of 6.6 pounds (3 kg).
A 2015 1 year randomized trial found people consuming an average 64 grams carbs per day had similar results for A1c and weight loss compared to those consuming an average 200 grams carbs per day. However, 52% of those consuming 64 grams had an average 20% reduction in medication use, and another 29% had a 50% or more medication reduction. Compared to the low fat group who where 21% had a 20% reduction in meds and 18% had a 50% reduction. This significant reduction in the need for medication demonstrates that those consuming less carbohydrates had better overall glucose management.
I could go on and on, but you get the point. That's just a small sample of the results we are seeing from research directly comparing low fat diets to low carb diets.
How many carbs are we talking about here?
In 2015, a collection of 26 researchers came together to determine diets in terms of carbs. Based on previous evidence this is the definition of carbohydrates that came from their study:
Very low carb ketogenic diet: 20-50 g per day. Below 10% intake of 2000 calorie diet.

Low carbohydrate diet: Below 130 g per day. Below 26% total energy intake.

Moderate carbohydrate diet: 26-45% (131-225 g carbs) total energy intake

<<< Research shows these don't perform as well as lower carb diets

High carbohydrate diet: Above 45% (>225 g carbs) total energy intake

<<< Current recommendations that aren't working
Current research demonstrates that both low carbohydrate diets (<26% carbs), and very low carb ketogenic diets (<10% carbs) provide the greatest benefits. We've found that a range between 50-80 grams of carbs per day works wonders.
Keto diets (now very popular) can be more restrictive, many now sticking below 20 grams carbs per day. We've found a slightly higher carb intake still produces awesome results and is easier to maintain long term, providing more variety. Some of our members stick closer to 100 grams per day because that works okay for them, too.
The important thing is to keep your food and blood sugar log so you can find that sweet spot for you.
Breakthroughs in Nutritional Science
In recent years, it's not only low fat diet myths that have been blown out of the water. There have also been more and more 'breakthroughs' occurring in nutritional science that are changing the way we think.
For instance, that a calorie is not a calorie.
There have been health experts and researchers questioning this for several years. Just recently research from Harvard has shown that people following a low carb diet (20% of total calories) burn 209-278 more calories per day than those on a high carb diet (60% of total calories). This study bursts all the bubbles that suggest consuming fat is what makes us fat!
P.S. Our very own dietitian Emily Incledon was involved in conducting this study through Harvard's partnership with Framingham State University.
Another example of nutritional breakthroughs is around cholesterol.
We all know the commonly touted belief that the cholesterol you eat means you'll get higher blood cholesterol – therefore, avoid eggs, especially the yolks, fat, avocados etc. This is entirely inaccurate.
The dietary advice to limit cholesterol intake was never backed by science. Even the American Dietary Guidelines Committee have openly admitted it. In fact, studies are showing foods such as eggs – which are naturally high in cholesterol – actually improve blood cholesterol levels. While multiple studies show excess carbohydrate consumption increases cholesterol levels.
And so to, lower carb diets are demonstrating better results in terms of cholesterol, despite the increase in fat intake.
For instance, a 2010 study found HDL cholesterol only increased in the low carb group 1.8 mg/dl (0.1 mmol/l), not the low fat group. And the reduction in triglycerides was more on the low carb diet 23.4 mg/dl (1.3 mmol/l) compared to the low fat American Diabetes Association diet 12.6 mg/dl (0.7 mmol/l).
New Frontiers in Neurology have just released a new observation that low LDL cholesterol may actually increase risk of dementia. Dementia is closely connected to diabetes. LDL is meant to be the "bad stuff" that we're told to reduce. So it just goes to show how much is yet to be discovered!
Conclusion
Coming back to the initial question: is a low fat or low carb diet best for diabetes?
What do you think?
Low fat? Or low carb?
We vote low carb because science continuously shows that it is one of the best ways to eat to treat diabetes!
There's lots of exciting science occurring. And the truth is, no one has all the answers. If they did we'd have the world's health problems solved. But groups like us here at DMP, along with researchers and organizations are continuously staying on top of the latest science and working toward finding a solution that could work on scale.
In fact, that's why we have online services and programs, so we can share our message and reach more people with quality information that helps you eat to treat your diabetes.
I am also proud to sat that DMP will be adding a great deal to scientific research, as starting in March 2019, I will be conducting my own PhD research study on the effectiveness of an internet-based low carb diet. The study hopes to show that a low carb diet is more effective in reducing A1c. And that running a program online is also more cost effective than traditional care. Both of which could open doors for government funding to enable effective online dietary programs to be delivered to more people.
In any case, we're proud of our contributions to date and we will continue to do our best to add value to the lives of people with type 2 diabetes and prediabetes. 🙂