Did you know that one of the most commonly asked questions we get is how many carbs per day is best for a diabetic to eat?
And like many other people you may also be totally confused by that question?
It's not surprising because the amount of carbs recommended does vary depending on where you read it or who tells you.
Why is this?
Well, believe it or not, no specific carbs per day recommendation has been set for people with type 2 diabetes – that's why there are so many different numbers.
So what we are going to share today is:
A range of information
Some view points for you to consider carefully
The latest scientific research on carbs
The experience of other people with diabetes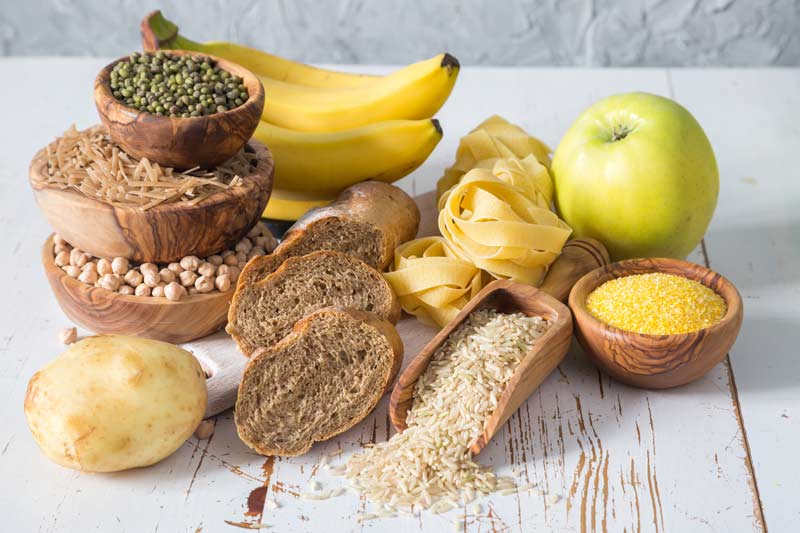 Here at DMP we use a natural whole foods, lower carb approach and encourage our subscribers and members to aim for around 50-80 g carbs per day. 
This is quite low compared to some recommendations, but not so low as others, for instance, a ketogenic diet of just 20 grams/day average.
However, if you find 50-80 grams per day is a little low for you, research shows that anything below 130 grams per day, which is still considered a low carb diet, can provide benefits for managing blood sugar and A1c. But 50-80 grams a day seems to achieve better results.
It's also an attainable and sustainable goal for many, as a super low carb diet is often harder to stick with long term – and we do want you to adopt this new healthy eating plan as your way of life, not just as a "diet" you're on for a short time.
Most importantly, research shows that a low carb diet provides great outcomes for people with type 2 diabetes and prediabetes, helping to:
lower insulin
improve insulin sensitivity
reduce blood glucose levels
improve cholesterol levels (reducing triglycerides, total and LDL cholesterol and raising HDL cholesterol
lower A1C levels
reduce or eliminate medications
lose weight
And you may be equally surprised to learn, lower carb diets always outperform the low fat, calorie restricted diet recommendations that people have been receiving for many years.
This is something that science has proved time and time again. Yet, this is not the type of information that is being made available publicly, at least not on a wider scale. We have certainly seen changes occur with diabetic dietary recommendations in the past few years, but we've still got a long way to go in terms of mass public education, which is why we strive to share the latest scientific information.
Here at DMP, we've been educating people with type 2 diabetes about eating a lower carb diet for years, and we're proud to say our subscribers and members are getting great results! 
TESTIMONIAL: "My A1C was 8.7 and my recent blood work showed it at 7.4. My endocrinologist was very impressed and thinks I will be at the target level by my next testing in 3 months. Just eating your meal plan for a month and seeing the results gives me motivation to continue. Thank you for your dedication to diabetes research and food plans." ~Gloria G, VIP Member.
T2 Diabetic Carbs Per Day Recommendations
Just a few short years ago, the American Diabetes Association (ADA) was recommending 75 grams of carbs per meal. Later they switched to 45-60 grams of carbohydrate at a meal. Now they have no say on how many carbs to eat. With their 45-60 grams per meal, this would make your daily carb intake over 3 meals anywhere between 135-180 g per day, which doesn't include snacks!
Just a few short years ago, Diabetes UK was recommending 230 grams of carbs per day for women and 300 grams for men. This has always been "the advice provided by Diabetes UK for the general population with diabetes." Now Diabetes UK carbohydrate guides don't provide an actual amount of carbohydrate. Instead Diabetes UK now acknowledge that a lower carb diet is an effective approach for many people with type 2 diabetes.
Diabetes Australia has always had no specific carbohydrate amount but recommends "the same dietary guidelines for the general population," which is 6 serves of carbs a day for men and women. However, just a few short years ago, Diabetes Australia were completely against a lower carb diet for diabetes management, now they also acknowledge that it is an effective treatment method for people with type 2 diabetes.
Going off what these 3 large diabetes education sites were recommending, your carb intake could be:
230-300 g
6 serves
135-180 g+
So we'd be looking at a range between 135-300 g per day.
It's no wonder everyone is confused!
If you've been eating that many carbs and wondering why you can't get your blood sugar or A1C under control – the answer is, it's just too many carbs – 45-75 grams of carbs per meal way too high to manage blood sugar and A1C effectively!
Why do you think large diabetes organizations have slowly shifted their tune the past few years?
Because growing amounts of research indicate a lower carb diet is the best way to lower blood sugar and A1c!
It is common knowledge that the AMOUNT of carbohydrates is the thing that influences blood sugar and A1C the most. Therefore, focusing on reducing carbs not only makes sense but a lower carb diet is scientifically proven to outperform a low fat, higher carb diet.
The old carbohydrate recommendations suited for the 'general' public are highly flawed and outdated recommendations for people with type 2 diabetes.
So How Many Carbs Should You Eat?
The amount of carbs to eat may vary from person to person but overall it seems to work best when people lower their carb intake to 130 grams or less, which is considered a low carb diet.
Dr. Sarah Hallberg, an obesity doctor, recommends that people with diabetes should always aim for a top level of 100 grams per day, but aiming for lower can provide additional benefits. The sweet spot seems to be around 50-80 grams a day – it's not too strict but strict enough to get good results.
The point is, when following a low carb diet, there is some room to wiggle the amount of carbs you eat. And once you start reducing your carb intake, you will find a sweet spot that works well for you.
Right now, you might be thinking that sticking to 50-100 grams a day is going to be hard. But it's actually not that difficult to do when you're choosing non starchy vegetables as your predominant source of carbohydrates – yes, veggies are a carb – the best kind to eat!
And on a low carb diet, you can still enjoy ample amounts of healthy and delicious foods – that's why our members love our weekly meal plan service!
TESTIMONIAL: "I love every recipe I have tried so far. Especially appreciate the 5 ingredient ones. I have found it sooo helpful to prep all my veggies on one day and either freeze them or just refrigerate them. Makes cooking much faster! I have been eating low carb for a month and exercising every day and I do feel better and am thrilled my numbers are better, too." ~Gini D, VIP Member.
Please pin, tweet or share; then keep reading for a sample meal plan.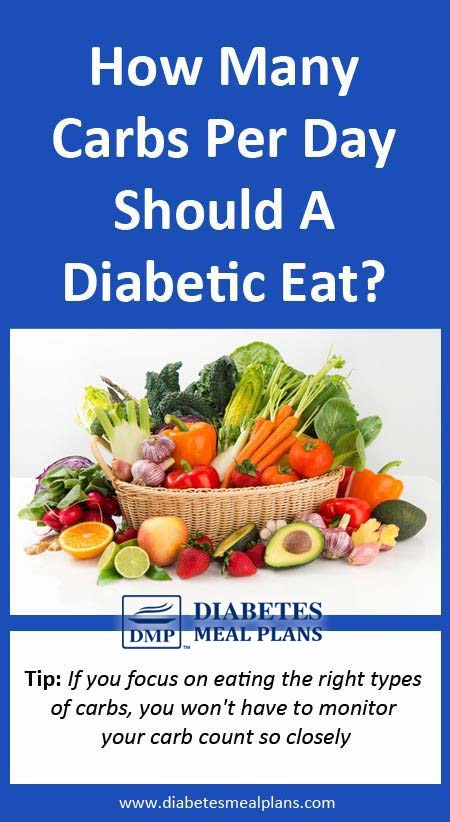 Where To Get Started With Carbs
Since most people usually have to lower carb intake quite a bit, 120 grams per day is often a comfortable place to start and then you can tweak and reduce your own individual intake from there. 
So let's break 120 grams down per meal so you can see what that might look like.
Carbs per meal
Breakfast: 30 g carbs
Lunch: 30 g carbs
Dinner: 30 g crabs
2 x snacks: 15 g carbs each or 3 x snacks 10 g carbs each
This tends to work fairly well for the majority of people when getting started. And if you find this is a comfortable place for you over the long term, it can still work okay too.
The idea is you want to be able to sustain a diet, not go on a diet for 6 months and then switch back to old habits. So keep that in mind as you make changes.
For Optimal Long-Term Results: Aim For 50-80 g Day – always keep under 100 g day
If you focus on eating the right types of carbohydrates, then you won't really have to monitor your carb counting so closely (what a relief!).
Based on research, a great diet for lowering blood sugar and A1C is a high plant based (aka vegetables), whole foods low carb diet – a Mediterranean-style diet. That may sound complicated but it's not.
It just means you'll be choosing vegetables as your predominant carbohydrate source, and including a whole range of other delicious and super healthy food sources (refer to our food list).
Over a days worth of eating, your veggie/carb intake will add up to around 50-80 g per day. Or, as Dr. Sarah Hallberg, an obesity doctor, recommends: aim for a top level of 100 g day.
In Mark Sisson's (diet/fitness expert) carbohydrate curve, the range of 50-100 g carbs per day is termed the 'Sweet Spot for Weight Loss.' And in the experience of many people with diabetes, it's also the sweet spot for managing blood sugar and A1C.
Some people do follow a 'very low carb diet ketogenic diet,' such as an Atkin's diet, which limits carbs below 20 g per day. But experts such as Dr Mark Hyman (diabetes physician) and Mark Sisson suggest that it's not necessary to limit carbs this low because it cuts out many of the essential plant ingredients that we need – vitamins, minerals, flavonoids, polyphenols, and other compounds. For instance, ketogenic diets limit carrots but carrots provide incredible amounts of fiber and nutrients.
We tend to agree with this view because a high plant based diet is so essential to reducing the inflammation associated with type 2 diabetes and provides all those nutrients the body needs. So the sweet spot for carbs does seem to be around 50-80 g per day, or 10-20% of daily caloric intake.
But of course, you can stick to 120 g if that feels most comfortable for you (be sure to use your daily glucose readings to help you determine what level of carbs is working for you).
SAMPLE MEAL PLAN: 50-80 g Per Day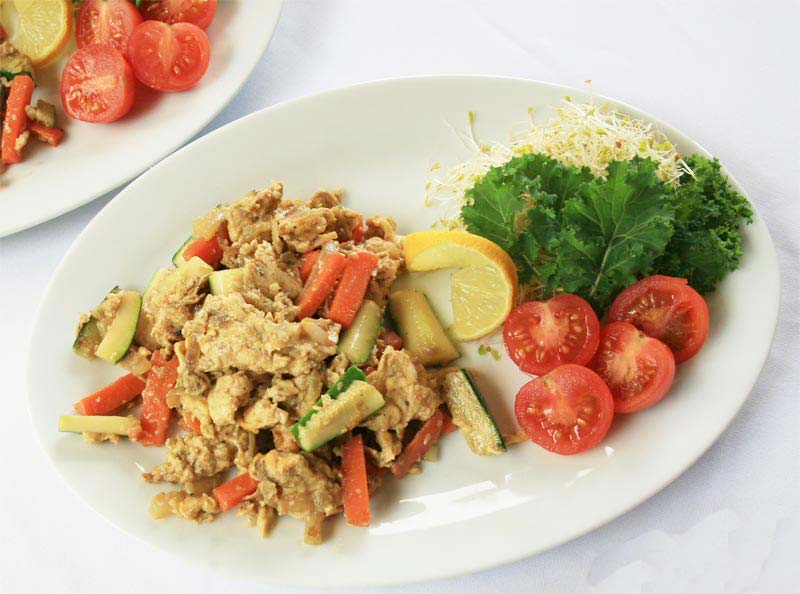 Breakfast: Veggie scramble – 15 g (aim for between 10-20g)
Lunch: Chicken pesto salad – 15 g (aim for between 10-20g)
Dinner: Sweet beef satay w/ rice substitute – 15 g (aim for between 10-20g)
Snacks: Coconut protein balls 5 g, peanut butter with carrot sticks 5 g, cottage cheese and berries 10 g before bed. Aim for 5-15 g per snack.
Based off the meals and snacks above the total daily carbs is around 62 grams for the day.
As you can see from this meal plan, you will not be starving!
But it is a different way to eat than you are probably used to.
That's why we created our weekly meal planning service – to help you enjoy life more while regulating blood sugar and A1c at the same time.
Just Getting Started? SAMPLE MEAL PLAN: 120 g per day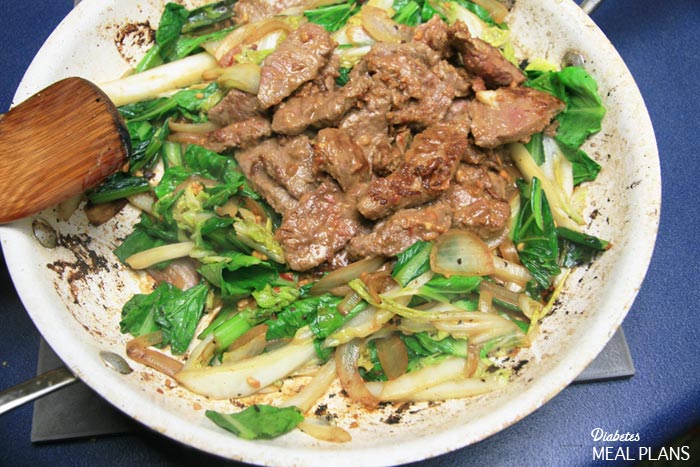 Let's take the above meal plan and turn it into a 120 g carb meal plan instead.
Breakfast: Veggie scramble with one slice of sourdough whole grain bread – approx. 30 g
Lunch: Chicken pesto salad with one small serve whole grain pasta – approx. 30 g
Dinner: Sweet beef satay w/ one small serve brown rice – approx. 30 g
Snacks: Greek yogurt with berries 15 g, peanut butter with one small apple 15 g.
Based off the meals and snacks above the total daily carbs is: 120 g
Conclusion
When it comes to carbohydrate intake for people with type 2 diabetes, there are mixed opinions about how many to eat but hopefully we've convinced you about the best route to take to get better results – cut down on foods high in carbohydrates! 
Overall, the research shows that lowering carbohydrate is your best option for long term blood sugar and A1C control. And the experience of our subscribers and members, demonstrates this way of eating really works!
TESTIMONIAL: "Love your site and recommended it to friends. My blood sugar was a whopping 396. I have now lost 35 pounds and my blood sugar average 94 2-hours after evening meal and 103 in the morning. I have been following your suggested menus." ~Alan S, VIP Member.
Please share, pin, or tweet this info to help others – thanks!