Table of Contents

[Hide]

[Show]

There are lots of things dietitians and nutritionists disagree on. But one thing we all agree on is that people need to eat more vegetables. Quite simply because most people don't eat enough of them.
And here's the thing: vegetables are a carbohydrate. And they are the type of carbohydrate you need to focus on eating, especially with diabetes or prediabetes.
The reason is, vegetables are low in carbs compared to things like bread, pasta and rice. Therefore, if you're hungry, fill up on all you can eat veggies!
Still, when most people think about vegetables. They think they are destined to eat 'steamed broccoli or carrots' for the rest of their lives. Now, if you had to live on that it would be plain boring and not at all appealing long term!
The good news is, you're not going to be stuck eating plain 'ol steamed veg because there are many tasty things you can do with veggies to make them enjoyable – like this Cheesy Veggie Bake.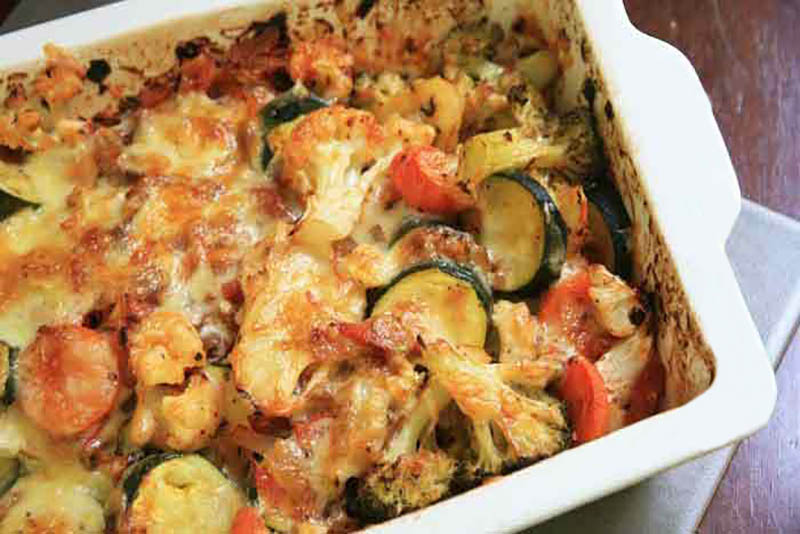 This is the type of meal that works well as a side dish with chicken, meats or fish. And, it can be made ahead, kept in the fridge and even be frozen for a later date.
Virtual Cooking Class
Recipe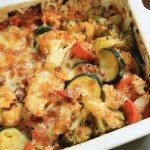 Pin Recipe
Cheesy Vegetable Bake
A simple tasty vegetable side dish that works perfectly with fish, beef or chicken.
Ingredients
1

medium

onion

- finely diced

2

carrot

- sliced

2

zucchini

- sliced

6

oz

broccoli

- equiv. to 1/2 broccoli - chopped

10.5

oz

cauliflower

- equiv. to 1/4 medium cauliflower - roughly chopped

4

tomato

- diced

1

teaspoon

dried basil

2

teaspoon

coconut oil

1

cup

cheddar cheese

- grated
Instructions
Preheat the oven to 420°F/ 220°C.

Place all the chopped cauliflower, broccoli, carrot, and zucchini in a ceramic baking dish.

Heat oil in a pan, add onion, and saute until well browned.

Add the tomatoes and basil, then simmer for 2-3 minutes until nicely softened and saucey.

Pour the mixture over the top of the vegetables, then use a spoon or spatula to mix the tomato into the vegetables so they are covered.

Make sure the vegetables are dispersed evenly and then cover with a sheet of foil and then cook for 40 minutes.

Remove the baking dish from the oven, top with the cheese and then put back in the oven uncovered. Bake for a further 10 minutes with the foil off so it goes nice and brown.

Eat hot or cold on it's own or serve beside some fish, chicken, or beef for a tasty, healthy meal.
Share by Email
Share on Facebook
Share on Twitter
Pin Recipe
Options/ Alternatives
Cut carbs further – use asparagus, cabbage, or Brussels sprouts instead of carrots. Use spring onions/ scallions instead of onion.
Super dairy lovers – add 1/2 cup cottage cheese and mix through the tomato mixture.
Cheats – use canned diced tomatoes instead of dicing fresh ones. 1 x 14 oz/ 400 g can will do the trick.
Storage – keep in the fridge for up to 5 days. Can be frozen in an airtight container for up to 3 months.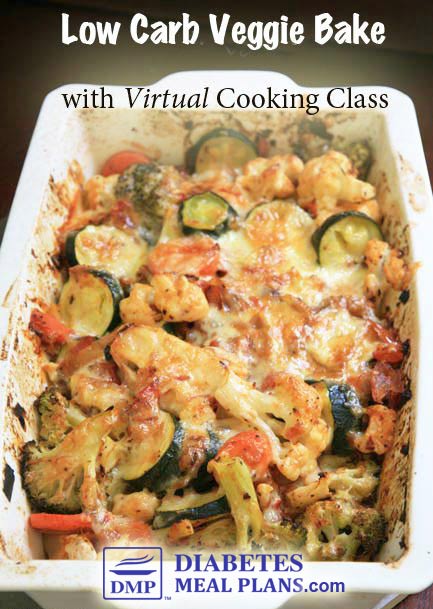 Please share, pin, or tweet this virtual cooking class to help others. Thanks 🙂
Subscribe for Weekly Nutrition Tips & Recipes