Have you ever checked your blood sugar and found it to be 50 (2.8 mmol/l) or more points higher than you'd expected?
Say it normally runs in the low 100s (5.6-7). Suddenly you see a reading of 215 (11.9-12)!
What do you do?!?
Is there anything you CAN do?
It might not be possible to solve this problem as quickly or as easily as you would like. However, there are some definite steps you can take toward preventing this situation in the future and also improving the outcomes.
10 Tips to Treating High Glucose Readings
Here are a few "Do's" and "Don'ts" to keep in mind when you experience high blood sugar readings:
1. Do NOT Panic
This is extremely important!
Remember what we said about stress? What does it do to your blood sugar? That's right! Stress raises it.
Becoming scared or worried about your reading does not help lower it. This can actually make it worse. The best thing to do is remain calm, take a deep breath and don't just avoid it.
2. Do NOT blow it off
On the other hand, it may be natural for you to think it's no big deal. Remember, chronically elevated blood glucose will lead to many long term complications.
Some long term complications could be: foot problems, vision loss, heart and kidney disease, neuropathy, sexual problems and more. None of these are worth avoiding having to deal with high blood glucose.
Think of a high reading or a spike as a red flag. It's your personal warning to get back on track to prevent any health concerns.
3. DO retest
Remember important monitoring steps. Meters can be off by as much as 20% and still fall within FDA acceptable accuracy ranges. It's also possible that your meter is incorrect.
Each meter should come with calibrating solutions and instructions. Follow the instructions to ensure it is reading accurately. It's also possible there was residue of some sort on your hands that threw the meter off. It is important to wash them before you retest.
Finally, it is possible that it was just a fluke. Therefore, make sure you retest.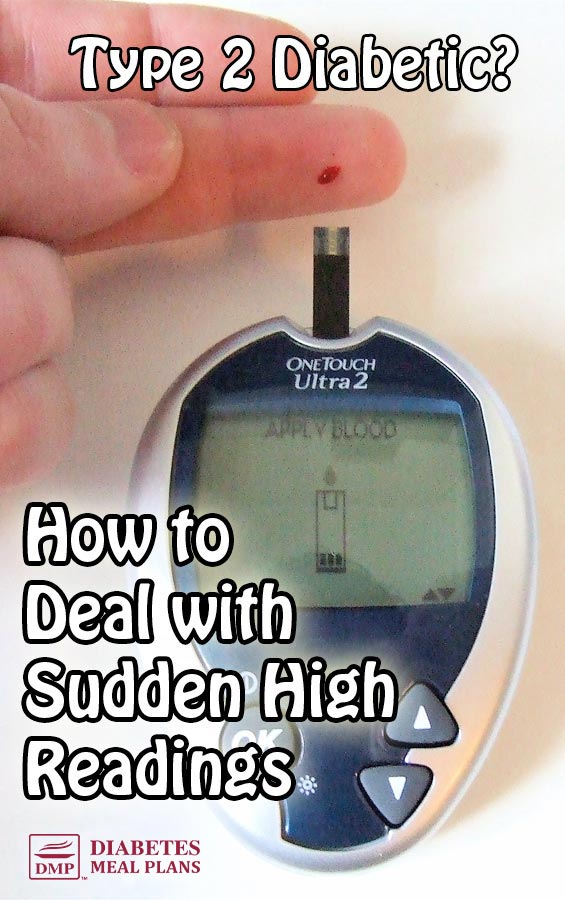 4. DO record your reading and watch for trends
If you haven't done anything different with your diet or lifestyle, plus all other previous and consequent readings are in range, most likely it was a fluke.
However, if you decided to splurge on an Italian buffet of pasta with bread sticks, the end result could surely be a spike in your blood sugar. Take time to learn how diet impacts your readings in order to make some wiser choices in the future.
If they continue to trend high despite your best efforts with diet and exercise, it is time to consult a dietitian or nutritionist. They will be able to provide an individualized plan or a possible need for a change in medical treatment.
5. DO take insulin or medication if you are required
If your blood sugar is high, what you ultimately need is sufficient insulin and the body's ability to use it, helping to bring it back down. Some people are unable to control their blood sugar without insulin or medication.
If you are on a sliding scale dose, be sure to check your scale. Then administer insulin appropriately. If you missed taking the required medication, contact your pharmacy for getting back on track.
6. DO go for a walk
Low to moderate exercise will increase the body's sensitivity to insulin, thereby bringing glucose from the blood into the cells and lowering your blood sugar levels. Regular exercise over time is one of the most effective means of reducing morning highs.
Use caution because high intensity exercise (80-90% maximum heart rate) can actually raise blood sugar.
7. DO drink water
This may help to dilute the glucose from your system allowing excretion from the kidneys via urination.
But remember this is still not a healthy, long term solution. Making poor dietary choices and trying to make up for it by drinking excessive amounts of water isn't a great idea.
So while drinking water is important. When you drink water excessively this process still stresses the kidneys leading to damage over time.
8. Do NOT eat stuff
I've heard it all! Everything from pickles, turkey slices, peanut butter to vinegar. While certain foods will not elevate your sugar as much as others (ie: protein, fat, non-starchy vegetables), nothing you ingest is going to lower an already high blood sugar.
One of the symptoms of high blood sugar can be increased hunger. If this is the case, be sure your snack is something free of carbs. Things like a handful of nuts, some tuna or a hard boiled egg are good choices.
But just remember, none of these foods will lower your blood sugar. Only time and insulin will do that.
9. DO seek medical attention if your glucose is over 400
Your glucose should not register above 400 (22.2 mmol/l) unless your physician has advised you otherwise or has not specified. Above this level you are in a serious danger zone.
Once blood glucose values climb this high, a cascade of metabolic events leading to higher and higher sugars (called HHS or DKA) may not be within your control. You may be very ill or have an underlying infection; both can and do raise blood glucose. This requires immediate medical attention.
10. Do NOT become discouraged
Remember type 2 diabetes is a journey and a learning process. It is not a destination or a death sentence. For some individuals diabetes has been reversed, for others it stops in its tracks.
Every blood glucose reading is just another piece of data that you can use as helpful information in solving the puzzle of your condition. Remember, you aren't in this alone! There are all kinds of resources and support available for you, this site being one of them. 🙂
Knowing your blood sugar levels is extremely important. Download our blood sugar charts to help eliminate any confusion. They contain both mg/dl and mmol/l, along with appropriate A1C levels.
It's a great resource to have on hand, plus there are some tips on how to deal with high readings.
Please share, pin, or tweet this post. 🙂