I've always had an affinity toward growing a vegetable garden. Over the years I've always had a small patch or a few pots of something growing.
Since moving 7 years ago, growing a vegetable garden was a thought but for some reason or another we just never got around to doing it.
Last year I did manage to get more pots and some balcony boxes to fill and grew a small stock of herbs and vegetables. But toward the end of last year I really wanted to invest in growing more food so my husband and I set out a simple plan to get things started.
There is a simple pleasure that comes from watching things grow. A connection you build to the food you eat. A great enjoyment you experience from being outdoors. And best of all, eating fresh food – as fresh as it comes – is something AMAZING!
So, I thought I'd share some pictures of the development of my vegetable garden and I hope it inspires you to start growing a vegetable garden yourself, no matter how big or small!
It all started in Sept 2016, my sister had given me some big pots and I picked up a couple of wicker beds on sale – the type that store water in a reservoir.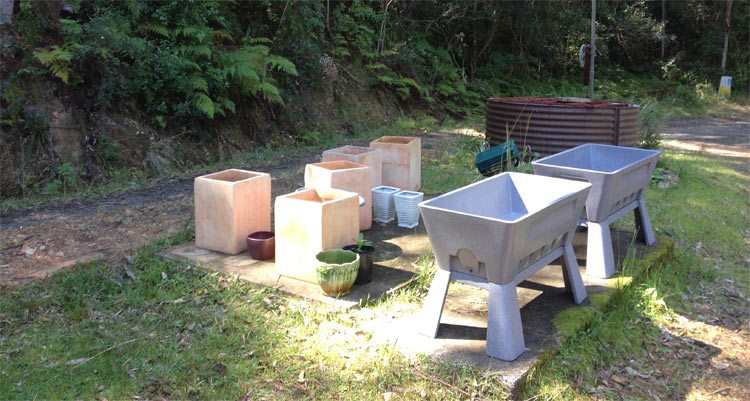 We got a big load of dirt delivered from the local landscaping supplies. It ends up far cheaper than purchasing potting mix in bags – as we'd tried to do before. It's also easier to get things done.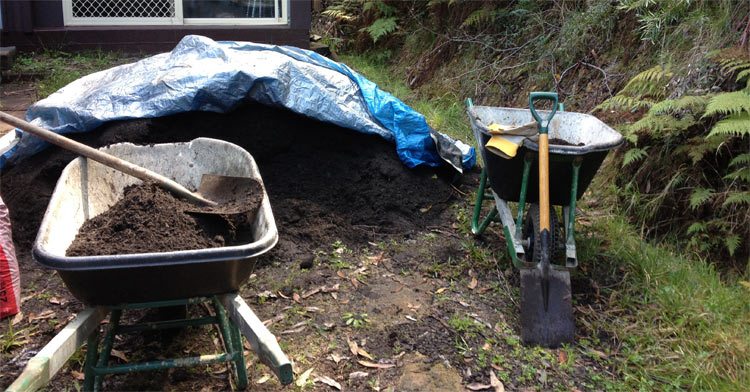 Next came some elbow grease, filling up the pots and fencing in the area.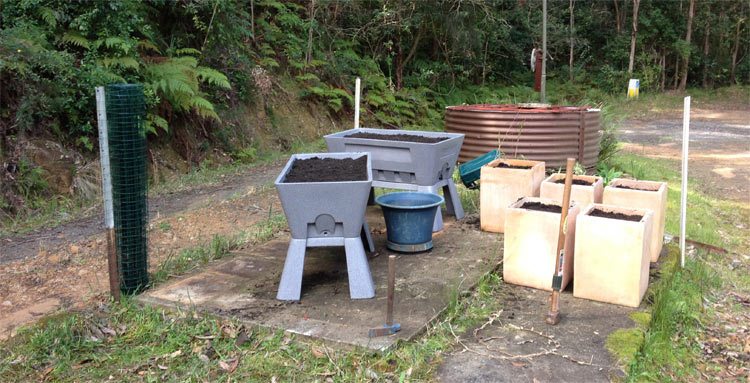 Unfortunately (and fortunately) we do have to deal with animals that like to raid vegetable gardens, it's a common problem for many. So we fenced the whole area in with a gate you can open. The area is roughly 9 feet (2.7 m) square.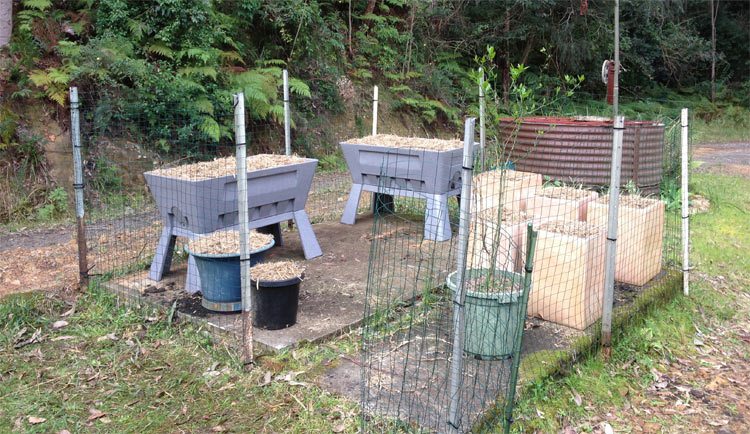 As you can see, I'm just using a whole bunch of pots, plus the wicker garden beds.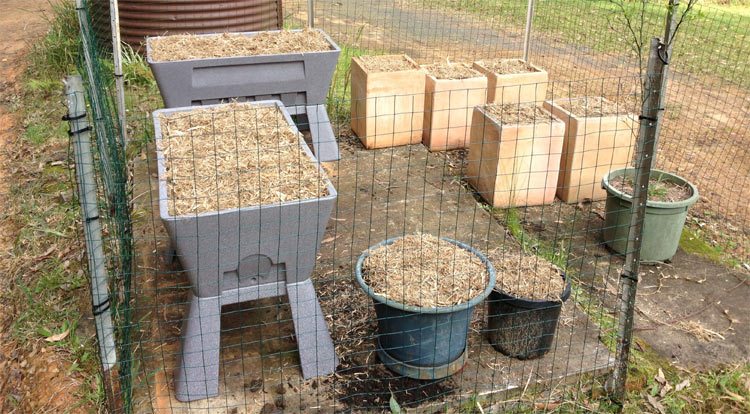 The first planting was on 17th Sept 16 – we planted lots of tomatoes, silverbeet, parsley, mint, lemon grass, basil, marigolds, snow peas, arugula (rocket), iceberg lettuce, and we saved a lemon tree that my mother had given me a few years back, but had been kept in a pot and poorly looked after.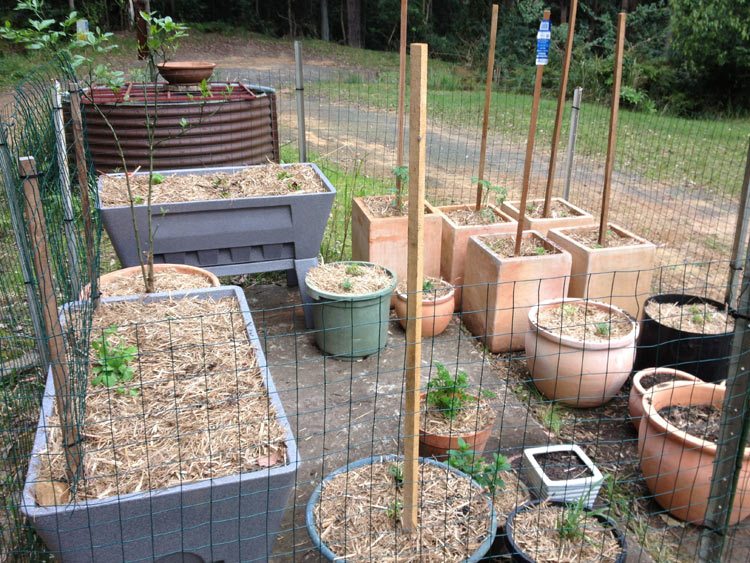 Even though the weather wasn't ideal, six weeks later everything was beginning to get going.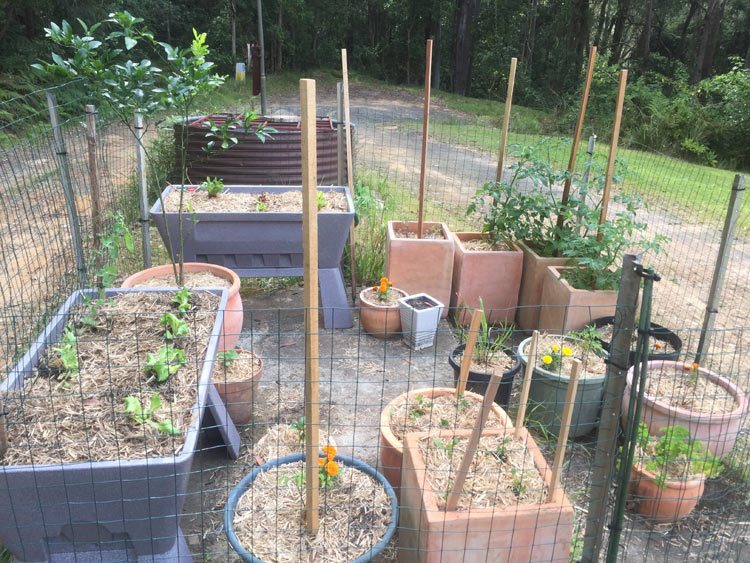 And the tomatoes especially were coming along strong.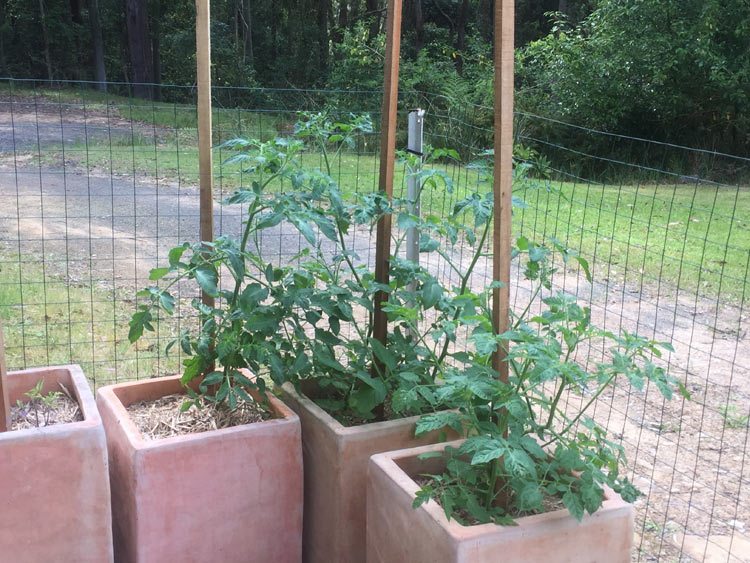 A few more weeks later, the tomatoes started developing the dreaded 'Septoria Leaf Spot' – it's a common tomato leaf disorder that occurs when the weather is warm and wet and begins by affecting lower leaves. Thankfully it doesn't affect the fruit. So this started to occur about 8-9 weeks of growth – more on growing tomatoes in another article.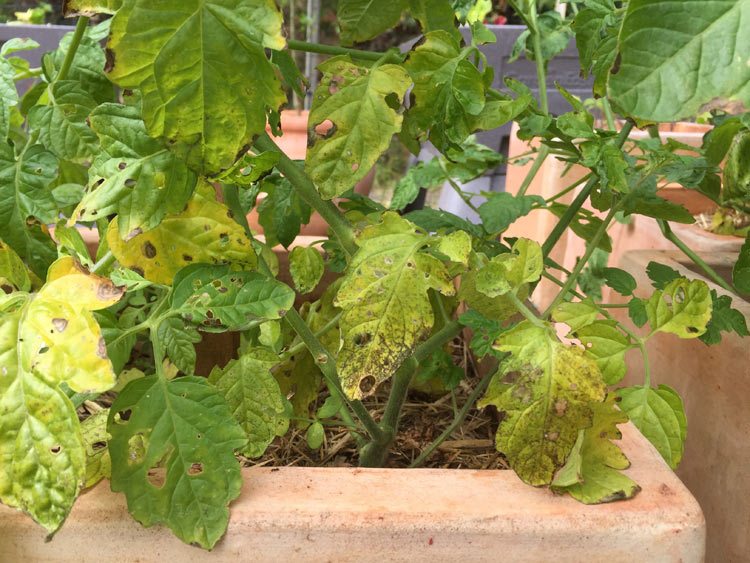 Aside from that veggie patch, I also have a balcony garden with a variety of pots and boxes.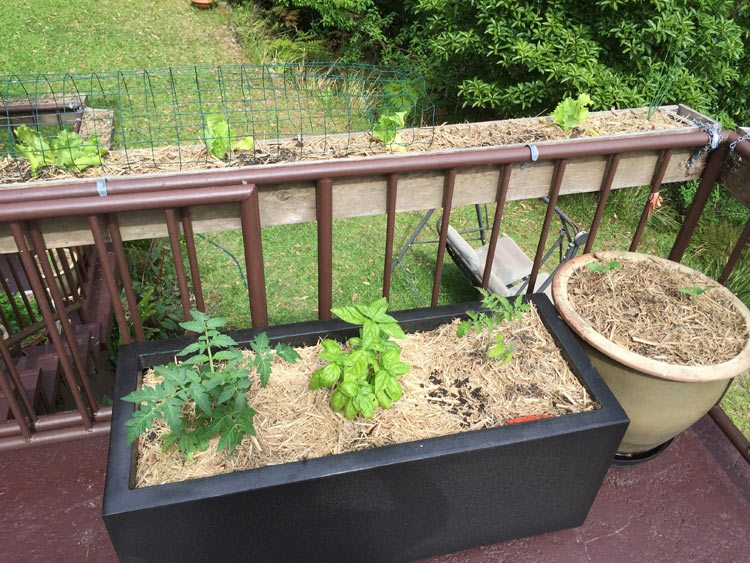 Lettuce, tomatoes, basil, and cucumber.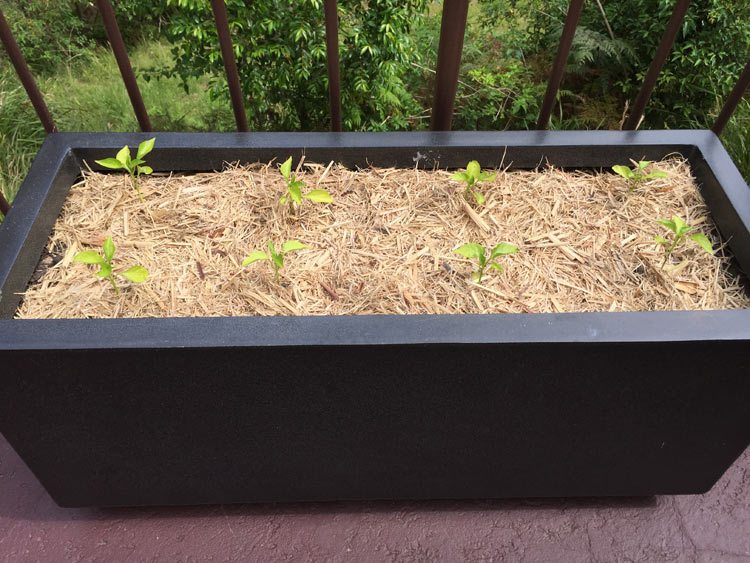 A box of bell peppers.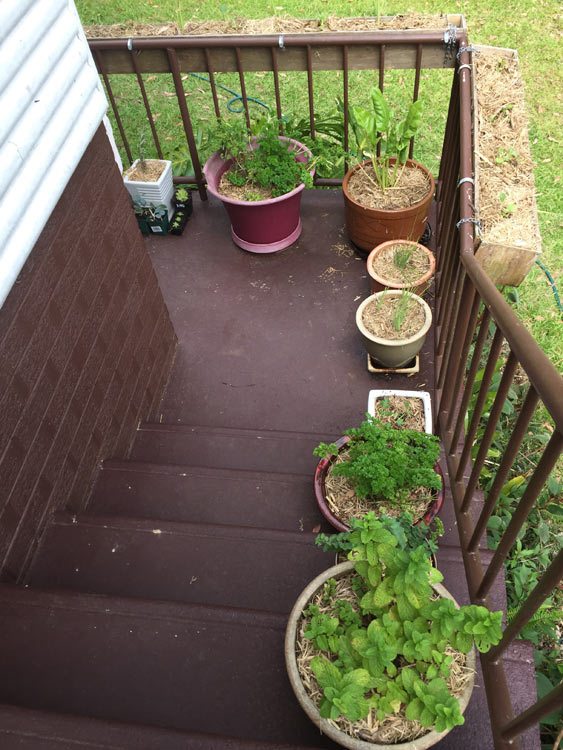 Mint, parsley, scallions (spring onions), chives, and perpetual spinach.
Just 6 weeks later I was harvesting the perpetual spinach – absolutely love that plant because it just keeps on growing.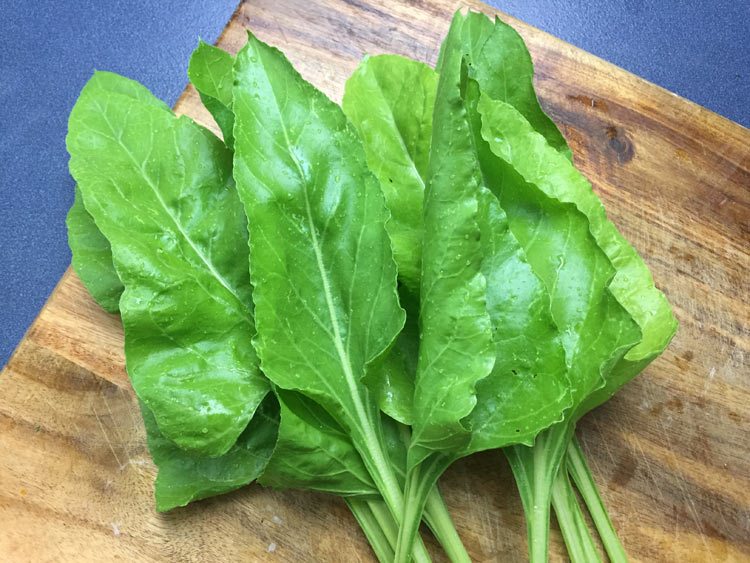 And some fresh herbs – oregano, basil, thyme and parsley. I made an awesome omelet!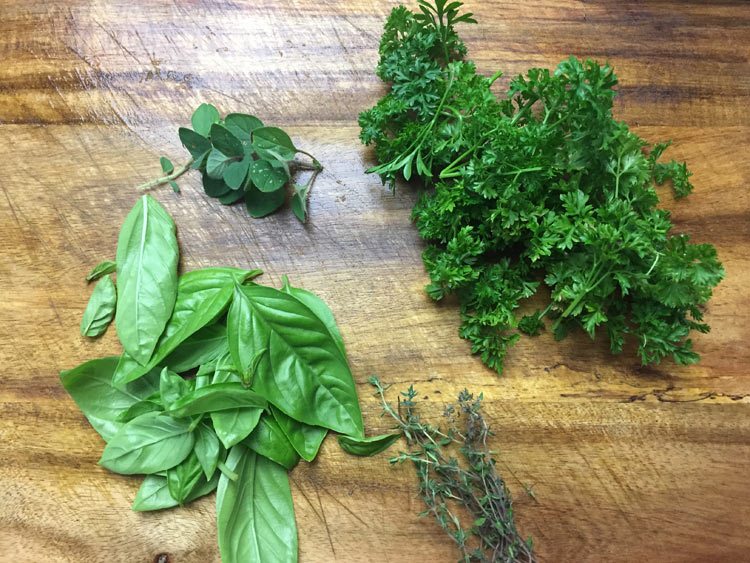 Two weeks later and you can see some great growth occurring with the produce.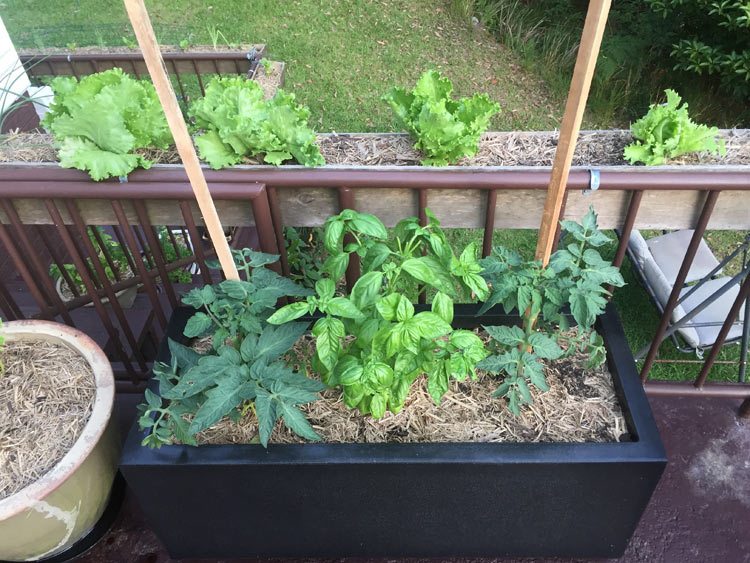 Only 8 days later, everything was taking off, especially the lettuce!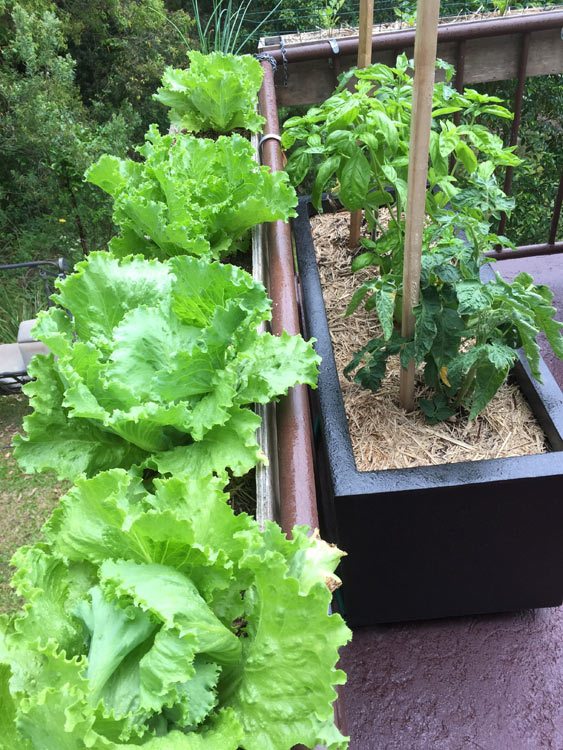 Twelve weeks later the tomatoes were bearing lots of fruit, even though they looked a bit scrappy with the leaf problem.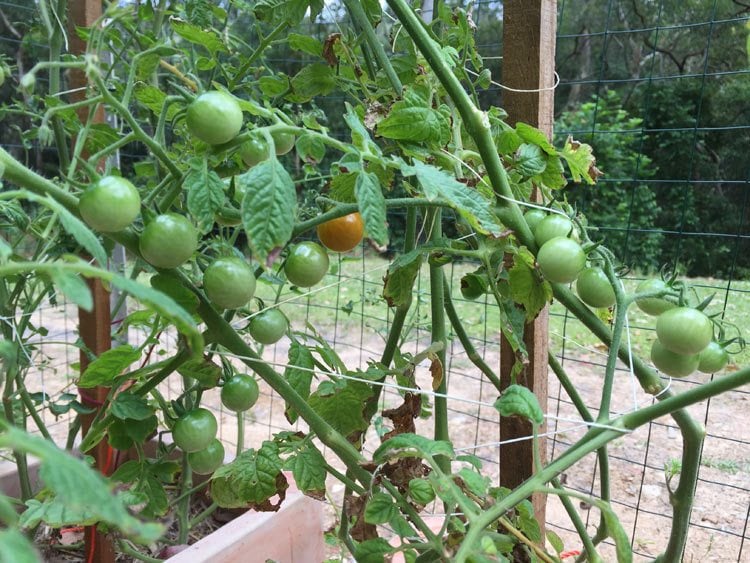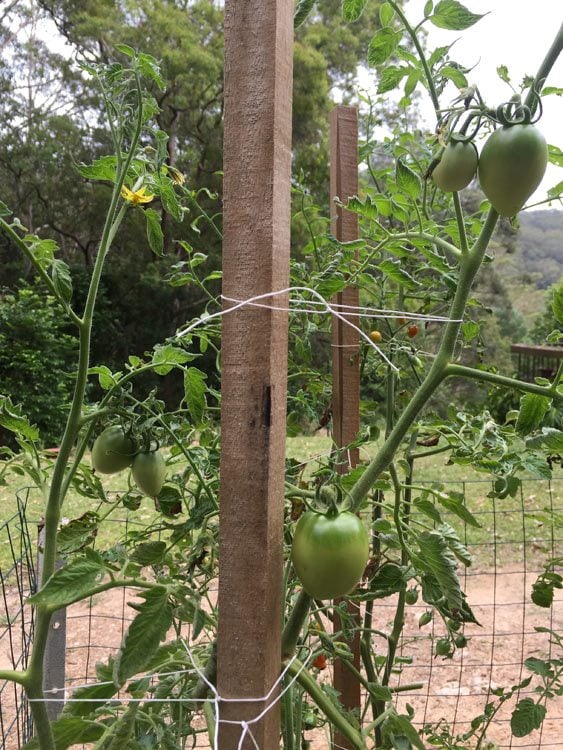 And it was time for the first basil harvest – yum, an amazing homemade pesto was on the menu!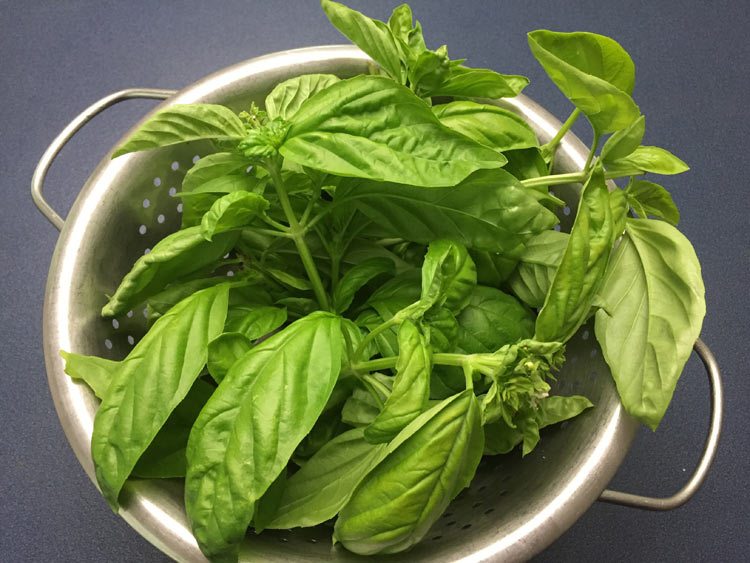 Just 4 days later, the first harvest of cherry tomatoes was ready for the picking. It was only a few, but…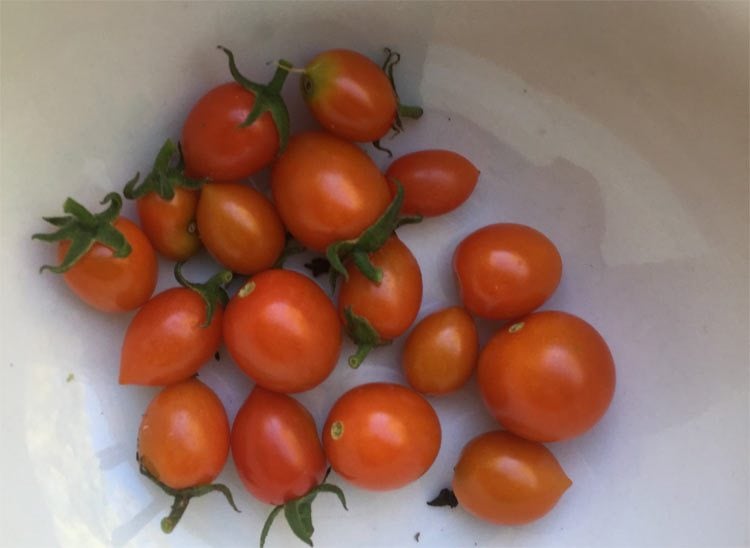 Another week later we had a much bigger yield.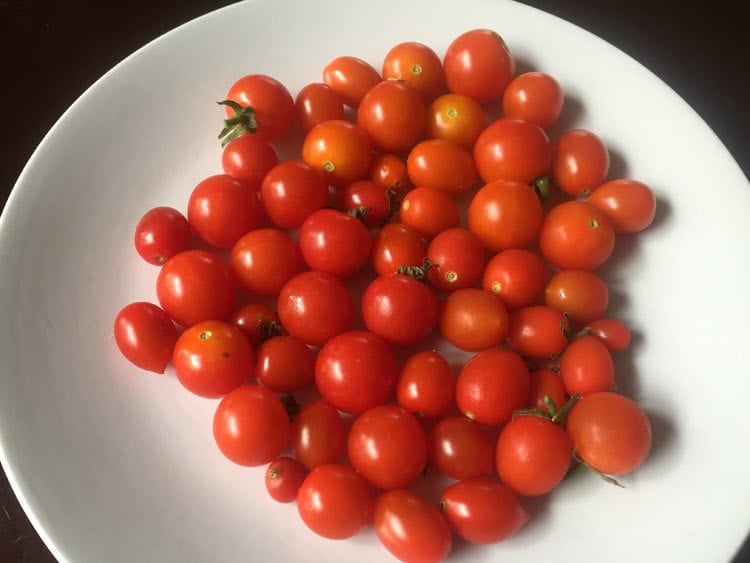 And just a couple of weeks later, the lettuce is still growing strong. I used my hand against this picture to show you how big they actually are.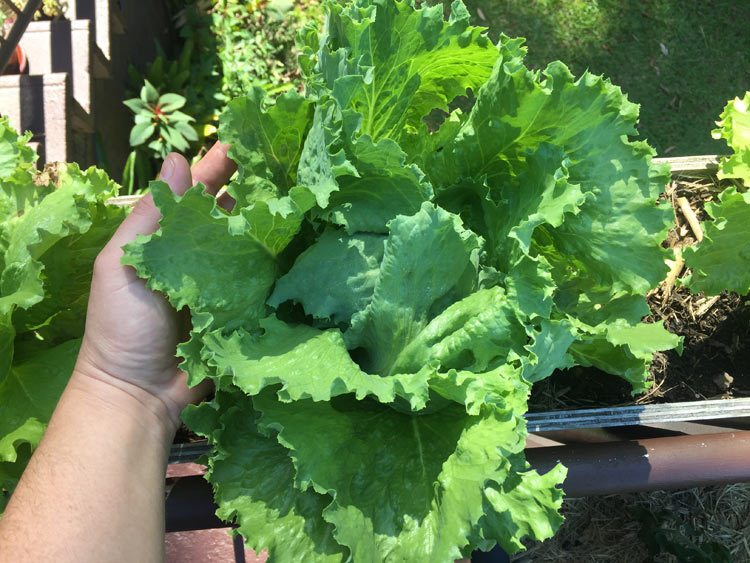 My snow peas didn't pan out too well, so I replaced them with cucumber. And after 4 weeks the vine was growing strong (pictured at the back). And the bell peppers had just taken off (2 dark green plants in terracotta pots).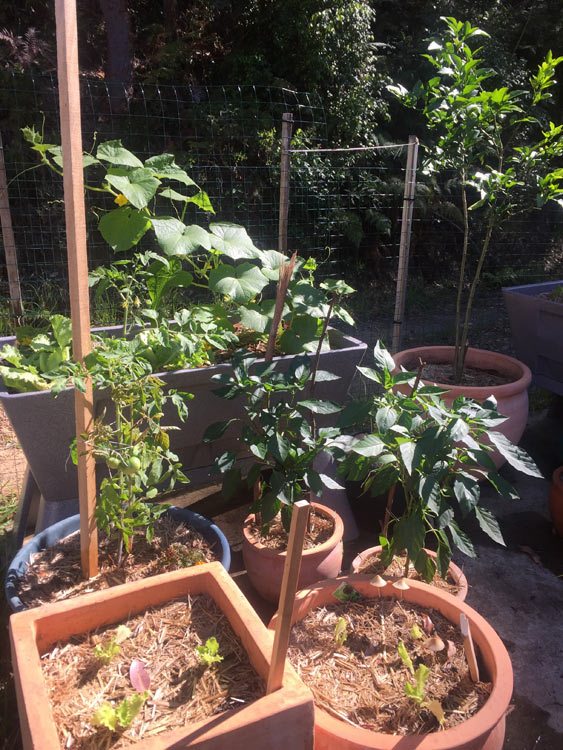 In fact, you'll be amazed at how many bell peppers one plant is growing after just 8 weeks. Take a closer look…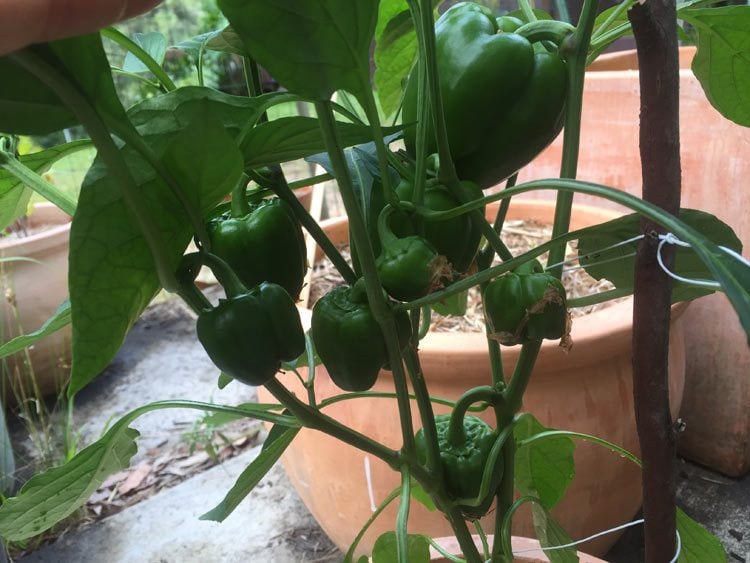 Another cucumber plant I have in a pot is thriving. This is actually 2 small plants and note how small they are.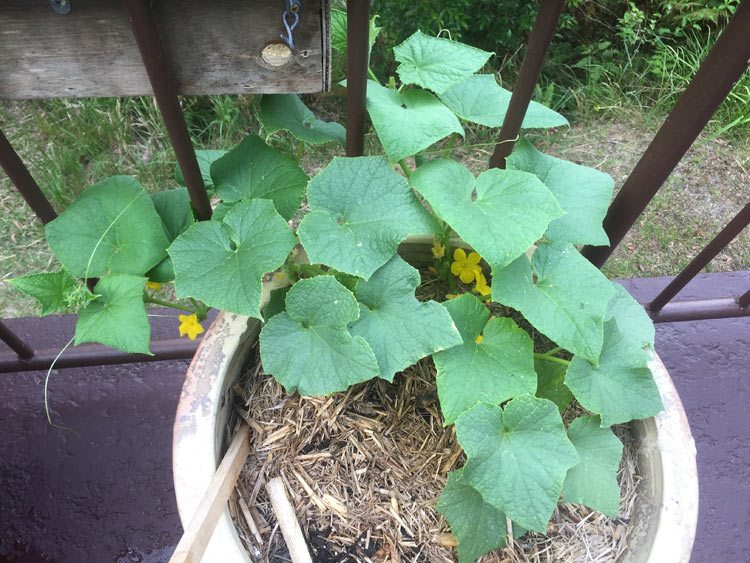 BUT, look how big the first cucumber was growing after just 8 weeks!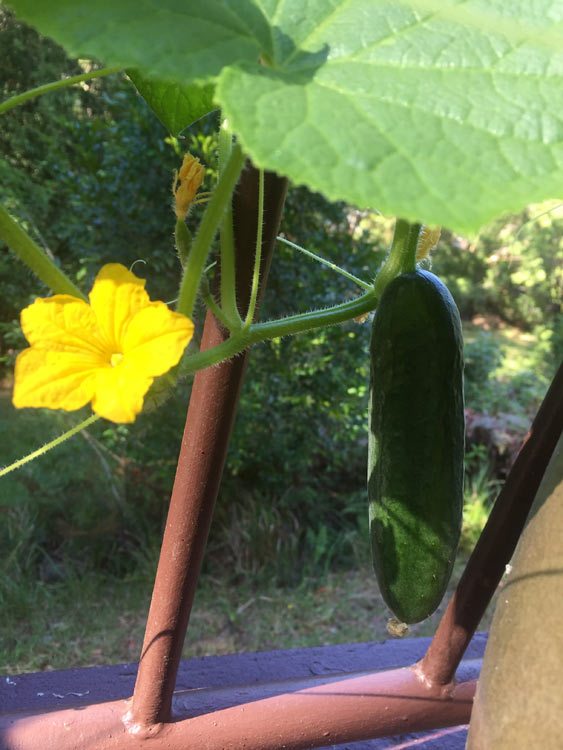 Another 5 days later, it was ripe for the picking. When they grow, they grow super fast! My husband is holding this and it's huge for such a small plant.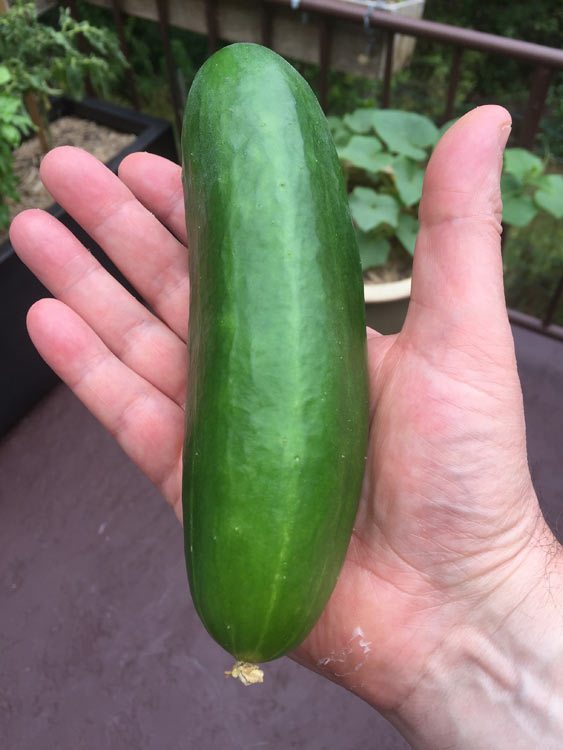 This is about 12 weeks and you can see the little veggie patch looks much different to where we first started.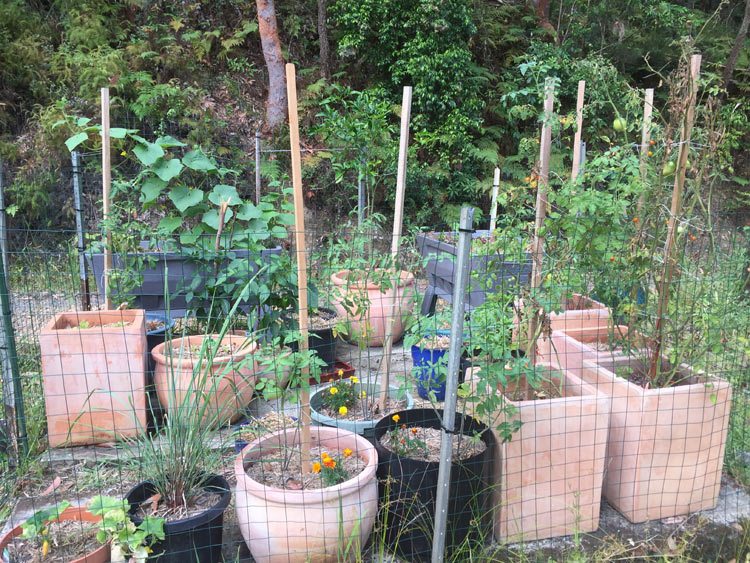 And some of our harvests…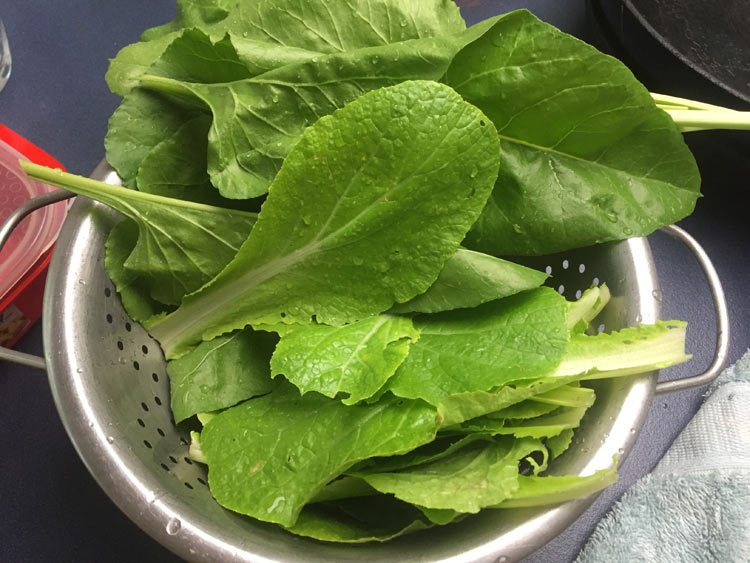 The first full salad harvest…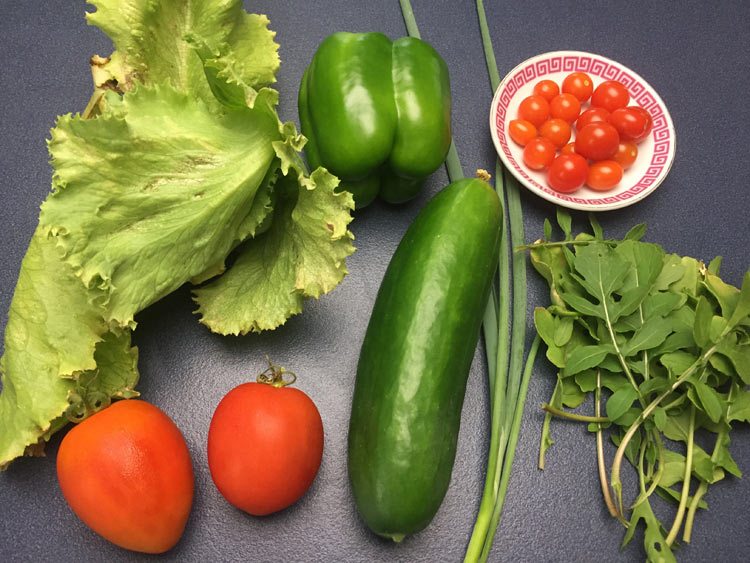 Another great salad harvest…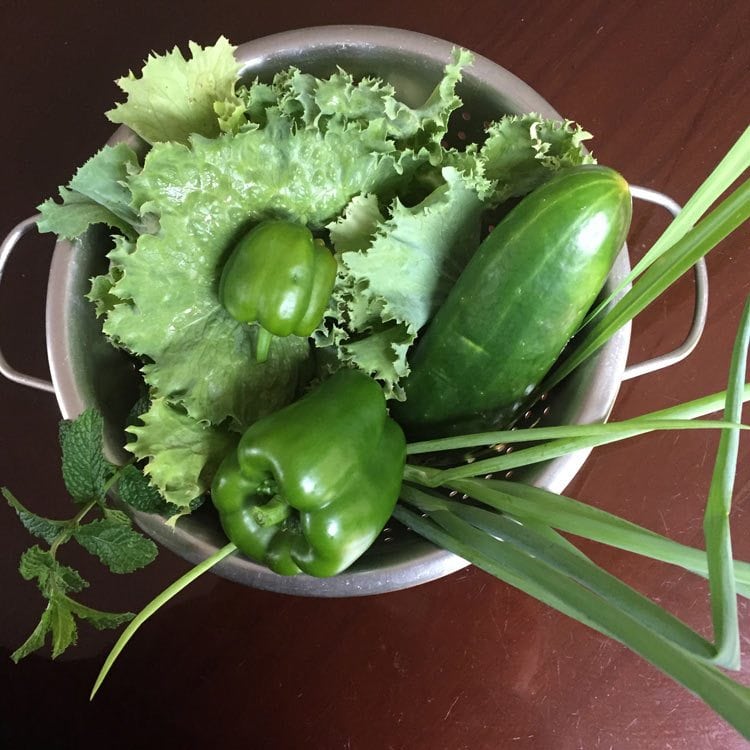 More huge cucumbers…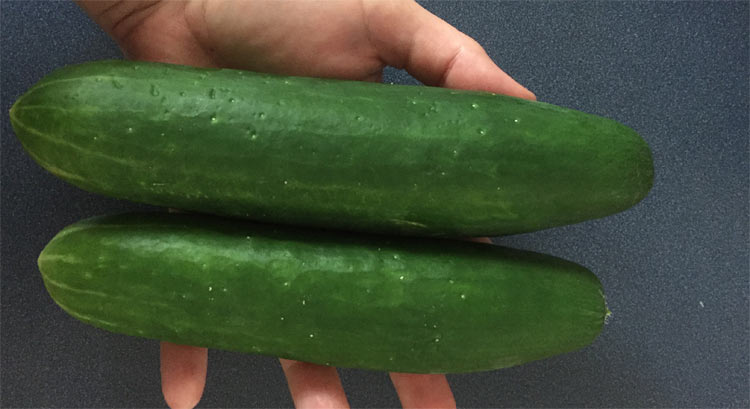 Some greens and tomatoes for a morning omelet…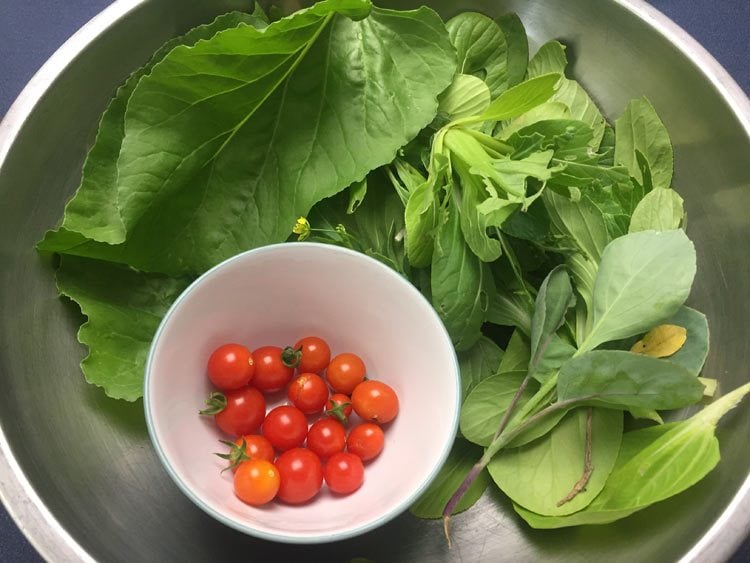 And even when plants don't do so great, they still grow some produce that you can eat. Take this cucumber as an example.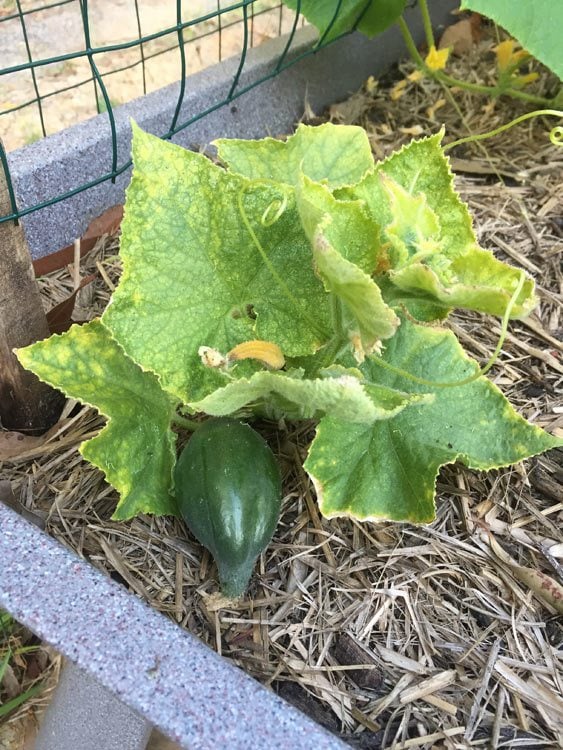 Unlike it's much bigger brother, it just didn't take off. But, it still grew some small, weird shaped cucumbers.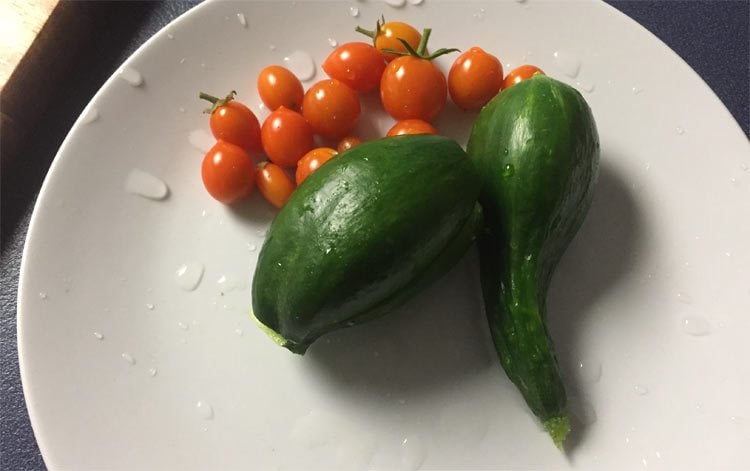 Cut them open to reveal a delicious interior that tasted AMAZING! Nothing gets wasted here, even if it's just a small plant, it still gets eaten.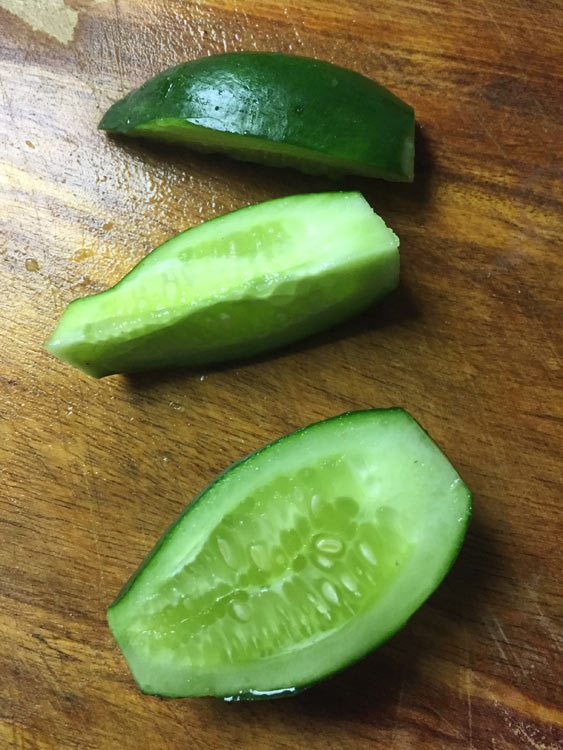 You can get started growing a vegetable garden no matter how small a space you have. A few pots can grow you real food you can eat and you will absolutely love how much joy you get out of doing so.
I've got lots to learn. Even though I've done some veggie gardening before, I'm really just winging it right now. But that's the thing, plants just do their thing most of the time. All they need is water and a bit of a feed occasionally and there's not much you can do wrong.
If you're interested in vegetable gardening, stay tuned. I'll be writing about each plant individually and sharing updates on how my own garden is progressing.
I hope it inspires you to get a few pots and start growing your own. It truly is enjoyable!
Please pin, tweet or share this info to inspire others.
Save
Save