Hooray for you!
You're curious to know more about type 2 diabetes and that's great because the World Health Organization reports: "The number of people with diabetes has risen from 108 million in 1980 to 422 million in 2014."
That's a HUGE jump in less than 30 years!
Type 2 diabetes is a serious health issue – deadly even. The World Health Organization reports: "In 2012, an estimated 1.5 million deaths were directly caused by diabetes and another 2.2 million deaths were attributable to high blood glucose."
That number is likely higher now. So, learning about what type 2 diabetes is and how to avoid it is the very best thing you can do, even if it's to share that knowledge with loved ones, friends and colleagues.
What is Type 2 Diabetes?
Type 2 diabetes is a condition of faulty metabolism that occurs due to the body's ineffective use of insulin. You either, can't produce enough insulin, or your cells become more resistant to insulin.
As a consequence, type 2 diabetics have to closely monitor blood sugar levels to ensure they are maintained within a healthy range – not too high or low – as both have serious consequences.
When you have type 2 diabetes, your body finds it more difficult to regulate energy, especially carbohydrates, which leads to further metabolic issues. The good news is, you can do a lot to prevent and even reverse type 2 diabetes.
Risk factors include:
Family history of diabetes
Overweight
Unhealthy diet
Physical inactivity
Increasing age
High blood pressure
Ethnicity
Impaired glucose tolerance (IGT)
History of gestational diabetes
Poor nutrition during pregnancy
Diabetes Facts
Type 1 vs. type 2 diabetes – there is a big difference so learn what they are and share the message with others.
Your guide to prediabetes – a person can have prediabetes for up to 10 years before being diagnosed. Learn more about how it happens to reduce your risk.
Signs and symptoms of type 2 diabetes – get familiar so you can keep yourself in check
How do you get diagnosed with type 2 diabetes?
Insulin and insulin resistance – insulin is the key hormone in our body responsible for regulating blood glucose. Find out how it functions, how we become insulin resistant/ prediabetic, and action steps you can take to prevent it.
Blood sugar levels chart – if you've ever had a blood test, this chart will help you understand the numbers.
What is A1C? – this is also another common blood test that doctors order.
Diabetic complications – find out just how serious this disease really is.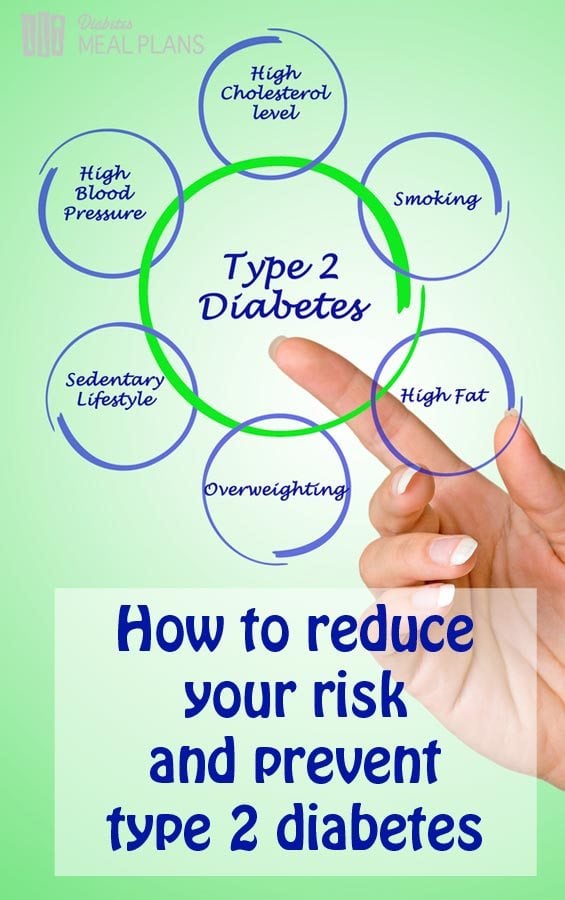 Healthy Diet Facts
Whether you're diabetic or not, the fact is, what you eat has a HUGE impact on your health. A nutritious diet leads to good health and on the other hand, an unhealthy diet leads to illness and disease.
Below are some fantastic diet and food resources to gain an instant nutrition education. 🙂
Even if you're not diabetic, you can eat a diabetic diet to avoid getting diabetes.
Healthy food list – follow this food list every day for good overall health and keep your blood sugar, weight and health in good check.
Guide to healthy carbohydrates – one of the greatest problems with the types of foods most people eat is they are the wrong type of carbohydrates. Carbohydrates have the biggest influence over our blood sugar levels. Learn the best sources so you can make better selections.
Simple and complex carbs explained – some more great info on carbs.
How many carbs per day? – even though this info was written specifically for diabetics, the same information equally applies to "normal" people. Cut back on the carbs and your body will thank you for it.
Check out our delicious and healthy recipes over here.
Diabetes Prevention
Transforming your health and preventing type 2 diabetes is not that difficult.
Simply follow these 5 pillars of health transformation:
Eat a healthy diet – focus on minimizing processed foods and packaged foods. Instead, eat whole, natural foods that your great grandmother would recognize. Get back in your own kitchen and learn how to make simple, tasty meals, and try to lower your carb intake – especially your intake of sugar and refined carbohydrates.
Exercise – aim for 30 minutes of exercise per day as it helps keep your cells responsive to insulin so your body can regulate blood sugar more effectively.
Sleep – lack of sleep makes us more than just tired, it affects our hormones on a very deep level. As a consequence this affects our immune system, blood sugar, and metabolism. You need an average 8 hours of sleep every day. If you're not getting it, find ways to improve your sleep.
Stress – cortisol – our key stress hormone – directly influences blood sugar and insulin, not to mention it increases inflammation in the body and also affects metabolism. High stress equals more problems so be sure to monitor stress and schedule in regular "me" time for relaxation and rejuvenation.
Lifestyle – don't go onto that next "diet" or health fad, just make permanent changes you can stick to for good. Keep a journal and monitor yourself more closely – what you eat, how you sleep, how you feel on an everyday basis, your habits – then start making positive changes, step by step and keep moving forward.
It's well worth the effort because lifestyle intervention can reduce your risk by 58-71% – read more about that here.
It's not rocket science. Staying healthy and avoiding type 2 diabetes is easy. We hear the basics of health all the time – eat healthy and exercise, and for good reason. These are basic principles that keep our body mechanics going.
Just like we feed our car petrol to run, our body needs nutritious food to fuel cells and function properly. It also needs exercise to help regulate the engine and sleep to recharge the batteries.
Recruit a friend. Get your family members on board. Choose healthier actions every day.
You'll not only feel better for it but you'll avoid type 2 diabetes, too!
Please share, pin, or tweet this info to help others understand more about type 2 diabetes and living a healthy life. 🙂
CLICK HERE
to subscribe to our highly informative newsletter. There's always loads of great nutrition and health tips, info, and delicious recipes, too.