We've had a number of questions about fasting and diabetes recently — Is it okay? Will my sugars still rise? Can it help lower my numbers? Will it help me lose weight?
Today I'm hoping to provide some info to explain what happens in the body during fasting, especially in relation to type 2 diabetes. And we'll also be covering the various dangers and precautions to consider if fasting is something you might look at doing in future.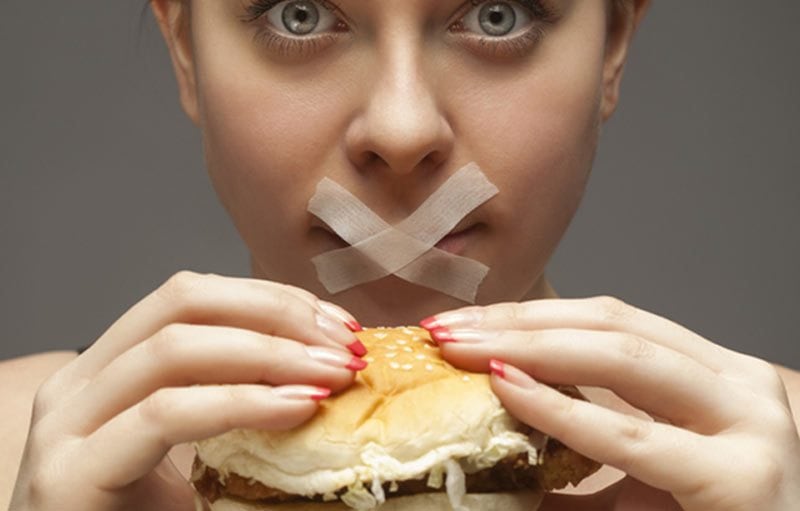 What do you mean by fasting?
We're not talking about fasting glucose here. We're talking about food fasting — going without food for a period of time.
The reason the first meal of the day is called "Breakfast" is because you are "breaking" your all night "fast." So in one sense, we all have a familiarity with fasting–if you've ever fasted for a test, you've had to go without food (or certain types of foods) or water for a set amount of time.
There are many reasons people fast–religious and health being the 2 most common. Additionally, there are many types of fasts — whether that be skipping a single meal, not eating for a day, or sometimes even going without food longer.
Recently the idea of intermittent fasting has become popularized especially in the athletic sphere. Intermittent fasting is generally fasting 16-24 hours twice a week or slight variations thereof. Fasting for health purposes should always include water and can include coffee and tea. Some fasts allow/ promote drinking juice. Like I said, there are a ton of variations.
But just to clear one thing up, forgetting to eat or skipping a meal is not considered fasting.
What Happens During Fasting?
Our bodies are well designed to adapt to go certain periods of time without food–this is why we store certain nutrients in our tissues, including fat tissue. This allows us to be able to draw from reserves of energy during times of scarcity.
However, this does alter our metabolism in ways that are not optimal. Any time the body is deprived of food during a time of need for energy, it will slow down metabolism to reserve stores. This is obviously not optimal if we're trying to lose weight–we want that metabolism to be up not down.
The body always needs a certain amount of circulating glucose–your cells need it for energy and metabolism, so when levels get too low, the body sends signals like hunger, dizziness, and shakiness, enticing you to eat. Once you eat, the carbohydrates from food turn into glucose and you can rely on that circulating glucose for about 4 hours.
If you override these signals and neglect to eat, the body tries to compensate by sending glucose into the bloodstream through other means:
Glycogenolysis – breaking down glycogen into glucose (glycogen is the storage form of glucose found in the muscle and liver) 
Gluconeogenesis – literally "making new glucose" (generally from amino acids/ proteins)
These are much less efficient processes and tax the body. These processes start taking place 8-12 hours after fasting.
At that point (16-50 hours without food), the body is in starvation mode and continues to try to produce glucose from the liver; and using other substrates such as ketone bodies; and breaking down amino acids–again poor fuel sources.
In this process, insulin (glucose storing hormone) is suppressed and glucagon (glucose-releasing hormone) is heightened.
Going longer than 2 days without food can be dangerous and very taxing on the body. Organs can start to break down and muscle wasting takes place. Prolonged starvation will eventually lead to permanent damage and eventually death.
Will Fasting Help Me to Lose Weight?
There have been a few animal studies showing potential weight loss effects and cardioprotective results from intermittent fasting or calorie restriction.
However, an understanding of how this might work and appropriate applications to humans is sketchy. Some human studies have shown similar results in these respects, but they are very small and short term. Additionally, weight loss is usually minimal and hunger levels rise.
Longer studies have not shown consistent results–generally the initial weight loss is not maintained. While there is much research to support the benefits of calorie restriction (CR), this does not have to translate into fasting per say.
You can whittle away at your calories bit by bit throughout the day, reducing empty calories and transitioning into more nutrient dense food choices.
Will Fasting Help Control Diabetes?
Weak evidence supports a potential positive effect on metabolic derangement and improvement in insulin resistance.
However, these studies were not done on people with diabetes and therefore, the results cannot be transferred.
We know there is a change in the way diabetics metabolize nutrients and several hormonal changes are occurring, and this should always be taken into consideration. There is a difference between an appropriate diet to prevent diabetes and a diet that is used for treatment of diabetes. People often clump these same two thinks together but prevention and treatment are clearly two different things.
Many people with diabetes are on glucose lowering medications, which can have dangerous cumulative side effects while fasting. This is especially the case with insulin. You should never take mealtime insulin if you are skipping a meal (obviously if it is being used as a correction dose under doctors' orders this is an exception). Remember that insulin is used to take glucose into the cells so if glucose is not coming in, insulin will still be effective and this could easily lead to difficult-to-control and somewhat unpredictable sugar drops.
If you recall the fasting response above, you'll note that after 4 hours without food, the body starts shifting energy intake from circulating glucose consumed from the diet, to releasing excess amounts from the liver and muscle. In those with diabetes, this excess release of glucose can be 2 to 4X that of a normal individual.
While hypoglycemia is one response, a counter-response to that is hyPERglycemia. That's right–if your blood sugar drops too low, it can actually bounce back up (HIGH) due to a built-in emergency mechanism — your liver and muscle glycogen stores flood the system with glucose to compensate for the low sugar. This often happens overnight and is called the Somogyi Effect. It is one of the reasons for high morning glucose readings.
Another consideration is that going extended periods of time without food can deprive the body of the nutrients it needs or is expecting. This can emotionally and physically stress the body. Stress, in turn, can drive up cortisol levels, which only releases more sugar.
So will fasting help you control your diabetes? No. Probably not. It will likely make it worse.
Please pin, tweet or share this info; then keep on reading. 😉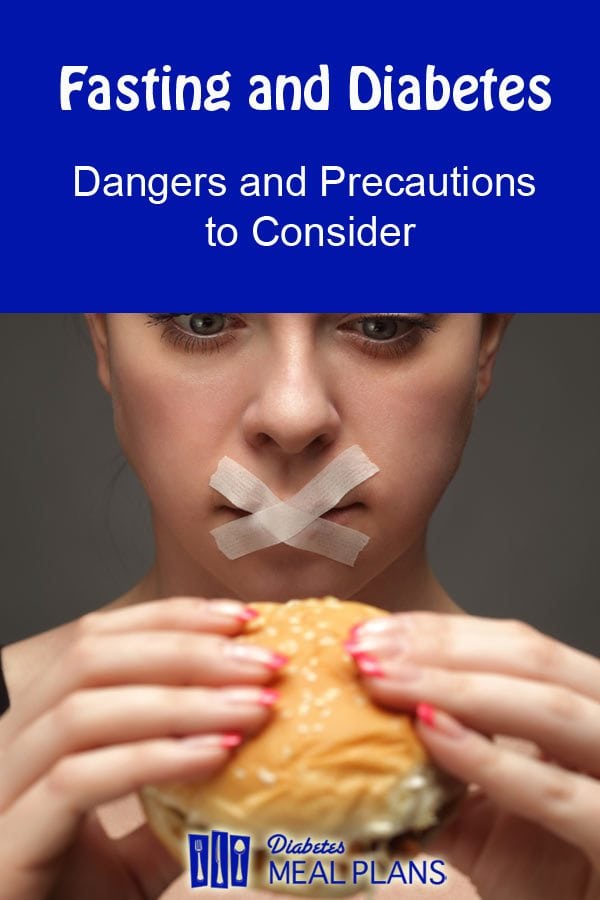 Dangers of Fasting
Going without food often has 3 very natural consequences:
Hunger is increased.
The amount of food you are likely to eat when you do eat is increased.
Willpower/ self-control to make smart choices is decreased.
The result is that often, people will simply feel famished, then respond to the more extreme hunger and compensate by overeating at the next meals.
Even the studies which purport benefits of fasting specify that more research is needed for a thorough understanding of how to apply the data.
Consuming coffee or tea in the midst of fasting can be concerning as they may mask the body's need for fuel and more importantly cause hypoglycemia. Those who fast during the month of Ramadan have a 4-7x increased risk of hospital admissions for hypoglycemia. People with diabetes have to be especially careful with fasting because their ability to produce and utilize the correct hormone (namely insulin and glucagon) is not working correctly.
Treating hypoglycemia involves taking regular doses of quick acting carbs, usually in the form of sugar–this is not healthy, but necessary if blood sugar drops too low. So if fasting is setting you up to be forced to treat a dangerous condition through unhealthy means, it's obviously not serving it's purpose.
Irregular eating has a tendency to cause sporadic bouncing around of blood sugar levels. The more consistent your mealtimes, amount of carbs, and balance of nutrients, the more consistent your blood sugar levels will likely run.
Precautions to Take if Fasting
Always consult your physician and possibly pharmacist before considering fasting. It is possible they will advise you against it or want to alter your medications.
Check your blood sugar more frequently: if it's below 70, it's time to end the fast.
Have your meter and hypoglycemic treatment options readily available.
Monitor symptoms–shakiness, weakness, dizziness; as well as physical signs like dark urine can be an indication of dehydration and hypoglycemia.
Be careful if/ when working out as this can lower your blood sugar as well.
It's always advisable to wear a medical alert ID bracelet in case of emergency.
Conclusions on Fasting and Diabetes
Fasting is not something we generally recommend.
But overall, there is no definitive answer to this question. It may work for some and not for others.
Our goal is to provide you with education and resources for making informed decisions. Going long periods of time without food may be stressful, totally unrealistic, or even dangerous for you.
On the other hand, many people seem to be benefiting from its results and find that over time, their bodies seem to adapt well to it and their cravings and hunger are actually reduced.
It is wise to consider the reality that while fasting for religious purposes has been around for quite some time, much of the hype of about intermittent fasting is very new and there isn't as much research to support its benefits and apply them across the board.
Many claims are faddish, much of the evidence is anecdotal, and many of the results can be attributed to other factors. So in saying all that, there is not enough evidence to show fasting works, especially for type 2 diabetic patients.
In any case, if you are to try it, be sure to consult with your physician first.