Ready To Eat Delicious
Low Carb Diabetic Meals You Love
Every.Single.Day
without ever getting bored?
Our Easy Cooking Masterclass has over 70 online cooking classes, delicious [and easy] recipes, food tips, guides and resources to help keep your meal plans inspired!

You've just been told you have type 2 diabetes and…talk about freak out and not knowing what to do…not to mention you've never really learned how to cook!
Or, you might have had diabetes a while and changed some things but you want to get better results and…well…you're struggling to find food ideas that are easy and fast to make — I mean, no one likes to be a slave to the kitchen, right?
Although you want [and need] to change a few things, right now you're stuck with eating the same things day in and day out! It's the easiest, safest option.
Let's face it, we all have food habits that are sometimes hard to break. 🙂
Reaching for that same old trusty favorite is the lazy way to go.
BUT…. it gets pretty darn BORING….YAWN….
What if I told you I could help make it easier by giving you a huge selection of easy low carb recipes and meal ideas?
And not only that, if I showed you just how easy they are to make?
You'd suddenly have a long list of easy 15-20 minute meals up your sleeve that will not only help keep you on track, but bring a whole new sense of inspiration and motivation into your life.
I mean, you love food right?
Me too!
But if you want to get [and keep] your blood sugar on track, you need to have low carb meals, and enough of them so you never get bored and feel like any of those nasty packaged meals!
The Easy Cooking Masterclass is Here To Solve Your Meal Dilemma, Forever!
Learn basic cooking skills so you can feel confident in the kitchen
Master a collection of tasty meals so you can always have an interesting menu
Discover tips and tricks to save time so you can spend more time eating better
Grab a whole range of helpful food lists and resources so you know exactly what to eat to manage blood sugar and A1C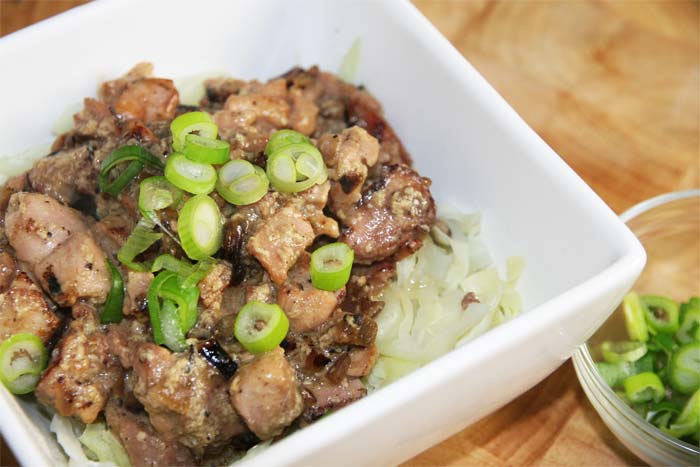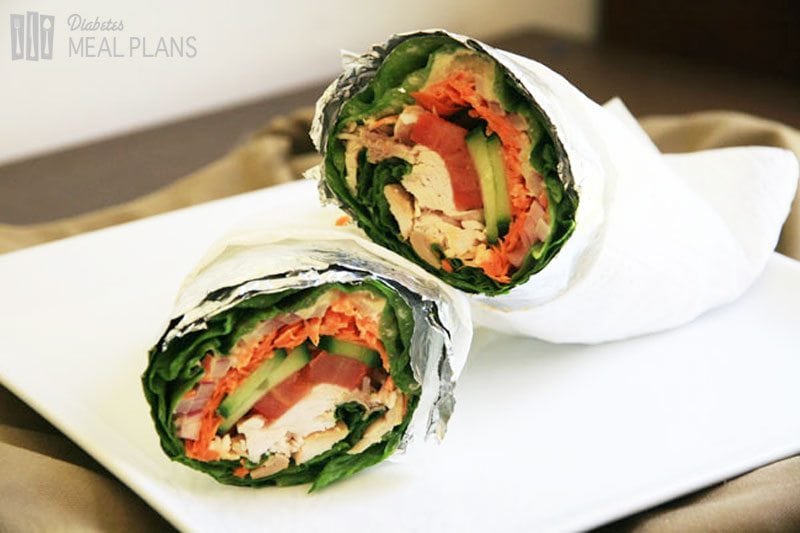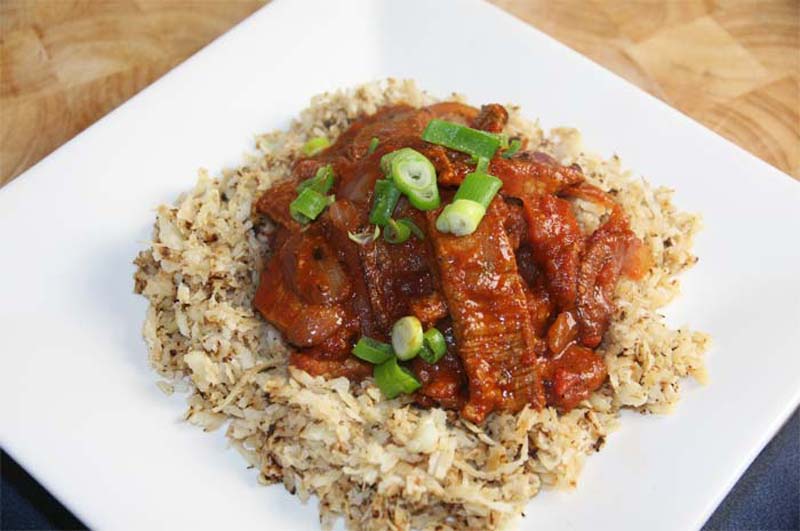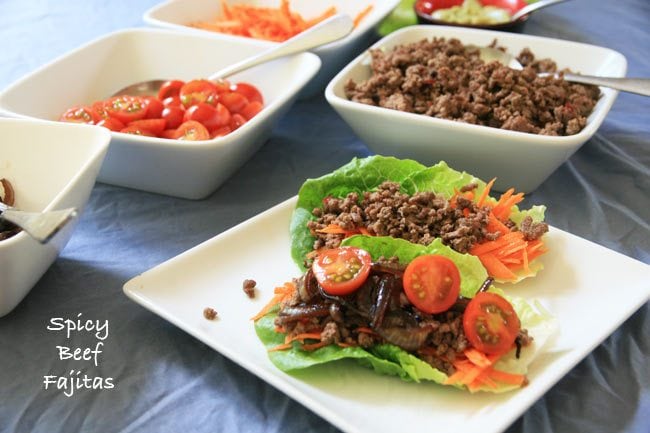 WHAT THIS Virtual COOKING COURSE HAS TO OFFER
The Easy Cooking Masterclass contains everything you could want to know about creating easy, delicious low carb diabetic meals from scratch, and everything you need to make it easy to do!
And best of all, Most of our meals can be made in 20 minutes or less!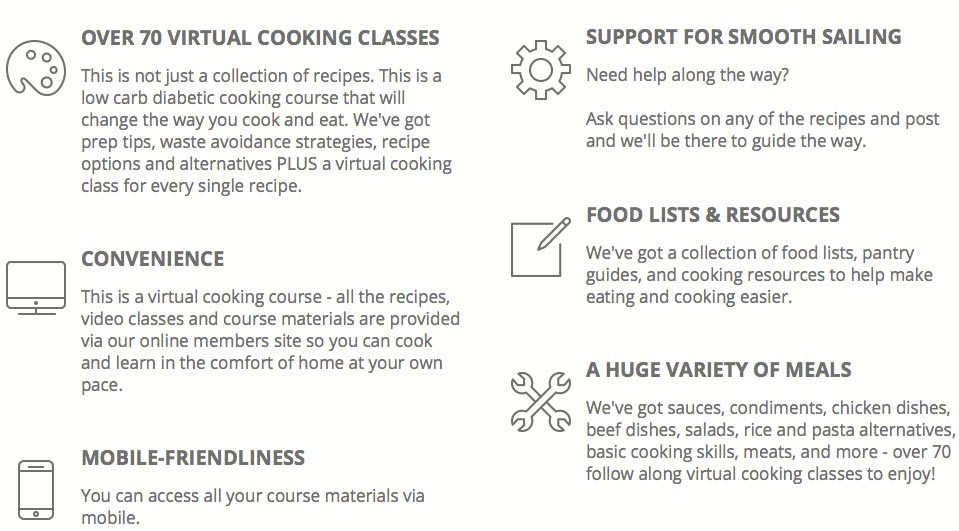 Sauces, Dinners, Lunches, Noodle/ Rice Alternatives, Salads, Meats and more!

We've got a HUGE smorgasbord of meals for you to cook and enjoy!
Basic cooking skills (8 classes) – chopping techniques, meats, stock
Low carb bases (7 classes) – bread, buns, crackers, and rice/pasta/noodle alternatives
Chicken dishes (7 classes)
Beef dishes (7 classes)
Veggie side dishes (10 classes)
Salads (10 classes)
Meats/Proteins (7 classes)
Sauces/Condiments (11 classes)
Plus various other dishes and stand alone recipes
Over 70 low carb, easy to make recipes and classes, all 100% diabetic friendly.
Virtual Cooking Classes
All of the recipes in the Easy Cooking Masterclass have online cooking classes – the perfect solution if you're a hopeless cook or you're ready to learn a few new time saving tricks!
Here's are two example cooking classes.
15 Minute Beef Goulash
Cheesy Vegetable Bake
Over 70 Delicious Recipes

All low carb and 100% diabetic friendly so you don't have to do the hard work searching for recipes to suit your eating preferences
Print and go recipes with everything right at your fingertips to make it super easy
All contain carb count and nutrition data so you can easily monitor your nutrition intake per meal or per day
Options and alternatives to help you easily exchange ingredients in meals
Time saving and cheats to streamline time spent in the kitchen
Waste avoidance tips so you can save money and get the most out of your produce
Food lists and charts to help you choose the best foods for your health

The Easy Cooking Masterclass is going to change the way you eat, giving you a whole new range of easy low carb meals to cook and enjoy!

Ready to join us inside?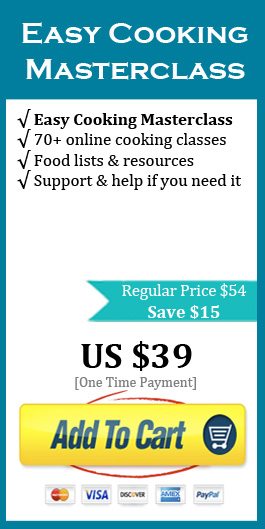 Prices are in USD.
Disclaimer | Contact us | Refund policy
If you have any questions before purchasing the masterclass, please contact us.
FAQs
*Instant Access: After payment you will be redirected to a registration page where you will gain access to our Members Site and the package you have purchased.
This is a digital item. All the content is delivered via a membership site area and via instant download.
*Recipes & meals. All our recipes contain both Metric (mls & g) and Imperial (lbs & oz) settings, so it doesn't matter where you live in the world, we cater for you. All our recipes and meals contain full nutrition details, carb counts, and net carbs so you can effortlessly count carbs and calories.
*No refunds. Unfortunately we DO NOT provide refunds. Not because our stuff isn't awesome but because once you purchase any product or package from us, no refund is possible because you get access to all the material as soon as you checkout. Please make sure to ask us questions so you make the right purchase decision.
Disclaimer: When following any diet or lifestyle program it's always recommended that you get the advice and support of your doctor and current health professionals, as the information contained in this masterclass is for general use only and should not replace professional medical advice, diagnosis or treatment.
The information provided on this website is for general informational purposes only and is not intended to be treated as medical advice and should not under any circumstances be used to replace professional medical diagnosis, treatment, or advice.