Sick and Tired of Thinking About What You Should Eat?
Looking for Some New Low Carb Meal Inspiration?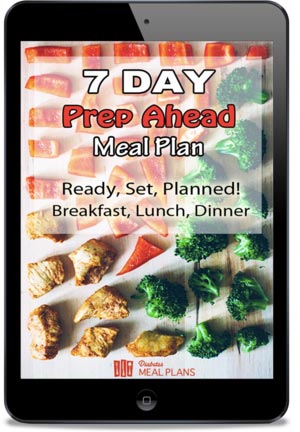 Try this deliciously awesome 7 Day Prep Ahead Meal Plan!
The idea of a 'Prep Ahead Meal Plan,' is you do the bulk of your cooking/ prep work on the weekend, then you can enjoy the week stress free with most of it already done.
The good thing about doing it this way is you can easily stick to your healthy eating routine. Because, let's face it, we all get tired and busy during the week and often get lazy to cook or prepare healthy food. It happens to us all!
Therefore, if we can get into a habit of preparing our food in just 2-3 hours on the weekend, we can relax and enjoy the rest of the week, knowing we'll be eating well.
What's On The Menu?
Breakfasts

Zero Carb 3 Minute Microwave Bun
Bacon Egg Avocado Roll
Boiled Egg Cheese Lettuce Roll
Cheese & Mushroom Egg Muffins
Instant Oatmeal
Lunches

Zero Carb Flax Bread
Avocado Tomato Cheese Sandwich
Chicken Mayo Tomato Cheese Sandwich
Cauliflower Tuna Bake
Chicken Lettuce Wrap
Roast Chicken Lettuce Burritos
Dinners

4 Ingredient Beef Patties
Beef & Egg Burger
Beef Patty with Mushrooms & Cauli Mashed 'Potato'
Classic Beef Burger
Pan Fried Fish with Cauliflower 'Potato' Bake
Pan Fried Chicken with Cauliflower 'Potato' Bake
Crockpot Chicken Laksa – mild curry soup
To make it easier a few of the recipes cook big batches and double over on some meals.
How to Use the Prep Ahead Meal Plan
All you have to do is follow the instructions and you'll have a whole weeks worth of meals in just a few hours!
Download the printable meal plan, print it out and pin it on the fridge for reference.
Download the shopping list/ recipes or access them from your smart phone – print the recipes out and stick them in a plastic sleeve folder for use during the week. Or use your laptop or iPad in the kitchen to access the recipes as you cook.
Go shopping with your printable shopping list. Or login to the Members Site, click on the shopping list link below, and check off items from the list directly from your smart phone!

Print out the preparation guide, put on some music, and get ready to cook up a storm!
Oops, sorry – the 7 Day Prep Ahead Meal Plan is no longer available
We now have amazing weekly meal plans!