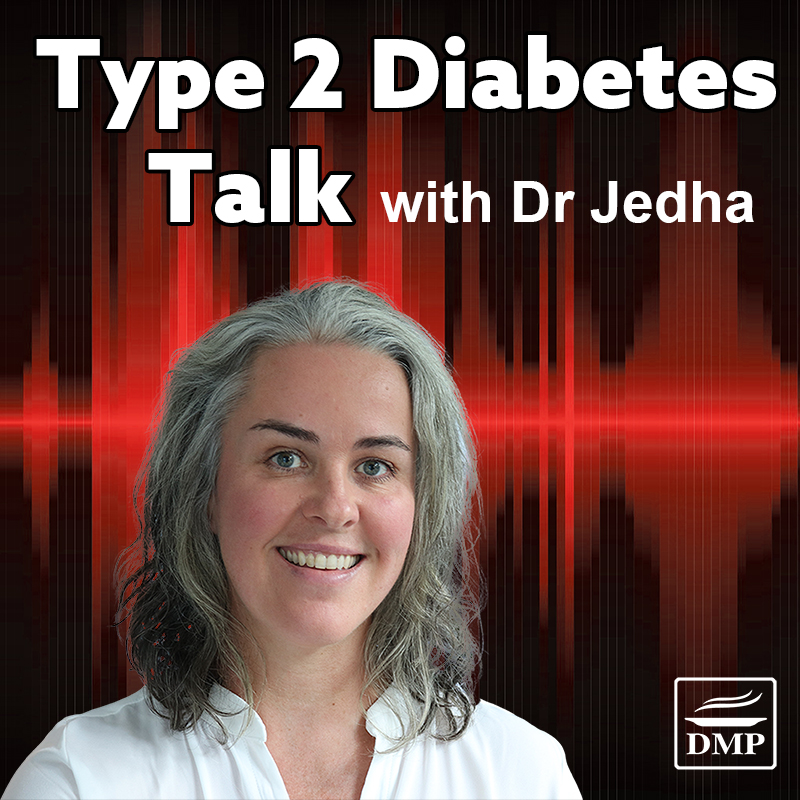 Type 2 Diabetes Talk is the place where we chat about what really works to treat type 2 diabetes and prediabetes, naturally with nutrition and lifestyle.
With over a decade of experience and scientifically proven research, T2Diabetes Nutrition Specialist Dr Jedha, along with special guests, provide evidence-based practical strategies to help you optimize blood sugar and A1c, lose weight, reduce medications and improve your overall health.
Tune in weekly on Tuesdays 10am US Eastern, or your timezone equivalent.
The Type 2 Diabetes Talk podcast will help you overcome confusion, misinformation and the many inaccuracies that are commonly seen out there on the wild west web when it comes to type 2 diabetes and prediabetes treatment.
For the past decade, DMPs Founder and Nutrition Specialist Dr Jedha, has been supporting people to dramatically improve their health through clinically proven nutrition programs and incredible membership services. You only have to explore the hundreds and hundreds of testimonials we've received that prove that what we do here works!
Through Type 2 Diabetes Talk, Dr Jedha hopes to inspire as many people as possible to use the power of nutrition to change their health.
Make sure you follow or subscribe to the show on your favorite podcast platform, which is available on: Apple | Spotify | Amazon Music | Audible | YouTube | Podcast Index | Player FM | and more…
And please, share the podcast with family, friends and colleagues – together we can make a big difference!