Tracy, VIP member
"I have enjoyed the yummy recipes you have provided and am happy to say my last A1c was a 5.7! I've loved being a part of the group and you were very instrumental in helping me achieve my current A1c. Thank you!"
Val, VIP member
"I wanted to see my A1c under 5.7 but my doctor told me that because of the medications I have to take, not to expect that to happen. I got great news today. My A1C is 5.8!! I am so grateful for DMP!"
Sharon L, VIP member
"The weekly plans are very helpful for keeping in track for eating right for my diabetes. I have been using your site for many years before becoming a paid member. I thank you for so much information that has help me a lot."
Tony V, VIP member
"The excellent information provided throughout the website and Saturday emails is easy to understand and more helpful than the typical diabetes information provided by Drs and insurance companies. I lost about 70 pounds before DMP but have continued to lose another 50 pounds and improved my blood sugar and A1C. Website has been very helpful in making a distinction between trying to control blood sugar and trying to more effectively try to reverse diabetes"
Lori T, VIP member
"Your website has been a game changer for me. I am insulin resistant but still prediabetic and I love your website because it keeps me on track with my meals. I participated in the 21 day challenge and it was a good experience and also motivating even though I was on a trip during part of it. I will definitely continue subscribing and I have recommended your site to my medical provider. I think it's the best thing out there for diabetes."
Retha T, VIP member
"This way of eating works. Sugar numbers are down and Dr. has taken me off one of my medicines for 3 months to see how I will do."
Bob S, VIP member
"I love the variety and wealth of good information."
Diane, VIP member
"I'm now more conscious of my diabetes. I love that the meal plans are easy and the service is very helpful to make menus as simple as possible"
Linda, VIP member
"Great variety of foods. Informative articles about research are very helpful. I think you are all providing a valuable service and helping all of us understand the importance of managing carbs."
Penny, VIP member
"I love that everything is all figured out for me and it is easy to follow."
Becky, VIP member
"Overall, this is the best eating plan I've seen for diabetic eating. To me the plan makes sense."
Gloria G, VIP member
"Metformin alone didn't control my sugars. My endo started me on nightly Lantus and even though I watched what I ate and walked religiously, I could not get my A1C down. Then came the Novolog twice a day. And counting the carbs my nutritionist suggested did not help me one bit." Well, I wanted to share my great results having been on this plan for only one month. 3 months ago my A1C was 8.7 and my recent blood work showed it at 7.4. My endocrinologist was very impressed and thinks I will be at the target level by my next testing in 3 months. The recipes are easy, quick and good but it does take some getting used to when we're used to eating too many carbs. However, just eating your meal plan for a month and seeing the results gives me motivation to continue. I have decided to stick with it and get myself to a good A1C. Thank you for your dedication to diabetes research and food plans."
Doug W, VIP member
"I finally went all-in with the new meal plans, and they have been great so far. I am very pleased (and so is my wife). I selected the vegetarian version for 4 days plus breakfast too."
Linda M, VIP member
"I enjoy the fact that the weekly meal plans come with the grocery list and make ahead plans. My husband and I have both lost about 15 pounds (6.8kg) since starting with DMP. We are excited about that. By the end of the month, he will find out if this has helped his A1c."
Sandra D, VIP member
"I am loving the quality and amount of information in one place, and the recipes. Having been recently diagnosed with Type 2, I was feeling overwhelmed with all the information. There was much that was conflicting and confusing. This site has been the best for logic, education and consistency. Especially as I endeavour to control and hopefully reverse my diagnosis through diet and lifestyle."
Sharlene, VIP member
"I've been following your plans for about a month now. My bs range was 150 to 185 (8.3 to 10.3) for am fasting. Now it's ranging from 105 to 140 (5.8 to 7.8)"
Natalie, VIP member
"I love the way the plans are presented, with images and ability to preview the recipes to make sure it is one that I would cook. Navigating the site is so very easy…the tabs are exactly the ones I love to explore! I am very glad to be a member."
Adele, VIP member
"I love the cooking ideas and variety of the meal plans and all the educations information. Most diabetic cookbooks and websites allow too much rice, potatoes, pasta, bread and even sugar(!) in their recipes. DMP has realistic carb info and delicious food recipes too."
Dale, VIP member
"The ease of your yummy recipes and that they can be adjusted for number of servings is what I enjoy. Also, that you provide tons of helpful information. I have contacted customer service and have been pleased with the quick response and the simplicity of the answers (rarely the case with other corporate customer service departments)."
Gini D, VIP member
"I love every recipe I have tried so far. Especially appreciate the 5 ingredient ones. I have found it sooo helpful to prep all my veggies on one day and either freeze them or just refrigerate them. Makes cooking much faster! I have been eating low carb for a month and exercising every day and I do feel better and am thrilled my numbers are better, too."
Carlos P, VIP member
"Your program, site, everything is great. I'm Mexicano, I live in Cancun and is very difficult to find the amount and quality of information you provide."
Judy S, VIP member
"It is so good to have help as I begin to make these dietary changes, especially after having wandered along without the nutritional guidance I need. So much out there it is difficult not to become overwhelmed. Meal planning and shopping has become so much easier. Thank you!"
Elizabeth B, VIP member
"The information, the recipes, the support – I don't feel so hopeless. I love the fact that it all reminds me that I can still eat! I just love how much clear, understandable information is available. I appreciate the very quick responses I have received from my emails. Excellent resource! Thank you so much!!"
Gregg B, VIP member
"I love all the choices. And the amount time you spend on posting articles of value to us and how well the articles explain what is being said without leaving us with questions about sources or verification's. Also the cooking class video's are very helpful. Just keep up what you are doing."
Alan S, VIP member
"Very User-friendly. Love your site and recommended it friends. I discovered I had diabetes on December 23, 2017. My blood sugar was a whopping 396 (22.0). My doctor put me on Metformin 750mlg. I weighed 269 lbs (122kg) and was 72 years old. To date (March 12, 2018) I have lost 35 pounds (15.8kg) and my blood sugar average 94 (5.2) 2-hours after evening meal and 103 (5.7) in the morning. I have been following your suggested menus. I stay on a low carbohydrate diet and watch what I eat. No rice, no bread (my achilles heel), no pasta, no potatoes, etc. I love in Jomtien Beach Thailand."
Sharon L, VIP member
"Your site is wonderful. You make everything clear and understandable about all information. Your meal planning is helpful. I have Type 2 diabetes and CKD. Your information helps me with the diabetes and I just don't eat the AVOID foods for the CKD."
Caroline K, VIP member
"So user friendly. Everything's about helping people with all types of Diabetes. So much information that is readily available and easy to understand. Your sincerity in helping people with all types of Diabetes comes through. You seemed to have thought of everything from the recipes and shopping lists to the menu planner, all the latest research and then, to top it all off, you deliver a ton of bread recipes!! Love reading the testimonials too… I found them very encouraging."
Mike C, VIP member
"When I was diagnosed as prediabetic, I went to the internet to learn what changes needed to be made to my diet. The information was all over the place. Much of it was conflicting. When I found DMP, I was impressed with the site and how clear and concise the information was. The meal planner and the recommended 7 day plan ahead diet was a great starting point. I'm off and running and I appreciate your hard work in building such a comprehensive members site"
Susan L, VIP member
"I love the library, it's full of helpful and valuable information. I love a lot of the recipes and the cooking class videos are great too. My blood sugar has stabilized quite a bit. I am classified prediabetic so I don't test too often, but my morning tests have gone from being anywhere between 4.5 and 7 to being pretty consistently between 5 and 6. I love the site overall really. The advice is simple to understand and follow, it makes sense, and it works. I have recommended this site to several friends and family members and will continue to do so."
Kat, VIP member
"I love the versatility of the members site. Delicious recipes that are easy to understand and prepare. I'm able to add, delete and personalize my meal plan so that it fits my schedule and taste. My husband is a picky eater, but he's enjoying the dishes too!"
Nancy H, VIP member
"DMP are very responsive with helpful ideas. They stick with you all the time. Encouraging and motivating. Their recipes are very good and you can get results."
Marlene H, VIP member
"I like the educational aspect and up to date research on the treatment of prediabetes and diabetes. The 21 day challenge was so good for me. It got me working on my prediabetic diagnosis. I had given up trying. I lost 3 pounds (1.3kg) in the first three weeks of the 21 day challenge. No more toast and honey for breakfast! My bs is still too high so there is still work to be done. I want to thank you for all the hard work you put into this project. You have helped me a lot!"
Sheryl D, VIP member
"My health has improved dramatically. I now am taking fewer medications and maintaining an A1C of 5.8! Eating low carbs has become habit, and requires much less struggle. Every time I look for specific information, I am pleased and informed to find it. Keep up what you do! You have earned my trust! My doc is much more impressed now than he was when I began this diet change."
Natalie G, VIP member
"I love the way the plans are presented, with images and ability to preview the recipes to make sure it is one that I would cook. Navigating the site is so very easy…the tabs are exactly the ones I love to explore! I am very glad to be a member."
Mary G, VIP member
"The meal plans are basic and delicious, easy to follow. Great information. Easy options. I am over the moon with what l have learnt .l have finally started losing weight, my sugars have dropped just this week! Finally after following your messages for a while it is all falling into place. Keep doing what you do. From what l have been reading a lot of people are receiving such a lot from you."
Susan S, VIP member
"The recipe ideas and health info regarding diabetes is great. My A1c is staying about 7-7.4, which is much better than before."
David G, VIP member
"Great information about diabetes and really good recipes with instructions and grocery lists. My A1c went from 12.4 to 5.2 in 4 months and fasting blood sugars now run 90's to low 100's. Thanks for everything."
Michael B, VIP member
"I love the variety of recipes you provide as well as the very informative articles about diabetes and what I can do. I have learned so much. My blood sugar level did drop from the 140-165 range to 120 – 145 range. I am still working to get my level down. I am grateful for all the information and food suggestions you share."
Vicky, VIP member
"My A1C has gone from 6.9 to 5.8. I have lost weight too. It really helps to be able to ask questions and get answers. This site has been great and I have recommended it to several people."
Bronwyn, VIP member
"My health has improved in all areas. Lower blood sugar, A1c and weight. I really love the resources and their quality, plus lots of variety in the meals. Thanks for doing a great job and helping so many."
Carman M, VIP member
"I do not have to think about what to prepare for my meals the recipes at hand make it so easy for me and my sister who loves the recipes. We are in and out of the kitchen so fast. We have cut down on restaurant expenditures tremendously. My health has improved a great deal too. I used to have difficulties walking in the mornings due to joints inflammation. I have lost 20 pounds and I am inflammation and pain free in the mornings. My blood sugars have come down to 105 in the mornings and A1c has come down from 6.5 to 5. I have recommended the site to many friends and colleagues. They are amazed at the fact that I have lost the weight without complaining about being hungry and tired of dieting. These meals have become my new way of life."
Harry C, VIP member
"Thank you so much from Ireland for everything you do. Your service is first class with amazing recipes along with expert guidance on a continuous basis. Forever grateful to you .
Monthly Subscribers
Our weekly meal planning service also gives you the option to become a monthly subscriber.
Maria G, Monthly Member
"It is important to me to control my diabetes with diet alone but I was failing miserably. I had been seeing Diabetes Meal Plans on Pinterest but I hesitated to join. Two things changed my mind. First, the week before I joined my blood sugar had been reaching tremendous highs and, quite frankly, it scared me. Second, I saw The massaman curry soup and it looked so good. I joined and in five weeks my A1c went from 6.5 to 6.1. The meals are delicious. That soup has become my absolute favorite. The recipes are easy to follow , there's terrific variety and I love the slow cooker recipes. I am really glad I joined."
Lisa, Monthly Member
"The additional resources are amazing! I am so pleased to have so many of my questions answered all in one place,the support is incredible! I love the research based recommendations for supplements, exercises, etc. I also appreciate that I can get questions answered by an expert."
Jay D, Monthly Member
"A low carb diet was hard for us to even imagine at first. However, the DMP meal plans have made load carb eating a tasty adventure. Keep up what you are doing!"
Eliza E, Monthly Member
"I love the various ideas for meals, one sometime gets stuck and just don't know what to eat. Thank you for your hard work to have made this so easy for the rest of us!!"
Lillian, Monthly Member
"There is so much health information about healthy eating That if you are pre diabetic your primary Dr does not tell you. Thank God I now know what I can eat on a low carb diet thank you."
Ben, Monthly Member
"I love that DMP is not the usual BS but provides real solutions. Thank you"
Leslie, Monthly Member
"I've been reading all your free content for a couple of years. I tried a few recipes and finally decided to join. The content provided is fantastic. I'm down 6 lbs in just 4 days!!!"
Julie H, Monthly Member
"DMP provides lots of info that doctors don't have time to tell you!!! Meals are not boring as I thought they would be when diagnosed and I would have struggled without the meal plan suggestions."
Sylvi R, Monthly Member
"Love the cooking class and easy recipes. Very happy I found this website .Lots of good information and delicious food."
30 Day Program Testimonials
The 30 Day Turnaround Program was our step-by-step nutrition and diet program – and we're proud to say it really has turned people's lives around!
Julie P, 30 Day Turnaround Program
"I was diagnosed in mid-August, my A1c was 6.7. I had it done again last week (mid Nov) and it was 5.6!! I have lost 32 lbs (14.5kg) and over 20 of those lbs (9kg) has been since I was diagnosed. I am eating much healthier and exercise 6 days a week. I think how you have the program set up is great. If all the information were thrown at me at once, I would probably be overwhelmed and never complete it all. Taking it a little at a time made a huge difference! My life has changed forever, but instead of being overwhelmed and depressed, I now have a sense of purpose and a challenge to get as healthy as bbn possible. Thank you!"
Denise E, 30 Day Turnaround Program
"I learned how carbs affected my sugar. My everyday test results went down! From normally 250 to 135 (13.9 to 7.5)!"
Cathy M, 30 Day Turnaround Program
"I don't have to starve myself to get a good health meal and lose weight too. A1c is down to 6.5 was closer to 8 before. Thanks for helping me get on track with what I can eat"
Amy W, 30 Day Turnaround Program
"I learned something new every day! I thought it was terrific! Most importantly, to test, test, test to learn how your own body responds to foods."
Dawn J, 30 Day Turnaround Program
"Over the 30 days I have lost about 8 kilos (17 pounds)!"
Janice D, 30 Day Turnaround Program
"My BS is lower, have lost a couple of lbs. and healthier eating overall! I learned that lower carbs are much more important than lower fat and good suggestions of meals and snacks with lower carbs. Thank you!"
Ester R, 30 Day Turnaround Program
"I learned about the importance of carb monitoring and blood glucose testing! I'm now eating healthier. My A1c went from 7.5 to 7.2. Lost about 10 pounds (4.5kg)."
Shane, 30 Day Turnaround Program
"I learned what foods to eat and how it all plays a part in managing blood sugar. I am losing weight, blood sugar readings are getting better, definitely eating healthier. This program was very good because you got something new to read and learn each day. You were not hit with everything in one or two hour session."
Elizabeth B, 30 Day Turnaround Program
"This is the best program! So many well written materials – clear and easy to understand. I am thrilled to have found this. I will be joining as a VIP member."
Cindy S, 30 Day Turnaround Program
"This has been the best program I have ever read. I look forward to it everyday to see what's next. The information is informative and more than I could ask for in a diabetes wellness program. THANK YOU."
Tony H, 30 Day Turnaround Program
"I now understand food combination and the effect on blood sugar. Since taking the program my blood sugar has been constant. It is comprehensive program. I like the presentation and the recipes."
Wendy B, 30 Day Turnaround Program
"I achieved lower A1C and healthier eating overall for me and my husband. Planning the meals keeping in mind the carbs and sugar content of the food. Thank you for the program. It was a great help to us and we hope to continue with some adjustments."
Jim, 30 Day Turnaround Program
"I first found DMP just before Thanksgiving. OH well! I actually joined in mid January. My blood glucose varied from 200 to 250 (11.1 to 13.0) and I felt very out of control. Now I'm a pretty consistent 160 and slowly going down. I have also dropped 8 pounds (3.6kg)."
JoAnn B, 30 Day Turnaround Program
"I started using your help last year when I found out that I had type 2 Diabetes. You Have been so much help To me this past year. My a1c started out around 9.5. it has been at 5.4 for the past six months. I have lost close to 50 pounds (22.6kg) and my goal is 20 (9kg) more to be were I need to be. I am going to try the milk thistle. Thanks again for All the great recipes and help." …. JoAnn's post 1 year update: " I used you program after I found out I was Type 2. It has been over a year and with your program and the great information in it, I have been able to keep my A1C at a 6. Thanks for all your help."
Sandra T, 30 Day Turnaround Program
"I learned I don't have to live in fear of diabetes, but can take my power back and be proactive about it. I'm feeling very upbeat and positive about my eating habits being modified and changed without feeling deprived or like a victim."
Bobby, 30 Day Turnaround Program
"I lowered bs by 30-40 (1.7-2.2) without meds, weight loss 8 lbs (3.6kg), easier meals to prepare and feeling in control of my health. You did a wonderful job and explained each day in a clear format and gave excellent aids to complete and continue the process. Thank you this is the best 30 days I have had with my sugar levels."
Janelle KM, 30 Day Turnaround Program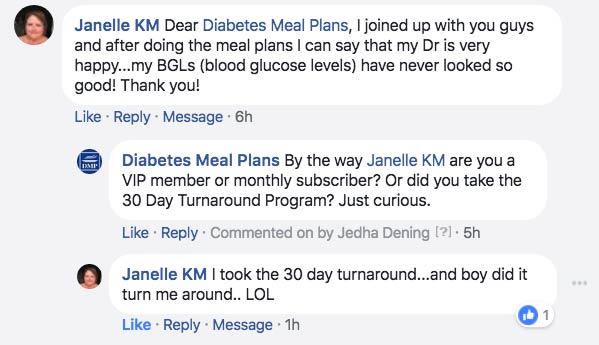 Annie B, 30 Day Turnaround Program
"The most important thing I learned was what carbs to eat. I recommended this to my sister, who signed up for the 30 day program as well."
Harold W, 30 Day Turnaround Program
"I appreciated all the information included, the organization of the material and the completeness of the suggested menus with shopping lists and recipes. More than ever I now know watching "carbs" has its benefits. I've only just begun using the info in preparing food but even after a few days, I have started to see my morning numbers are beginning to consistently move lower than before. You certainly have done a great deal of work in putting together a wonderful complete plan for A1C control. I honestly appreciate it very much."
Donna R, 30 Day Turnaround Program
"There were so many things that I learned that were important for my health and wellbeing however being aware that my blood sugar monitoring was necessary for me so that I could understand what foods were triggering the highs. When I started I went from 15 to 4.5 (270 to 81). It has fluctuated daily but averages about 6 (108) which I am happy with but realising there is still the need to understand what carbs are affecting my sugars. I now have lower blood sugars, I look more carefully at what I am buying and eating. I have definitely lost weight although I haven't weighed myself for a month. As my husband says, the clothes let you know you have lost and yes they fit and look better. Love the recipes, have tried some and shared them with family and friends. I think this is very well done. Thank you so much for this whole month."
Michelle, 30 Day Turnaround Program
"I learned that there are still a lot of options open to me. Taking time to plan ahead lessens the stress of meal preparation. I'm definitely eating healthier. And I appreciated the alternative recipes such as bread and crackers."
Maxine Y, 30 Day Turnaround Program
"I'm making healthier food choices. Cooking again (huge step) because you've shown me quick plans. And prepping and packing lunches! Wish the doctor's office would have shown YOUR way of doing it when I was first diagnosed. I probably would not have stuck my head in the sand so long! Glad I found you!"
Val S, 30 Day Turnaround Program
"Very helpful info and I also love that your recipes are so simple."
Leisa Elaine, 30 Day Turnaround Program

Cheryl A, 30 Day Turnaround Program
"I learned that alternative foods are just as delicious as "normal" foods. I've lost 16 lbs (7.2kg) since I went low carb. I'm not as fearful about eating fat. My daily blood sugar readings are slowly going down. I have really learned a ton from this site. Thank you for all of your efforts. I also got my sister (Judy Yager) interested too and I know she will benefit."
Sheryl, 30 Day Turnaround Program
"I want to tell you that I recently had my first doctor's appointment since reading your material, and implemented changes you recommend. Since I am also a heart patient, I struggled to comprehend changes from "Fats 101" that sounded most profound from the diet I had originally been given. After about 3 months, my doctor's report was best ever: A1c was normal for the first time since I was diagnosed diabetic in 2007; My LDL was 60; my total cholesterol was 130. My lab results were improved across the board. Best news: I am taking less diabetic meds, and my weight is within 5 lbs (2.2kg) of normal BMI. I am a believer in what you have written, and am grateful to have a site I can trust."
Michelle, 30 Day Turnaround Program
"I learned that eating healthy isn't painful, time consuming, drudgery. It can be fun AND taste good.Wish the doctor's office would have shown YOUR way of doing it when I was first diagnosed. I probably would not have stuck my head in the sand so long! Glad I found you!"
Amy W, 30 Day Turnaround Program
"I thought the program was terrific! Learned something new every day!"
Rose Marie B, 30 Day Turnaround Program
"Thank you for the program. It was a great help to us and we hope to continue with some adjustments. I've lowered A1C and achieved healthier eating overall for me and my husband."
Tony H, 30 Day Turnaround Program
"I like the presentation and the recipes. It is comprehensive. The improvement I've seen is my blood sugar has been constant."
Barbara S, 30 Day Turnaround Program
"I learned I can eat well! The program is very informative and complete. Thank you for this program. It has been convenient to access informative and life changing."
Dawn J, 30 Day Turnaround Program
"I learned to reduce carbs and over the 30 days I have lost about 8 kilos (17.6 lbs)."
Cindy S, 30 Day Turnaround Program
"I loved this program. Now I have a complete course that I can go back to on a daily basis. I learned how to count carbs and to prep food. And what good and bad carbs can do to your system. I'm now eating much healthier!"
Linda O, 4 Week Weight Loss Meal Plans
"I really like how simple & precise the recipes are along with how tasty. Thanks for such a valuable program!"
21 Day Lower Blood Sugar Challenge Testimonials
Here's some results from our participants' progress reports after 21 days plus their words of praise.
Margaret "At times my fasting levels were as high as 199 (11.1). After just 21 days my morning average is 121 to 140 (6.8 to 7.8) and my after-meal numbers are normal! I had never seen a number much below 120! It does work and I am very thankful for the advice & encouragement."
Linda H "I'm so proud of myself for sticking with the challenge for 21 days. I've lost weight and changed eating habits. I lost over 11 pounds (4.9kg) in 21 days, lowered after-meal blood sugar from 151-160 (8.4-8.9) down to under 140 (7.8), and morning sugars from 121-140 (6.7-7.8) down to 101-120 (5.6-6.7). I look forward to keeping it up."
Larry "The most important acheivement was the percentage of time I was in range now as compared to prior. Prior I would be in range approximately 55-60% of the time, now I"m in a range approximately 76-85% of the time."
David "Lowered blood sugar from 141 to 150 (7.9 to 8.3) to under 140 after meals. I actually enjoyed doing this challenge. I learned about different foods that I don't usually eat. I'm going to change things in my life."
Angelina: "Average after-meal blood sugar before the challenge 201 to 225 (11.2 to 12.5). Average after the challenge 161 to 170 (9.0 to 9.4). Fasting levels down from 181 to 225 (10.1 to 12.5) to 141 to 160 (7.9 to 8.9). I think you guys are doing a wonderful job with this I got so much useful information Thank you so much I will continue to try with your help."
Danette A: "After-meal and fasting levels after the challenge within the normal healthy range. Loved this challenge!"
Audrey V: "I lowered after-meal numbers to normal range and fasting levels did get lower. I enjoy the recipes and never imagined eating vegetables for breakfast!!"
Jean: "It was great being part of the challenge and it helped me on regulating my blood sugar down to the healthy range. Following the new pyramid too will improve on my health without forgetting the different recipes."
Maxine: "I got my numbers down to the normal range. I feel encouraged to know that if I watch what I eat, it does make a big difference. These relieves a lot of stress from worries that I will continual get worse."
Shane: "Before the challenge my postprandial bs average 181 to 200 (10.1 to 11.1). After the challenge it reduced to normal range of 121 to 140 (6.8 to 7.8). Thanks for the information, it has proved very helpful."
Doug W: "Fantastic challenge! It helped me to focus on eating healthy lower-carb meals. Diabetes and nutrition information very helpful, as well as meal suggestions. My postprandial blood sugar lowered from averages of 226 to 250 (12.6 to 13.9) and is now staying below 140 (7.8)."
Brenda: "This challenge was a great idea and an awesome way to support your followers during the toughest season of the year. Thank you for the brilliant timing, life changing information and support! You are saving lives!"
Harriet: "I liked doing the challenge. It helped a lot in lowering my morning levels from average 226 to 250 (12.6 to 13.9) to between 161 to 180 (9.0 to 10.0). Thank you for helping me."
Mark: "A sincere and heart-felt "THANK YOU" to the DMP team for the support and information and the delicious recipes your program provides. I've been on the diabetic treadmill for several years with lots of ups and downs. I wish I had come across DMP much earlier in my journey. Your information is excellent, well presented, easy to understand and easy to implement. Your recipes are delicious, cover a wide range of tastes and stimulate my imagination to branch out and try my own recipes to stay within the diabetic guidelines and still provide healthy and tasty daily variety. THANK YOU! THANK YOU! I am convinced that the secret to living a full, happy and "normal" life as a diabetic comes through education, understanding, and then diligent implementation of a healthy diet coupled with exercise. This 3 week "refresher" course has helped me get back on track and remind myself how easy it is to "slip" into bad habits, but more importantly, how easy it is to stay on track by focusing and being deliberate about daily good nutrition and health. It highlights the fact that one does not have to forlornly "live with" diabetes … one can have a very normal, healthy, active life in spite of body metabolism challenges. AGAIN … THANK YOU!."
Terri: "While my numbers didn't change much during the last 21 days, I became more aware of how foods effect my sugar. I have a very low tolerance for carbs like bread, pasta, etc. As I look back over my numbers I realize the 2 hours after are all over the place. Thankfully I have tried several of your recipes. I have enjoyed them and I noticed that after eating them my numbers are far lower. Thank you for all your wonderful information. Honestly I get a little overwhelmed with it all sometimes, but then I set it aside and come back to it later. In the 5 plus years since my diagnosis, yours is the most information I've ever received. I had about 30 minutes with a diabetes specialist who gave me a meter, suggested I eat x amounts of carbs and sent me on my way. I was left to try to figure out what exactly that meant and until I found DMP I still wasn't sure. I will continue reading your articles, trying your recipes and getting a better handle on my diabetes. Thank you for all you do!!!"
Tanya: "Once I do everything the DMP team suggest I will be closer to normal blood sugar readings. I have a lot of work to do. The challenge helped me prepare. I am ready."
Bill: "I found the information that was put out very helpful. The information on hidden sugars, low carb food, combinations for meal prep, the YouTube videos, and the natural supplements to help reduce insulin resistance in my body. I also appreciate the up to date specifics as opposed to the outdated generic information that prescription pushing Endocrinologist use to mask symptoms and keep you out of control. I am in control now, thank you for that!!"
Lorraine: "I lowered both fasting and after-meal blood sugar levels by about 20-30 mg/dl (1.1-1.7). Though I know my changes weren't as much as I think I can do it has given me much more awareness of what I am eating. I will continue with these changes and hope for more results."
Trudie: "In the 21 days I lost weight and lowered my after-meal and morning blood sugar. Thank you for all the info and encourigement during this time. I am determent to get my sugar levels as normal as can be and follow your advise."
Pat O: "I had good control of my glucose before the challenge. However, the challenge improved my consistent low numbers for fasting and post meal. I also gained new information on recipes, sugar types, etc."
Pat: "I enjoyed all the information you provided, especially the recipes. I also enjoyed reading about other people's comments and their journey. I still need to lower my after meal readings and will continue to work on that. I know avoiding added sugar is a big part of that, which seems hard for me, but I will take it one day at a time. Thanks for all you did to put together this 21-day challenge."
Tracy P: "This was just what I needed to open my eyes to what my numbers really are after meals. I had gotten to a point where I just ate and didn't test very often. I thought I was in good control, but I now that I wasn't. I looked back on my previous A1c's and my lowest was 5.8. I just did blood work yesterday and the results came down from a 6.8 to a 6.3. I meet with my doctor next week and I plan to take my charts with all my numbers during the 21 day challenge. I've tried several recipes and they were all good. It's been interesting to read everyone's posts and I hope they continue with what they've learned even though this challenge is over. I know I plan to! Thanks for your feed back to questions and encouraging words along the way. It was much appreciated. Blessings to all of you!"
Irene P: "I have learnt a lot especially about the diet. You are very good. Thank you very, very much. You gave excellent information."
Subscriber Testimonials
You can
Click Here to Subscribe
(for free!) and even our subscribers are using the free info to get results!
Brenda, Subscriber
"My turn-around is all thanks to the people at DMP. Less than a year ago, I weighed 160 lbs (72.5kg)–more than I ever had pregnant–and my whole system was out of whack-including high sugars. I started running (have worked up to two miles a day) but it wasn't enough. Thanks to the information on your website, I am down to a healthy 110 lbs (49.8kg) and feeling much better without any meds. Thank you for showing me that way and for giving my three young children back their active, healthy, and happy mama!"
Paul O, Subscriber
"Hi Jedha, I've been following your low carb meal/snack advice for about three months now. I'm a 77 year old male, and went from an A1c reading of 7.9 to 6.0; also lost 22 pounds (9.9kg). Thanks for all the help!"
Earlene P, Subscriber
"I have to say I've seen a change in my numbers from the time I start following your low carbs diet. My aim is to reduce the number to a lower number. Thanks so much for your articles and ur diet."
Sonia, Subscriber
"Since I met you guys I am on a right track sugar level not more than 7 (126) and food is incredible so yummy specially pancake with almond flour and cocnut flour for mexican taco, list goes on and on. I thank you from the core of my heart you are amazing people thanks for the support"
Dorothy, subscriber
"Thanks for the recipes. They are indeed awesome."
Gina, subscriber
"I HAVE BEEN TRYING TO EAT WELL SINCE I GOT YOUR RECIPES AND I LOST 11 POUNDS (4.9kg) PLUS MY DIABETES HAVE IMPROVED A LOT. THANKS FOR ALL YOUR RECIPES AND COMMENTS. I REALLY APPRECIATE IT! GINA" Apr 14 2016."
Beverly C, subscriber
"Thank you for all your help and info. I have been following your diet plan since Jan 9, the day after I found out I was a diabetic. I feel great, I've lost 24 pounds (10.8kg), and the inflammation in my hips and back has decreased. Your web site gave me so much helpful information, more than my doctor gave me."
Elaine, subscriber
"So glad i found this site. I was diagnosed in October 2016, the information here is much more helpful than the flyers i got from my PCP. Looking forward to more information."
Subscriber
"Diagnosed 11mo.ago, I've learned a lot, however you've really opened my eyes about lots of things, am now in the process of reevaluating a lot of things. Your site is amazing,so informative, thank you so much ! Big business products can really be confusing thanks for helping us through the fog !"
Subscriber
"Thank you for all that your doing. I have done so much research. You're the first team that I've met that really seems to understand and explain things in a down to earth way. I am 50 years old and have had diabetes for many years. No dietician has given me normal food ideas or even tried to adjust to my lifestyle. You're the first. My a1c is very good because I really do eat well. I have not been able to lose weight though. 20 pounds (9.0kg) to lose. No one knows what to do with me. I'm physically active, etc. I thought maybe it was my med or insulin. You're the first to mention lantus. I could give you a hug for that. Thanks for what you're doing and i'll be spreading the news about your blogs."
Subscriber
"Love all the information. Keep news coming."
Subscriber
"Keep up the good work, I need all the help I can get thank you for all the help you have given so far."
Subscriber
"I will continue to look forward to my emails. I'm really depending on them for support these days. I've bought books and read a lot about Diabetes but you simple way of explaining things and the great information helps tremendously."
Subscriber
"Thanks for a great site! It was a great way to kick start my new lifestyle."
Deborah H, subscriber
"So thankful for what you do, keep up the good work!"
Charlotte, subscriber
"Hello Jedha. I'm finding your posts most informative. Always look forward to reading your articles."
Nadine V, subscriber
"Thanks for the suggestions, we are new to this also, but the ingredients and cooking ideas are great."
Jim H, subscriber
"I am so thankful to find this site. I think you folks are performing a great service. if doctors know the answer they certainly are not good at telling and the educators seem stuck with an old set of rules. in my case I have just been silly about how to handle it. I found you folks Thursday of last week and am already seeing a change in both blood glucose and weight and feel I have some new strategies to move forward. thank you so much."
Matt S, subscriber
"Best Information for Diabetics on the web! Thank You, Jedha."
Kathy K, subscriber
"Good website. Thank God you are there. I got more information from you than from doctor's office."
Marie, subscriber
"Thank You so much for this weight gain article, I'm holding my own with the weight gain but I've still got a ways to go. I owe all my progress to you, Jedha, and your wonderful e-mails and guidance…. Thank you again."
Bill G, subscriber
"Hi DMP Staff, DMP in my opinion is the best diabetes website worldwide – many thanks for top notch info. I was diagnosed with diabetes in 2015 – at that stage I started off with low GI then low GL – after reading Gary Taubes "The Diet Myth" or "Good Carbs, Bad Carbs" + info from DMP, I eventually restricted my carb intake with astounding results: BG strictly controlled between 4–7 (72-126) with the aid of an APP (mySugr), a calculated A1c of 5% (confirmed by Path Lab). Off Metformin for past month."
Carol S, subscriber
"My partner is prediabetic and after following the guidelines on your site since January (now April 7), we are hoping for good blood results in a week or two, but in the meantime he's lost over 24 lbs (10.8kg) in weight. Thanks for providing such an informative website."
Deborah, subscriber
"When I was diagnosed last year, my A1C was 7.7, my doctor put me on Janumet which made me extremely ill. She suggested l lose some weight by having smaller portions of such foods like bread,rice plantains, sweet potatoes and yams, notwithstanding the fact that I told her that those foods I seldom ate because they made me feel hungry shortly after I ate them.

I did some research and found your site and Dr Axe's, I stopped taking Januvia which had replaced the Janumet, and I started a low carb diet. In three months my A1C dropped to 6.1. I have also lost 40 (18.1kg)+lbs.

I applaud you for your commitment to sharing your knowledge which has made an enormous difference in many lives."
Pat B, subscriber
"Your resources provided the tools I needed to bring my blood glucose level down, until my A1c test results were within normal range. Thank you for all you do!"
Shaz, subscriber
"I am really grateful for the information from you because I have been struggling to understand diabetes type2 and all previous info I have looked at was so complicated and hard to comprehend, Thankyou so much I feel really pleased with your site."
Submit Your Testimonial
Got something great to say about us? We'd love to know how we've helped you. Send us an email: [email protected]; or leave your comments on the DMP blog.
Thanks, we appreciate you for letting us be part of your life and we're grateful that you value our efforts.