Research shows that you can 'reverse' type 2 diabetes and prevent complications by following a healthy diet. When we say 'reverse' this means you can get your blood sugar and A1C readings in the normal range and live life 'as if' you no longer have type 2 diabetes.
There is a lot of confusing nutrition information out there so we aim to cut through the crap and confusion and focus on what works.
Here at Diabetes Meal Plans we use a natural whole foods, low carb approach, so this page goes through some of the facts and research so you can see our methods are based on current science and the good thing is that in real life they really work as well. Read more about our specific diet & nutrition guidelines over here.
Blood Sugar & A1C
FACT: If you are type 2 diabetic (in most cases) you can restore your blood sugar and A1C to normal, many people have and so can you 🙂
You're probably well aware that your blood sugar is a measure of the glucose/ sugar in your blood at any one time. And throughout the day your blood sugar fluctuates, you've no doubt experienced this when you use your meter. It's VERY important to keep your blood sugar in normal range because having high blood sugar for any prolonged period of time causes damage to your body and health, and can lead to those complications that none of us like to mention or think about.
Here are the normal ranges for blood sugar.
Blood Sugar Levels Chart
Category
Fasting value
Post prandial / aka post meal
 
Minimum
Maximum
2 hours after meal
Normal
70 mg/dl
100 mg/dl
Less than 140 mg/dl
 
4 mmol/l
6 mmol/l
Less than 7.8 mmol/l
Pre-diabetes
101 mg/dl
126 mg/dl
140-200 mg/dl
 
6.1 mmol/l
6.9 mmol/l
7.8-11.1 mmol/l
Diabetes
More than 126 mg/dl
 
More than 200
 
More than 7 mmol/l
 
More than 11.1 mmol/l
Diabetes Blood Sugar Level Goals
| | | |
| --- | --- | --- |
| Time to Check | mg/dl | mmol/l |
| Upon waking before breakfast (Fasting) | 70-130 (Ideal under 110) | 4-7.2 (Ideal under under 6.1) |
| Two hours after meals | Under 180 (Ideal is under 140) | Under 10 (Ideal is under 7.8) |
| Bedtime | 90-150 | 5-8.3 |
You really want to work towards the goals above, and our low carb balanced meal plans can help you do that.
A1C
A1C is a blood test that gives your blood sugar average for the past 3 months. Hemoglobin is our blood, and a process called glycosylation occurs where sugars (glucose) in your blood stream attach to hemoglobin, the protein in red blood cells that carries oxygen. The average red blood cell lives for around 3 months, so when they are doing this blood test they are testing glycated hemoglobin.
It's a more accurate measure than blood sugar because it can't be influenced by the meals you've had today or the day before. It's given as a percentage and the normal range is 4-6%. If you have an A1C higher than that, it means you need to work on lowering it.
The number one thing that causes high blood sugar and A1C is carbohydrates.
Insulin & Insulin Resistance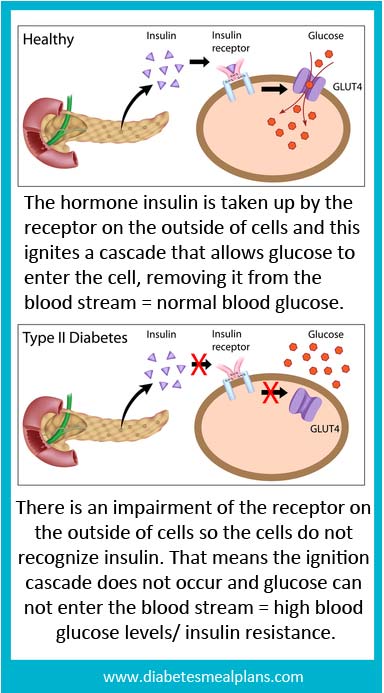 FACT: If you are type 2 diabetic or prediabetic you can improve insulin sensitivity and lower insulin.
If you are type 2 diabetic or pre-diabetic it's not just blood sugar that's a problem, it's insulin and insulin resistance.
High blood sugar causes your pancreas to produce more insulin to push the glucose out of the blood stream and into the body's cells. Many people think type 2 diabetes is a condition where there is lack of insulin, but in fact it's the opposite, it's a condition of high insulin (hyperinsulinemia). Of course this does depend on where you are along the continuum of diabetes development, but for most people the pancreas is working just fine, you have plenty of insulin.
The issue is that high blood sugar, combined with the high insulin (and lack of exercise) causes your cells to lose their responsiveness and become insulin resistant. The cells in the body have insulin receptors that normally recognize insulin, but when you have insulin resistance, your cells don't recognize it, so you need more and more insulin to push the glucose into the cells.
FACT: If you currently take insulin shots or medications, you can reduce or eliminate them completely.
Though sometimes necessary, insulin is not always a great solution because it leads to increased weight gain, blood pressure, and cholesterol. And even though it helps blood sugar it increases appetite, and increases inflammation. So it should be a last resort and taken at as low a dosage as possible.
Diet and lifestyle intervention can prevent you going on insulin and can also reverse insulin therapy, meaning you CAN get off insulin if you take the right steps.
Studies show that following a lower carbohydrate outperforms other dietary methods when it comes to reducing or eliminating medications and insulin. I also personally know of many people in real life who have completely eliminated insulin and medications and now live a 'normal' non-diabetic life.
Diet For Lowering Blood Sugar & A1C
FACT: Diet and lifestyle intervention have more benefits in preventing and managing diabetes and reducing complications than medications (as long as you are prepared to get motivated and take control of your health).
It's true that there is no one specific way for someone with type 2 diabetes to eat, we are all individuals and will eat slightly different things based on our food preferences.
However, when reviewing the outcomes of various studies, a lower carbohydrate diet always out performs any other diet for:
Decreasing blood glucose
Lowering A1C
Decreasing cholesterol
Increasing HDL
Increasing weight loss
These are all great goals for you as a type 2 diabetic, and our meal plans help make it easy for you to follow!
Here are some of the research stats.
STUDY: Elhayany et al. 2010. 12 month trial. 194 overweight type 2 diabetic participants. 3 diets, low carb mediterranean (LCM), traditional mediterranean (TM), and American Diabetes Association (ADA) recommendations.
RESULTS:
weight loss – 10.1 kg for LCM diet, 7.7 kg for ADA, 7.4 kg for TM.
HbA1C – LCM -2.0%, ADA -1.6%
HDL cholesterol only increased in LCM 0.1mmol/l
Reduction in serum triglycerides – LCM -1.3 mmol/l, TM -1.5 mmol/l, ADA -0.7 mmol/l
STUDY: Esposito et al. 2009. 4 years. 215 overweight people with newly diagnosed type 2 diabetes who were never treated with antihyperglycemic drugs. Designed to compare the effects of a low-carbohydrate Mediterranean-style (<50% carbs) or a low-fat diet on the need for antihyperglycemic drug therapy in patients with newly diagnosed type 2 diabetes.
RESULTS After 4 Years:
44% of patients in the Mediterranean-style diet group required medications compared to 70% in the low-fat diet group (absolute difference, -26.0 percentage points [95% CI, -31.1 to -20.1 percentage points
STUDY: Gannon et al. 2004.
RESULTS: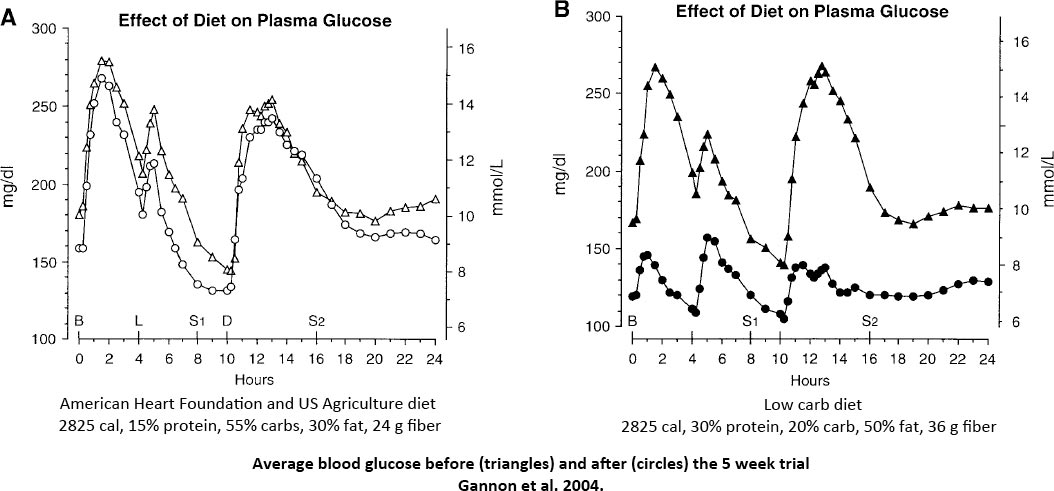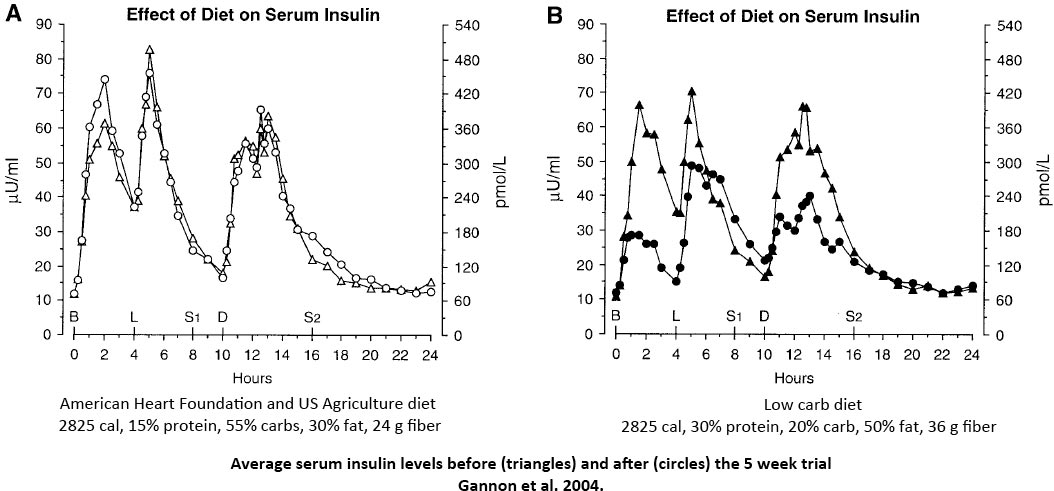 Click Here to Read More Research Stats
The One MAJOR Thing That Influences Blood Sugar, A1C, and Insulin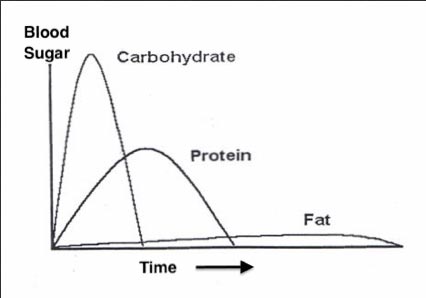 Image source
It's simple biochemistry, it's the way the body is naturally designed to work, and when we come back to this simple mechanism, the one MAJOR thing that influences your blood sugar, A1C, and insulin the most is carbohydrates!
When you eat carbohydrates, this causes your blood sugar to rise, insulin to respond, etc, etc.
The same thing does happen when you eat protein, but not to the extent that carbohydrates affect the response.
And as for fats, well they do not spike blood sugar or insulin at all!
We've all been led to believe that fat is bad for us, BUT in actual fact, eating too many carbohydrates is the worst thing we can do for our health.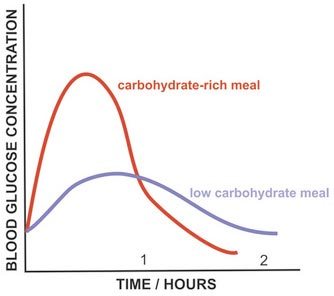 Image source
FACT: Excess carbohydrates increase risk of type 2 diabetes, obesity, and heart disease
FACT: Excess carbohydrates, particularly refined carbs, sugar, and fructose contribute to high cholesterol
FACT: Excess carbohydrates cause weight gain – insulin is the fat storage hormone, more insulin means creation of more triglycerides and more fat storage
FACT: Excess carbohydrates cause high blood sugar and A1C
So let's talk more about carbohydrates.
Carbohydrates and Diabetes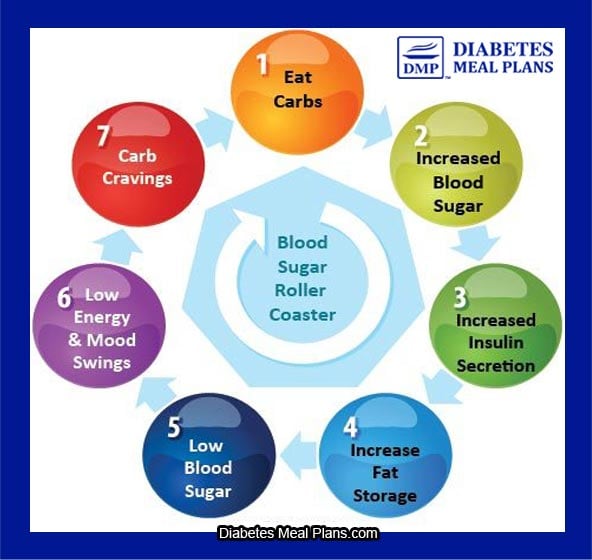 What is the recommended carbohydrate intake for diabetes?
If you look around you will notice that there isn't one recommendation.
Diabetes UK recommends 230 g for women, 300 g for men. This is "the advice provided by Diabetes UK for the general population with diabetes".
Diabetes Australia has no specific carbohydrate amount but just recommends the same dietary guidelines for the general population, which is 6 serves a day for men and women.
American Diabetes Association suggests: "A place to start is at about 45-60 grams of carbohydrate at a meal." Going off these ADA numbers that could make your daily carb intake over 3 meals anywhere between 135-180 g per day, which doesn't include any snacks.
So going off these 3 large diabetes education sites we're already totally confused!
230-300 g
6 serves
135-180 g
So we're looking at a range between 135-300 g per day.
It's no wonder we're all confused!
But let's just get back to biochemistry and how the body works.
Quoted from Diabetes UK: "All the carbohydrates you eat and drink are broken down into glucose. The type, and amount, you consume can make a difference to your blood glucose levels and diabetes management".
Can I just point out that ALL carbs are broken down to glucose. What is your primary goal? To lower/control blood glucose and A1C.
Statement from the American Diabetes Association position statement 2013: "Evidence exists that both the quantity and type of carbohydrate in a food influence blood glucose level, and total amount of carbohydrate eaten is the primary predictor of glycemic response".
Can I just point out that total amount of carbohydrate eaten is the primary predictor of glycemic response.
Okay, so we know that carbohydrates are the biggest influence on blood sugar and the total amount you eat is the one MAJOR factor influencing your results.
We've already pointed out the stats above, and what the research clearly shows is that lowering your carbohydrate intake is the best possible thing you can do to help manage, treat, and 'reverse' your diabetes.
So based on the research and proven stats, the recommendation to eat 135-300 g per day of carbohydrates is WAY TOO MUCH!
Just talk to other diabetics and they will likely tell you the same.
So if you're wondering why you haven't been able to get things under control this could be why.
So How Much Carbohydrate Is Good?
In a recent study (Feinman et al. 2015) this is the definition of carbohydrates in the diet:
Very low carb ketogenic diet: 20-50 g per day. Below 10% intake of 2000 calorie diet.
Low carbohydrate diet: Below 130 g per day. Below 26% total energy intake. 
Moderate carbohydrate diet: 26-45% total energy intake <<< Research shows these don't perform as well as lower carb diets
High carbohydrate diet: Above 45% total energy intake  <<< Current recommendations that aren't working

In the research, both low carbohydrate diets (20% carbs), and very low carb ketogenic diets (<10% carbs) have been shown to provide the greatest benefits.
Here at Diabetes Meal Plans, we base your carb intake somewhere in between low carb and very low carb, at an average of 80 g total carbs per day, which usually equates to around 50 net carbs per day.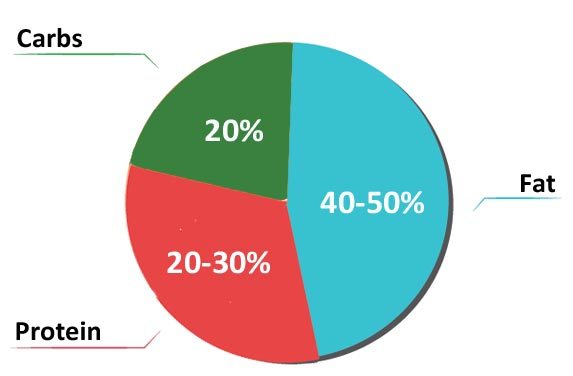 Some concerns have been made over the long term use of very low carb ketogenic diets, but according to Diabetes UK, 50-80 g of carbohydrate intake is an acceptable level for type 2 diabetics. And according to low carb expert Mark Sisson, although lower carb intake can be beneficial, there is often no need to compromise eliminating valuable nutrients from vegetables by limiting intake to a very low carb diet.
For example: A carrot may contain more carbs than lettuce (carrots are often excluded in very low carb diets) but carrots also contain loads of micronutrients and fiber, so it's not necessary to cut them out in order to get results.
IMPORTANT NOTE: If you currently take insulin or medications, it's VERY important that you talk about this dietary transition with your doctor and health professionals before commencement. As you reduce carbohydrates you will have to reduce insulin or meds, so get assistance on how to do this safely in order to avoid hypoglycemia.
Dietary Fat & Cholesterol
Over the years we've all been led to believe that eating fat is bad, so we've been pushed toward eating low fat diets. Generally low fat diets are higher in carbs and sugar, which as we've learned above is not ideal for diabetes.
Our body needs dietary fat for many important functions, and cholesterol is important to the body. And in fact, the advice to avoid eating fat is one big fat myth!
Later this year (2015) America will be releasing their 2015 Dietary Guidelines. Recently the Dietary Guidelines Assessment Committee (DGAC) released preliminary updates on revisions to be made.
Here is their preliminary statement about cholesterol:
"Cholesterol. Previously, the Dietary Guidelines for Americans recommended that cholesterol intake be limited to no more than 300 mg/day. The 2015 DGAC will not bring forward this recommendation, because available evidence shows no appreciable relationship between consumption of dietary cholesterol and serum cholesterol… Cholesterol is not a nutrient of concern for overconsumption."
The Academy of Dietetics and Nutrition "supports the DGAC in its decision to drop dietary cholesterol from the nutrients of concern list and recommends it deemphasize saturated fat from nutrients of concern, given the lack of evidence connecting it with cardiovascular disease".
And as for fat…"The Academy suggests that HHS and USDA support a similar revision deemphasizing saturated fat as a nutrient of concern." "It appears that the evidence summarized by the DGAC suggests that the most effective recommendation for the reduction in cardiovascular disease would be a reduction in carbohydrate intake with replacement by polyunsaturated fat."
Okay, the agreement on what type of fat is best to eat is still somewhat of a contentious issue.
So how do we clear this up? We turn to the research…
As you will notice from above, following a lower carbohydrate diet does mean you naturally eat more fat to make up calories and keep you fueled up. While all natural sources of fat are healthy, there is some research that suggests saturated fats contribute to insulin resistance. So we keep our meal plans low in saturated fat and include monounsaturated fat as your predominant source of fat.
Research shows that monounsaturated fat (olive oil, olives, nuts and seeds etc) have massive benefits for type 2 diabetics. Monounsaturated fat is beneficial for improving insulin sensitivity and improving GLUT4 glucose transport into the cell. Monounsaturated fat is also considered one of the most beneficial fats for cardiovascular health.
Cholesterol In Foods We Eat Does NOT Equal High Cholesterol
Another very important thing to learn is that the body produces cholesterol internally. That's right, your body naturally produces it's own cholesterol. When we eat foods that contain cholesterol, this does not equate to high cholesterol in your body or 'bad' cholesterol in your body.
In fact, if you know anything about physiology and metabolism (and perhaps you don't and that's okay), you would understand that eating things high in fructose makes the body produce more cholesterol that eating foods high in cholesterol!
Fructose is in sugar (which is half sucrose, half fructose) and how many things do we eat with sugar in them these days? A LOT!
So what I am saying here is your body will make more 'bad' cholesterol from sugar than it will ever make from egg yolks!
Cholesterol has been wrongly victimized because it is absolutely essential for our survival. It actually performs many important functions in the body, like hormone production. Yes there are different types of cholesterol, LDL, HDL, VLDL and so forth, but even the widespread understanding of cholesterol is grossly misunderstood.
High Cholesterol Is Caused By…
The most common causes of increased LDL include:
 insulin/leptin resistance
 genetics
 poor thyroid function
 infections
 leaky gut
Now 3 of the things listed above do come as a result of bad diet and lifestyle and in every instance the 'cause' is due to too much processed and packaged foods and junk that are full of sugar, refined carbohydrates, and bad quality oils.
So again, high cholesterol is not a result of eating egg yolks, good quality fats from meats, coconut oil and avocado, or from butter!
Protein
Have you also heard that eating too much protein isn't good for diabetes?
Well, to some extent that is true. You can't just live on protein, you have to eat vegetables as well.
But as long as you are including lots of vegetables then eating a higher protein diet has proved to be fine.
A study from 2013 (Pederson et al) did a 12 month trial on type 2 diabetics with albuminuria and early renal dysfunction to assess if a 30% protein intake compared to a standard 20% protein diet made any difference to weight loss, renal function (kidneys), or metabolic parameters. The study showed that the higher protein diet had no adverse effects, having comparable outcomes to the standard 20% protein diet.
The dietary guidelines also have no standard protein intake, ranging anywhere from 20-35% intake. Studies also show that protein is satiating, meaning it makes you fuller and keeps you fuller longer. So as far as protein goes you really don't have to worry.
But again, it is very important that you include lots of vegetables because if all you are eating is protein, then that isn't a balanced diet.
More Resources & Reading Material
Watch 'The Skinny on Obesity' an obesity/ diabetes health series by the University of California and Dr Robert Lustig on YouTube
Watch 'Sugar: The Bitter Truth' by Dr Robert Lustig on YouTube
Zoe Harcombe explains why cholesterol is absolutely vital to the body over here and gives us the intel on heart disease and cholesterol over here
Article exploring the link between sugar and heart disease
Watch Dr Sarah Hallberg's great TedX talk about diabetes and diet over here and read her great discussion on the shattering new dietary guidelines over here
References
Evert et al. 2013. Nutrition therapy recommendations for the management of adults with diabetes: Position statement. Diabetes Care. 2013;36:3821-3842.
Diabetes UK. 2011. Evidence-based nutrition guidelines for the prevention and management of diabetes. Download a copy here.
Feinman et al. 2015. Dietary carbohydrate restriction as the first approach in diabetes management: Critical review and evidence base. Nutrition. 2015;31:1-13.
Pederson et al. 2014. High protein weight loss diets in obese subjects with type 2 diabetes mellitus. Nutrition, Metabolism & Cardiovascular Diseases. 2014;24:554e562.
Gannon et al. 2004. Effect of a high-protein, low carbohydrate diet on blood glucose control in people with type 2 diabetes. Diabetes. 2004;53:2375-2381.
Elhayany et al. 2010. A low carbohydrate Mediterranean diet improves cardiovascular risk factors and diabetes control among overweight patients with type 2 diabetes mellitus: a 1-year prospective randomized intervention study. Diabetes Obes Metab. 2010 Mar;12(3):204-9.
Lasa et al. 2014. Comparative effect of two Mediterranean diets versus a low-fat diet on glycaemic control in individuals with type 2 diabetes. Eur J Clin Nutr. 2014 Jul;68(7):767-72.
Esposito et al. 2009. Effects of a Mediterranean-style diet on the need for antihyperglycemic drug therapy in patients with newly diagnosed type 2 diabetes: a randomized trial. Ann Intern Med. 2009 Sep 1;151(5):306-14.
Guldbrand et al. 2012. In type 2 diabetes, randomisation to advice to follow a low-carbohydrate diet transiently improves glycaemic control compared with advice to follow a low-fat diet producing a similar weight loss. Diabetologia. 2012;55:2118–2127.
Wheeler et al. 2012. Macronutrients, food groups, and eating patterns in the management of type 2 diabetes. Diabetes Care. 2012;35:434-445.
Saslow et al. 2014. A randomized pilot trial of a moderate carbohydrate diet compared to a very low carbohydrtae diet in overweight or obese individuals with type 2 diabetes mellitus or prediabetes. Plos One. 2014;9(4):e91027.
Westman et al. 2008. The effect of a low-carbohydrate, ketogenic diet versus a low-glycemic index diet on glycemic control in type 2 diabetes mellitus. Nutrition & Metabolism. 2008;5:36.
Weijers, R. 2012. Lipid composition of cell membranes and it's relevance in type 2 diabetes mellitus. Current Diabetes Reviews. 2012;8:390-400.
Schwab et al. 2014. Effect of the amount and type of dietary fat on cardiometabolic risk factors and risk of developing type 2 diabetes, cardiovascular diseases, and cancer: a systematic review. Food & Nutrition Research 2014, 58: 25145.
Naude et al. 2014. Low Carbohydrate versus Isoenergetic Balanced Diets for Reducing Weight and Cardiovascular Risk: A Systematic Review and Meta-Analysis. Plos One. 2014;9(7):e100652.
Academy of Nutrition & Dietetics. 2015. Academy Comments re The DGAC Scientific Report [Online]. Available at https://www.eatrightpro.org/resource/advocacy/take-action/regulatory-comments/dgac-scientific-report
Hyman, M. The Blood Sugar Solution. Little Brown and Company. 2012.
Mutzel, M. Belly Fat Effect. Wilsonville Media. 2014.