Here at DMP we've been encouraging people to eat a low carb diet since 2015. Back then the American Diabetes Association recommendations suggested people with type 2 diabetes eat 75 grams of carbohydrates per meal!
Yes, you read that right, 75 grams per meal. For people with type 2 diabetes, the average carbohydrate recommendations coming from diabetes organizations around the globe in 2015 were 225 grams to 350 grams per day. 😖
In contrast, we were encouraging people to consume 50-80 grams with a maximum of 100 grams. Who do you think was getting better results? View our testimonials and you'll know the answer. 😉
In 2015, diabetes organizations refused to accept a low carb diet as a viable treatment option. They continued to claim there was not enough evidence to support this diet and that people needed to consume at least 130 grams of carbohydrates per day. They were wrong.
Thankfully, since 2015 some things have changed. There has been more research coming out that shows a low carb diet is a highly effective approach for people with type 2 diabetes. This means diabetes organizations can no longer ignore the facts.
So as of 2019, what are the American Diabetes Association low carb diet recommendations?
Let's turn to ADA's newly released 2019 Medical Care Guidelines for the answer.
American Diabetes Association Low Carb Diet Recommendations
In 2019, ADA still weren't "recommending" a low carb diet. In fact, their dominant agenda still stated:
"The Mediterranean, Dietary Approaches to Stop Hypertension (DASH), and plant-based diets are all examples of healthful eating patterns that have shown positive results in research." p.S48
It is true that these dietary patterns are healthy and can be used for diabetes treatment as well.
However, following that statement the ADA included:
"In addition, research indicates that low-carbohydrate eating plans may result in improved glycemia and have the potential to reduce antihyperglycemic medications for individuals with type 2 diabetes." p.S48
So, in actual fact they should have included a low carb dietary pattern in their dominant statement. Especially since the evidence does show a low carb diet is superior for improving blood sugar control and in reducing medication requirements, when compared with other diets.
They follow on with another statement:
"For people with type 2 diabetes or prediabetes, low-carbohydrate eating plans show potential to improve glycemia and lipid outcomes for up to 1 year." p.S50
This is true, the research indicates greater improvements in blood sugar and A1c can be achieved with a low carb diet. In addition, triglycerides decreases and HDL increases, improving people's overall cholesterol profile. 
After both of the above statements, the ADA downgrade the low carb diet, by stating:
"As research studies on low-carbohydrate eating plans generally indicate challenges with long-term sustainability, it is important to reassess and individualize meal plan guidance regularly for those interested in this approach." p.S50
If we look at adherence to any diet over the long-term, we could state there are challenges for many people, whether that's Mediterranean, DASH, vegetarian or low carb – the results would be similar.
What the research actually shows is that very low carb ketogenic diets may be difficult to maintain, but low carbohydrate diets (50-130 grams carbs per day) are sustainable. 
The ADA caution that low carb eating plans are not appropriate for:
"Women who are pregnant or lactating, children, and people who have renal disease or disordered eating behavior, and these plans should be used with caution for those taking SGLT2 inhibitors due to potential risk of ketoacidosis." p.S50
We would say, work with your healthcare team in consultation in these matters because a low carb diet may still be appropriate but needs to be approached with caution, not ruled out completely.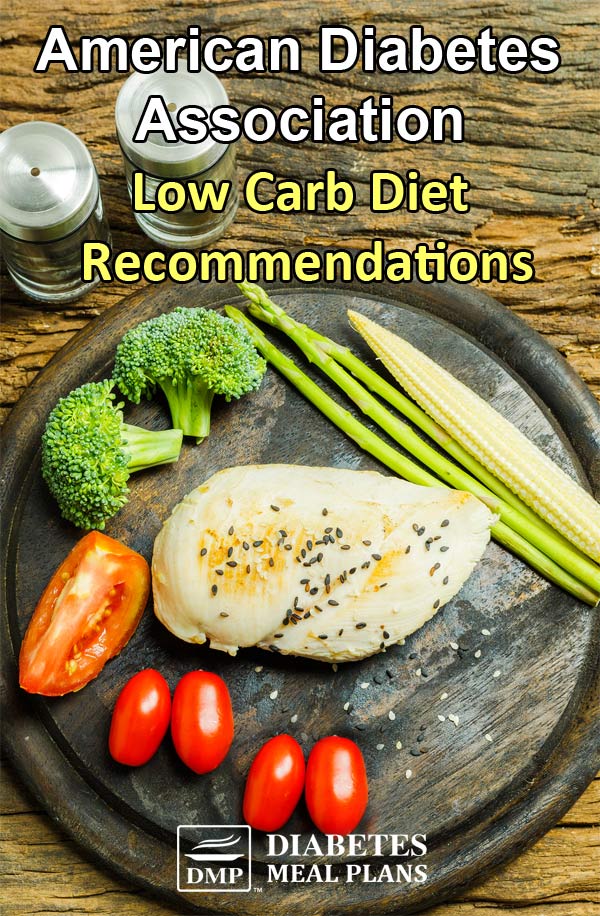 Where do we go from here?
The American Diabetes Association and other diabetes associations worldwide have been slow to accept a low carb diet as an effective dietary approach for people with type 2 diabetes.
With the growing amount of research in this area, they cannot ignore it now and they do accept it, though as you can see by their statements, they are still hesitant to recommend it.
We've seen things change a lot since 2015 and going forward this shift will continue to occur as more evidence becomes available.
My PhD centers on low carb diets for people with type 2 diabetes, so I am well versed in the evidence around this dietary pattern and it's comparison to other dietary patterns.
A low carb diet is highly effective for type 2 diabetes treatment – this is evident in the research and also in real life. 
For instance, we are consistently seeing the results of our members, which include:
Lower blood sugar and A1c – with people obtaining and maintaining healthy 'normal' ranges
Improved insulin resistance
Weight loss (or maintenance)
Reduction of elimination of oral medications and insulin
Our members have not been able to achieve these results following other dietary patterns. Many members whom have had type 2 diabetes for 20 years are now getting better results in 6 months – 3 years than they ever have in their lives, and they are maintaining them!
The American Diabetes Association will no doubt continue to alter their low carb diet recommendations as time goes on. We always strive to stay up-to-date and will update this information as it becomes available.
Here at DMP, we'll continue doing what we've been doing since 2015 – teaching people to EAT TO TREAT DIABETES! And we're proud to say that we're making a real difference in people's lives. We're grateful for that. ❤️