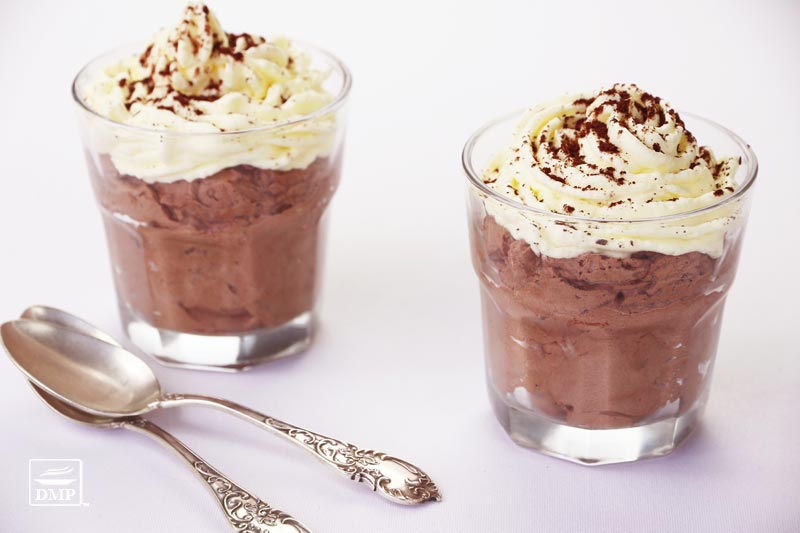 Since we were just talking about chocolate recently, it seemed like a good idea to share a simple diabetic chocolate mousse recipe that's not filled with sugar and you can safely eat.
Yes, this creamy delight is low carb. But, just be warned, that doesn't mean it's low calorie!
Mousse, which is typically made with cream, is a pretty high calorie dessert. But hey, the occasional indulgence is okay, especially at times like Christmas, or for special celebrations. 
And if you're really craving something sweet, skip lunch or dinner and head straight for a dessert like this. It will be enough to satisfy.
Try to purchase a good quality Dutch cocoa powder. These tend to have a smoother, richer, and less bitter flavor compared to the general unsweetened cocoa powder you find at the store.
Another trick is to purchase Chocolate Flavored Liquid Stevia Extract and use it to sweeten your chocolate desserts. We used a plain liquid stevia in this recipe, but for an even richer chocolate flavor, the addition of the choc-flavored sweetener would definitely work well.
Low Carb Diabetic Chocolate Mousse
Total Carbs:
6g
Net Carbs:
5g
Total Carbs:

6g

Net Carbs:

5g
Place the cream, cocoa, vanilla and stevia into a food processor with the whisk attachment. You could also use an electric mixer.

Beat for 30 seconds, then remove the lid and scrape down the edges with a spatula to ensure all the cocoa is mixing into the cream and not stuck on the edges.

Whip for around 2 minutes or until stiff, yet soft and fudgy. Taste testing will do the trick.

Once whipped to your desired consistency, spoon into 2 glasses or dessert bowls.

Wash the food processor clean. Place the cream and stevia into it; then whip the plain cream for around 2 minutes until stiff yet smooth. You want the top cream a little lighter than the mousse.

Use a piping tube to pipe the cream on, or alternatively just spoon the cream on top.

Finish by sprinkling with a touch of cocoa.
Nutrition Facts

Low Carb Diabetic Chocolate Mousse

Amount Per Serving

Calories 502

Calories from Fat 477

% Daily Value*

Total Fat 53g 82%

Cholesterol 203mg 68%

Sodium 57mg 2%

Potassium 176mg 5%

Total Carbohydrates 6g 2%

Protein 4g 8%

* Percent Daily Values are based on a 2000 calorie diet.
Please pin, tweet or share the recipe with others – delish!!