The rich indulgent mouth feel of chocolate is something you either love or truly adore. So with prediabetes and type 2 diabetes, you may be wondering, can chocolate still be a part of your diet?
The answer is YES!
As long as you get your facts about chocolate straight – which is what we're here to explore right now.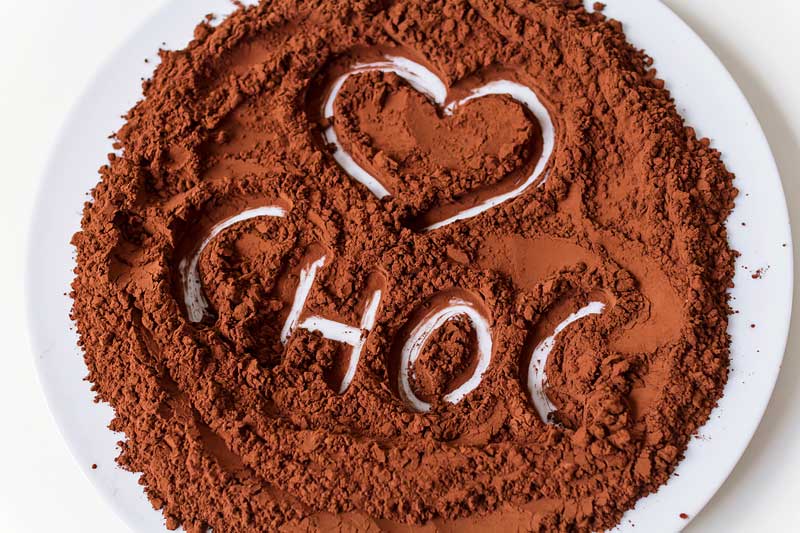 JUMP TO: What is chocolate | Chocolate nutrition facts | Chocolate types compared | Research on chocolate | Choc options & recipes | Wrap up
What is Chocolate?
We all know what chocolate is, but it doesn't magically grow in a nice shiny wrapper!
Chocolate is made from the seeds of the cacao plant. A plant that grows almost exclusively near the equator in South America.
Once harvested, the cacao seeds are processed into what we know as cocoa powder – the major component of chocolate.
Chocolate typically comes in three varieties:
Dark chocolate
Milk chocolate
White chocolate
Milk chocolate – arguably the most popular kind, as it's found in candy bars, cookies, and sweets. And it gets it's milky label because it's made by adding lots of cream and sugar during processing. 
Dark chocolate – tends to contain less milk and less sugar, making it taste more bitter. And for some, dark chocolate can be a bit of an acquired taste.
White chocolate – doesn't contain enough cocoa powder to be classified as a true "chocolate." White chocolate is made from cocoa butter, sugar, milk solids, and fatty emulsifiers. And it is an extremely sweet treat!
Nutrition Facts for Chocolate
Here are some general nutrition facts for a non-branded dark chocolate bar:
1 serve is 1 oz or 28 g.
Calories: 155
Total fat: 9 g
Total carbs: 17 g
Dietary fiber: 2 g
Sugar: 14 g
Protein: 1.4 g
Observe the amount of protein, fat and carbohydrates. It's easy to see that this dark chocolate contains more grams of carbs than anything else. And this is true for most chocolate – overall, chocolate is a high carb food!
If you're wondering where the fat content in chocolate comes from, it's the result of the cocoa butter it contains.
Cocoa butter is a vegetable fat extracted from the cocoa beans and added to the chocolate to give it that soft, melt-in-your-mouth texture.
Fortunately, there are different kinds of chocolate with varying amounts of carbs. So while some types may be off limits due to their high carb/ sugar content, other varieties may be just fine to enjoy!
So let's drill down and take a closer look at some of the options.
Chocolate Types Compared
Different brands of white, dark, and milk chocolate may all contain varying amounts of "added" sugar. But as a general rule, dark chocolate carries the least sugar.
White chocolate tends to have the most sugar and the least amount of cocoa solids (from the actual cacao plant), which explains why it's so sweet.
Milk chocolate is usually somewhere in the middle.
Here's a nutrition chart of generic chocolate compared. This is the average amount you can expect to find in your typical chocolate.

It's pretty easy to see that the majority of chocolate is a carb and sugar bomb that won't be helpful in your pursuit to manage blood sugar and A1c.
The comparison chart shows that the 70-85% dark chocolate bar has 8 g less carbs and about half the amount of added sugar. But, if you're sticking to a low carb diet, like we encourage you to do, the 22.9 g of carbs found in the 70-85% dark chocolate bar is still way too many carbs for one sitting.
However, the good news is, if you shop around you can find chocolate with less carbs.
Check out the following chart with a comparison of a few brands.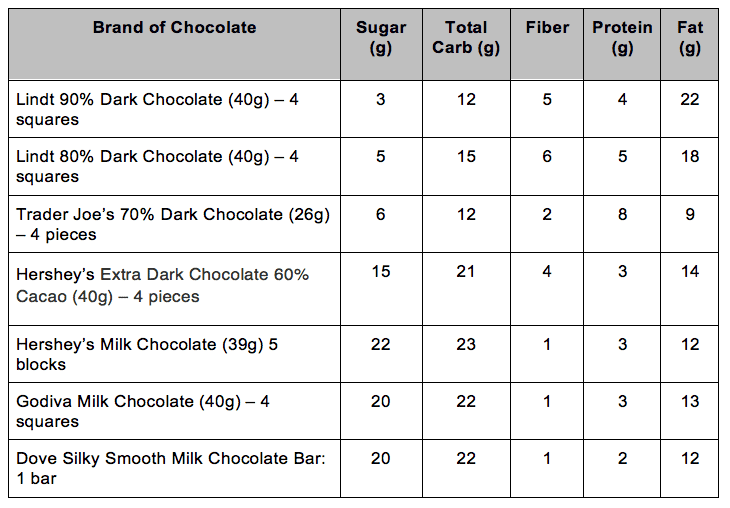 Again, you'll notice here that the darker the chocolate, the less sugar and carbs it will contain.
Then there's sugar free chocolates you can shop around for.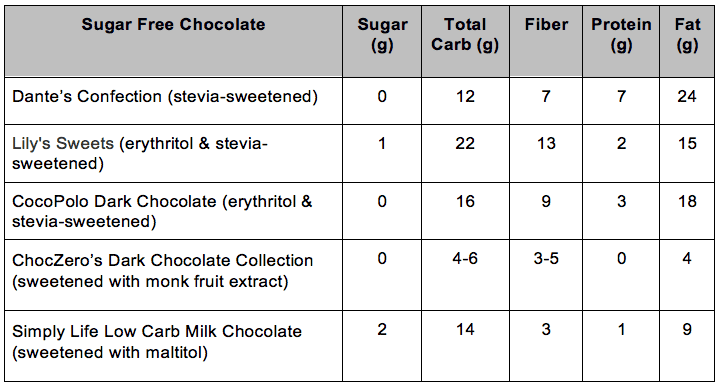 As you can see, if you shop wisely, sugar free options can dramatically reduce carbs and you can still enjoy your dose of chocolate.
The best sugar substitutes to look for are stevia, monk fruit extract, and the sugar alcohols xylitol and erythritol.
Even still, if you choose something like Lindt dark chocolate, you can still get away with a small indulgence from time to time. Just don't go too far and consume the whole bar, or your blood sugar will be sorry for it!
Please pin, tweet or share, then keep on reading.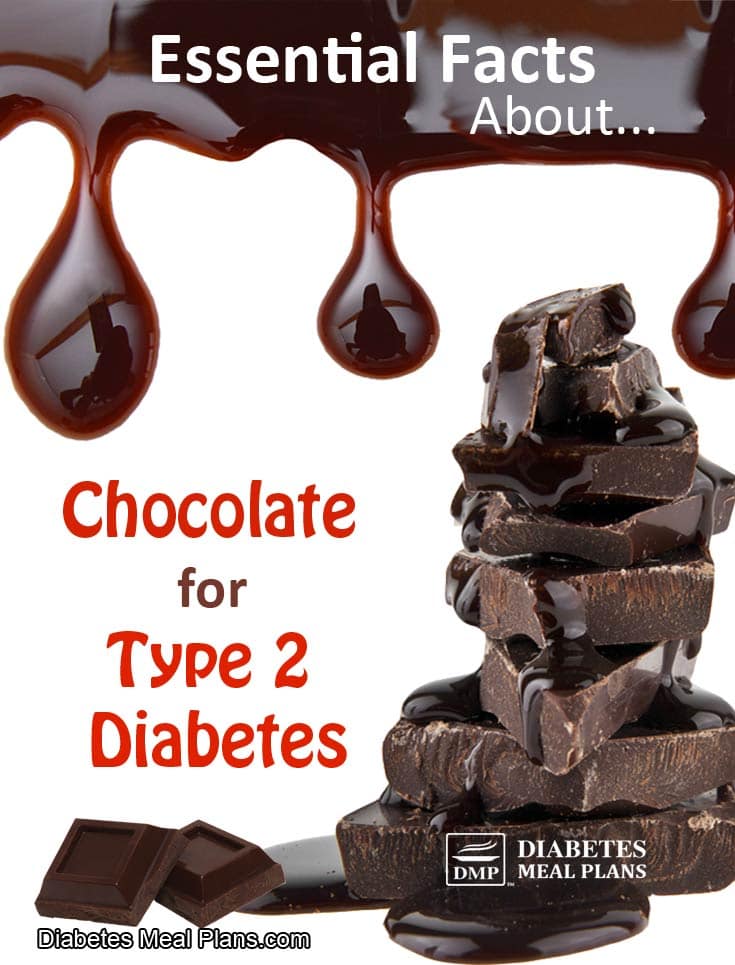 Research on Chocolate and Diabetes
In nature, cocoa is rich with bioactive compounds called flavonoids that are anti-inflammatory and antioxidant.
Most of the flavonoids are cooked out of products during processing, which means most milk chocolate bars are void of these compounds by the time they hit the shelves.
Luckily, some dark chocolate does contain active flavonoids. And according to research, these flavonoids have some great health benefits.
In one study, 28 healthy participants ate dark chocolate every day for a week, providing 700 mg of flavonoids per day. The results showed their LDL cholesterol levels fell by 6%, while HDL cholesterol rose by 9%. Interestingly, many of the female participants in the study had reduced levels of pro-inflammatory molecules, too.
Another study found that diabetic participants who consumed 25 g of dark chocolate every day for 8 weeks had reduced fasting blood glucose and A1C levels, along with reduced inflammatory molecules and significant decreases in both systolic (-5.93 mmHg) and diastolic blood pressure (-6.4 mmHg) by the end of the study.
The effects of cocoa flavonoids may be especially significant for type 2 diabetics because of their ability to increase insulin sensitivity.
In one study, hypertensive glucose intolerant participants consumed 100 g of flavanol-rich dark chocolate for 15 days. The results showed they had decreased insulin resistance, increased insulin sensitivity, and better beta–cell function compared to those who ate flavanol-free white chocolate.
Additionally, both the flavonoids and the small amounts of caffeine present in pure cocoa may have a positive effect on cardiovascular health.
A 2016 study found that cocoa can improve vasodilatation and blood flow, which is good for heart health and body wide circulation.
And in general, a greater intake of flavonoids has been associated with a more optimal body composition, decreased fat mass, and an overall anti-obesity effect.
However… just remember that the benefits come from the flavonoid-rich cocoa itself. 
So if you're going to eat chocolate, always choose dark chocolate for the health benefits – the higher the cocoa percentage, the more potential benefits you'll gain.
Other Chocolate Options & Recipes
Since cocoa is the "food" that offers up it's super powers in terms of health, consider making your own sweets with unsweetened cocoa powder.
Try to purchase a good quality Dutch cocoa powder. These tend to have a smoother, richer and less bitter flavor compared to the general unsweetened cocoa powder you find at the store.
Another trick is to purchase Chocolate Flavored Liquid Stevia Extract and use it to sweeten your chocolate desserts.
At my own family events, I've served up chocolate mousse, chocolate slice, and chocolate almond cookies and no one has known any different!
Here are a couple of sweet recipes you can try.
Chocolate Milkshake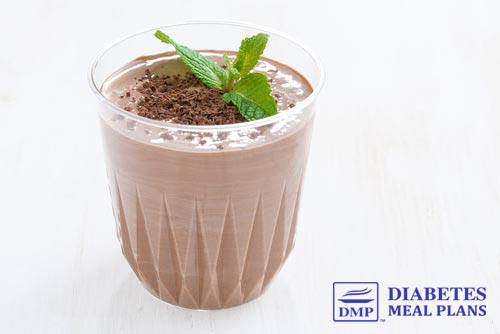 Low Carb Diabetic Chocolate Milkshake
Total Carbs:
11g
Net Carbs:
5 g
Blend everything together in a blender or food processor until smooth and creamy.

Pour into 2 glasses and enjoy.
Nutrition Facts

Low Carb Diabetic Chocolate Milkshake

Amount Per Serving

Calories 133

Calories from Fat 90

% Daily Value*

Total Fat 10g 15%

Cholesterol 6mg 2%

Sodium 31mg 1%

Potassium 439mg 13%

Total Carbohydrates 11g 4%

Protein 4g 8%

* Percent Daily Values are based on a 2000 calorie diet.
No-Bake Chocolate Pudding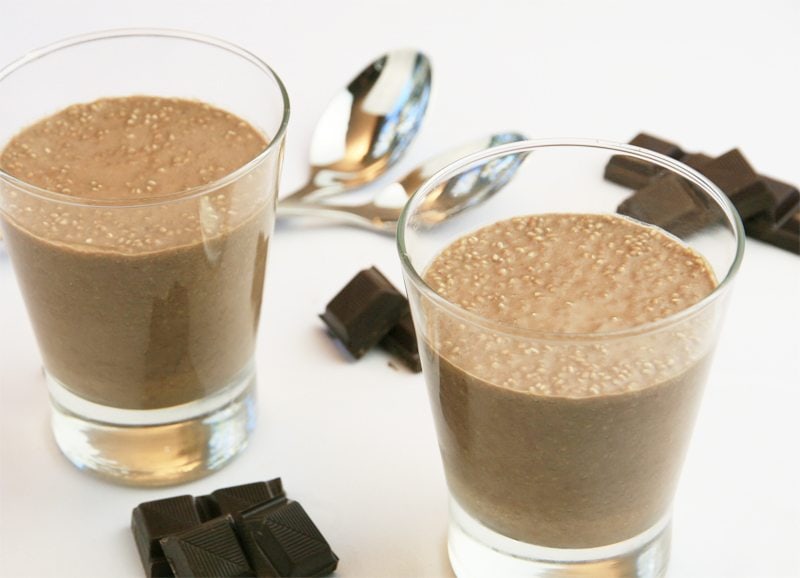 No Bake Diabetic Chocolate Pudding
This low carb chocolate pudding provides a delicately blended mix of healthy goodness that makes you discover the deepness of dark natural flavors.
Total Carbs:
17g
Net Carbs:
7g
Fiber:
10g
Calories:
302kcal
Put everything (except chocolate) into a food processor and blend for 1-2 minutes until smooth. You may need to use a spatula to scrape down the edges and then blend again.

Scoop into 2 serving glasses, and top with grated chocolate.

Refrigerate for at least 1 hour before eating.
These will keep in the fridge for 3 days.
Options:
Make it a peppermint chocolate pudding by adding a few drops of peppermint extract.
Add cinnamon or vanilla for a different flavor twist.
Be extra decadent with a dollop of whipped cream on top.
Nutrition Facts

No Bake Diabetic Chocolate Pudding

Amount Per Serving

Calories 302

Calories from Fat 243

% Daily Value*

Total Fat 27g 42%

Cholesterol 10mg 3%

Sodium 70mg 3%

Potassium 600mg 17%

Total Carbohydrates 17g 6%

Protein 5g 10%

* Percent Daily Values are based on a 2000 calorie diet.
So What's the Wrap Up?
One things for sure, skip the carb-heavy white and milk chocolates that don't offer you any nutritional value.
When it comes to eating chocolate on your low carb diet, either go dark or go home!
Shop for the lowest sugar, darkest chocolate option you can find. Or better yet, stick to unsweetened cocoa (a Dutch brand is the best flavored) and whip up your own chocolaty desserts.
Remember, the more cocoa content a chocolate or homemade dessert has, the more likely your body can acquire all those great health benefits mentioned above!