A1c…what is that anyway?? It sounds like some kind of strange disease doesn't it? But in fact it's just another way to measure blood glucose control.
What is a1c?
The a1c is short for Hemoglobin A1c, so you'll sometimes see it written as HbA1c as well. 
The A1c is a blood test that is done to reflect your average blood sugar levels over the past 2-3 months.
Hemoglobin is our blood, and a process called glycosylation occurs where sugars (glucose) in your blood stream attach to hemoglobin, the protein in red blood cells that carries oxygen. The average red blood cell lives for around 3 months, so when they are doing this blood test they are testing glycated hemoglobin.
What are normal a1c results?
The measurement that we get given from an a1c test is usually a percentage and it's expressed as the percentage of total hemoglobin.
The normal range is between 4-6%, so anything above those levels indicates there could be a problem.
How does a1c relate to blood glucose results?
Here is a chart that shows a rough estimate of how a1c and blood glucose relate to one another.
Image source
The benefits of an a1c test?
The benefit of measuring a1c is that it does give a more objective look at your blood glucose control because it can't be influenced by short term things like meal changes, infections, acute glucose changes etc.
So in this sense it's highly precise in providing some additional information to help you manage your blood glucose better.
Is the a1c test accurate?
There can be a 0.5%  variation in accuracy for test results.
For example, if your tests says 7%, it could be anywhere in the range of 6.5-7.5%.
Can you have a high a1c and normal fasting glucose?
Yes. You can have a high a1c and normal fasting glucose, or you might have a high fasting glucose and normal a1c.
This does sound strange but all tests are really just indicators, so if the results come back mixed, your doctor will probably send you for follow up tests just to see what's going on.
How do you lower a1c?
You lower your a1c the same as you lower your blood glucose.
Cut back on the carbohydrate foods by focusing on eating the right type of carbohydrates!
Exercise regularly
Live a healthy lifestyle
Yes, I know, you probably get sick and tired of hearing that stuff but this is not rocket science, it comes down to commitment, determination, and work (yes work). Eating well does take a little bit of focus but is well worth the effort for the great results you can achieve.
That's why we're here to help provide lots of food and meal planning inspiration!
Wishing you the best in health 🙂
P.S. You might also like to read:
Why is morning blood sugar high?
Newly Diagnosed? Tips to help you out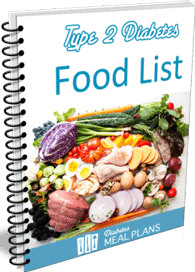 FREE DOWNLOAD
to grab your downloadable copy of our food list!