It sounds like some kind of strange disease doesn't it? But in fact it's just another way to measure blood glucose control and below we'll explain all about it.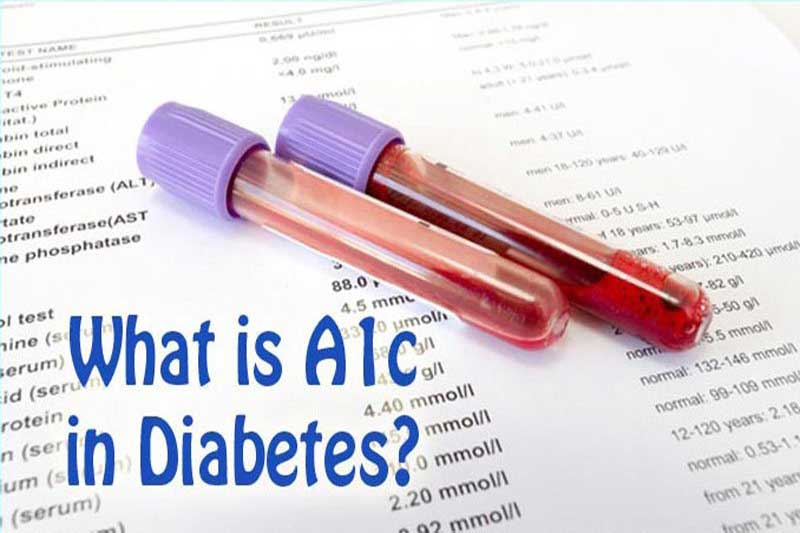 What Is A1c?
The A1c is short for Hemoglobin A1c, so you'll sometimes see it written as HbA1c as well.
The A1c is a blood test that is ordered by your physician to diagnose prediabetes and type 2 diabetes, or to assess how well you're going with your diabetes management.
The A1c test measures your average blood sugar levels over the past 2-3 months. The test results will be provided in a percentage (%).
Hemoglobin is our blood, and a process called glycosylation occurs where sugars (glucose) in your bloodstream attach to hemoglobin, the protein in red blood cells that carries oxygen. The average red blood cell lives for around 3 months, so when they are doing this blood test they are testing glycated hemoglobin – the amount of sugar/glucose that is attached (stuck) to the red blood cells.
What Are Normal A1c Results?
The measurement that we get given from an A1c test is usually a percentage (%) and it's expressed as the percentage of total hemoglobin.
The generally accepted target range for A1c worldwide is between 4-6%. However, to make things confusing, there is some variation.
For instance, the "normal" A1c in the US is under 5.7%, while the rest of the world is under 6%.
What this means is that if you live in the US and your test results come in over 5.7%, you will be diagnosed with prediabetes. While if you're in Canada, the UK or Australia, you will be diagnosed with prediabetes if your A1c is over 6%.
Diagnostic ranges for A1c test results
US
Under 5.7% is normal

5.7% to 6.4% prediabetes

Over 6.5% type 2 diabetes
UK, AUS, CANADA, etc
Under 6% is normal

6% to 6.4% prediabetes

Over 6.5% type 2 diabetes
It is ridiculous that levels are not set at a consistent level around the globe, but hopefully one day they will be, as there will be a lot less confusion for everyone.
If you have prediabetes, read more about A1c for prediabetes here.
How Does A1c Relate To Blood Glucose Results?
The American Diabetes Association now recommends the use of a new term in diabetes management called "estimated average glucose," or "eAG."
It's a way that health professionals can report an A1c result to you in the same measurements you're used to, either mg/dL or mmol/L.
Here is a chart that shows a rough estimate of how A1c and blood glucose relate to one another.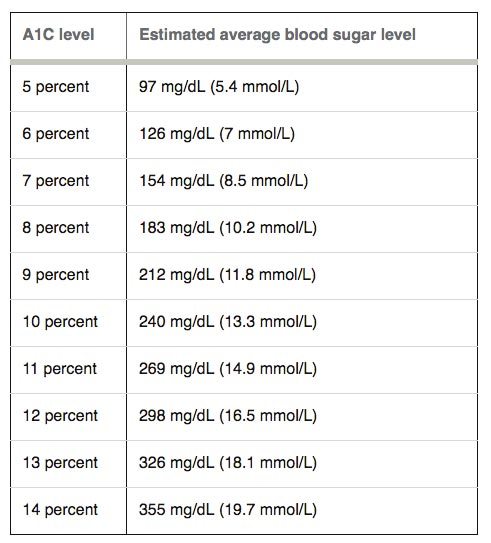 This chart gives you a general range to evaluate the average glucose levels you've been running at. For instance, if your A1c test comes back at 7%, your average level for blood sugar has been around 154 mg/dL (8.5 mmol/L).
It's not entirely accurate, just a general average because daily blood sugar levels do fluctuate, sometimes quite dramatically.
Benefits of An A1c Test?
The benefit of measuring A1c is that it does give a more objective look at your blood glucose control because it can't be influenced by short term things like meal changes, infections, acute glucose changes etc.
For instance, you might have a meal one day packed with high carb foods, which results in high blood sugar. Your day-to-day finger stick blood sugar monitoring can be influenced by this but your A1c won't. It is a reflection of the combined 2-3 months, which is why A1c tests are routinely ordered every 3-6 months.
With this in mind, an A1c test is more precise, providing valuable information to help you achieve better blood glucose control.
Please pin, tweet or share; then keep on reading.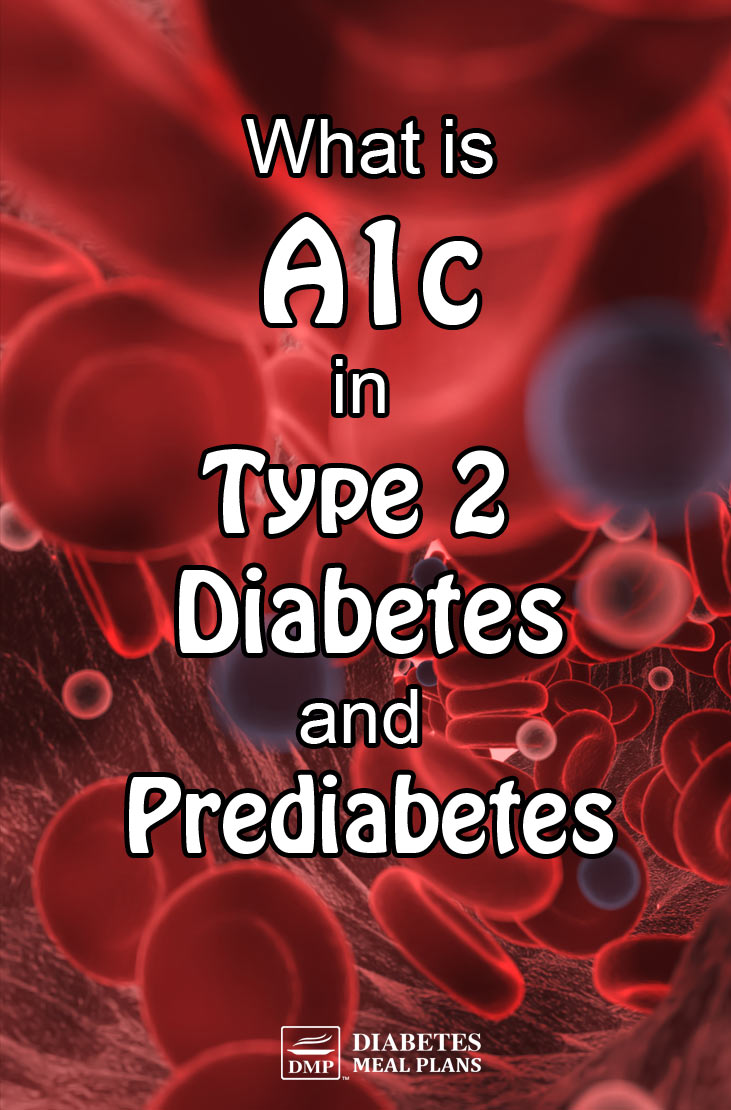 Is The A1c Test Accurate?
There can be a 0.5% variation in accuracy for test results.
For example, if your tests says 7%, it could be anywhere in the range of 6.5-7.5%.
Can You Have A High A1c and Normal Fasting Glucose?
While it's not usual, it is possible – you can have a high A1c and normal fasting glucose, or you might have a high fasting glucose and normal A1c.
This does sound strange but all tests are really just indicators, so if the results come back mixed, your doctor will probably send you for follow up tests just to see what's going on.
Is A1c Used To Diagnose Diabetes and Prediabetes?
Yes. It is commonly used alongside other blood glucose tests such as a fasting blood glucose test and/or a glucose tolerance test.
Why Is It So Important To Lower A1c?
High blood sugar levels (hyperglycemia), indicated by a high A1c, causes diabetes complications such as nerve damage (neuropathy), eye problems (retinopathy), kidney disease (nephropathy) and other things no one likes to think about.
Therefore, lowering blood sugar and A1c within a healthy range, is critically important to your health.
What Is My A1c Goal?
Overall it is recommended you try to reach an A1c that is within the normal healthy range of 4-6%.
However, organizations such as the American Diabetes Association, along with Canadian and Australian diabetes organizations recommend that for people with type 2 diabetes, keeping A1c under 7% is an appropriate goal.
Depending where your percentage is now, your physician or healthcare team may also set your A1c a little higher, such as 8%. If your A1c is over 10%, then 8% is certainly a great starting goal!
Overall, if your A1c is currently above 7%, try first aiming for 7%. Then once you get there, if you can, aim to bring it down within a normal range of 4-6%.
It can take a while to lower A1c levels, but it is entirely possible.
How Do You Lower A1c?
You lower your A1c in the same way you lower your blood sugar – through diet and lifestyle changes, and medication if necessary.
Eat a healthy low carb diet, cutting back on the high carbohydrate foods by focusing on eating

the right type of carbohydrates

Exercise regularly – at least 30 minutes most days

Live a healthy lifestyle – sleep well, stress less, meditate, engage in healthy behaviors, have fun

Take our 30 Day Turnaround Program or Join as a Meal Planning Member – many of our members have lowered their A1c levels back to normal, even after having type 2 diabetes for over a decade!
Gloria G shares:
"I wanted to share my great results having been on this plan for only one month. 3 months ago my A1C was 8.7 and my recent blood work showed it at 7.4. My endocrinologist was very impressed and thinks I will be at the target level by my next testing in 3 months."
Sheryl shares:
"After about 3 months on your plans, my doctor's report was best ever: A1c was normal for the first time since I was diagnosed diabetic in 2007! After one year I now am taking fewer medications and am maintaining an A1C of 5.8! Keep up what you do! You have earned my trust! "
Get proactive and you can also achieve the same A1c improvements many of our members see.
Changing habits can be challenging, but with a little commitment, determination, and work (yes sometimes it will feel like work), you can lower A1c levels.
The good news is, lowering your A1c levels is well worth the effort for the great health benefits you receive!