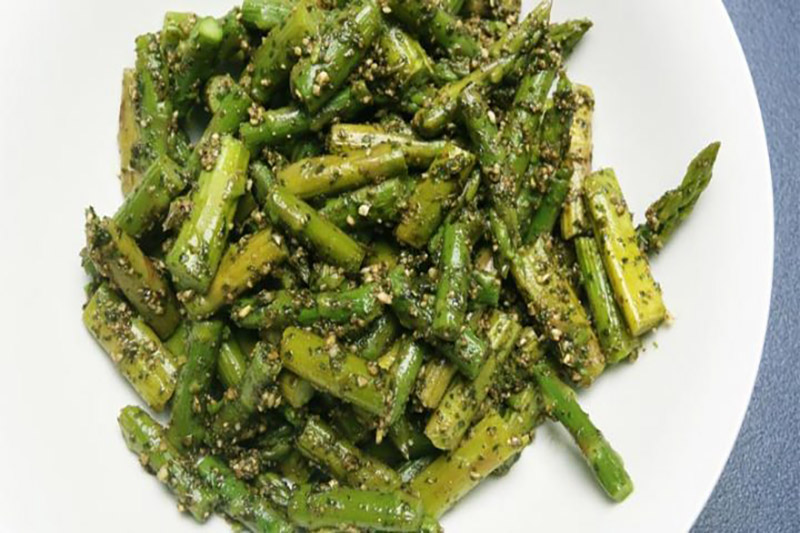 Asparagus is a jam packed with vitamins and minerals and a unique kind of fiber called inulin, which feeds the good bacteria in your gut. It's a great antioxidant food, it's anti-inflammatory. And best of all, it fits perfectly into a low carb diabetic diet!
This Pesto Asparagus Salad is fresh and incredibly delicious. It is made using our Homemade Pesto but you can equally use a store-bought pesto of your choice.
This salad can be served aside fish, chicken or your favorite meats. This veggie side dish also makes a great side for scrambled or fried eggs.
Don't be concerned about the higher fat content of this veggie side dish. The fat is from healthy fat sources – olive oil in the pesto (monounsaturated fat) and the pine nuts (polyunsaturated fat).
Recipe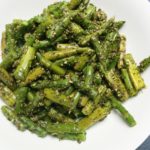 Pin Recipe
Pesto Asparagus Salad
This fresh asparagus dish is not only full of nutritional goodness but packed with naturally delicious flavor and the wonderful aroma of basil.
Ingredients
16

oz

asparagus

- equiv. to approx. 3 bunches

2

Tablespoons

homemade pesto

- or your bought selection
Instructions
Trim off the woody ends of the asparagus; chop into pieces and place in a steamer.

Steam for 5-7 minutes until soft and tender, but still a little crisp. You don't want them mushy.

Take off the heat and allow to cool a little.

Stir through the pesto and serve as a side dish to fish, chicken or your favorite meats.
Share by Email
Share on Facebook
Share on Twitter
Pin Recipe
Kitchen Essentials
When it comes to steamers, you have a choice between electric steamers or a standard tiered steamer. Both do the job effectively.
You'll need a colander for washing, draining or cooling items. A set of sharp knives are always a must. And a selection of wooden spoons are constantly used items.
Please pin, tweet or share this recipe. Your friends and family will love it!
ENJOY!
Subscribe for Weekly Nutrition Tips & Recipes