What if I told you there were billions of bugs crawling around inside of you?
If that idea creeps you out, I regret to inform you that for every one of your human cells, there are about 10 of these bugs or "microorganisms" co-existing with you!
These microorganisms (collectively known as the "microbiota," "mircobiome," "gut bacteria" or "gut flora") consist of bacteria, viruses, yeast and archea and weigh about 2-3 kg. And, they are absolutely essential for our survival and well-being.

In fact, this could be the biggest diabetic diet secret yet because science shows that our gut bugs have everything to do with our health, and in helping (or promoting) insulin resistance, weight, inflammation and various other conditions, too.
So let's find out more about them.
The Role of the Microbiota
These microorganisms reside primarily in our gastrointestinal (GI) tract–that is the long tube that extends from our mouth to our colon–the most prominent area being the intestines.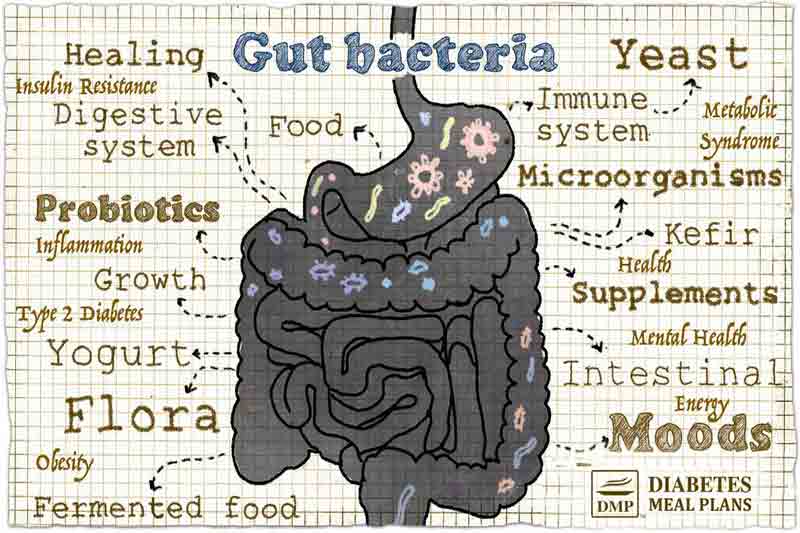 Our GI tract is where we absorb most of our nutrients. Collectively the gut flora is considered by some to be an "organ" itself because of the crucial functions they perform:
Protecting us from pathogens (disease causing organisms)

Aiding in the development of the immune system (maintaining health against infectious disease)

Helping to metabolize drugs (or "detoxify")

Synthesis of vitamins and minerals (breaking them down into a form we can use)

Modulating release of digestive hormones (including insulin!!!)
Playing a key role in extracting calories from food (an imbalance in gut flora can cause a person to extract more calories than normal from a given food, leading to weight gain)

Regulation of mood and behavior
You'd have to agree that's a lot of functions for gut bugs we barely know exist. But they are there. And they are very busy!
What is "Dysbiosis?"
Dysbiosis simply means there is an imbalance in the body with regard to these microorganisms.
Here's how it works.
There are several types of gut flora, but for simplicity sake, let's just narrow it down to three simple categories:
"Good guys" – these gut bugs work to promote health in the ways described above.
"Neutral guys" – also called opportunistic, in that they can become helpful or harmful.
"Bad guys" – these gut bugs have the counter effect of diminishing health and increasing our risk of disease.

All of these gut bugs coexist together.
Think of it like any society that has some friendly people, some neutral people who like to keep to themselves, and some disgruntled people…and even some violent people.
Now any society can tolerate a few disgruntled or violent people–the friendly people and law enforcement will keep them in check. But, what happens when the violent people start outnumbering the police?
Bingo.
You have a society where people are oppressed, living in fear and hurting one another, bringing down the society as a whole.
This concept is the same with our gut bugs, we all have a mix of friendly, opportunistic, and pathogenic gut flora. When they are in balance, they can live in harmony. But different things in our life – stress, diet, lifestyle – can influence the gut bugs so the bad guys grow in numbers.
This is dysbiosis – it simply refers to an imbalance.
The key is that we want to minimize the pathogenic (bad) gut bugs, and maximize the friendly gut bugs so we can optimize our health.
What We Know about the Microbiome
Not Enough!
This is still an evolving field of study and it's not simple.
For every one of our genes, there are 100 more bacterial genes. Many researchers including the Human Microbiome Project are working diligently to map the sequence of the human microbiome in hopes of better understanding how to apply the facts we're learning about gut health.
Science has revealed at least 1,000 known species and has 3.3 million categorized. In fact, there are several places where you can order a kit to have your microbiome mapped for a pretty affordable price, such as Ubiome or The Human Food Project.
However, it's important to remember that we are still on the fringes of understanding how to interpret or apply this information.
Our Gut Bugs Are Always Changing
A fetus has a completely sterile gut (ie. no bugs). When someone is born via natural delivery, they (warning, this might sound a little gross) swallow some of the vaginal fluid, which inoculates them with whatever microbiota was present in the mother. So here we see that a healthy mother giving birth naturally is optimal for babies gut health. Additionally, breastfeeding is shown to provide the best initial food for early gut health.
If a person is born via C-section, was bottle fed, or had a mother with a poor and unvaried diet, they are more likely to suffer from complications originating in the gut. These complications may include issues with immunity, hormonal balance, vitamin/mineral synthesis, inflammation, metabolism, and includes obesity and type 2 diabetes.
One third of our gut bugs are common to most humans – meaning we all have the same varieties. Then around ⅔ are unique to each individual, which is really quite remarkable!

Our Gut Bugs are Linked with Insulin Resistance and Obesity
Yes, those gut bugs we rarely think about are directly linked to both insulin resistance and obesity, as well as a host of other chronic inflammatory health conditions and psychological diseases such as depression and anxiety.
Studies have shown after fecal microbiome transplants (yes that is exactly what you probably think it is – a poop transplant!) from lean healthy donors to obese people, resolves insulin resistance and normalizes weight. Quite incredible really.

Diet and Lifestyle Makes a HUGE Difference!
Diet and environment play a huge role in the makeup of our microbiome.
Western diets high in sugar and refined oils and low in vegetables are linked to gut dysbiosis – an imbalance in your gut bacteria, which can negatively impact your health.
What this means is that the epidemic of obesity, type 2 diabetes, cancer and other diseases is no doubt directly linked to changes in our gut bacteria.
And what we do know is that diet definitely does influence your gut bugs in a positive way.
One study looking at a low carb, higher fat diet (35%, 22% from monounsaturated fat, mainly olive oil) compared to a low fat diet found that the diet did change the gut bugs and had a protective effect against type 2 diabetes. Another study has shown that weight loss changes the gut flora.
Also, decreased diversity in gut flora has been shown in the elderly, likely related to tendency toward monotony in the diet, which is a good reason to eat a wide variety of foods – especially vegetables!

The point is, your diet and lifestyle makes a huge difference.
Please pin, tweet or share this post, then continue reading. 🙂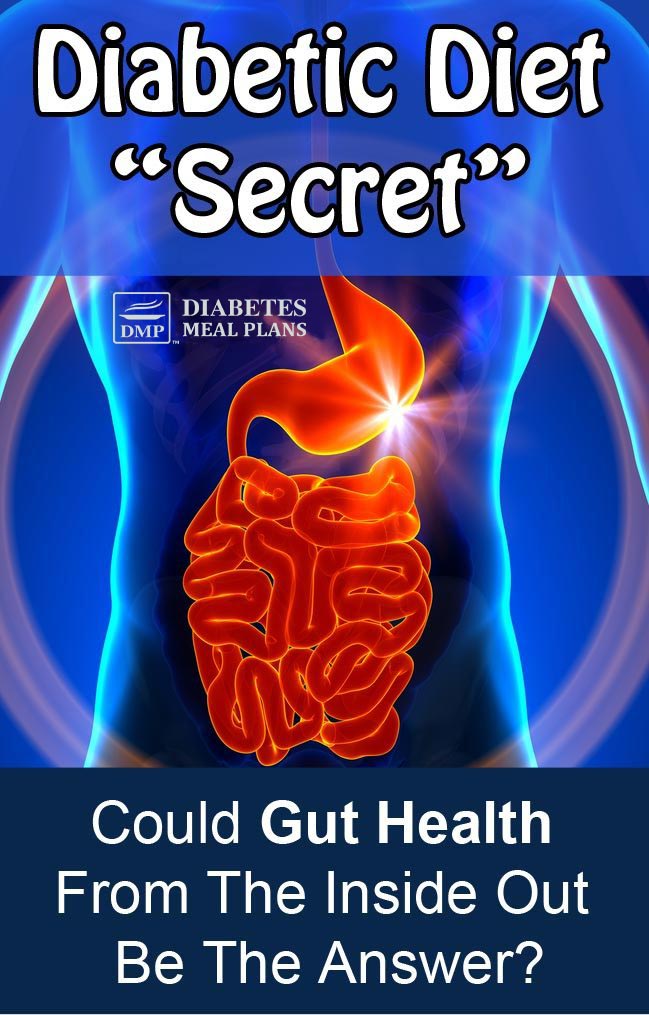 What You Can Do to Improve Your Gut Health
Take Probiotics
Probiotics = "for life."
Probiotics are found in fermented foods as well as supplements. Probiotics are the healthy bacteria that keep the bad guys at bay and encourage the good guys to grow.
Examples of good probiotic sources include: yogurt, sauerkraut, kimchi, kefir, and tempeh (fermented soybeans). Keep in mind that probiotics die over time and increasingly with exposure to light and heat.
So canned sauerkraut will not provide the same health benefits as if you make it yourself. This last point is key to keep in mind regarding supplements as well.
Choosing a good probiotic supplement
A good probiotic supplement should be refrigerated or freeze dried and come in an opaque or blister pack package. Look for one with several different strains and billions in terms of number present. Be aware that dietary supplements are not regulated by the FDA.
Here are our top 3 Amazon probiotic picks:
Prebiotics
Prebiotics are another set of helpful items that encourage the growth of the good guys.
According to Monash University, "To be classified as a prebiotic, the fibre must pass through the GI tract undigested and stimulate the growth and/or activity of certain 'good' bacteria in the large intestine."
Monash University also state that prebiotic fibers have many health benefits including, "modulation of the gut microbiota, improved mineral absorption, possible protection against colon cancer, improved blood glucose and insulin profiles, protection against intestinal infections and alterations in the progress of some inflammatory conditions."
Prebiotics are found in high fiber carbs that help fuel good bacteria.
Examples of prebiotic food sources good for diabetics include:
Jerusalem artichokes

Chicory


Green peas

Sugar snap peas (snow peas)

Leeks

Onions

Shallots and spring onions
Dandelion greens
Savoy cabbage
Fennel bulb
Beetroot
Cashews
Pistachio nuts

Garlic

Beans and legumes (1/4-1/2 cup per serve only) – chickpeas, lentils, red kidney beans, baked beans, soybeans

Oats – but be careful here, many diabetics can't eat oats and oatmeal
Keep in mind that some of these choices are higher in carbs than others (mainly oats, beans and legumes), so be cautious of the total carbs you're eating.

Minimize Antibiotics
(and avoid when unnecessary)
Antibiotics means "anti life."
In other words they are killing bacteria, viruses etc and do so indiscriminately…that is, they kill the good guys along with the bad guys!
When a person has a legitimate bacterial infection, antibiotics may be necessary to kill off that infection. However, they are also notoriously over prescribed, which has given rise to antibiotic resistance and the need for stronger and stronger medication, as well as wiping out our healthy gut bacteria.
You don't need antibiotics for a common cold or many other ailments, so try to avoid them unless absolutely necessary.
Eat a Healthy and Varied Diet
Consuming a healthy diet consisting of a large variety of non-starchy vegetables, healthy lean protein choices, moderate amounts of healthy fats, as well as healthy carb sources.
Minimize highly processed foods and sugar – most important.

The more you can stick to a natural whole foods diet, like the one we promote here, the better your gut bugs and health will be!
And, be sure to get exercise daily and minimize stress – yes, these aspects have also been shown to influence our gut bugs.
Download our freebie pack while you're here. It's got our recommended list of foods to help encourage good gut bugs, lower blood sugar, and better overall health!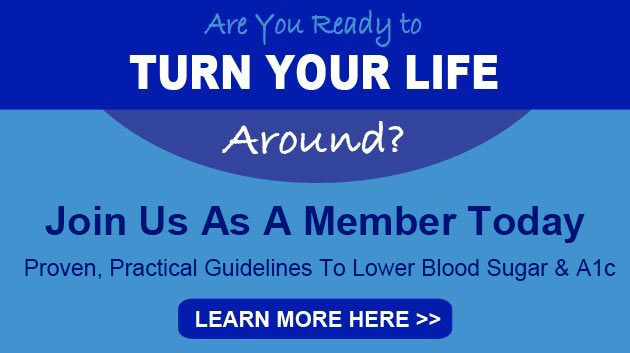 Save