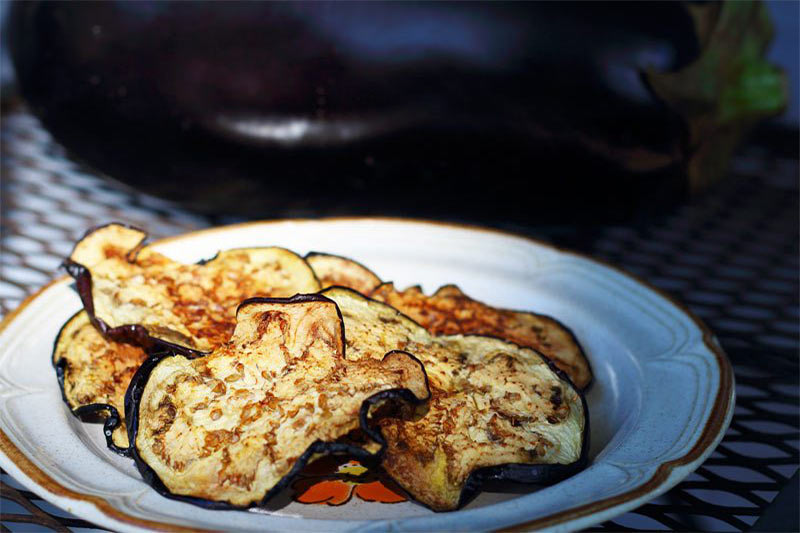 There is just something about the combination of salty, crunchy, and savory that makes our taste buds tingle.
Unfortunately though, chips are a high carb simple carbohydrate (potato or corn) that has been deep fried in some sort of hydrogenated oil – aka inflammatory trans fat, bad, bad oil, with all sorts of chemicals to preserve them for months on end. Not a good snack choice!
And don't be fooled by those 'veggie' chips' that claim to be healthier. The first 2 ingredients are potato flour and potato starch and they have more sugar than veggies!
So what are you to do when you get that salty, crunchy craving?
One option is to try our Crunchy Kale Chips. The other is to make these delicious eggplant chips.
Eggplant is a wonderful low carb veggie with a firm, hardy texture, and thankfully it lends itself well to chips!
Plus you can bake them in a healthier oil like olive oil (and use a minimal amount). And the best part – no chemicals and preservatives! Of course, they won't last long like chips you'd buy on the shelf, but I don't think this will be a problem as you will probably devour them in a single sitting!
Eggplant chips make a great afternoon or evening snack when you get that nighttime hunger. And they substitute well for chips or popcorn during movie time.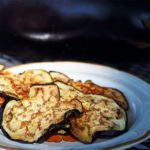 Pin Recipe
Diabetic Snack: Eggplant Chips
Eggplant is a wonderful low carb veggie with a firm, hardy texture, and thankfully it lends itself well to chips!
Ingredients
1

large

eggplant

Olive oil spray

- just enough to mist the surface

2

teaspoon

sea salt
Instructions
Preheat oven to 350° F / 180 °C.

Slice eggplant very thin - this is the trickiest part. If you have a mandoline, definitely use it. If not, do the best you can to get thin (⅛ in) uniform, consistent slices. If they are too thick, they won't crisp up.

Sprinkle with sea salt and let them 'sweat' (draw out water) for about 30 minutes. Take some paper towels and soak up as much water as you can (this step is not necessary, but the less water, the easier they will crisp up).

Spray a baking dish with the cooking spray - alternatively you could line the pan with foil or parchment paper and spray that for easier clean up as some of the gooey middle might stick - and place the eggplant slices on the pan being careful not to overlap.

Lightly spray the tops and sprinkle with spices of your choice.

Bake for 20 minutes, then flip slices and bake an additional 10-20 minutes or until they begin to brown and curl up. They should be starting to harden a bit, and may still feel a little soft, but will crisp up very nicely a few minutes out of the oven.
Notes
This is just the base recipe. I highly encouraged you to experiment with different herbs and spices to your preferences. I personally like a bit of heat, but perhaps you are more an onion/garlic kind of person. Spices provide a host of health benefits and don't alter the nutrition content (ie carbs, calories etc) negatively.
Add other seasonings as desired: rosemary, garlic powder, pepper, paprika, parsley, oregano, turmeric, ginger etc
Every oven cooks a bit differently. If you have problems with sticking or burning, you might try reducing the heat and baking them for longer.
Additions:
An alternate way of doing these is in a dehydrator if you have one. The nice thing about the dehydrator is that it induces crispness through extracting water rather than adding heat. So you don't need to use oil as they won't stick and they will last longer if sealed and kept in an airtight container, since the moisture has been removed. I've dehydrated chips and they've stayed crisp several months in mason jars!
Storage:
Chips should be eaten immediately or stored airtight for a few hours. They will likely be soft the next day depending on how much moisture has been baked out. If prepared in a dehydrator they will last much longer!
Share by Email
Share on Facebook
Share on Twitter
Pin Recipe
Kitchen Tools
Using a mandoline to get an all round even thin slice is a great way to go with this recipe. And if you have a food dehydrator, you can make all sorts of chips that really crunch and store much longer, too.
And of course, you can't go past a good sharp knife and your trusted baking sheet set!
Please pin, tweet or share this post.
Please pin, tweet or share this post.
Subscribe for Weekly Nutrition Tips & Recipes
Save