When it comes to carbohydrates it can be confusing, right?
You might have heard of complex carbs, that sugar is a carb, and glucose…is that the same as sugar, and what is a simple carbohydrate exactly?
Yep, the carbohydrate category of foods is the most difficult one to get your head around. But as a diabetic it is necessary to understand the different types of carbohydrates so you can keep your blood sugar in a healthy range.
So let's delve into simple carbs and learn more about it.
Want more blood sugar friendly information?
Click Here to Subscribe
– we'll keep in touch with nutrition tips, recipes and health updates.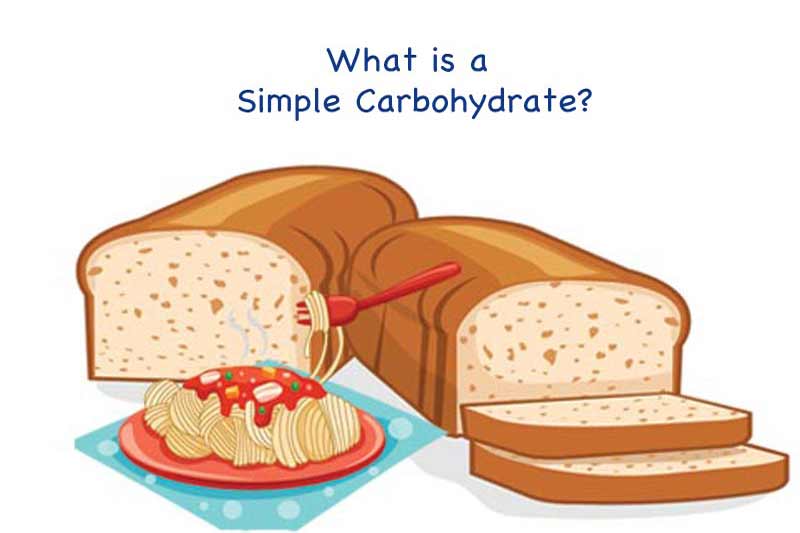 All Carbs Are Glucose AKA Sugar AKA Carbs
All types of carbohydrates provide energy to the body in the form of glucose. Glucose is also known as sugar and carbs as well. That's why you'll often hear people talk about sugar even when they might be talking about things like rice or bread. Or they might refer to them as carbs. Glucose/ sugar / carbs are essentially all the same thing.
However, there are different sources of carbs and what makes them different is that they are all made up of different chains of sugars.
Simple carbs are short chains of sugars, so in nutrition terms these are called monosaccahrides, which include glucose, fructose and galactose – these are just a single chain chemical structure, and disaccharides, which include sucrose, lactose and maltose – disaccharides have a double sugar chain chemical structure.
So why is this important to understand?
As Diabetes UK simply puts it: "The difference between a simple and complex carb is in how quickly it is digested and absorbed."
You see, it's the chemical structure that makes all the difference to how fast a carbohydrate is absorbed into the bloodstream.
The Type Of Carbohydrate You Eat Is The Single Biggest Influencer Of Blood Sugar Regulation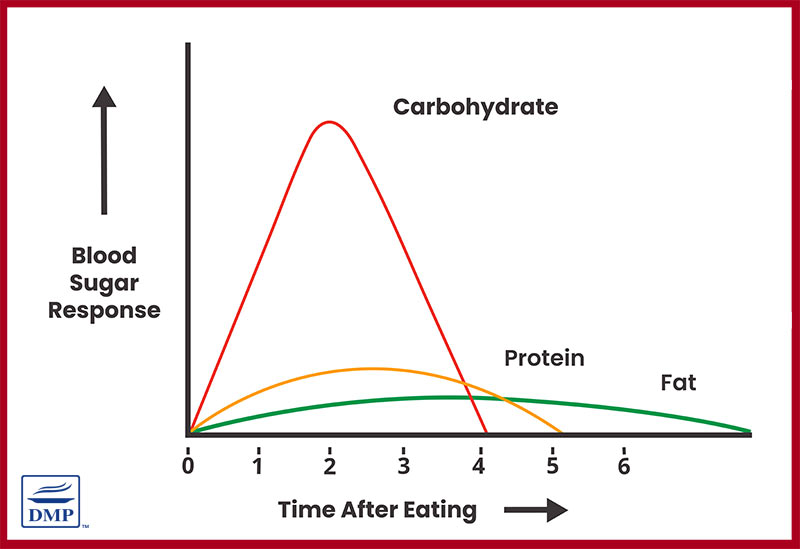 As a diabetic you may already be aware that when you eat carbohydrates your blood sugar rises, and if you didn't know that, you do now. Other things also influence blood sugar, but carbohydrates have the single biggest influence on blood sugar levels, and both the quantity of carbs and the type of carbs you eat are very important.
Our body is designed to keep our blood sugar within a tight range that's best for our health. So when our blood sugar rises, this stimulates the pancreas to release insulin, and insulin helps the body to deal with the carbs and bring the blood sugar down. That's the simple process of blood sugar regulation.
We're not going to go into the whole concept of insulin and blood sugar now, we'll leave that until another time. The important thing to remember here is that when you eat carbs your blood sugar rises, more than when you eat other nutrients like protein and fat, and this activates insulin, but your blood sugar rises in varying response depending on the type and the amount of carbohydrate you eat.
So let's get back to simple carbohydrates.
What Is A Simple Carbohydrate?
So we've got simple carbohydrates or simple sugars, remember they are the same thing.
Simple carbohydrates are short chains of glucose and these types of sugars uptake into your bloodstream very quickly without the need for much digestive processing.
So when you eat simple carbs, they quickly absorb across the small intestine and into your bloodstream. You've probably felt the effects of eating some chocolate or having a soda. Simple sugar is often what we reach for to get fast energy, and that's why it does give us fast energy, because it uptakes quickly into the bloodstream quickly to provide that immediate energy.
Although that might sound like a good thing, these are the type of carbohydrates you want to steer clear of because they are going to make it difficult for you to regulate blood sugar and A1C levels. Remember, our body likes to keep our blood sugar in a tight range that's best for our health.
So overall what you need to know about simple carbs is that they are the type of carbohydrate you want to avoid or at least eat in small portions and only occasionally.
But let's get down to the more practical stuff shall we.
Examples Of Simple Carbohydrate Foods
Take a look at this list to see some examples of simple carb food sources.
Simple carbohydrates
Sugar – all types including raw sugar, white sugar, brown sugar, castor sugar.
White sugar
White flour
White bread
White pasta – lots of products are made with refined white sugar and flour
Soft drinks & sodas
Energy drinks
Fruit – yes that's right, fruit is a dissacharide and is a simple sugar that will impact blood sugar levels
Fruit juices – even homemade ones, it's a common misconception that these are healthy
Many cereals – instant oatmeal, cherrios, fruit loops, nutrigrain
Many crackers – these are frequently made with refined white flour
Many sauces and condiments – even things you wouldn't consider to have sugar often do have lots of sugar contained in them, for example salad dressings, jarred savory sauces like a satay sauce, ketchup and so forth
Processed & packaged foods – lots of products are made with refined white sugar and flour – meaning they are high in simple carbohydrates and not good for your blood sugar levels
Ice creams & popsicles
Cakes & cookies – often made with white sugar and flour
Pies – the crusts are often made with white sugar and flour
Natural sugars like honey, molasses, and maple syrup
Candy bars
Pizza – the crusts are often made with white sugar and flour
Jams & jellies – full of refined simple sugar
Chocolate – if you're going to choose a chocolate, choose a very dark chocoalte
Milk & yogurt – predominantly lactose, which is a disaccharide simple carb
Breaded or battered foods
Corn chips and crisps
As you'll see from this list, we can find simple carb sources around us everywhere, which is part of our rapid health decline. Our bodies simply aren't designed to consume them in the quantities we do.
It might sound like the end of the world to hear so many foods you may enjoy on this list. But there are ALWAYS options and alternatives, one's much healthier for us to eat and we'll be covering these in a future post.
Decoding Food Labels For Simple Carbs
It's best to stay away from processed and packaged foods as much as possible, but let's take a look at some food labels together so you can learn how to decode them.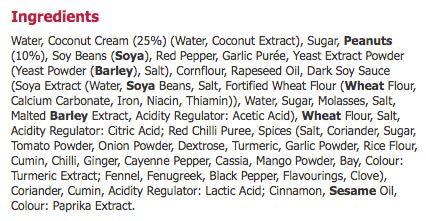 This product contains several simple carbohydrate sources, as would be expected from a confectionary. Sugar, wheat glucose syrup, thickener (wheat starch), apple juice concentrate – these are all simple carbs. So this is one of those products best avoided. This is the ingredients from Trader Joes peanut satay sauce. Overall this is a reasonable choice as far as peanut satay's go (some have loads of sugar). This one has got honey and a little sugar in the fish sauce, but it's not loaded with sugars and is just 2 g carbs per serve. Compare the Trader Joes above to this Sainsbury's peanut satay and we will notice a BIG difference. Look at the long line of ingredients! It is double the carb count at 4.8 g carbs per quarter pot. And for simple sugars we have sugar, cornflour, fortified wheat flour, wheat flour, more sugar, molasses, malted barley extract, more wheat flour, dextrose, rice flour, mango powder – these are all different names for simple sugars/ carbs.
The Short Recap on Simple Carbohydrates
A simple carbohydrate is a short chain of sugar that doesn't require digestive processing. This means it uptakes into the bloodstream quickly and can cause higher spikes in blood sugar compared to other carbs. For best health and blood sugar regulation, simple carbs are best avoided.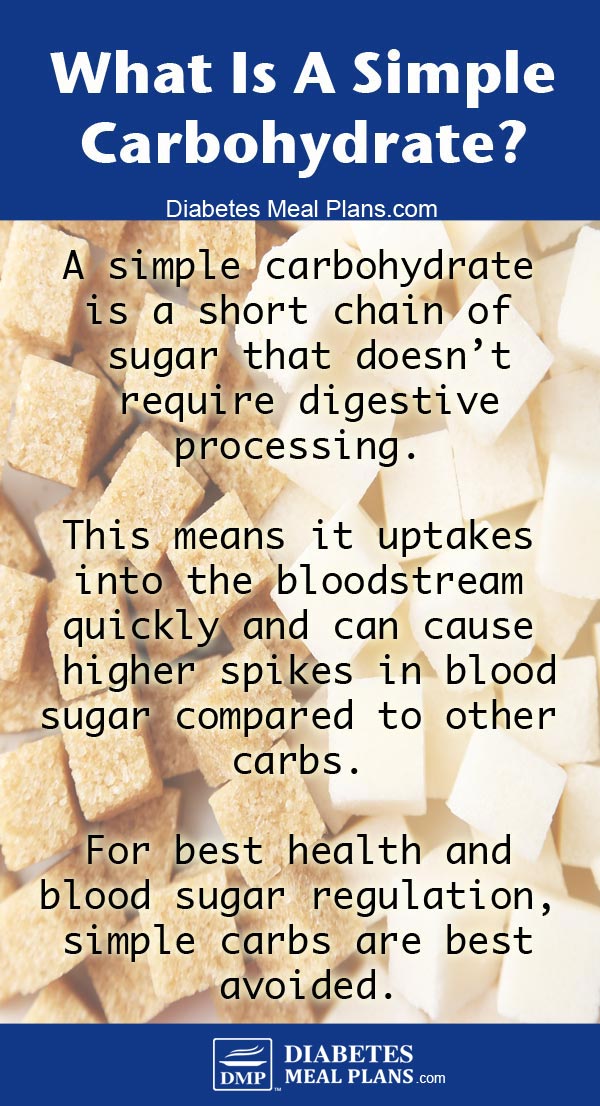 Please pin, share, or tweet this info to help others – thanks 🙂