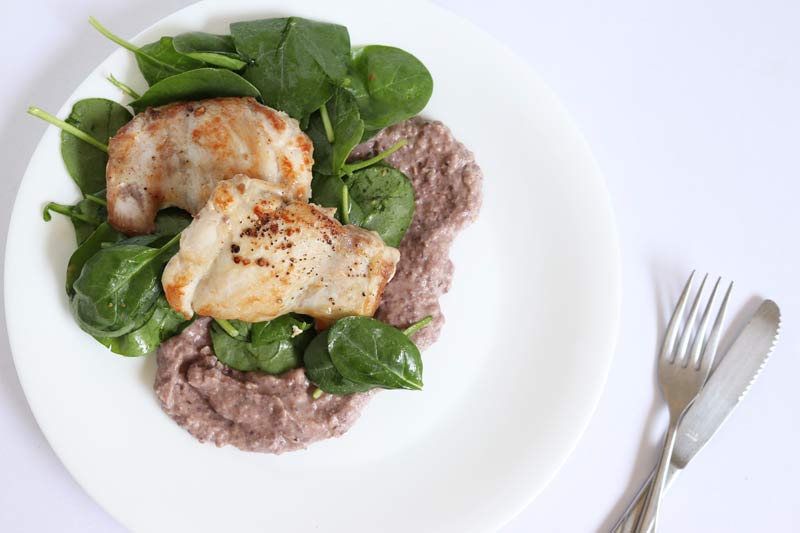 A meal doesn't need a lot of ingredients to be super tasty. In fact just 5 main ingredients is all you need for a sensationally satisfying meal.
DMP have created hundreds of 5 ingredient meals for our members. These exclude a few staples such as oil, salt, pepper, vinegar and lemon. As you can see by the recipe below, we've included 5 deliciously simple ingredients.
Boneless, skinless chicken thighs are simply fantastic when pan fried. All they need is seasoning with salt and pepper on both sides and cook until crisp for a fantastic tasty protein source. If you don't like chicken thighs, you can use chicken breast. And if you have no chicken on hand, this meal will work well with fish, beef or pork too.
Olives are full of monounsaturated fat, which is a great anti-inflammatory and helps provide a feeling of fullness. We've used kalamata olives but you could also use green or black olives although the flavor will be different, it will still be delicious.
Cannellini beans provide a source of carbs and fiber. When it comes to beans and diabetes, a little is all you need and when combined with the olives in this dish, it makes a flavorful paste (mash) that is great for dipping the chicken and greens. If you don't have cannellini beans other choices could be chickpeas or red lentils.
Cream – just for that beautiful mouth feel and flavor. If you don't have cream, cottage cheese or plain Greek yogurt would work as a replacement. 
And some greens to kick up the nutrition value of the meal. We've used baby spinach but any greens could be used.