Beans and legumes are claimed to be a good source of dietary fiber and protein for anyone wanting to follow a low glycemic index diet.
And because they are fat-free, they are often touted to be beneficial for heart health. But when it comes to diabetes control, what many people don't realize is: legumes and beans are also packed with carbohydrate.
While they are a staple foods in many cultures all around the world, they are often a point of confusion when it comes to blood sugar regulation in diabetes. We're here to clear up those confusions.
Legumes are top source of protein for vegetarians and vegans, but many people who consume meat also enjoy the benefits of this diverse food group.
The most common legumes are beans like black, pinto, or red kidney beans, as well as lentils, and soybeans. Other types of beans include garbanzo beans (chickpeas), pinto beans, lima beans, mung beans, and adzuki beans.
So are legumes and beans a good or bad food for people with diabetes?
Here are some pros and cons:
Pros of legumes and beans:
They are high in dietary fiber
They are rich in micronutrients (potassium, zinc, iron, folate, phosphorus, and magnesium)
Adding legumes and beans keeps your diet versatile
Legumes like lentils and beans are very affordable protein sources
Cons of legumes and beans:
They are higher in carbohydrates than protein from meat and dairy
They contain anti-nutrients that limit absorption of minerals
So, while there are reasons to love legumes, the important thing to consider is their carb content, which for many people with diabetes, can cause unnecessary blood sugar spikes.
Legumes and Beans vs. Meat: Which is Healthier?
The carbs found in beans and legumes are complex carbs.
Unlike the simple carbs found in white bread and sugary soda, the complex carbs found in legumes affects people with diabetes in different ways.
In many people they won't cause a massive spike in blood sugar because the fiber slows down the absorption of glucose during digestion. However, in other people, the high amount of carbs they contain causes a negative influence.
To get some idea of their nutritional content, look at the chart below.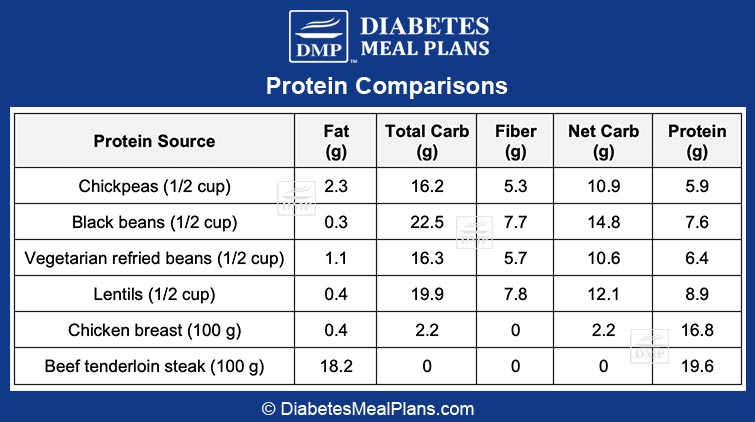 The main selling point of beans and legumes is their high fiber content.
Most people don't get enough fiber and including legumes in your diet alongside plenty of green vegetables is an excellent way to add to your daily fiber count.
People with diabetes benefit from a high fiber diet because fiber contributes to blood sugar regulation and it promotes healthy digestion. You should aim for 30-35g of fiber every day.
The large amount of fiber found in lentils and beans works to blunt the blood-sugar-spiking effect of the remaining carbs, but that doesn't mean that you should go wild and eat piles of legumes at every meal.
It's wise to keep your serving sizes small when dealing with higher carb foods, even if they are complex arbs like legumes. A half a cup of beans is plenty for one sitting, so there is no need to go overboard.
The ideal diet for managing type 2 diabetes is well rounded and draws from many different sources of protein and fat (while minimizing simple carbs, of course!)
Unlike most higher carb foods, legumes do not seem to have a negative impact on blood sugar control and the research confirms this. Let's see what is has to say…
Research on Legumes and Type 2 Diabetes
In a 2006 study, type 2 diabetic participants were required to eat either a low fat vegan diet or a diet that followed the standard American Diabetes Association (ADA) guidelines for a period of 22 weeks.
At the end of the study 43% of the vegan group had reduced their medications, compared to 26% in the ADA group. A1C was lowered by 0.96% in the vegan group compared to 0.56% in the ADA group and weight loss was 14.3 pounds (6.5 kg) in the vegan group compared to 6.8 pounds (3.1 kg) in the ADA group.
Not only do legumes contain a bunch of fiber, but they also have a low glycemic index (when compared to other carbohydrates) which aids in stabilizing blood sugar.
This is one reason why eating legumes didn't cause high blood sugar in the diabetic participants in these studies. In fact, swapping out meat for legumes may even promote better blood sugar control as seen in a study from 2015.
In this study, 31 diabetic participants were assigned either a legume free diet (that relied primarily on meat for protein) or a diet that included a mixture of both meat and legumes for 8 weeks. Those on the legume-inclusive diet were instructed to replace two servings of red meat with legumes for a total of 3 days per week.
After 8 weeks, the diabetics in the legume-inclusive diet had lower fasting blood glucose levels, lower fasting insulin, lower triglyceride levels, and lower LDL cholesterol than those on the diet that didn't include legumes.
The diabetics on the legume-inclusive diet also had decreased levels of inflammatory markers like CRP, IL-6, and TNF-alpha when compared to those on the legume-free diet.
A 2014 review found that vegetarian diets were associated with a significant reduction in average A1C levels by -0.39% among type 2 diabetics. These diets were also associated with a small (but statistically insignificant) reduction in fasting blood glucose levels by -0.36mmol/L.
In a 2012 study, 121 diabetic participants were assigned either the "legume group" in which they increased their legume intake by at least 1 cup per day or the "wheat group" in which they increased their daily intake of insoluble fiber by consuming whole wheat products.
After three months of dieting, the participants in the legume group had reduced A1C values by -0.5% compared to just -0.3% in the wheat group. Those in the legume group also had reduced risk of cardiovascular disease by -1.4% compared to -0.3% in the wheat group.
A 2014 cohort study assigned type 2 diabetic participants to one of two group. The first group followed a basic diet plan provided by the ADA while the second group followed a similar ADA diet plan that also required 20% of their daily calories to come from peanuts.
Both groups had mild reductions in BMI, waist circumference, and total body weight, but there was no significant difference in A1C or fasting blood glucose between the two groups.
A 2011 study found that a calorie-restricted vegetarian (the experimental group) diet produced greater improvements in insulin sensitivity than a conventional diabetic diet (the control group) did over a 24-week period. The experimental group lost more weight than the control group did (-6.2kg vs. -3.2kg) and the experimental group also achieved greater insulin sensitivity than the control group did (30% vs. 20%) by the end of the 24 weeks.
A 2014 review suggested that legumes have anti-diabetic properties because of their recorded blood sugar lowering and lipid lowering effects. (No full text available).
Ever heard of the "Second Meal Effect?"
The "second meal effect" is a phenomenon in which consuming legumes like lentils, beans, and chickpeas results in stabilized blood sugar that can last for hours after eating.
A foundational study on the "second meal effect" found that legumes not only stabilized blood sugar after the initial meal, but the effect of the legumes continued to control blood sugar levels for hours after eating.
Amazingly, consuming legumes at lunch can even blunt the effects of eating a high glycemic food like white bread at dinner (but we still recommend skipping the white bread altogether!)
The "second meal effect" of legumes is pretty cool in terms of blood sugar control, but that doesn't mean you can toss your low carb diet aside just because you ate a serving of lentils at supper.
Yes, the fiber content in legumes may blunt the effects of other high carb foods but you will still experience a spike in blood sugar if you chug down a can of soda or fix yourself a stack of waffles with syrup for breakfast.
Conclusion
There is no "quick fix" when it comes to stabilizing your blood sugar for good.
To get the best way to get consistently lower blood glucose levels and a lower A1C is to stick to a well-rounded low carb diet.
Sure, mix up your protein by swapping meat for legumes a few times per week, but focus on dietary fiber, healthy fats, and cutting down on simple carbs to stay a step ahead of the curve.
And just be careful on the quantity, some people with diabetes can eat small amounts of legumes and beans, while others can't tolerate any. Remember, legumes and beans are more a carbohydrate than a protein.