Most of us have eaten olives at some point in our lives. They show up in a huge variety of different foods and drinks, from Greek salads to martinis to pizza.
Whether or not you enjoy eating olives in their solid form, you probably consume and/or cook with olive oil fairly often.
But are olives healthy if you have diabetes?
Great question. And by the time you finish reading this, you'll know the answer to that question — and you'll learn a ton of stuff about olives in the process. 😉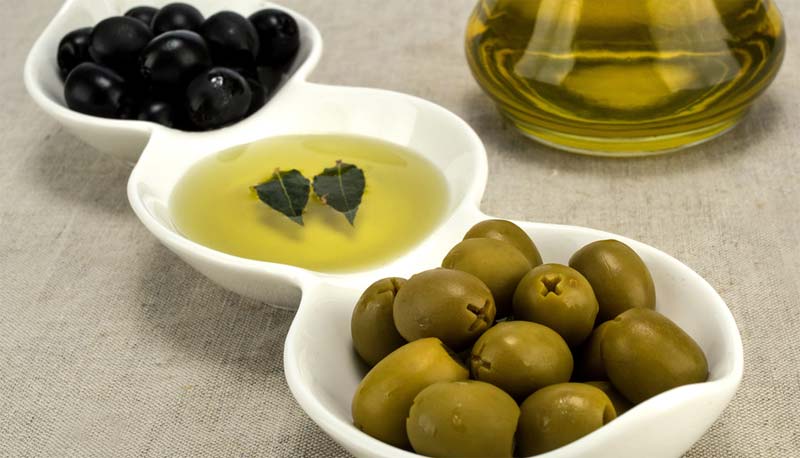 What are olives?
Olives are technically a type of stone fruit that grows on trees. They are a staple of the Mediterranean diet, and are often used in popular culture as a symbol of forgiveness, such as in the phrase "extending an olive branch."
Olives come in many varieties, including kalamata, green, and black. They are very bitter when picked, and therefore they are usually cured in a salt and vinegar solution to alter their taste.
Olives Nutrition Facts
Olives are a low calorie food, although their nutritional value does vary slightly depending on the type and size of olive and whether they are stuffed with any other foods.
On average, one olive contains approximately 5 calories, and the bulk of those calories come from their wonderful monounsaturated fat content.
Take green olives as an example: approximately 80% of the calories come from fat, while 17% come from carbohydrates and just 3% from protein.
Don't balk at this high fat content though, because as I just suggested, olives are a great source of healthy monounsaturated fat. And both olives and olive oil contain a super health-beneficial fatty acid called oleic acid — you'll learn more about this in just a moment.
Olives are a fantastic source of antioxidants – vitamin E and vitamin A, which protect against the oxidative damage that can be a dangerous byproduct of high blood sugar.
One thing to be aware of, though, is that olives are fairly high in sodium due to their brine. One green olive contains 52 mg of sodium — 1500-2300 mg/day is a recommended general sodium range. Rinsing the olives will remove a little of the salt but sticking to small portions of half a dozen or so per sitting is best.
In terms of other vitamins and minerals, one cup of olives contains:
25% RDA iron
17% RDA zinc
27% RDA calcium
Olives Nutrition (4-5 olives)
Kalamata: 20 calories, 1.5 g fat, 230 g sodium, 2 g carbs
Green (plain or stuffed with pimentos): 25 calories, 2.5 g fat, 350 g sodium, 1 g carbs
Black: 25 calories, 2.5 g fat, 115 g sodium, 1 g carbs
On the whole, most types of olives stack up fairly equally when it comes to calories and nutritional value. Green olives are often slightly higher in sodium than their black cousins, but again, olives' nutritional properties depend strongly on how they are prepared.
Myths and Truths about Olives
Many people think that olive oil that you might find on the grocery store shelves is fresh. This is often not the case, however. It's best to check for a harvest date in order to make sure your oil is adequately fresh.
You may also be wondering what the deal is with 'virgin' or 'extra-virgin' olive oil. Extra-virgin olive oil is of a higher quality, and it also contains higher levels of oleic acid. It often has a more true 'olive' taste, too.
Beware of olive oils marketed as 'light' – it may sound healthier, but it actually just means that the oil has a lighter flavor. And sometimes they have undergone more processing and refining.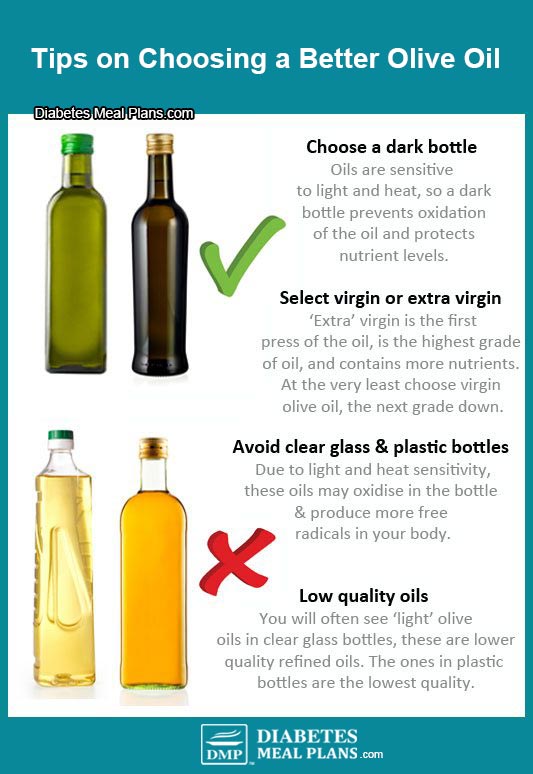 Research on Olives and Diabetes
When it comes to olives themselves, there isn't a great deal of specific research. Let's face it, researchers aren't really going to feed people a ton of olives each day to see what results could be determined. 😉
But, other byproducts of olives such as olive oil, olive fruit extract and olive leaf extract show loads of promising benefits.
In one study with elderly patients, consumption of olive fruit extract was associated with a significant reduction in body weight and body mass index.
Taking olive leaf extract (500 mg once per day in tablet form) has been shown to improve glucose homeostasis and may be an effective blood glucose-lowering agent for adults with type 2 diabetes. Studies in diabetic rats have found that olive leaf extract can significantly decrease cholesterol, triglycerides, and serum glucose levels.
Glucolevel, a herbal mixture of olive leaf extract and three other plants, has been found to safely and effectively help in lowering glucose levels in human subjects with recent onset of type 2 diabetes.
Olive oil has a ton of health benefits for type 2 diabetes. Oleic acid in olive oil has been shown to promote glucose transport into cells, so you can only imagine that the oleic acid in olives themselves would likely do the same. Oleic acid has also been found to decrease blood pressure.
A Mediterranean diet with olive oil modulates gut bacteria and promotes insulin sensitivity; along with reducing the symptoms of metabolic syndrome – high blood pressure, cholesterol, weight gain, insulin resistance.
Olive oil contains more than 36 powerful phenolic compounds that have serious anti-inflammatory benefits across a wide range of conditions. These powerful compounds have also been shown to assist in the treatment of type 2 diabetes — protecting against beta-cell dysfunction, improving liver insulin resistance, reducing oxidative damage, reducing your cardiovascular risk factors and may protect against diabetic retinopathy. Additionally, the polyphenols hydroxytyrosol, tyrosol, and oleuropein inhibit fatty acid oxidation and help lower cholesterol — some pretty big benefits, wouldn't you agree?
Since olive oil is squeezed directly from olives, all this same goodness is still being consumed when you eat the fruit!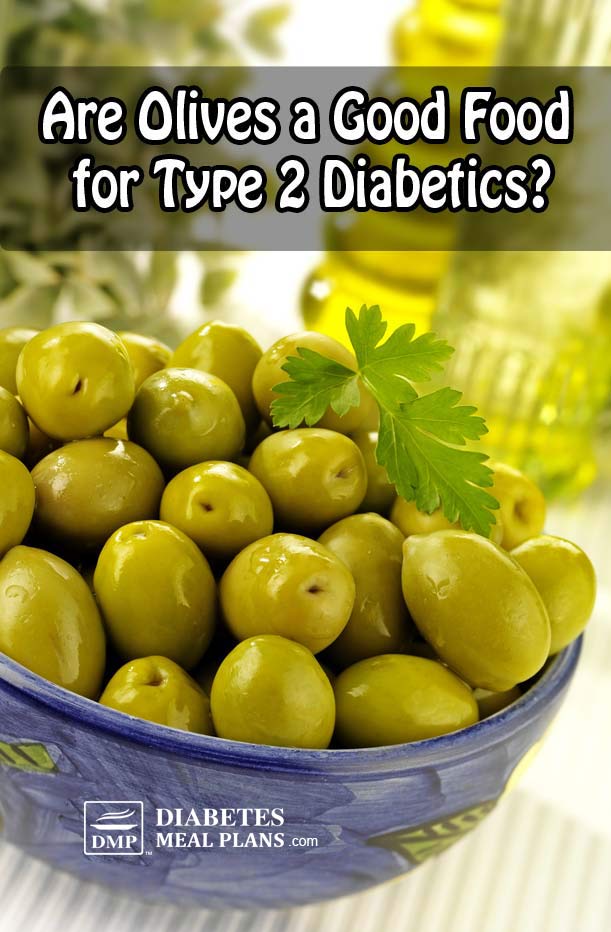 So, Are Olives Good for People with T2 Diabetes?
YES. Olives are a low calorie, low carbohydrate food that you can thoroughly enjoy!
Since they are a higher fat, higher sodium food, don't go crazy on these guys. But that's pretty hard to do anyway!
Like I said before, you're probably not going to sit down and eat 20 olives all in one sitting – they are pretty strong flavored and very fulfilling. But if you want to sit down and eat half a dozen, they make the perfectly satisfying low carb snack — so go for it and enjoy.
And, if you close your eyes while eating them, you just might feel like you're on a sunny Greek island. 😉
Please pin, tweet or share this info so others can enjoy their olives, too.