If you follow a healthy low carb diet, you'll be eating a low GI diet and these two concepts combined are the perfect combination for people with diabetes or prediabetes.

But, if you're only choosing foods just by the GI value, you might not be taking the total carbs you eat into account. And if that's the case, you could still be struggling to get your numbers under control.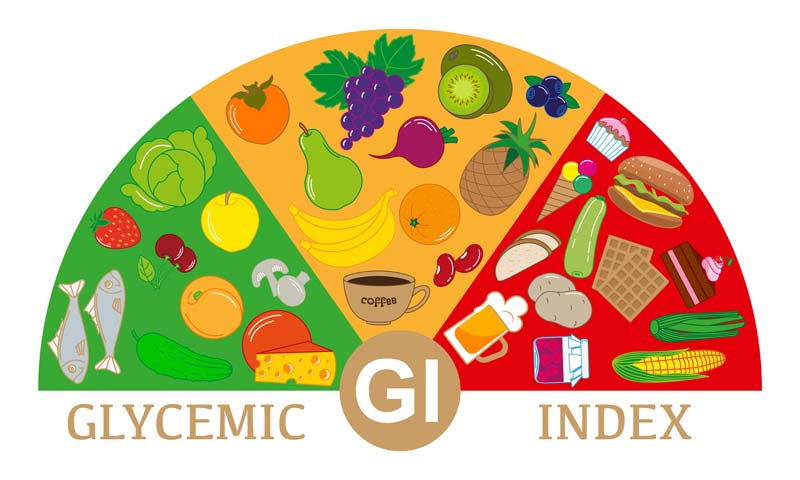 What is Glycemic Index?
Glycemic index (GI) is a system that ranks different foods based on how they affect your blood glucose levels. Foods are ranked on a scale from 0 to 100 and the higher a food's GI, the more rapidly it will raise your blood glucose levels.
Foods under 55 are considered low GI but of course, the lower the GI the better. Medium GI foods are those between 56 to 69. And those 70+ are considered high GI.
So in terms of type 2 diabetes or prediabetes, glancing at a GI chart can be a fast and easy way to get a general idea about which foods will send your blood sugar soaring and which foods will be more stabilizing.
For example, a quick peek at a GI chart would show you that a low carbohydrate food like peanuts (with a GI of 7) are a safer snack than a bowl of corn flakes cereal that comes flying in with a high GI of 93!
In order to keep your blood sugar steady, as a general rule of thumb you want to aim to eat foods that are low GI.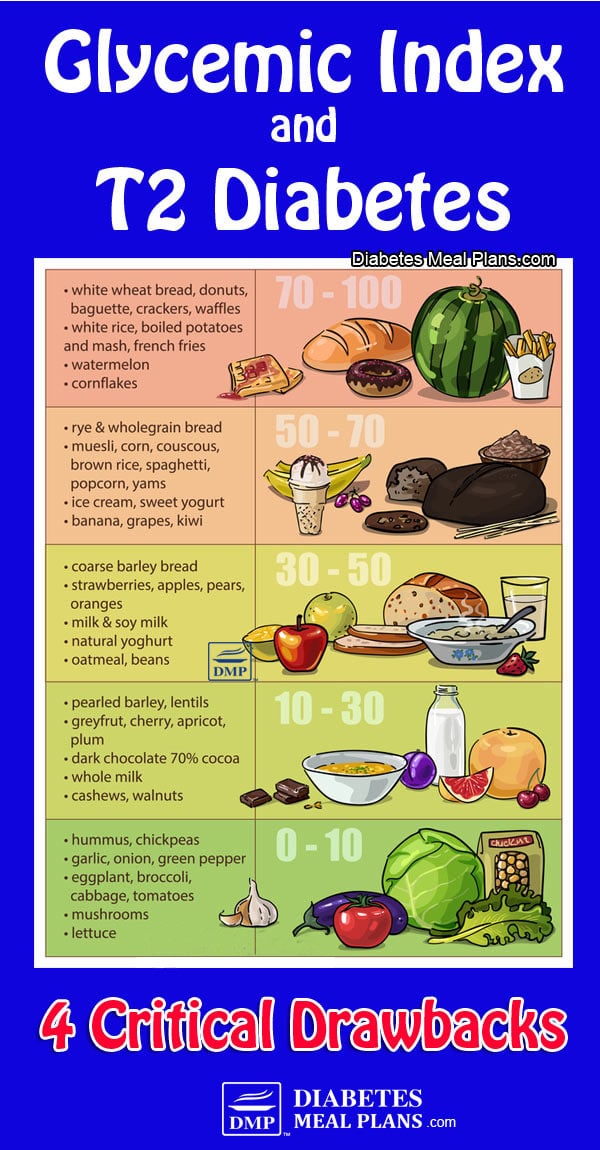 Nutrition Facts for Low Glycemic Foods
Here are some lean protein sources and their corresponding GI values:
Chicken breast: 0
Beef steak: 0
Salmon: 0
Smoked cod: 0
All these protein sources have a GI of zero because they do not contain any carbohydrates. Remember, GI is a determinant of carbohydrate food sources.
However, the story would suddenly change if you opt for a basket of 'breaded' chicken tenders or 'breaded' fish. A piece of smoked cod can quickly go from a GI of 0 to a GI of 50, simply by dunking it in a high carb batter before cooking.
The easiest way to keep a meal low glycemic and low in overall carbs is to bake, broil, or smoke your cut of meat with a simple marinade for flavor, rather than breading it or coating it with sugary sauces.
Healthy fats help stabilize your blood sugar and keep you feeling full, which makes them a great addition to your low carbohydrate, low GI diet. And like proteins, they have a zero, or very low GI because they contain very little, if any, carbs.
A few examples include:
Avocado: 10
Coconut oil: 0
Almonds: 15
Olive oil: 0
Flax seed oil: 0
With the exception of starchy vegetables like white potato (111 GI), most vegetables are low in carbohydrates and high in fiber, which makes the majority of them low GI.
GI of some vegetables:
Kale: 15
Lettuce: 15
Carrots: 47
Spinach: 15
Snow peas: 15
Green beans: 15
Zucchini: 15
Chinese cabbage: 10
Butternut squash: 50
Lima beans: 46
Cucumber: 15
It is true that with diabetes/prediabetes, low GI vegetables should make up the bulk of your diet alongside clean protein sources and healthy fats.
There are also some delicious berries and citrus fruits that are considered low glycemic and can be enjoyed in moderation:
Raspberries: 26
Strawberries: 41
Blueberries: 25
Cranberries: 45
Cherries: 22
Lemon: 3
Lime: 1
A few more common food examples:
Kidney beans: 34
Lentils: 28
Apple: 36
Fruit juice (unsweetened): 41-65
Breakfast cereals: 66-93
Sweet potato: 70
Baked potato: 111
Popcorn: 65
Rice cakes: 82
Of course, we don't recommend all of the above 'common' foods, but just to provide some additional examples of GI values of foods.
Myths and Truths About Glycemic Index
Myth: A GI chart makes it clear that any food in the "low GI" category is automatically healthier than foods with a medium or high GI.
Truth: Unfortunately, using a GI chart to determine safe and unsafe foods is not as straightforward as it seems. In general, staying away from high GI foods will help you avoid blood sugar spikes. But GI does not account for the number of total carbohydrates in a given food.
You can use GI as a tool to help guide you away from obvious sugar traps (like potatoes, white pasta, and cake) but it is important to know that standard GI measurements are only based off of 50 grams of carbohydrates in any given food, which can be misleading if you rely on GI alone to make your food choices.
For example, watermelon has a pretty high GI of 72, but you would have to eat a large quantity of watermelon in order to make those 50 grams of carbohydrates. So, unless you're eating many servings watermelon in one sitting, the high GI is not an accurate representation of the sugar content in a single watermelon slice.
That's not to say you should eat watermelon because it is a higher carb food at 22 grams per wedge, but just to demonstrate an example of one of the flaws behind GI measurements.
Myth: Following a low GI diet will lower blood sugar and A1c levels.
Truth: While it is true that lowering the overall GI of your diet will provide benefits, GI doesn't factor in the total amount of carbohydrate in foods. And the total amount of carbs you eat has the single biggest influence on your blood sugar and A1c levels.
White bread (per slice) – carbs: 12 g, GI: 75
Whole-grain bread (per slice) – carbs: 19 g, GI: 69
Both types of breads are classified as medium GI. But even if they were low GI the carb content is still high and that's what's going to influence your numbers the most.
Myth: Glycemic index foods are healthy food choices.
Truth: Glycemic index doesn't necessarily account for a food's overall nutrition status. You can find a candy bar that is low GI but has no nutritional value. So when you compare it to a piece of fruit (berries) with a slightly higher GI but also contains fiber, vitamins, and phytonutrients – obviously, the berries are healthier than a candy bar, even if it's GI might be a little higher.
So just remember there are many factors to consider beyond just selecting low GI foods when making healthy food choices.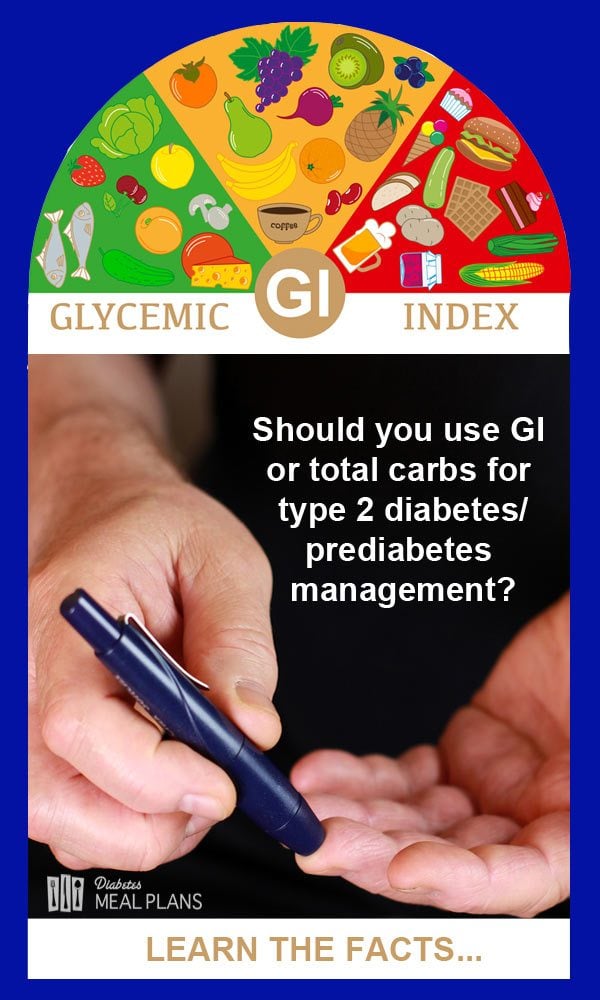 Research on Glycemic Index and Type 2 Diabetes/ Prediabetes

There is definitely clinical evidence that a low glycemic diet can produce favorable results for people with diabetes and prediabetes.
Studies have found that putting diabetic patients on a low glycemic diet often results in lower body fat and fewer inflammatory and metabolic responses. On the flip side, a high GI diet produces more inflammation (which can worsen your condition and lead to diabetic complications) and higher levels of body fat in diabetics. So obviously, high glycemic foods are best avoided.
Choosing a low glycemic diet may also have a positive influence on your A1c levels. According to one meta-analysis of 11 studies on diabetic diets, type 2 diabetics who followed a strict low glycemic diet for 3 to 6 months saw a 0.5% reduction in their A1c levels.
And it's no surprise to learn that there are consequences of consuming large amounts of high glycemic index foods, especially if consumed on a regular basis over a long period of time. In fact, studies associate high glycemic index diets with insulin resistance, impaired pancreatic beta-cell function, and less glycemic control in people with type 2 diabetics. And, prediabetics who consume a high glycemic diet are much more likely to reach a type 2 diabetes diagnosis.
Another study examined the differences in blood glucose, insulin levels, and ghrelin response (the hormone that makes you feel hungry) in type 2 diabetics after eating high or low glycemic breakfasts. Not surprisingly, the people who ate a breakfast with a high GI and low amount of fiber had the most unfavorable glucose, insulin, and ghrelin responses.
The researchers concluded that adding more fiber to your meal or choosing foods with a lower GI (or preferably, both of these changes), results in more stable glucose and insulin levels after a meal – obviously!
Conclusion
Clearly, there is evidence showing that a low GI diet can improve the health of diabetics and prediabetics.
However, following a low GI diet alone will not be enough to effectively manage your blood sugar.
Glycemic index is a great tool you can use to scope out healthier food options, but you can't rely solely on GI because it doesn't represent the total amount of carbs in any given food.
In the end, remember first and foremost that a low carb diet is your greatest ally in better diabetes management. So while GI can be used as a tool, counting those carbs and aiming low every day will bring about the best results!
Please pin, tweet or share this info to help others. Thanks!