Type 2 diabetes is a condition where the symptoms are often overlooked because the main symptoms are a bit vague.
Polyuria – increased urination
Polydipsia – increased thirst
Polyphagia – increased hunger
As you can see, these could easily be overlooked.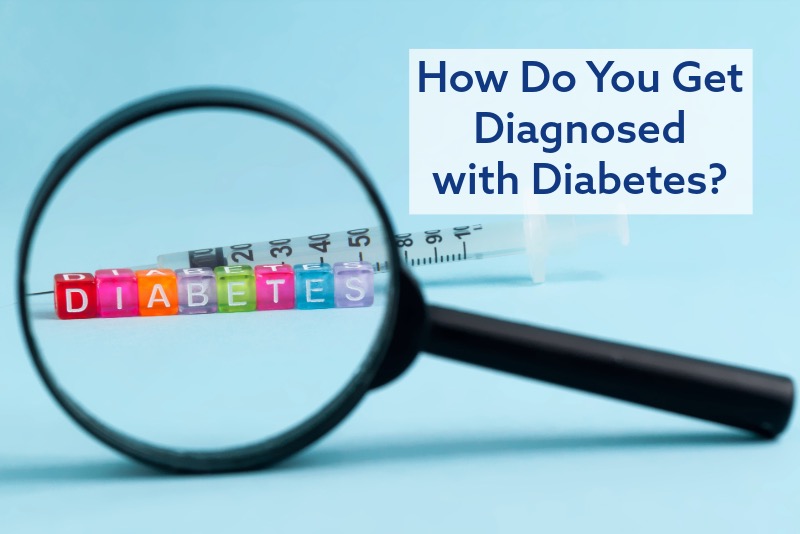 So how do you get diagnosed with diabetes?
Great question!
In order to get diagnosed with diabetes you have to have a blood test to check blood sugar levels.The doctor may then order an a1c test or an oral glucouse tolerance test (OGTT). Something doctors don't often test (but should) are your insulin levels, I'll talk more about this below.
The Blood Sugar Test
First your doctor will be checking to see if your blood sugar level (aka blood glucose level) is in the normal range. When you get sent for a blood test it will be a fasting blood test, so no food or drink for at least 8 hours. Tip: Go first thing in the morning 🙂
Here are the levels your doctor will be looking for:
Normal Blood Sugar Levels
Fasting glucose – 70-100 mg/dl or 4-6 mmol/l
Pre-diabetes – also called Impaired fasting glucose or impaired glucose tolerance
Fasting glucose – 101-126 mg/dl or 6.1-6.9 mmol/l
2 hours glucose level – 140-200 mg/ dl or 7.8-11.0 mmol/l
Diabetes
Fasting glucose – More than 126 mg/dl or equivalent to or more than 7.0 mmol/l
2 hours glucose level – More than 200 mg/dl equivalent to or more than 11.1 mmol/l
As you can see from these numbers, you aren't 'officially' diagnosed with diabetes until your numbers are above 126 mg/dl or 7.0 mmol/l.
Often what happens is your doctor will discover you are prediabetic and advise you take some action. Prediabetes is when your blood sugar levels are higher than normal, but they aren't high enough for an 'official' diagnosis.
Prediabetes is something you need to take seriously because a lot of the damage to your microvascular system and organs can occur during the prediabetic stage. And you can prevent this damage and a diabetes diagnoses by changing your diet and lifestyle.
The Oral Glucose Tolerance Test (OGTT)
The OGTT test is not used as frequently but sometimes if your doctor finds your blood sugar levels between 100-125 mg/dl or 5.5-6.9 mmol/l, they can send you for the OGTT.
The OGTT tests your glucose tolerance to see if it is impaired, which cannot be tested via a blood sugar test alone. This test helps your doctor be assured should there be any doubt.
You will also be required to fast for at least 10 hours before this test. You will be given an oral glucose load of 75 g diluted in water. Blood samples will be taken before the glucose load and then 1 hour and 2 hours after.
Here is what the readings should be:
Impaired glucose tolerance (IGT)
Fasting venous plasma glucose (VPG) level
Impaired fasting glucose (IFG)
Fasting VPG level 6.1–7.0 mmol/L and two hour post-75 g glucose load VPG
Diabetes mellitus
Fasting VPG ≥7.0 mmol/L
Two hour post-glucose load VPG ≥ 11.1 mmol/L
As you can see, the outcome is the same as the ordinary blood glucose test, but it's just using a different method to get the outcome. As I said, this test isn't frequently used.
Haemoglobin A1c (HbA1C)
Blood cells have a cell life of around 3 months and sugar in the blood stream attaches to red blood cells. Therefore the a1c test shows your average blood sugar level from the last 3 month period and indicates your level of blood sugar control.
Normal a1c is between 4-6%. If your levels are above this it shows you have had a high blood sugar level over the past 3 months.
A1c is a test that is frequently ordered and if you have type 2 diabetes it's a good idea to check your a1c levels every 3-6 months to see how you're tracking. It is more accurate than the blood sugar levels test because it can't be influenced by your food intake the day before.
Testing Insulin
Doctors do not frequently test insulin levels but you can ask for the test.
Why would you want to?
Because it is a good indicator of insulin resistance and prediabetes. One of the biggest challenges is to identify people earlier along the continuum to a diabetes diagnosis. If we can detect issues earlier, we can prevent diabetes and the associated complications.
It's also not uncommon to have people with normal blood sugar levels but very high insulin.
So if you're being sent for blood tests, then ask your doctor for a fasting insulin test as well.
Here are the indicator levels of you insulin resistance status from a fasting insulin test:
Between 10U/L- 14U/L indicates mild insulin resistance
Above 14U/L indicates moderate to severe insulin resistance
The upper limit for normal fasting insulin is 20U/L
You can read more about the insulin test and calculating your fasting blood sugar and insulin results over here.
At the very least you want to get your fasting blood sugar levels checked every couple of years, or if you have any of the risk factors then get tested more often.
Wishing you the best in health 🙂