Over the years many people have come to fear avocados. I think this largely comes from the weight loss/ low fat industry pushing us not to eat fat because the common thinking is that we'll end up getting fat.
Now I hear no end of people saying they avoid avocado, or left questioning is avocado good for diabetics?
Well I hope this info helps to clear that up for you because avocado is one of the very best and healthiest foods we can all eat, diabetic or not.
So let's dig in.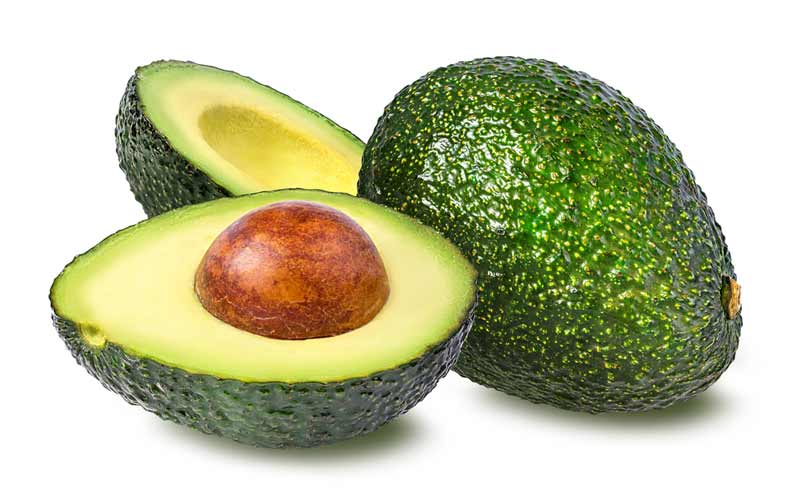 So Is Avocado Good For Diabetics?
As you most likely know, as a diabetic the macronutrient you most have to be concerned about is carbohydrates. But as dietitian Aglaee Jacob points out: "Avocado contains very small amounts of available carbohydrates and are not problematic for diabetes control, even if you eat a whole, large avocado".
What she means by available carbohydrates is that fiber does not affect blood sugar levels, only starch and sugar does. So when you subtract the amount of fiber in a food you are left with the net carbs, which is the net effect of that carbohydrate food.
Sometimes it seems like a food has quite a bit of carbohydrate but once you minus the fiber you're left with very low 'available carbohydrate content', just like the avocado in this instance.
Avocado Is High In Monounsaturated Fat
The fat found in avocado is 71% monounsaturated fat, 13% polyunsaturated, and 16% saturated fat.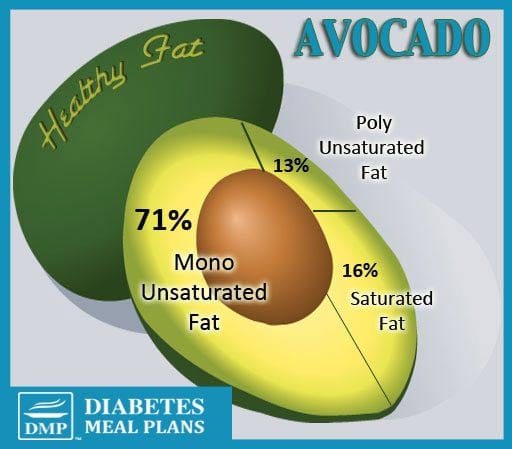 Monounsaturated fats provide diabetics with valuable health benefits:
Eating a diet rich in monounsaturated fat from avocados helps to lower cholesterol and has a beneficial influence on glycemic control in people with type 2 diabetes
Even after 7 days of eating a high avocado diet, total cholesterol level has been shown to decrease by 17% in hypercholesterolemia patients, 22% decrease in LDL and triglycerides, and an 11% increase in HDL (good) cholesterol
"High-monounsaturated-fat diets reduce fasting plasma triacylglycerol and VLDL-cholesterol concentrations by 19% and 22%, respectively, and cause a modest increase in HDL-cholesterol concentrations without adversely affecting LDL-cholesterol concentrations" Source
Avocados are high in fiber both soluble and insoluble and "a high intake of dietary fiber, particularly of the soluble type, above the level recommended by the ADA, improves glycemic control, decreases hyperinsulinemia, and lowers plasma lipid concentrations in patients with type 2 diabetes." Source
Monounsaturated fats are good for cardiovascular health and as a diabetic you at at greater risk of all types of vascular issues
Eating a high monounsaturated fat diet has been shown to increase insulin sensitivity and GLUT4 glucose transport into the cells
Eating avocado does not negatively affect weight loss or cardiovascular health, and in fact body weight, BMI, and waist circumference were found to be lower in people who regularly consume avocados
Now this all sounds great right?!
So let's check out what type of vitamins and minerals an avocado provides in the infographic below 🙂
Avocado Nutrition Facts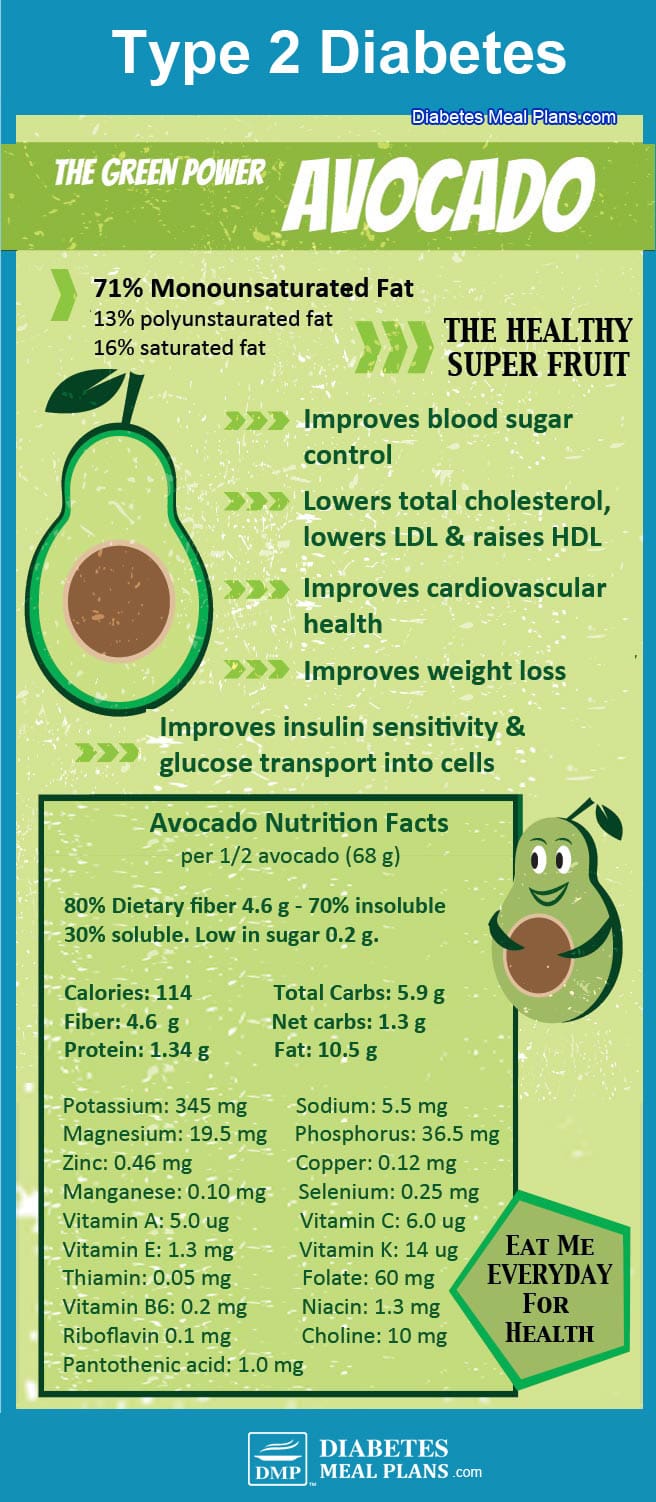 So Is Avocado Good For Diabetics?
Absolutely YES!
The average person eats 1/2 an avocado at one sitting and that's perfectly fine. If you were to eat a whole avocado that's fine too.
Here at Diabetes Meal Plans we focus on helping you reduce carbohydrates and in order to feel fuller longer it's necessary to increase your fat intake. So one great way to do that is to increase your monounsaturated fat intake by eating avocados. That means avocado is the perfect inclusion in your every day menu.
10 Ideas For Eating More Avocado
Avocado makes a great addition to many meals and can also be the main feature or snack. Here are some ideas for you, plus one of my favorite recipes.
Top your low carb toast with avocado and tomato

Place some avocado slices inside a veggie filled omelette for that extra fill effect
Mash some avocado with a small tin of tuna, a pinch of salt and pepper, and a dash of balsamic vinegar for an instant energy boosting salad
Make an awesome guacamole (recipe below) and dip in carrot sticks, celery, or flax crackers
Scoop out a little of the avocado, just enough to make room for a cracked egg. Crack the egg in the middle then bake it for a delicious breakfast
Blend some avocado, a teaspoon thyme, a little olive oil, and a dash of red wine vinegar together for a dressing that can be used on meat patties, chicken or fish
Just grab a spoon and eat the avocado as it is
Use avocado as the base of a chocolate mousse and enjoy a healthy dessert
Serve some tender pan fried chicken pieces topped with avocado slices and a simple side salad for a perfectly balanced meal
Throw some slices on top of salads, steamed veggies, or stir frys
Homemade Guacamole Recipe
This is a family favorite in my house that has been passed onto my daughter, my sister, and many friends, so I hope you enjoy it as much as we do. It's super simple to make and hands down beats any guacomole you'll ever buy from the store.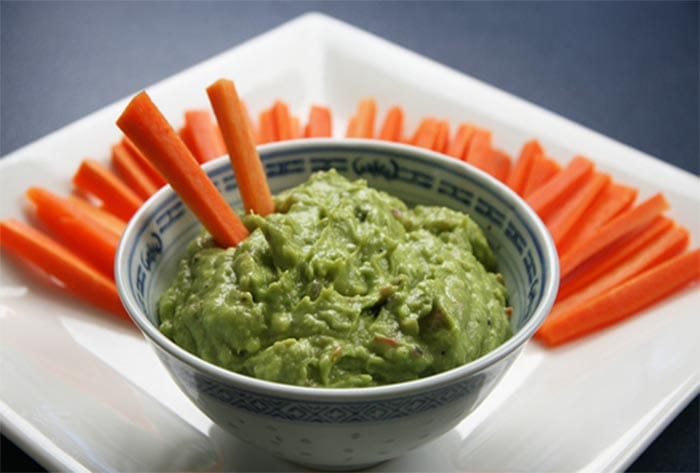 Rating

Servings

4

Prep Time

5

minutes
2

avocado

1/2

tomato

- very finely diced

1/4

red onion

- very finely diced - you can also use brown onion

1

teaspoon

tamari - wheat free soy sauce

2

teaspoon

lemon juice
2

avocado

1/2

tomato

- very finely diced

1/4

red onion

- very finely diced - you can also use brown onion

1

teaspoon

tamari - wheat free soy sauce

2

teaspoon

lemon juice

Rating

Servings

4

Prep Time

5

minutes
Remove seeds from avocados and scoop out pulp into a bowl

Mash it all up a bit

Add all other ingredients, then mash together until smooth

Add extra salt to taste, then serve with veggie sticks or your favorite meats or salads
To make less, just halve the amounts. It will keep in the fridge for 1-2 days but is best eaten fresh.
Nutrition Facts
Delicious Guacamole Dip Recipe
Amount Per Serving
Calories 168
Calories from Fat 135
% Daily Value*
Total Fat 15g 23%
Sodium 126mg 5%
Potassium 539mg 15%
Total Carbohydrates 10g 3%
Protein 2g 4%
* Percent Daily Values are based on a 2000 calorie diet.
As you can see, there is no need to avoid avocado. In fact, including more avocado into your every day routine will only bring positive health benefits.