Tofu is a high-protein soy product that is popular among vegans, vegetarians, and meat-eaters alike. But you may be wondering is tofu good for diabetes?
Will it influence your blood sugar? And what other health benefits does it provide, if any?
Keep reading for the answers…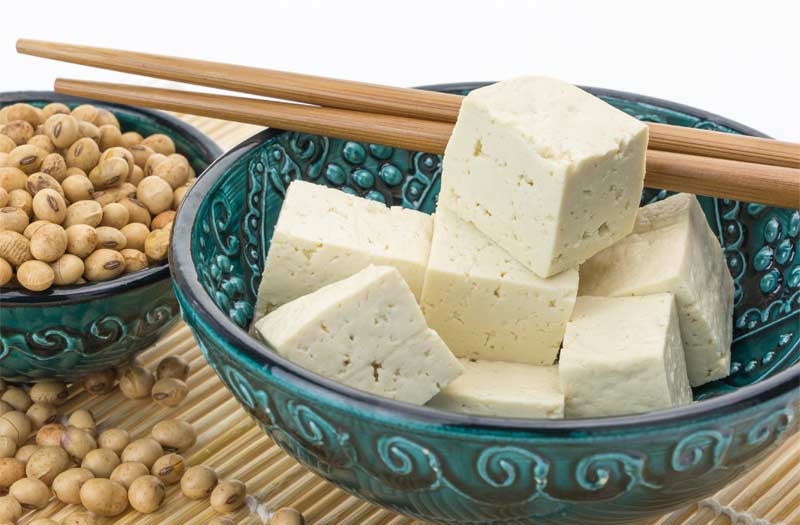 What Is Tofu?
To make tofu, soy milk is shaped and condensed until it is firm enough to be eaten. Soft tofu, called silken tofu, has the consistency of gelatin and it can blend well into desserts, smoothies, and sauces to create a light, creamy texture.
As you might guess from the name, firm tofu is more firm and is commonly used as a meat substitute in soups, salads, stir-frys, and sandwiches.
Tofu doesn't have much flavor on its own; instead it takes on the flavor of whatever seasonings or sauces you're cooking in. This adaptability makes tofu easy to incorporate into recipes.
Tempeh, tofu's distant cousin, is made directly from soybeans themselves rather than from soymilk. It is firmer, denser, and higher in protein than tofu is. It does have a stronger flavor than tofu, but like tofu, makes an acceptable vegetarian protein option for any savory dish.
Tofu Nutrition Facts
Since soy products are known for their high protein content, let's verify that by looking at the nutrition facts for a few different kinds of tofu.
| | | | | | |
| --- | --- | --- | --- | --- | --- |
| Soy product (1/2 cup) | Calories | Total Carb (g) | Fiber (g) | Protein (g) | Fat (g) |
|  Silken tofu |  47 |  1.4 |  0.3 | 4.8 |  2.5 |
|  Firm tofu | 84 |  2.3 | 0.8 |  8.9 |  4.4 |
|  Cooked tempeh |  195 | 7.62 |  0 | 19.91 | 11.38 |
Unlike whole soybeans, tofu doesn't carry much fiber but it does pack a lot of protein!
You can see that tempeh is especially high in protein, with close to 20 grams of protein per serving. Tempeh is also rich in fats, which aid in stabilizing your blood sugar levels and keeping you fuller for longer after a meal.
The tradeoff with tempeh is the amount of carbohydrates in each half cup serving. Unlike the silken and firm tofu, tempeh contains a higher dose of carbs (more than 7 g), so it's wise to stick to the recommended serving size of a half cup at a time.
That being said, soy products like tofu and tempeh are much lower in carbs than other non-meat protein sources.
Comparing Vegetarian Protein sources
Aside from tree nuts, most vegetarian protein options fall into the category of beans and legumes, which are often high in carbs.
Just take a look at the differences in protein and carbs between these protein-dense plant foods:
Firm tofu (1/2 cup): 8.9 g protein, 2.3 g total carbs
Tempeh (1/2 cup): 19.9 g protein, 7.6 g total carbs
Kidney beans (1/2 cup): 7.7 g protein, 20.2 g total carbs
Lentils (1/2 cup): 8.9 g protein, 19.9 g total carbs
Chickpeas (1/2 cup): 8.9 g protein, 28.5 g total carbs
Chickpeas, lentils, and kidney beans all carry close to 20 grams (or more) of carbohydrates in just a half cup serving.
And although these legumes tend to contain more fiber than tofu or tempeh do, they are still members of the "high carb" club and should only be eaten in small moderated portions.
Tofu on the other hand contains only 2.3 grams of total carbs but supplies almost 9 grams of protein to your meal, so don't be afraid to incorporate it freely into your low carb diet.
Now that you understand the nutritional value of these foods, you might be wondering how soy products like tofu affect diabetics on a chemical level. Are they helpful, hurtful, or somewhere in between?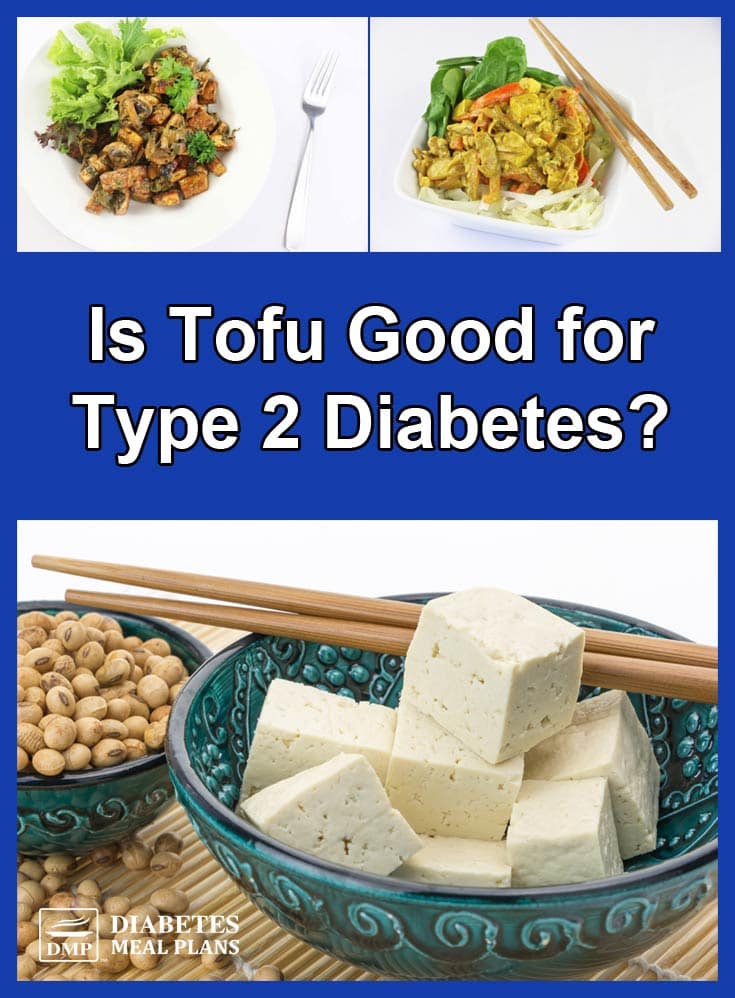 Research on Soy/Tofu and Type 2 Diabetes
It turns out that the phytoestrogens in soy (also called isoflavones) have many properties that can benefit diabetics…
A 2002 study of 32 women with controlled type 2 diabetes found that the subjects taking soy supplements (soy protein 30 g/day) had significantly lower fasting insulin (-21.9%), insulin resistance (-27.7%), HbA1c (-3.19%), total cholesterol (- 8.13%), and LDL cholesterol (- 12.7%), as well as an improved total cholesterol/HDL cholesterol ratio (- 11.7%) than the those taking the placebo (cellulose 30 g/day).
A 2013 review found that genistein, the main isoflavone found in soy protein, was able to improve pancreatic beta-cell functioning, decreased beta-cell apoptosis (death), improved fasting blood glucose, reduced HbA1c, and improve glucose tolerance in diabetic animal models.
A 2010 review found an association between fermented soybean products (like Tempeh) and improved glucose tolerance and reduced insulin resistance. The authors suggested that the low incidence of type 2 diabetes in Asia may be due in part to a higher intake of fermented soy products when compared to Western countries.
In a 2015 clinical trial 68 women with gestational diabetes (high blood sugar that occurs during pregnancy) were assigned either a control diet (70% animal and 30% plant proteins) or a soy diet that consisted of the same amount of total protein (35% animal protein, 35% soy protein, 30% other plant proteins).
After 6 weeks, the soy diet resulted in decreased fasting blood glucose when compared to the control diet (-12.7 mg/dL vs. +1.4 mg/dL). The control diet also resulted in higher insulin levels, higher insulin resistance, and decreased insulin sensitivity, as well as a decreased total antioxidant capacity when compared to the soy diet.
Not only can soy consumption lead to improved blood sugar and insulin resistance, but soy isoflavones can also reduce inflammation and improve your endothelial (blood vessel) health.
A 2011 study examined the effect that 6 months of soy isoflavone supplementation had on 87 obese postmenopausal women. The subjects were assigned to either a diet with exercise alone or a diet and exercise plus a supplement (80 mg of soy isoflavone). The women taking the isoflavone supplement in addition to diet and exercise saw improvements in leptin (a hunger hormone) and TNF-alpha (an inflammation marker) as well as a significant increase in the beneficial hormone adiponectin.
A 2015 study found that adult subjects (over age 45) with features of metabolic syndrome experienced reduced arterial stiffness when given a whole food soy snack for four weeks, while the control snack did not produce such results.
Conclusion
Tofu is a suitable protein option for vegetarians, or a great vegetarian alternative if you want a break from eating meat.
Tofu is high in protein and low in carbohydrates, making it an ideal food for both cooking and snacking.