With so many alternative milks to choose from these days, it can be hard to determine which ones pair well with your diabetes low carb diet. 
Soy milk is one option that can turn out to be either a high-carb disaster or a balanced, nutritious choice, depending on how you pick and choose at the grocery store!
Keep reading to learn the benefits and the possible pitfalls of soy milk…

What is Soy Milk?
Soy milk is a plant-based drink. It is produced through the washing, soaking, and grinding of soybeans. You may be familiar with other soy products such as tofu, tempeh, miso and soy sauce. Tofu is directly made through the coagulation of soy milk.
Soy milk consumption can be traced back to China in the year 1365 but wasn't commercially produced in America until 1917. Calcium-fortified soy milk was created in 1931 and by the early 1990's the US was producing up to 9.8 million gallons! 
Soy milk, along with other plant-based milks like almond, coconut, flax, oat and rice milk, are suitable for those with milk allergies, lactose intolerance and those following a vegan diet. 
Plant-based milks are becoming more popular making up around 13% of total milk sales…but are milk alternatives like soy milk actually diabetes-friendly?
Let's take a look at the nutrition facts.
Soy Milk Nutrition Facts
Soy milk can be a nutritious alternative to dairy milk. Even though it's not naturally high in calcium, Vitamin D or B-vitamins, many commercial soy milks are fortified with these nutrients so you won't miss out on them.
Here are the micro-nutrients you'll find in 1 cup of fortified plain soy milk:
451 mg of calcium (about 50% of DV)
120 IU of vitamin D (about 20% DV)
0.56 micrograms of B12 (about 20% DV)
Take a look at how it compares to a cup of whole fat milk.
| | | | |
| --- | --- | --- | --- |
| | Calcium, mg | Vitamin D, IU | Vitamin B12, mcg |
| Fortified soy milk, 1 cup | 451 | 120 | 0.56 |
| Whole milk with vitamin D, 1cup | 300 | 101 | 1.1 |
Soy milk has plenty of competition from other non-dairy milks, but soy milk stands out above the rest because it naturally contains more protein compared to options such as almond, coconut, cashew and flax seed milks.
An 8 oz (226 ml) glass of soy milk can have up to 8 g of protein compared to the same 8 oz glass of dairy milk. Other plant-based milks usually contain amounts of 0-2 g protein.
Of course, you're probably wondering how soy milk fairs against other milks with carbohydrates as carbs have the greatest impact on blood sugar.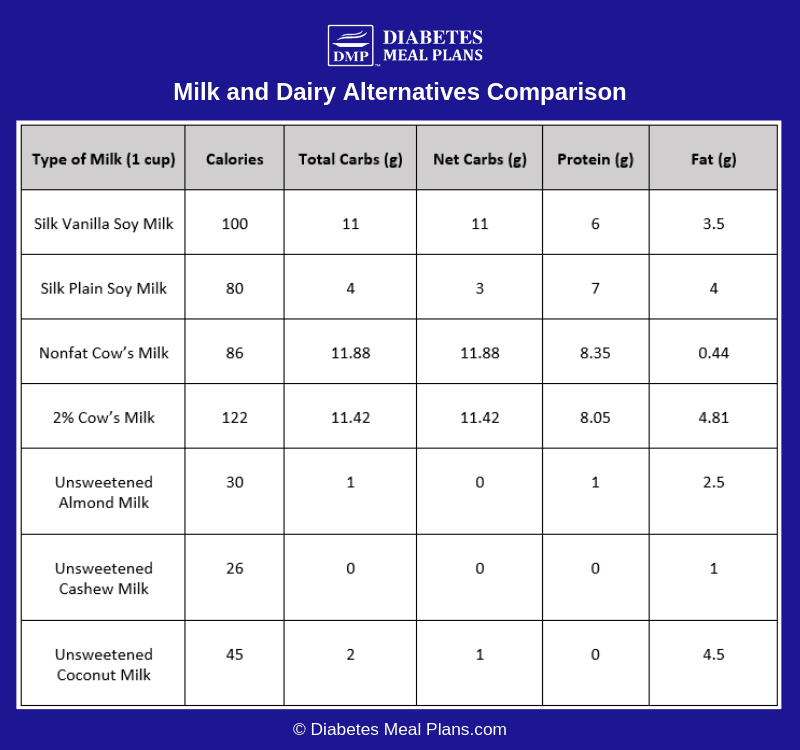 As you can see, yes other milk options are lower in carbohydrates but not all soy milk is the same.
The chart shows that Silk offers an unsweetened option that contains only 3 g of net carbs per cup with zero added sugars, which is a lot better than the vanilla flavored option with its 11 g of carbs.
Unsweetened and unflavored milk alternatives tend to contain fewer grams of carbs and sugar, so go for these when they're available. 
A few other potential health benefits of soy products is that they are also rich in isoflavones. Isoflavones are known for decreasing inflammation, decreasing risk of cancer and provide cardiovascular benefits. 
One serving of soy milk contains 25 mg isoflavones.
A study in the American Journal of Clinical Nutrition found that intake of isoflavones, even as low as 10 mg per day may reduce coronary artery disease risk.
Soy milk is also high in polyunsaturated fatty acids or PUFAs which are known for being "heart healthy" fats.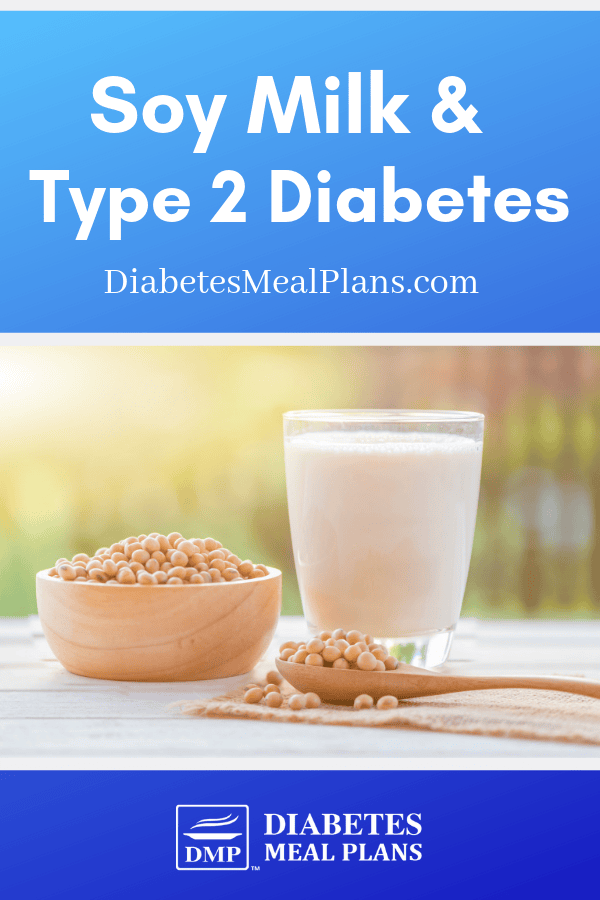 Research on Soy Milk and Diabetes
There is very little research with soy milk and diabetes. Majority of research has been performed with general soy foods and soy protein intake.
As a 2017 study found, the intake of 200 ml (about 6.5 ounces) of soy milk fortified with a probiotic for 8 weeks showed improvement in LDL and HDL cholesterol levels. The cholesterol-lowering effect likely came from the addition of the probiotic, but it is thought that there is a combined effect of consuming a probiotic along with soy milk.
A similar benefit has been found with the use of probiotic soy milk  in decreasing blood pressure in those with type 2 diabetes. A 2015 study found that 200 ml of probiotic soy milk daily resulted in lowered systolic (-1.65 mmHg) and diastolic (-0.9 mmHg) blood pressure. 
The decrease in blood pressure is thought to come from the probiotics but the soy does play a role. The probiotics can ferment the soy phytoestrogen in the gut and increase the amount of short chain fatty acids (SFAs) that are produced by the probiotics. The SFAs were linked to blood pressure regulation in a 2017 study.
These SFAs that are also thought to help decrease cholesterol production.
These effects may also be beneficial for those with diabetic nephropathy.
A study found that drinking 6.5 ounces (200 ml) of probiotic fortified soymilk aided in decreasing cystatin-C and progranulin levels. This is beneficial because higher levels of these in your body are associated with inflammation and decrease in kidney function.
For the general population there are benefits for soy milk and soy protein consumption.
Soy milk was found to decrease blood glucose response when it was consumed thirty minutes prior to a serving of white wheat bread. This same response is seen with consuming regular dairy milk.
Another study found that individuals who consumed fruit smoothies either made with soy protein or whey protein experienced the lowest rise in blood glucose when compared to other types of protein.
Soy protein may also aid in decreasing circulating triglyceride levels and increasing HDL cholesterol levels.
You can find information about soybeans and read more about the research on soy at our article soybeans and diabetes.
Conclusion?
Whether you are dealing with a milk allergy, transitioning to a vegan diet or just simply wanting to try a new drink option, soy milk can be a nutritious choice.
Yes, it can be higher in carbohydrates compared to other plant-based milk options, so make sure to read the nutrition labels and compare brands to find one that is lower in carbs with no added sugars.
For further information on milk and plant-based options please read our article Milk and Diabetes.