Did you know that one of the most commonly asked questions is how many carbs per day is best for a diabetic to eat?
No doubt that's why you're here reading this as well, right?!
And like many other people you may also be totally confused by that question?
I don't blame you because the amount of carbs recommended does vary depending on where you read it.
Why is this?
Well, there is no specific recommendation for carbs, that's why there are so many different numbers. So what I want to share is a range of information, some view points to think about, and also the experience of other people with diabetes.
Here at Diabetes Meal Plans we use a natural whole foods, low carb approach and aim for around 80 g carbs per day. This is quite low compared to some of the recommendations, but research shows that lower carb diets work than low fat diets.
Ultimately the best practice is to test, test, test, to see what range of carbs works best for you but with this info you'll be able to decide on where to start.
The Mainstream Recommendation For Carbs
The American Diabetes Association suggests that: "A place to start is at about 45-75 grams of carbohydrate at a meal".
That's 135-225 g carbohydrates per day excluding snacks.
But…have you been eating around that much and wondering why you can't get your blood sugar or a1c under control?
Most diabetics I know find 45-75 g per meal way too high to manage blood sugars and herein lies the problem. Because what tends to happen is that under the guidance of your chosen 'health organization' you are likely eating way too many carbohydrates and this is going to leave you struggling.
These recommendations suited for the 'general' public are highly flawed recommendations for diabetics and my in fact be keeping you sick!
So How Many Carbs Should You Eat?
It does vary from person to person but overall it seems to work best when people lower their carb intake to 120 g or less.
The standard dietary recommendations would say that anything below 130 g is a low carb diet, but really it's not that low. Though I'm not diabetic, I eat the same diet as we share here at Diabetes Meal Plans and I personally feel like I eat plenty of carbs and rarely eat more than 130 g per day.
I know many diabetics who follow a low carb diet of around 50-80 g a day (like the one we promote here) and in the experience of these people this works VERY well. Yes, that's 50-80 g maximum carbs per day!
Here's the thing, you can choose to eat a higher carb diet but over time you will likely find that you will have to increase your medication.
Whereas, if you want to avoid or decrease medication, improve your condition, and avoid future complications, then the best thing you can do is lower your carb intake to 50-80 g per day.
A Word Of Caution!
If you are on insulin therapy, it is important to lower your carb intake under close supervision of your health practitioner because you will have to make adjustments to your dosage and a fast rapid change can result in hypoglycemia. Monitor your blood sugar levels closely when making dietary transitions and be aware of symptoms.
Please pin, tweet or share, then continue reading 🙂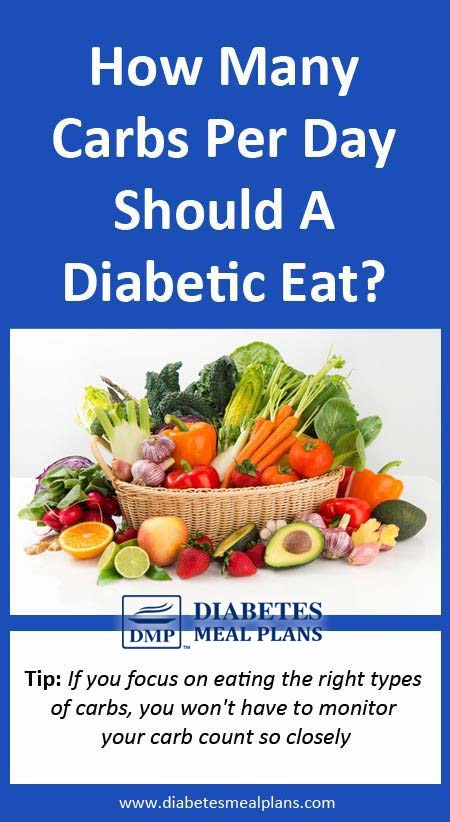 Where To Get Started With Carbs
Since most people usually have to lower carb intake quite a bit, 120 g seems to be a comfortable place to start and then you can tweak and reduce your own individual intake from there.
In our Self Starters Diet Course, we show you how to reduce your carbs gradually, giving you loads of options, ideas, and alternatives to foods you might be used to eating.
So let's break 120 g down per meal.
Carbs per meal
Breakfast: 30 g carbs
Lunch: 30 g carbs
Dinner: 30 g crabs
2 x snacks: 15 g carbs each or 3 x snacks 10 g carbs each
This tends to work fairly well for the majority of people when getting started.
For Optimal Long-Term Results: Aim For 50-80 g Day
If you focus on eating the right types of carbohydrates, then you won't really have to monitor your carb counting so closely (what a relief!).
Essentially the right type of diet for lowering blood sugar and a1c is a high plant based, anti-inflammatory diet, whole foods, low carb diet, where you'll be choosing vegetables as your predominant carbohydrate source. Over a days worth of eating, your veggie intake will add up to around 50-80 g per day.
In Mark Sisson's carbohydrate curve, he calls this the 'Sweet Spot for Weight Loss' and in the experience of many other people with diabetes, it's also the sweet spot for managing blood sugar, A1C, and preventing complications long-term.
I also know of people who follow a very low carb diet ketogenic diet such as an Atkin's diet, which limits carbs to 20 g per day. But experts such as Mark Sisson and Dr Mark Hyman, suggest that it's not necessary to limit carbs this low because it cuts out many of the essential plant ingredients that we need.
I tend to agree with this because a high plant based anti-inflammatory diet is so essential to reducing the inflammation associated with type 2 diabetes. So the sweet spot does seem to be around 50-80 g per day for optimal results.
You've probably also heard of things such as the glycemic index, and many experts such as Dr Mark Hyman, along with numerous research studies suggest that a low glycemic index plan full of slow carbs is the best strategy for long term weight loss and blood sugar management.
What makes something a low glycemic index?
Fiber. It's as simple as that, you need LOTS of fiber!
So if you choose the right types of carbs (READ THIS), then you won't have to calculate the glycemic index for every food, weigh and measure every food, or count carbs so much. Like I just pointed out, this is a BIG relief for many diabetics because just by making the right choices your diet suddenly becomes more enjoyable and your health becomes easier to manage.
50-80 g Per Day Sample Meal Plan
Breakfast: Veggie scramble – 15 g (aim for between 10-20g)
Lunch: Chicken & veggie salad – 15 g (aim for between 10-20g)
Dinner: Beef coconut curry – 12-15 g (aim for between 10-20g)
Snacks: Berry Bomb 5 g, peanut butter with carrot sticks 5 g, cottage cheese and berries 10 g before bed. Aim for 5-15 g per snack.
Based off the meals and snacks above the total daily carbs is: 62 g
As you can see from this meal plan, you will not be starving!
But it is a different way to eat than you are probably used to. That's okay, we're here to help you with that by providing a fully done for you meal planning service.
Let's face it, no one likes to think about planning meals all the time!
Regularity is Important!
It is important to eat regularly to keep balanced blood sugar throughout the day.
Every 3-4 hours seems to work best for most people. It also works well to evenly space your carb intake throughout the day, rather than load up at any one meal. But if you're choosing predominantly vegetables as your source of carbs you won't have to be so concerned about this.
If you skip meals you will get blood sugar spikes, so never skip meals.
Your Practical Action Steps
If you're diet is currently pretty poor or you're just getting started, begin with around 120 g per day of carbs.
Breakfast: 30 g carbs

Lunch: 30 g carbs

Dinner: 30 g crabs

2 x snacks: 15 g carbs each or 3 x snacks 10 g carbs each
If you want to work on losing weight and getting optimal results for blood sugar and a1c aim for 50-80 g carbs per day.
Breakfast: 15-20 g carbs

Lunch: 15-20 g carbs

Dinner: 15-20 g crabs

2 x snacks: 5-10 g carbs each

Before bed: 10 g carbs
To achieve these goals focus on eating the right types of carbohydrates, and foods from this diabetes food list.
You can also check out this 2 Day Sample Meal Plan
Hope you find this helpful in getting results!
To help you even more, click on the button below and sign up for our free 2 week carb course. People absolutely LOVE it!

P.S. Please share this post with friends and family 🙂
Save