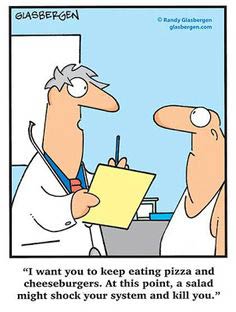 For decades dietary guidelines and health organizations have been recommending we eat a low fat diet. The common dietary prescription currently given to diabetics is to eat less fat and protein and more carbohydrate.
Personally this advice never made sense to me. Given the way the body works and the influence of carbohydrates on blood glucose, A1C, weight gain, and cholesterol, recommending more carbohydrates just never made any sense. In my mind I always felt like it was a fairly simple concept to understand and I became curious to understand why the nutrition recommendations seemed so 'off' the mark.
I soon came to realize that there were some great studies comparing low fat to low carb diabetic diets. What surprised me more was that in every case the outcomes for diabetics following a low carb diet always seemed better – lower blood glucose, increased insulin sensitivity, lower cholesterol and LDL (the bad stuff), with higher HDL (the good stuff).
So why was this evidence not being passed on to diabetics and being reflected by a change to dietary guidelines?
Well, it could all be a big food/ pharma conspiracy, sometimes I do think that.
One of the common debates from health organizations is that there aren't enough long term studies to prove that low carb diets are of any benefit and don't cause harm. Like our current recommendations haven't caused harm…(HmHmmm – clears throat)…umm…hello health organizations, have you looked around at our rising health problems recently? Are the recommendations working??
I saw this funny (but not so funny) update posted on twitter by Dr Kevin Lee endocrinologist: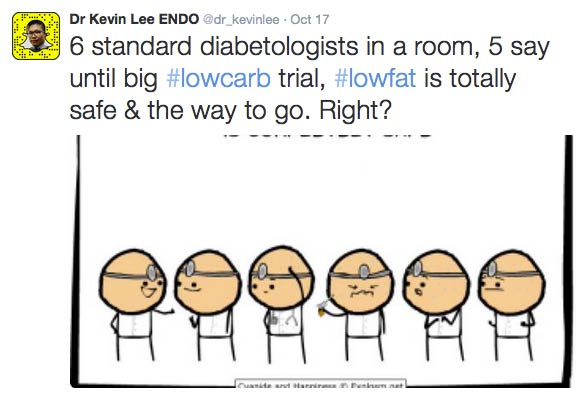 We have a BIG, BIG problem facing the world. It was estimated that we'd have 300 million people with diabetes by 2030. In 2011 we surpassed that number and now the estimate is 600 million!
So I'm thinking the current recommendations aren't working. What do you think?
There are new studies coming out in nutrition science that prove the advice we've been giving people is wrong. For example, the advice to avoid cholesterol rich foods like eggs because it causes higher cholesterol. It's not true and it's wrong advice that was never really backed by science – the American Dietary Guidelines Committee have openly admitted it.
It's just one example, and as far as nutrition science goes, I think we're only just beginning to discover things.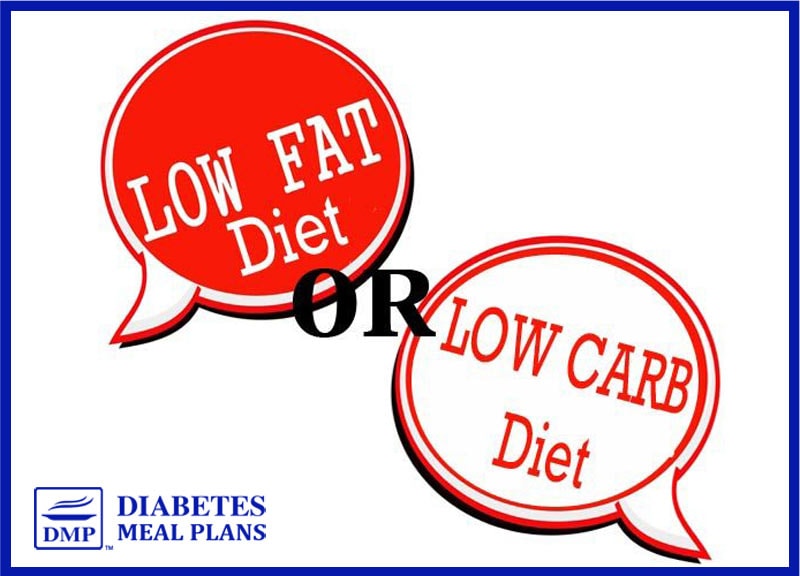 So what about a low fat or a low carb diabetic diet? What's really best?
It's no doubt a question you're curious about. Me too, which is why I'm always doing research.
Recently there has been new research come out (2015 study), and last year (2014 study) there was another great study as well. Both studies comparing a low fat/high carb diet to a low carb/high fat diet for type 2 diabetics.
So I'd like to share what these two studies have found.
Let's Bust The Bubble About 'Not Enough' Long Term Studies
Like I said above, one of the common debates from health organizations was that there aren't enough long term studies to prove that low carb diets are of any benefit and don't cause harm.
While it's true many studies have been of short duration, so too are many studies on a low fat diet. But there are at least 3 good studies of long term length:
The latest study (Tay's recent study) is a 1 year randomized trial
The second study (Esposito study) is an 8.1 year follow up from a 4 year randomized trial
There was also a 12 month trial in 2010 (Elhayany study)
Randomized trials are the strongest type of evidence we have in nutrition science. It's where we take 2 or more groups, allocate them to a 'treatment' and compare the results. So these studies take type 2 diabetics and put one group on a low fat diet and the other group on a low carb diet. At the end of the study the results are compared.
These studies are also the most expensive to conduct because they involve much more labor, more testing, and to get good 'proof' they are best conducted over long periods of time. That's why we lack a lot of long term studies, simply because the funding is not there.
We take a lot of our research and recommendations from large epidemiological studies. These are when we look at thousands or hundreds of thousands of people at a population level and try to determine an association to things. For example, if I take 200,000 people's food diaries and compare them, can I make an association between sugar intake and risk of diabetes?
Having the larger amount of people does give us some suggestion but 'association' does not mean 'causation', which is why we need randomized trials to help us determine 'causation'. Then there's the fact that many randomized trials can never be done because it's simply unethical. We can't use humans to do whatever experiments we want, which is unfortunately why we need to use animal studies.
The truth is we don't have enough long term studies for many things we recommend. As Dr Robert Lustig suggests, only about 10% is proven, the rest is merely inference – "a conclusion reached on the basis of evidence and reasoning".
Who's reasoning is often the question!
Anyway, I just wanted you to know some of this 'sciency' stuff because it helps put the whole debate and the whole idea of research and recommendations into perspective. There is still A LOT we need to learn.
Low Fat Vs. Low Carb Diet For Diabetes
So let's get down to what these 2 studies show – the results. That's what we want to know right?
Is a low fat or low carb diabetic diet best?
Blood Glucose
Tay's recent study reductions in glucose:
Standard glucose
Low carb – 0.7 mmol/l (12.6 mg/dl)
High carb -0.4 mmol/l (7.2 mg/dl)
MAGES
Low carb – 1.7 mmol/l  (30.6 mg/dl)
High carb -0.8 mmol/l (14.4 mg/dl)
Low carb diet participants spent less time in the hyperglycemic range than the high carb/low fat diet. Both spent comparable time in hypoglycemic range.
A1C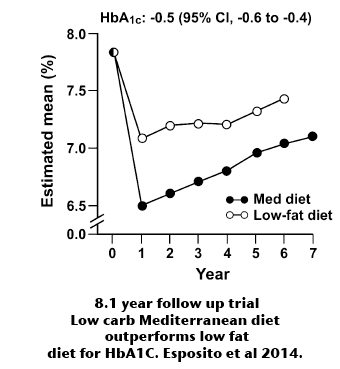 As you can see in the above image from Esposito's 8.1 year follow up study, the low carb Mediterranean diet outperformed the low fat diet for A1C.
Elhayany's study in 2010 also showed that a low carb diet reduced A1C more (-2.0%) compared to American Diabetes Association guidelines (-1.6%).
Cholesterol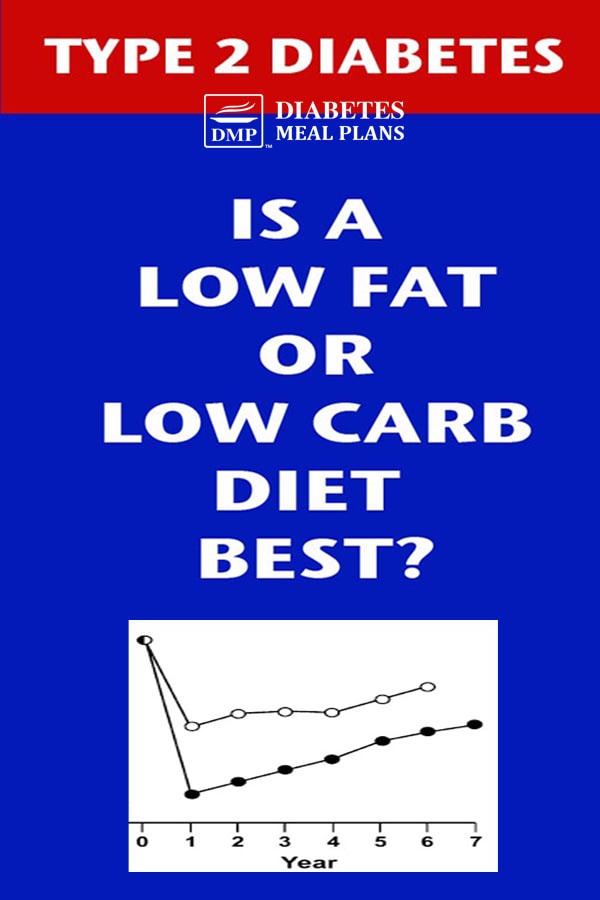 Low carb – greater reduction in triglycerides and increases in HDL (the good cholesterol)
Both groups – similar reduction in overall cholesterol levels and LDL
Elhayany's study from 2010 showed similar results:
HDL cholesterol only increased in the low carb group 0.1 mmol/l (1.8 mg/dl)
Reduction in serum triglycerides – low carb diet -1.3 mmol/l (23.4 mg/dl), American Diabetes Association diet -0.7 mmol/l (12.6 mg/dl)
These are very important results because abnormalities in cholesterol increase risk of cardiovascular disease. Diabetics are already at high risk, so being able to get positive results with cholesterol is a very good thing.
Medication
Low carb – 52% experienced an average 20% reduction in meds
High carb – 21% experienced an average 20% reduction in meds
The Esposito study, after 4 years:
Low Carb – 44% required medications
Low Fat – 70% required medication
The Esposito study after the 8 year follow up:
Low carb – on average participants needed medications after 8.1 years
Low Fat – on average participants needed medications after 6.1 years
Remission of Diabetes (Normal Blood Glucose)
Results from the Esposito study:
Low carb – 14.7% were in remission at year 1, 9.7% sustained at year 3, 5% sustained at year 6.
Low fat – 4.1% were in remission at year 1, 4% sustained at year 3, 0% sustained at year 6.
Overall the low carb diet proved best for achieving a complete remission, with 9.7% experiencing at least a 3 year remission. In the low fat group it was only 2%.
Low carb 5.7% remission for 4 years vs low fat 0%.
Low carb 2.9% remission for 5 years vs low fat 0%.
I guess it's pretty clear which diet wins out here.
Weight
Overall weight loss for both groups was 9.1%, 3.2-3.5 kg.
Over the long term study, the difference in weight loss wasn't huge, only a 0.4 kg greater loss for the low carb group.
What this shows us is that following a low carb diet produces benefits without the need to lose weight. This is an important recognition because weight loss is always being pushed as the best strategy for diabetics to achieve results, but clearly this is not the case.
Overall Conclusions
Both diets produced the same weight loss, A1C, and several cardiovascular markers in their results. The low carb diet had better results for triglycerides, HDL cholesterol, and glucose control as indicated by lower medications requirements. 
Compared to a low fat diet, the low carb diet postpones the need for medications by an average of 2 years independent of weight loss. The partial or complete remission of diabetes (achieving and sustaining normal blood glucose/ prediabetic) was 2 to 4 times greater for people following a low carb diet.
So how many carbs are we talking about here?
In another recent study (2015), 26 researchers came together to propose that restricting carbohydrates should be the first approach to managing diabetes.
Based on previous evidence this is the definition of carbohydrates that came from that study:
Very low carb ketogenic diet: 20-50 g per day. Below 10% intake of 2000 calorie diet.
Low carbohydrate diet: Below 130 g per day. Below 26% total energy intake. 
Moderate carbohydrate diet: 26-45% total energy intake <<< Research shows these don't perform as well as lower carb diets
High carbohydrate diet: Above 45% total energy intake  <<< Current recommendations that aren't working

In the research, both low carbohydrate diets (20% carbs), and very low carb ketogenic diets (<10% carbs) have been shown to provide the greatest benefits.
So what do you think? Low fat? Or low carb?
We vote low carb and that's why all our recipes are low carb and our meal plans are based on a low carb eating plan.
We help people eat a healthy low carb diabetic diet by taking regular meals you love, and slashing the carbs so you can still thoroughly enjoy what you eat.
Here's an example: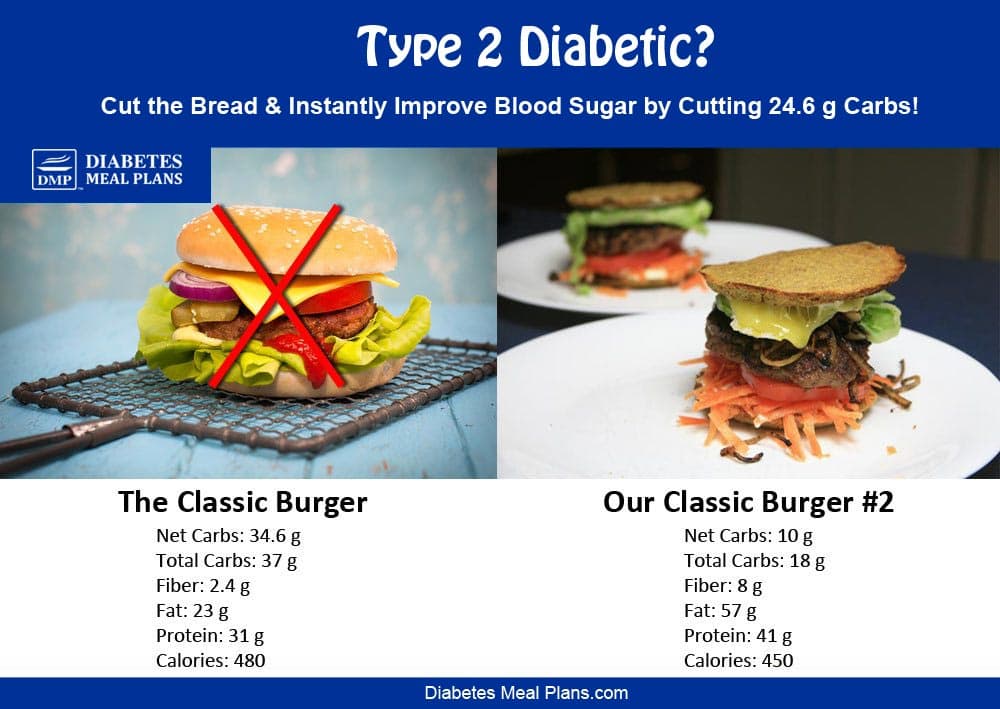 Why eat all those carbs when the results show the best results come from low carb?
The Low Fat Myth
Unfortunately as far as I see, the low fat rage has all been led by big food companies. When you take fat out of foods, you have to add something else. What did they add?
Sugar.
Sugar is cheaper.
Sugar is incredibly addictive.
Sugar is an excellent preservative that helps lengthen shelf life.
Think of one of the biggest food companies we all know that has been around forever…Coca Cola.
Because of low fat products being promoted as a "healthier" choice, millions of people around the world eat them, thinking they are doing right by their health.
Little do they know…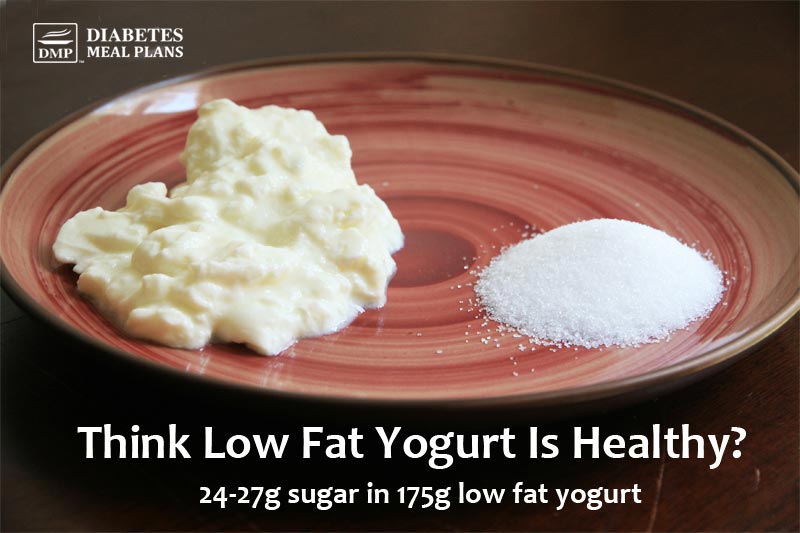 In just one small serving of yogurt, you have just eaten your entire recommended amount of added sugar per day. Eating more than this increases risk of diabetes, heart disease, obesity, and the rest!
I think you get the picture, at least I hope you do.
I'll leave the ball in your court but I'd love to know what you think, so please leave your comments below.
Please share, pin, or tweet this post
P.S.Click Here to Subscribe to subscribe for our weekly updates – free recipes and great nutrition and health tips!