"Would you like fries with that?"
How many times have you heard that phrase at a sit-down restaurant or in a fast-food line?
French fries are the gold-standard side option for most casual dining places, but can diabetics eat french fries?
Those crispy, golden potato slices do taste good but they probably won't look so good once you find out what they're really made of. And their effects on blood sugar levels.
Ready to find out what's really going on when you bite into a french fry?
Let's find out.

What are French Fries? 
French fries can simply be made by cutting a potato into thin strips that are either baked or deep fried. 
Most restaurant-style french fries are made by peeling and steaming the potatoes, mechanically slicing and sorting, and then drying and frying them to achieve that famous french-fry "crunch."
French fries may be a beloved food, but processed french fries, especially those from fast-food joints, may contain a wide array of different ingredients and additives to help retain their shape and color…ingredients that aren't necessarily healthy or even safe (we'll cover this in more detail below).
So should you leave french fries out of your diet? Let's check out the nutrition facts to get a little more information.
French Fries Nutrition Facts
Here's what you'll find in a medium sized serving (142g) of fast-food french fries:
427 calories
20g of fat
56g of carbohydrates
5.7g of dietary fiber
For comparison, a medium white potato contains approximately 169 calories, 0 grams of fat, 37 grams of carbohydrates, and 4.5 grams of fiber. 
Potatoes are starchy vegetables which are naturally high in carbohydrates that raise blood sugar levels quickly. This is why we caution diabetics against eating potatoes and potato products. Compared to other vegetables, potatoes have a low fiber-to-carbohydrate ratio.
Along with containing a lot of carbohydrates, potatoes also are in the medium-high range of the glycemic index (GI). 
GI is a way to measure the impact of a food on glucose levels. Glucose is calibrated to 100 as the highest GI value and it is optimal to eat foods that have a GI of 55 or less. Consuming a white potato without the skin has a GI of 98 – that's nearly as high as you can get! 
In the table below we compare a baked potato, baked fries, and fast food fries.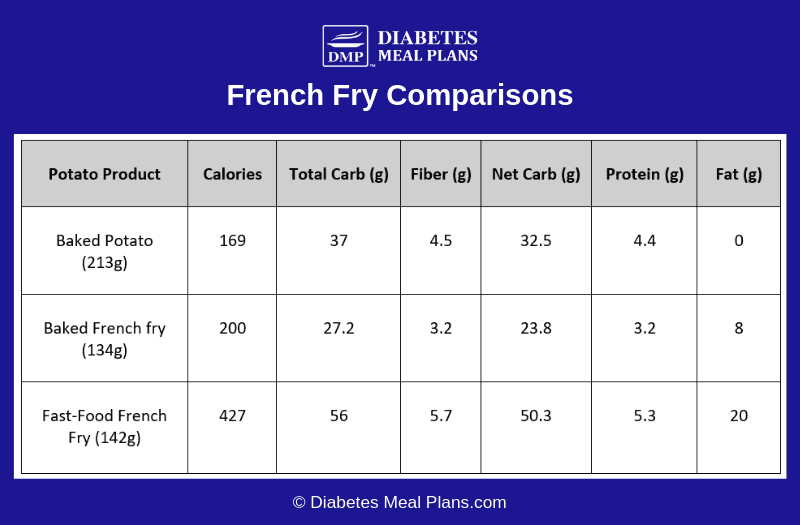 All of these items contain a significant amount of carbohydrates! Fast food fries are typically deep-fried — which more than doubles the calorie content and provides significantly more fat.
And don't forget that portion size matters! 
For example, a small french fry contains 340 calories and 45g of carbs. Now bump that up to a large fry and almost double it! A large fry contains 554 calories and 73g of carbs.
Our general rule of thumb is to consume about 15-20 grams of carbohydrates per meal with a max of 30 grams, so that puts these french fries, even the small ones, way out of range.
A large fry provides you almost FIVE times the recommended amount for a meal and if you also consume a hamburger bun and soda along with those fries, prepare for your blood sugar to sky-rocket! 
Nutrition Concerns with Fries
If the high carbohydrate content wasn't enough to scare you away from french fries, there are other nutrition concerns to consider. Unless you are cutting and baking your french fries yourself, there are a lot of other ingredients in your typical fast food french fry that may be problematic. 
Here is the ingredients list for McDonald's fries: 
Potatoes, Vegetable Oil (Canola Oil, Corn Oil, Soybean Oil, Hydrogenated Soybean Oil, Natural Beef Flavor [Wheat and Milk Derivatives]*), Dextrose, Sodium Acid Pyrophosphate (Maintain Color), Salt. *Natural beef flavor contains hydrolyzed wheat and hydrolyzed milk as starting ingredients.
Aside from the highly-processed, inflammatory vegetable oils (corn and soybean) these fries also contain wheat and milk derivatives, which may be problematic for those that have allergies or sensitivities. Also, the added dextrose is an additional source of carbohydrates. 
But one of the biggest issues surrounding deep fried foods are a type of fat called trans fat. 
Trans fat in fries and other processed foods became a big concern in the 1990s as it became linked to heart disease.
Then in 2015, the Food and Drug Administration (FDA) ruled that artificial trans fats were unsafe to eat and they gave food-makers three years to eliminate them from the food supply. 
As of June 2018, you should no longer see trans fat or (aka "partially hydrogenated oil") in ingredient lists of fries, nor should you find any trans fat listed in their nutrition information. 
However, some oils that are now used to deep fry french fries such as soybean and canola oil, contain a small percentage of trans fat. 
When these oils are heated at a high temperature the trans fat content increases.  Additionally, a study from the 1990's found that each time you reuse an oil for frying the trans fat content increases. That's not good news when you consider that fast food joints re-use their frying oil all day long!
Another potentially harmful compound found in french fries is acrylamide. Acrylamide is formed through a reaction between the amino acid asparagine and certain sugars when starchy foods are fried. Acrylamide is formed in lesser amounts when a starchy food is baked or roasted. 
Studies have found that acrylamide caused cancer in animals when given in very high doses, and the International Agency for Research on Cancer (IARC) classifies acrylamide as a "probable human carcinogen."
However, it is important to note these are animal studies and current human observational studies do not show a clear causal link between acrylamide and common human cancers. But with that said, do you really want to be eating highly-processed, chemical-laden foods that might be linked to cancer? No thanks!
You can reduce your consumption of acrylamide by avoiding fried foods and baking and/or roasting starchy foods instead.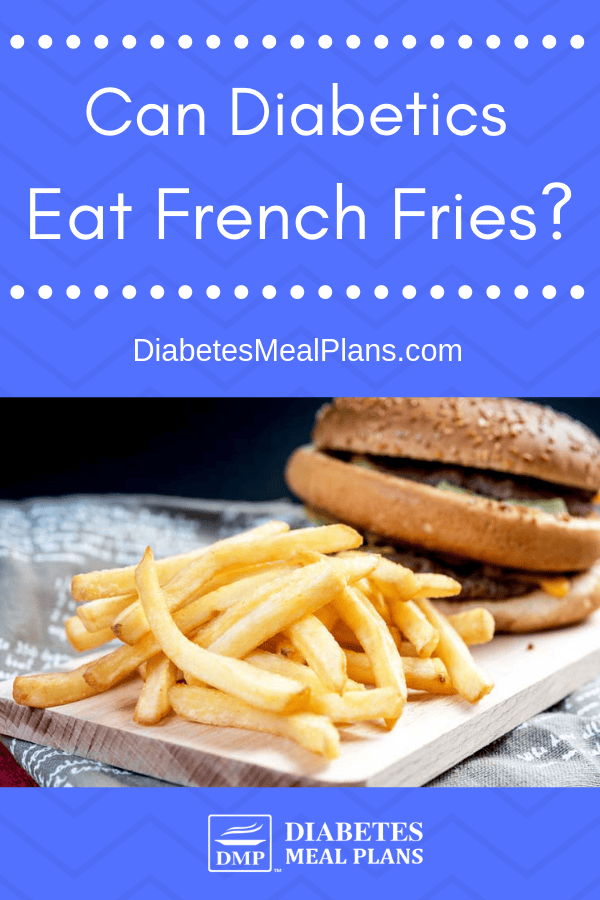 Research on French Fries and Diabetes
There is research showing an increased risk of developing type 2 diabetes when french fry consumption is high.
In a recent study (2016) people who reported eating 3 or more servings of French fries per week had a 19% higher risk of type 2 diabetes, regardless of their body weight. 
Along with increased type 2 diabetes risk, a large cohort study of over 70,000 women and 40,000 men found that frequent fried-food consumption was associated with an increased risk of developing heart disease. 
Another study found that women who ate more potatoes and french fries were at higher risk of developing type 2 diabetes, especially if they were already overweight.
Lastly, a 2019 study found a positive association for the risk of type 2 diabetes for each 5.4 ounce/day increase of french fries consumed. 
Although these studies don't prove that eating french fries will directly cause diabetes, it's pretty clear that reducing or eliminating french fries from your diet will reduce your risk of type 2 diabetes or help you manage your blood sugar better if you already have diabetes. 
French Fry Alternatives
Granted, it is difficult to get the exact same crunch you get from french fries, but there are many non-starchy vegetables you can use to make a healthier "fry" alternative. 
Jicama, aka the "Mexican potato," is a root vegetable that is juicy and crunchy, with a slightly sweet and nutty flavor. It works well as a lower carb option for potatoes.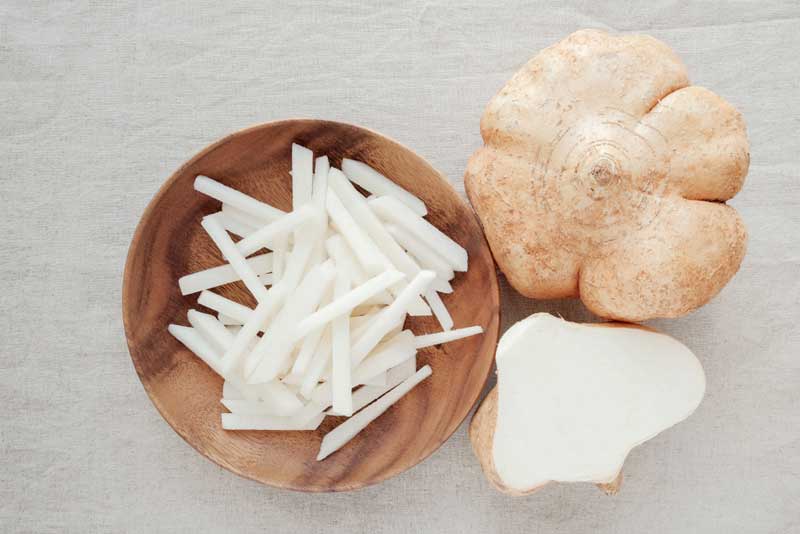 If you want to try jicama fries simply cut the peeled jicama into long, thin strips and sprinkle with salt and any other seasonings you like. Bake on a greased baking pan until the bottom sides of the jicama pieces are nicely browned; then turn them over and repeat.
Another option is "zucchini fries" made from strips of zucchini that are coated with almond flour and herbs and then baked to perfection in the oven.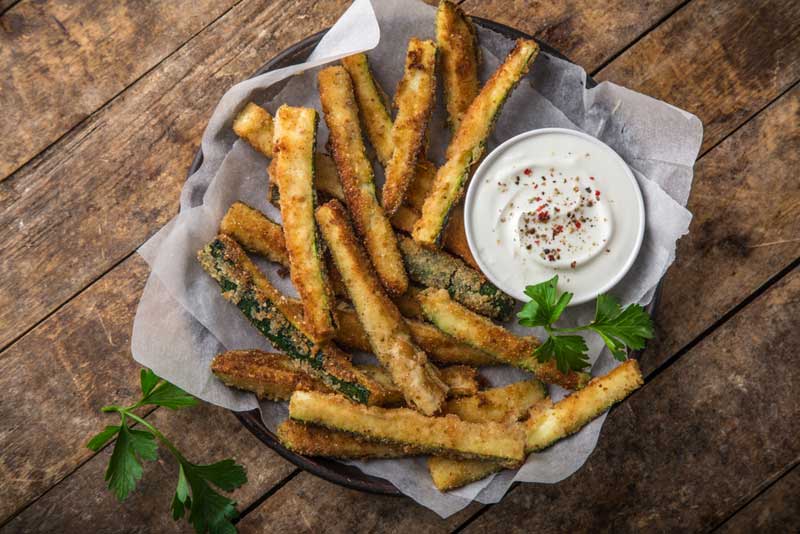 Conclusion
It is pretty clear that french fries are not a good choice for someone looking to prevent or control their diabetes. 
Between the high carbohydrate load, the questionable chemical additives, and the poor quality pro-inflammatory oils used in making french fries, it's pretty clear fries just aren't worth it.
This may be sad news to hear at first, but the good news is that you can get creative in the kitchen and explore new ways to re-create an old favorite food in a way that is much better for your body.
Jicama french fries, anybody?