Potatoes are another staple we've all grown to love over the years.
BUT if you have diabetes, potatoes are a no no if you want to lower blood sugar and A1C.
Why?
Quite simply, they are a high carbohydrate food, and they are also high glycemic index as well, meaning they cause rapid rises in blood sugar.
If you go searching out on the web, you will still see lots of diabetic recipes containing potatoes. There are thousands of recipes and meals out there promoted to be diabetic friendly, but they're not.
Here you'll only find low carb recipes that are going to help you gain better control.
So let's briefly explore some potato nutrition facts and then share some potato alternatives and a recipe you can try.
Potato Nutrition Facts
Potatoes range from 21 g carbs through to around 35 g carbs per one medium potato. There is such a wide range in carb count because it depends on the type of potato.
Even at 21 g that's quite high for a single potato – chances are you'd probably want to eat more.
It's also the same for glycemic index (GI) – it ranges from 60 right up to 95. Anything below 55 is considered a low GI, and the higher it gets over 55, the more rapidly it is going to send your blood sugar soaring.
Even 60 is a high GI, and 95, well that's crazy high.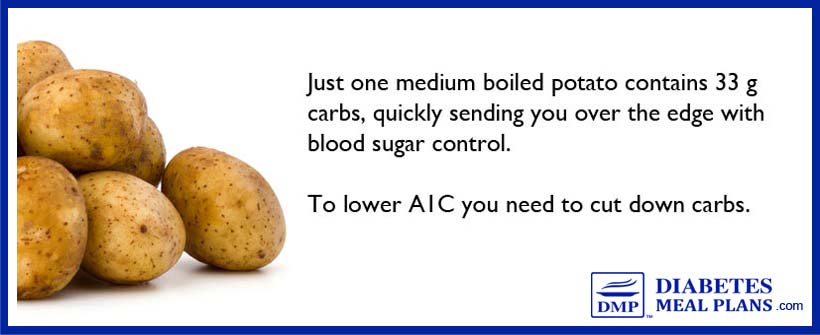 So unfortunately, eating potatoes is not going to help you lower blood sugar or A1C and keep things under control. Sorry to be the bearer of the bad news if you didn't know this already.
But there are some tasty alternatives.
Sure, there's nothing quite like potato. But we can adapt and use other things – here comes cauliflower again!
Cauliflower
Cauliflower is a very adaptive, versatile vegetable – we talked about that recently in our rice alternatives post and hopefully you gave the cauliflower rice a try. Because cauliflower doesn't have an overpowering flavor, it can be used as a potato substitute as well.
Making 'cauliflower' mashed potato is just like making the real thing, and depending what you eat it with, you won't even know the difference.
Low Carb Mashed 'Potato'
For regular mashed potato you're looking at around 35 g net carbs. Our Cauli Mash comes in at just 5 g. Now that's a big difference!
RECIPE
Cauliflower Mashed Potatoes
Put the roughly chopped cauliflower into a saucepan and cover with water.

Bring to the boil and then turn down the heat to a simmer and cook for approximately 7 minutes or until the cauliflower is soft when poked with a fork.

Remove from the heat and strain in a colander.

Place back in the saucepan, then mash it up, and a bit of butter and a little salt and pepper to season.

Mash until it's all combined and mashed well. Then ENJOY 🙂
TIP: If you want it extra creamy, put it into a food processor and blend together instead. 😉
ADDITIONS
Add some pepper or spices to the mashed cauliflower for different flavors.
Mustard works well.
Dairy lovers – Add some grated cheese for a cheesy mash.
STORAGE OPTIONS
Will keep in the fridge in a container for up to 3 days. It will smell strange when it's no good and taste tangy too.
Nutrition Facts

Cauliflower Mashed Potatoes

Amount Per Serving

Calories 80

Calories from Fat 18

% Daily Value*

Total Fat 2g 3%

Cholesterol 5mg 2%

Sodium 75mg 3%

Potassium 758mg 22%

Total Carbohydrates 12g 4%

Protein 5g 10%

* Percent Daily Values are based on a 2000 calorie diet.
To add a twist to your cauli mash, mix in some grated cheddar cheese, some herbs, or sour cream. There are lots of ways you can give it a twist to make it taste different.
Other things you can mash include celeriac, small portions of pumpkin or squash – trying blending it with the mashed cauliflower.
More favorites on the menu include 'potato' salad, 'potato' bake, chicken asparagus, 'potato' layer bake – oh yes, there are loads of ways to use cauliflower as a potato substitute.
Low Carb 'Potato' Salad
In regular potato salad you'll find around 25 g carbs per serve. Our Cauli Potato Salad is just 9 g per large serving.
Low Carb Cheesy 'Potato' Bake
For a regular potato bake you're looking at around 45 g net carbs per serve. Our Cauli Potato bake is just 9 g net carbs per large serving.
You can find these extra recipes (and plenty more low carb options) in the
30 Day T2 Diabetes Turnaround Program,
along with detailed food lists, meal plans and more.