Chances are, you've heard of Glycemic Index (GI) related to diabetes before. And while we often hear about how many calories, carbs, or fat a certain food item contains, few of us are familiar with where it may stand on the 'glycemic index' scale and how to apply this to our food choices.
Glycemic index is a relative ranking of how carbohydrate-containing foods influence blood glucose levels. The idea is that choosing foods lower on the glycemic index will result in more stable blood glucose values.
Foods are ranked on a scale of 0-100 (100 being pure glucose as a reference point). The closer a value is to 100, the more drastically it will cause blood glucose to spike. When glucose levels spike, the pancreas is strained to produce a burst of insulin resulting in fat storage and/or insulin resistance, which is obviously something we all want to avoid. The values of the glycemix index are determined by feeding people specific foods and measuring their blood sugar before and after consumption.
As part of my training in Undergraduate Nutrition, we actually did this experiment as students. After fasting, we were each assigned a certain amount of bananas, pumpernickel bread, or white bread and got readings before, 1 hour, and 2 hours after eating, then charted the results. It was very interesting to see how differently the same amount of carbohydrate from different foods affected our blood glucose over time.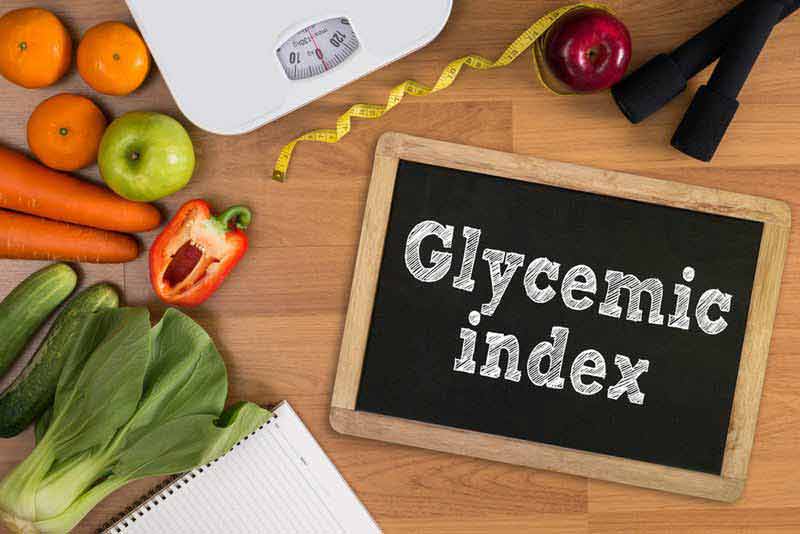 To give you some reference for what the glycemic index looks like practically, below are examples of the glycemic index values of several foods.
Low Glycemic Index Foods (Defined as <55)
Peanuts: 7

Chickpeas: 10

Grapefruit: 25

Lentils: 29

Whole Wheat Kernels: 30

Skim Milk: 32

Carrots: 35

Apple: 39
Medium Glycemic Index Foods (56-69)
Yams: 54

Fruit Juice: 55

Ice Cream: 57

Honey: 61

Banana: 62
High Glycemic Index Foods (70 and above)
Watermelon: 72

Soda Crackers: 74

Pumpkin: 75

Grapenuts: 75

Corn Flakes: 93

Fruit Rollups: 99

Russet Potatoes: 111
Drawbacks to Glycemic Index
If you feel a bit perplexed by the above lists, you're paying attention!
If you were eating solely by the glycemic index, you might suppose fruit juice and ice cream are better choices than pumpkin!
Well, glycemic index isn't a good stand-alone method for making healthy food choices.
Let me explain…
1. The Glycemic Index Only Measures Single Foods
Glycemic index only measures single pure foods, whereas realistically foods are consumed synergistically as part of a meal.
For example, pizza dough has a glycemic index of 80, whereas Pizza Hut Supreme has a GI of 36.
Neither are healthy options, but this example shows that the addition of fats and other food groups slow down blood sugar elevation.
What's important to understand is that glycemic index is not necessarily a good indicator of the types of foods you should eat. As you can see by the pizza example, this can easily mislead people into thinking that pizza with a GI of 36 is about as good a choices as carrots, which has a GI of 35. Obviously carrots are a better choice than Pizza Hut Pizza! Unless it's our low carb pizza of course!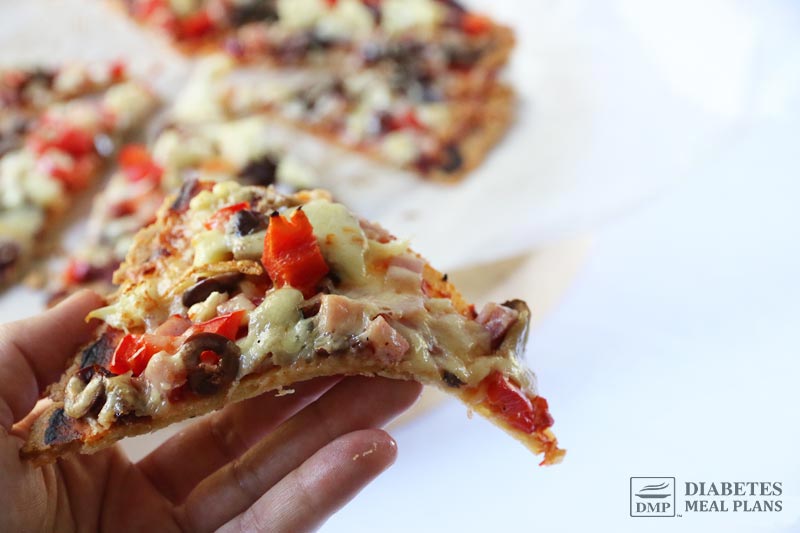 Additionally, there is variation when considering the ripeness of foods–the riper the food, the higher the GI–and how they are prepared–processing and/or cooking often raises the GI levels of foods.
Take flour as an example here.
Whole wheat kernels may be a low 30 on the GI scale. But when whole grains are processed they become high GI, which is why many breads are not really a great food option for diabetics.
Breads GI examples:
Wheat whole grain 68-69
Wheat white bread 71
100% wheat white bread 85
The important thing to recognize is that our body uses synergistic nutrients from our varied daily intake to support good health.
2. Glycemic Index Can Be Very Misleading

Glycemic index does not necessarily reflect the portion sizes of food people typically eat.
To standardize the process, GI measurements are based on only 50 grams of carbohydrate in a given food, which makes foods with more carbs per volume appear lower.
As an example, watermelon has a very high GI of 72, but there are actually very few carbs in a typical serving, so you would have to eat quite a lot of watermelon to get those 50 grams of carbs. Whereas chips has a lower GI, but a lot of carbs per volume so the portion would be much smaller.
To help put this in perspective, 50 grams of carbohydrates in carrots is nearly 5 cups, whereas 50 grams of carbs from potato chips is around 3 oz. So as you can see, GI can be a bit misleading due to the way it's measured.

There is another concept to address this issue, called the Glycemic Load (GL), which takes into consideration a typical portion. The GL can be calculated by multiplying the GI by the number of carbs, then dividing by 100. But that all gets a bit combersome.

So the general rule for diabetics is that, while GI can be one indicator, the amount of carbs matters most.
The total amount of carbs you consume influences your blood sugar more than anything else.
3. Glycemic Index Doesn't Give the Whole Picture
GI doesn't communicate the whole picture when it comes to the nutritional makeup of foods.
There are many low GI foods that are very unhealthy – for example, a Snickers bar is 41. Whereas many healthy foods have a higher GI – for example, beetroot is 64. Eating beetroot, although higher in GI can be eaten in moderation in combination with other non starchy veggies.
Snickers bar contains no nutrients, while beetroot contains vitamins, minerals and potent antioxidants and flavonoids that have great health benefits. From a nutritional standpoint, there is no comparison.

As another example, a corn tortilla has a GI of 52 whereas vanilla cake with frosting has a GI of 52! You'd think the vanilla cake would be higher, right?
Not so, because of the fat content. Fat will always lower the GI of foods because since fat slows digestion, whether it is a healthy fat or unhealthy fat, so looking at the makeup of the food is very important.
The message here is to focus on eating real whole foods, just the way nature intended.
4. Glycemic Index Doesn't Consider Individual Variation
When it comes to eating, there is a considerable degree of inter-individual variation.
This means that the degree to which a certain food (and amount) elevates one person's blood glucose may vary from that of another. So an orange or brown rice may spike your blood glucose significantly, whereas it has minimal effect on your friend or spouse.
That's why it's important to monitor your own personal intake and be aware of the types of foods that influence your blood glucose levels.
Know your numbers and the foods that suit your individual body
Please pin, tweet or share this info. 🙂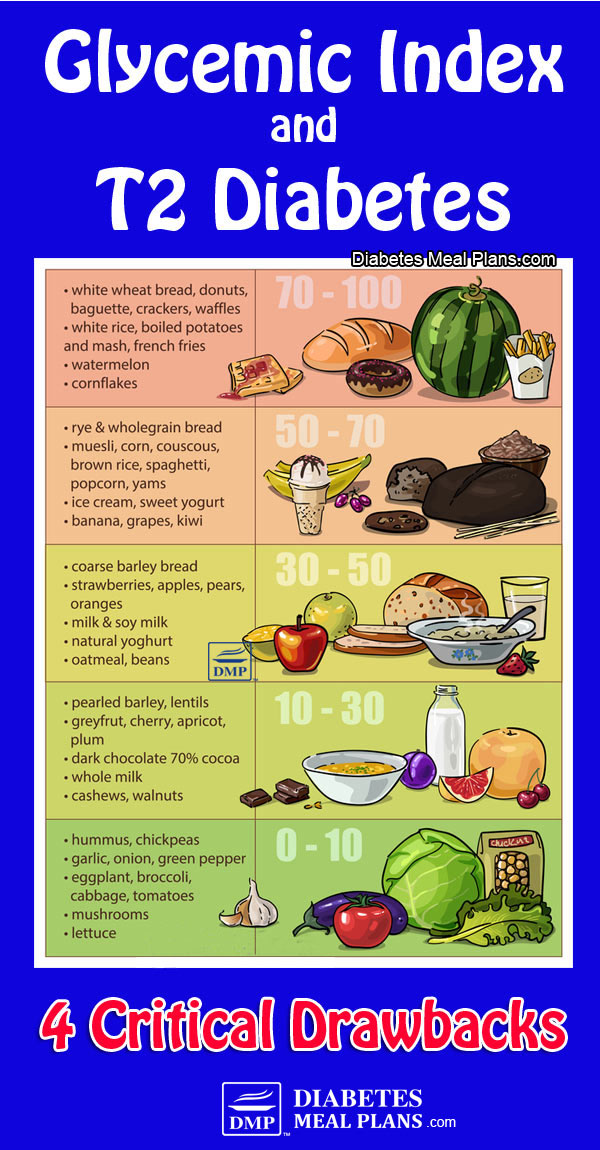 So, What's the Real Deal on Glycemic Index and Diabetes?

Should you use the glycemic index? And if so, how should you think about it?
First, you should keep in mind that, when it comes to type 2 diabetes, there is much more evidence to support the AMOUNT and TYPE of TOTAL CARBOHYDRATES as being the most important factor. Because it has the greatest impact on blood glucose than utilizing the glycemic index alone.
This is the reason you will find us continually pushing the same key foods–those low in carbs, high in micronutrients (vitamins and minerals), protein, and healthy fats. And we are always stressing that carb sources from foods such as vegetables, beans, legumes and certain diabetic friendly fruits are much better options than grains, sugar or prepackaged foods.
Second, despite some drawbacks, GI can certainly be a helpful tool when combined with other healthy eating guidelines for diabetics. If you're interested in learning more about the glycemic index of specific foods, you can head over to Glycemix Index.com anytime to search. 🙂
The overall message here is that it can be very easy to misapply GI concepts. You can't just get a low GI foods list and eat low GI foods when they are Snickers bars and Pizza Hut Pizza's. That simply isn't going to help you, whether you're diabetic or not!
Be sure you're monitoring your blood glucose regularly to see the effect certain foods and combinations of foods have on your own individual levels.
And of course, grab our freebie pack while you're here and stick around our blog because we're always providing the best information to help you live a healthier life!
Save
Save
Save